The Best Family Hotels in Hong Kong according to Roam the Gnome. Check out our List!

If you and the family are headed to Asia and are looking for the best family hotels in Hong Kong as part of your trip, we've gathered the best of the bunch. Finding the best family hotels in Hong Kong is not an easy thing to do – there's plenty of hotels but few hotels, apartments, or other accommodation options that cater specifically for kids and families. (Note to HK hotels- here's an opportunity for you to solve a problem).

But we've scoured the internet and have come up with 8 family friendly options you might like to try.


Prince Hotel Hong Kong

Canton Road, Harbour City, Tsim Sha Tsui

Need Kids Club in Hong Kong? The Piccolo Kids Club at the Prince Hotel is just the thing.

But that's not all. Kids are truly welcome at this hotel. There's surprises and gifts in store,DVD players and Cartoon DVDs for kids upon request, and the hotel restaurants provide kid's menus and special children's utensils too! (The buffet is complimentary for children aged 3 to 8 as well). Book here.

Prince Hotel is adjacent to China Ferry Terminal on Kowloon's busy waterfront and forms part of Harbour City – Hong Kong's largest shopping and commercial complex. The Hong Kong Museum of Art, Clock Tower, HK Heritage Discover Centre, Hong Kong Cultural Centre, the Space Museum and the Kowloon Park playgrounds are just a short walk away. Book now.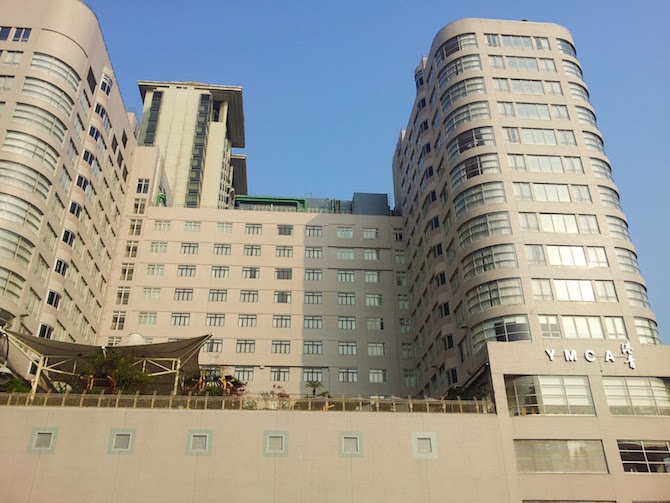 YCMA Salisbury Rd

41 Salisbury Rd, Hong Kong

Part of the Hong Kong YMCA complex, this modest tower block hotel is a 6-minute walk from both the harbour and East Tsim Sha Tsui subway station. It's also a 14-minute walk from Hong Kong Observatory. The YMCA offers basic rooms with harbour or city views, with flat-screen TVs and free Wi-Fi, as well as minifridges, and tea and coffeemakers. Suites add living areas with sofabeds. There's also a fitness centre with climbing walls and a gym, as well as an indoor pool. While there's no SUPER kid friendly stuff, it's budget friendly for those who want to save dollars on accommodation to use out and about with the kids instead! Book here.


Novotel, Nathan Road

348 Nathan Rd, Jordan, Hong Kong

The Novotel on Nathan Road is the spot if you want to be in the thick of shopping and excitement. Located on one of the main strips of town, you'll be within walking distance of the Temple Street and Jade Markets, and only two minutes from the Jordan MTR station which gives you quick access to Mong Kok station (Ladies Market, sports goods, electronic markets) and Prince Edward station for the Goldfish markets, Bird Gardens and Flower Market road. 10 minutes walk the other way and you'll be in Kowloon Park and close to the Harbour.

The Novotel is one of our best family hotels in Hong Kong because all young guests are given a special welcome gift upon check-in (under 6 years old). (Not that we need a bribe or anything but the kids do love that.) Kids also have their own personal kid's menu, and access to a children's area with toys and xbox games. Baby cots are available on request, and there's a 2-seater sofa bed in the room which is suitable as a bed for a child under 16 years. (One child under 16 stays free with breakfast when sharing with parents too!) Book here


Grand Hyatt Hong Kong

1 Harbour Road, Hong Kong Island

A 5 Star experience, this place is on our list as one of the best family hotels in Hong Kong because of its' location with views across Victoria Harbour and within walking distance to Central and Causeway Bay. They also have one of the biggest and brightest playgrounds in Hong Kong and in Hong Kong, THAT is gold. Space, and room for the kids to run about at your hotel after a big day of exploring is worth the extra dollars if you can afford it. (This picture is only a fraction of the playground fun!) Book here.

Hyatt Regency Hong Kong, Tsim Sha Tsui

18 Hanoi Road, Tsim Sha Tsui, Kowloon

The Hyatt Regency on the opposite side of Victoria Harbour is another family friendly hotel with it's very own playground for the kids. Tsim Sha Tsui is your starting point to so many of the family friendly places in Hong Kong, and this hotel will put you smack bang within walking distance of the Science museum, the 3D museum, the Charlie Brown Cafe , Kowloon Park, the HK Heritage Discovery Centre and the Kowloon Park playgrounds. The Hyatt Regency is located on top of a six-story shopping mall in the heart of Tsim Sha Tsui, a popular tourist area known for its museums, historic sights, and shops. Do pop up to the 9th floor to walk the Healthy Pebble Path too!

Cosmopolitan Hotel

387-397 Queen's Rd E, Wan Chai, Hong Kong

Known as one of the best family hotels in Hong Kong, Cosmopolitan Hotel in Wan Chai has three family suites that kids are going to love. Designed to enthrall younger guests, they are SUPER FUN! Choose from the signature Deluxe Family Quad Room, Ocean Park Family Suite, or Sony Suite. All three have connecting rooms to cater to the likes and needs of every family. Our favourite is the Ocean Park Family Suite (pictured). Bedrooms and the sitting rooom have been designed to represent a super fun playground, and as you can see, it's colourful and encourages kids to move and play in amongst ocean-themed embellishments and decorations. There's even a gigantic map on the feature wall to encourage MORE travel!

Each Family Quad Room or Suite features age-appropriate toys, Wii console and kids amenities including branded bath amenities, kids cot and baby bedrails, kids toothbrushes, and kid's bathrobes and slippers. But the really fun stuff is that the Cosmopolitan Hotel presents every young guest with a Thank You Beary Much bear, perfect for nighttime snuggles. A Mobile Toy Cart and a Mobile Storybook Library visit your room so the kids can choose their games and books. And there's even a yummy snack pack for those kids who arrive tired after a flight! Note: Only for eligible room types and packages.
Book here (coming soon)

Gold Coast Hotel

1 Castle Peak Road, Gold Coast, Hong Kong

Away from the hustle and bustle of Hong Kong CBD is Hong Kong's tribute to holiday resorts. This vacation option makes our list because of their SIX designer themed rooms that kids are just going to go gaga over. Lined with realistic themed wall paper, loaded with decorations, and fitted out with themed furnishings, your kids will be propelled into the land of imagination and storytelling. With every stay, a themed afternoon for the whole family is included, along with attendance at a themed craft workshop. It's all covered! So much fun. To see all six of the cool themes on offer, read our review here. (Hint: there's something for girls and boys!)

Just 30 minutes from Central, and right on Golden beach, (Hong Kong's largest public beach with full time lifeguards) the hotel is five minutes taxi ride to the Sam Shing Hui seafood market, the extraordinary TMT (Tuen Mun Town) Plaza with over 400 shops and restaurants including big brands, and the Gold Coast Piazza seafront shopping and entertainment hub.

Book your stay in a themed room here.


Disneyland Hotel

Hong Kong Disneyland Resort,, Magic Rd, Lantau Island, Hong Kong

The Hong Kong Disneyland Hotel is the best way to experience the magic of Disney with lots of little treats, family friendly amenities, unique Disney touches and first-class service. If you can stretch it, we'd suggest booking into a Kingdom Club room or suite. If your kids LOVE Disney characters, and you want to surprise them with something out of this world, it's worth it. (Read the full story here.)

There's a colonial style playground, find your way through a "Mickey" maze typical of classical english garden mazes, a Children's Activity Centre where children can craft, play games, watch movies, read, and at night, come to the Storybook Playroom to listen to a story read by a cast member, and character greetings too. Little girls are invited to transform into real-life princesses at this enchanted salon on Level 1 that offers magical make-up, hairstyle and costume makeovers.

As Disney fans, we wholeheartedly suggest you book a table for one of your meals at the Enchanted Garden Restaurant. It's an opportunity to meet a host of Disney Friends up close and personal as they join you at your table for hugs, photos and autographs.

Book your stay at Hong Kong Disneyland Resort online here to enjoy a Room Upgrade and complimentary drink. Remember to add a Room Decoration package to your booking for an extra scoop of glittery Disney magic!


Follow Roam the Gnome (Family Travel Ideas) on Instagram —> Click here

We love to share the SUPER FUN kid-friendly stuff we find around the world, so you can go there too!