INSIDE: The Ultimate Guide to the BEST London Playgrounds for Kids of all ages.
Visiting London with toddlers or kids?
Take a look at our list of London's best parks and playgrounds for toddlers and kids.
People often ask us if London is kid friendly?
It is, especially if you break up a day of visiting London museums and historical sites with a play at a local playground.
The thing we love most about these London playgrounds is their enormous footprint of GREEN space, despite being right in the middle of one of the busiest cities in the world!
If you or the kids are feeling overwhelmed with the crowds, the noise, the beeping horns, the bus fumes, or the awesome chaos of London, visit a London park for a breath of fresh air.
It's also a chance to mingle with London locals.
Read all the details of where to find them below.
Disclosure: This article contains affiliate links. If you make a purchase after clicking on one of these links, we may receive a small commission at NO extra cost to you.

THE INSIDE SCOOP: Best City of London Playgrounds
Correct at time of publication on Roam the Gnome. Please check with venue for updates. We apologise in advance if there have been any changes we are unaware of. All prices in British pounds, unless otherwise stated
The best kids park in London with a playground is Regents park, simply because there are FOUR different playgrounds to visit.
Our next favourite parks to visit in London are Hyde Park and Kensington Gardens. Both have a certain charm on a sunny day in London. (They are part of the Royal Parks London collective. The Green Park, the Regent's Park and Primrose Hill, Greenwich Park, and the St James Park London playground are also part of Royal Parks in London.)
But they are not the only nice parks in London, and definitely not the only parks in London with playgrounds.
Check out these City of London parks in detail below.
---
RELATED: The ULTIMATE List of Things to Do in LONDON with Kids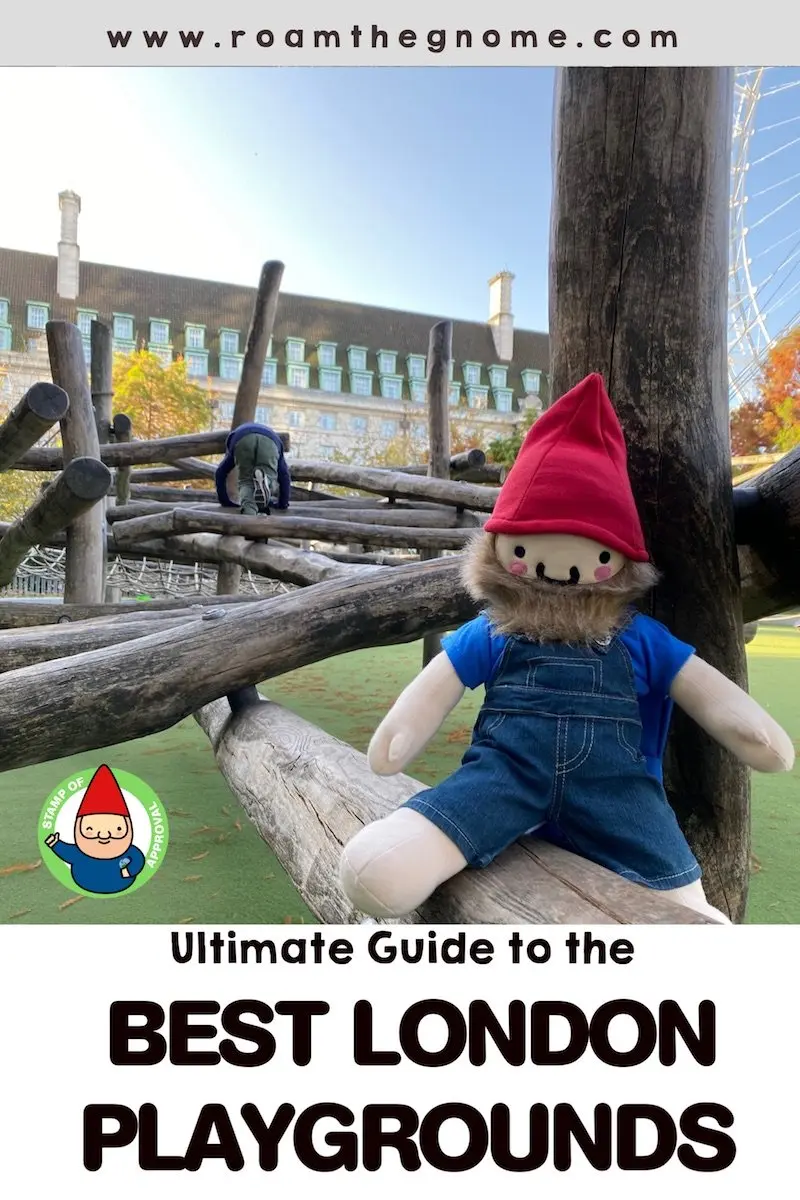 THE BEST LONDON PLAYGROUNDS
NO.1: Regents Park London
Regents Park has a number of adventure playground options.

No.1: Marylebone Green Playground
The Marylebone Green playground is a mix of:
ultra modern concrete parkour zone
a traditional fort and slide combo, and
across the pathway, a fabulous nature playground for kids in London full of fallen logs to clamber over, and branches to weave between.
THE INSIDE SCOOP: Click here for entry fees, opening hours, & directions to Marylebone Green playground
No.2: Gloucester Gate Playground
The kids playground called Gloucester Gate playground in Regents park has recently undergone a much needed renovation.
Check out all the details below.
THE INSIDE SCOOP: Click here for entry fees, opening hours, & directions to Gloucester Gate playground

No.3: Hanover Gate Playground
We love this combo playground called Hanover Gate playground near the Regents Park boating lake, especially the timber tree castle fort and moat ramp!
This Regents Park playground in London is a dream come true for kids who love to practice parkour moves.
THE INSIDE SCOOP: Click here for entry fees, opening hours, & directions to Hanover Gate playground

No.4: Primrose Hill Playground Regents Park
Just near the fabulous London Zoo entrance, this Primrose Hill playground is a locals playground in London.
Close to Camden and the canals, visiting this London playground is a way to engage with the local community.
Stop by after a visit to London Zoo.
PS: Did you know the brand new London Zoo adventure playground is now open too?
THE INSIDE SCOOP: Click here for entry fees, opening hours, & directions to Primrose Hill playground

No.2: Hyde Park London Playground Kensington Gardens
Princess Diana Memorial Playground
This is our pick for the best park in London for toddlers and kids under 12.
The Princess of Wales Memorial Playground is HUGE but luckily it's gated, and manned so the little ones can't escape.
Whimsical, and enchanting, the Princess Diana playground is Peter Pan themed, with a monumental pirate ship taking pride of place.
Scattered around the ship, you'll find:
swings
log cabin hideouts
life size musical instruments to play
log tractors to ride
secret tunnels
meandering pathways
rocking horses and
a sensory garden.
In the summertime, this Hyde Park London playground also has one of the best water parks in London and it's FREE!
We LOVE it, and it rates as one fo the best parks for kids in London without doubt.
THE INSIDE SCOOP: Click here for entry fees, opening hours, & directions for Princess Diana playground

No.3: Olympic Park Playgrounds
The Olympic Park playgrounds are two of the best parks in London for kids with LOTS of space to run, climb, and race.
Take a look.
No.1: Tumbling Bay Playground
Tumbling Bay is the best nature playground in London to play hide-and-seek, or climb the rope obstacles.
There's rock pools with water pumps, fountains, swings, and the best natural architecture around.

No.2: Pleasure Gardens Adventure playground
Pleasure Gardens adventure playground in London at Olympic Park was a surprise find, but a fun one at that.
This London playground at Queen Elizabeth Olympic Park has:
giant mounds to scale
climbing walls, a climbing frame, rope bridges, and a wide slide to share with all your new friends!
Just nearby, there's a sprouting waterworks fountain sitting underneath the Olympic Park orbit structure. Kids can run in and out of the spouting water jets! BYO towel and a change of clothes.
Check out the vintage carnival rides too.
THE INSIDE SCOOP: The Complete Guide to Olympic Park Playgrounds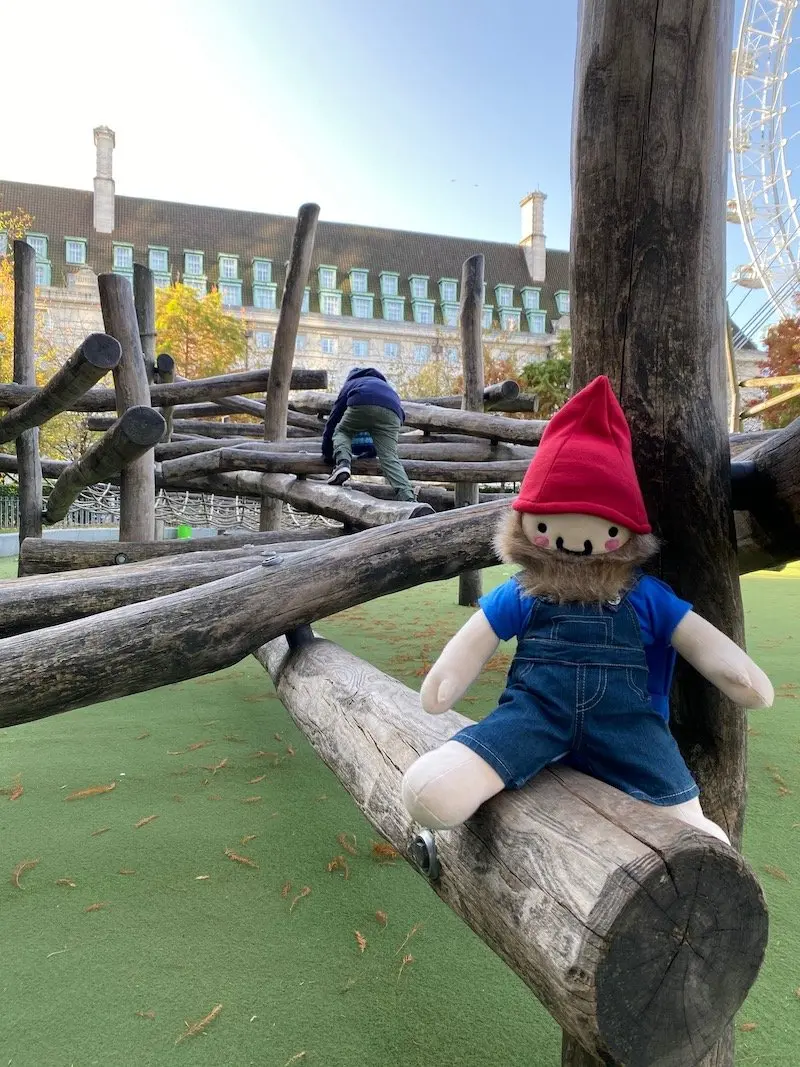 No.4: Jubilee Gardens Playground near London Eye
This natural playground in London has the best views of the London Eye, the Thames is just metres away, and it's surrounded by traditional British terrace houses.
You want more?
It's fenced!
Happy days all round.
Plus, Jubilee Gardens playground has recently been updated and refreshed!
THE INSIDE SCOOP: Click here for opening hours & directions to Jubilee Playground South Bank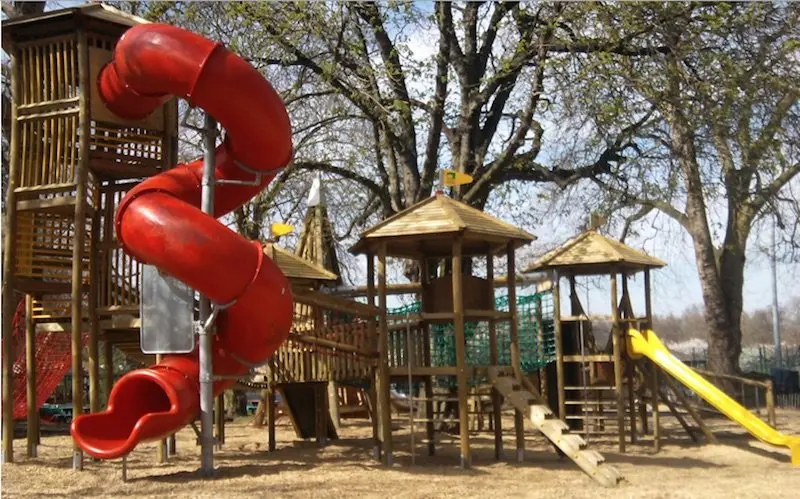 No.5: Battersea Park Adventure Playground
Visit the fenced Battersea park playground for toddlers in London with.
Find it at Battersea Park near the corner of Prince of Wales Drive and Albert Bridge road.
There's a state of the art Battersea Park adventure playground right next door, whose best feature is the whopping red twirly slide. The statuesque pyramid fort & climbing wall with tubular silver slide is spectacular too.
High in the sky next to it, you'll see the treetop challenge run by GoApe.
You need to have your wits about you for this one – the tree rope challenge course is double the height of most other GoApe locations!
There's a brand new third playground featuring a sunken wooden pirate ship and a spider web swing off East Carriage drive near the Pear Tree cafe and boating lake.
Address: Battersea Park, Albert Bridge Road, Battersea London
THE INSIDE SCOOP: Click here for opening hours, & directions for the Battersea adventure playground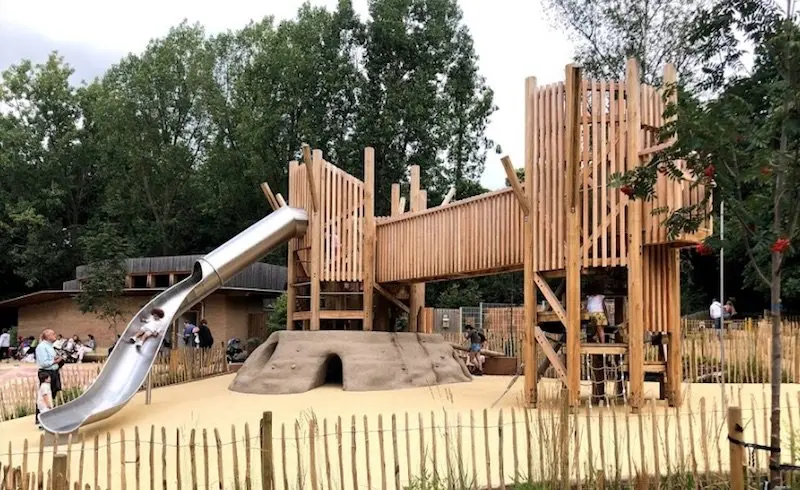 No.6: NEW! Holland Park London playground (Open July 2019)
The brand new Holland Park adventure playground recently opened and now features:
a 25 metre zip wire ride
a TEN PERSON see saw
a 56 metre hill coaster
110 metres of water channels for water play fun
an 11 person dragon swinger
The Holland Park adventure playground park is open daily from 7.30am until 30 minutes before dusk.
THIS is the biggest playground in London, so don't miss it.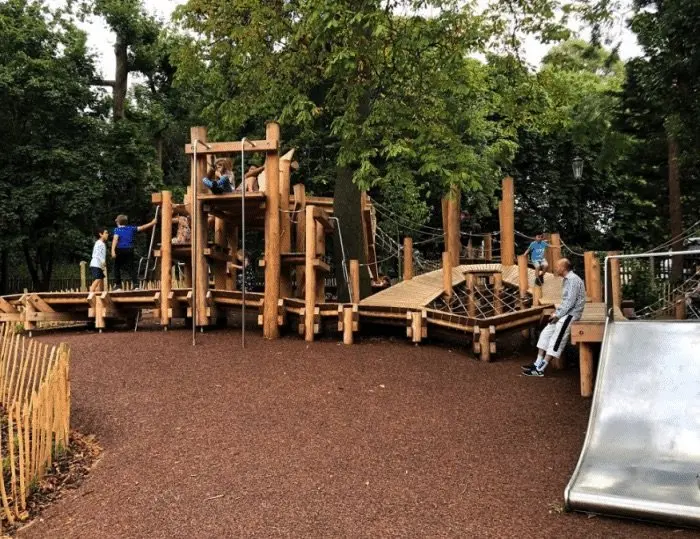 Holland Park playground for toddlers
There's a Holland Park toddler playground just 5 minutes away too.
Address: 55 Abbotsbury Rd, Kensington, London W14 8EL, UK
THE INSIDE SCOOP: Click here for opening hours & directions to Holland Park adventure playground NEW

Image credit: TripAdvisor
No.7: Hampstead Heath Playground
The Parliament Hill adventure playground at Hampstead Heath is popular with local families and tourists who flock to the place for the epic views of London from the hill vantage point.
The Hampstead Heath adventure playground is fully gated, with soft rubber flooring to prevent scrapes and bumps.
This modern playground is much loved by every kid who visits. There's a paddling pool too, for under 10 year olds.
Parliament Hill Fields is open from 10am to 3.30pm throughout winter, and until 5.30pm in summer.
Find the playground on this Hampstead Heath map. (Bottom right on map)
Address: Hampstead Heath, HR6P+8P London, United Kingdom
By Tube: Take the Northern Line to Kentish Town​. It's the closest tube station to Hampstead heath playground.
THE INSIDE SCOOP: Click here for directions to Hampstead Heath playground
No.8: Green Park London
FYI, there is NO children's playground in Green Park London.
MORE Playgrounds in Central London
No.1: Avondale Park London
Avondale Park has a gated toddler playground with a sandpit, a colourful train, and climbing equipment, plus an adventure playground for bigger kids with nets, rope swings, and web platforms to traverse. Plus an accessible carousel ride, and a 'spider' climbing net
MORE of the Best Playgrounds in London for Toddlers & Kids
You can also find more toddler playgrounds & play areas in London at popular London attractions for kids.
No.1: The Airforce Museum London
The Airforce Museum in London has a themed outdoor playground for kids
No.2: London Museum of Water and Steam
Kids can enjoy water play in the Water Play Splash Zone outdoors at the London Museum of Water & Steam
No.3: Discover Children's Story Centre Stratford
Discover Children's Story Centre has the ultimate outdoor adventure playground in London!
No.4: Battersea Park playground
The Battersea Park zoo adventure playground for kids has:
a sandpit and water pump
spinning disks
a climbing pyramid
a life size helicopter
motor-powered toy boats to sail, and
a fabulous timber fort.
No.5: Kensington Playground
Kensington Memorial Park has a fenced water play area, as well as a spaceship structure and slide, twirly swing seats, tyre swings and a zip line.
No.6: Coram Fields playground
Coram Field's has an adventure playground with zip line, children's play areas, paddling pool, swings, sensory playground and sandpits. Find it at 93 Guilford Street in Bloomsbury.

Need to find an Indoor Playground London?
No.1: Kidzania is the BEST of the Play Parks in London
If it's a rainy day, and you need an indoor playground in London, visit Kidzania – our favourite London attraction for kids.
Kidzania London is an indoor city, run by the kids!
Trust us. If you haven't yet been, book now. Kidzania is top of our list of things to do with kids in London.
(Did you know you can visit Kidzania in Tokyo, Dubai, Malaysia, Thailand, India, South Korea, Mexico, Chile, India, Kuwait, Egypt and Indonesia too. It's a worldwide phenomena! )
Address: Westfield London, Ariel Way, W12 7GA
Website: Click here for details

No.2: Kids and Toddler Playgrounds at London Museums
You can also visit these London museums with playgrounds or interactive play areas:
Wonderlab & The Garden at London Science Museum
The All Aboard play area at the London Transport Museum
The AHOY gallery & the All Hands Gallery at National Maritime Museum (FREE!)
The National Army Museum play area and obstacle course
Discover Children's Story Centre in Stratford also has two levels of interactive play areas in Story World
The V & A Museum of Childhood in Bethnal Green is a whole building devoted to interactive play for kids. You can spend the better part of a day here with no trouble.
---
RELATED: The ULTIMATE List of the BEST LONDON MUSEUMS for Kids!

London Playground Map
Check out this cool playgrounds in London map we made for you!
(Update coming soon)

Looking for More Fun Things to Do in London with Kids
Click the blue links below for more London tips