INSIDE: Roam the Gnome's Guide to the Best Cheap Pizza in Rome.
If you are looking for the best cheap pizza in Rome by-the-slice, then take our advice and visit PIZZA FLORIDA.
We stumbled upon this place accidentally and by golly, were we glad.
The pizza here definitely gets our vote for best pizza in Rome, and we ate a LOT of pizza in Rome.
Disclosure: This article contains affiliate links. If you make a purchase after clicking on one of these links, we may receive a small commission at NO extra cost to you.

Cheap Pizza in Rome
Eating Pizza is one of the must-do things to do in Italy so put "eating Rome pizza at Pizzeria Florida" on your foodie bucket list!
It's not just cheap pizza in Rome, it's the best pizza place in Rome!
At Pizza Florida Roma, you buy your pizza by the 100 grams, so it's THE ultimate opportunity to try a few different flavours too!
Take a look at the menu above for a price guide.
Make your way here after a long day of visiting the best leather shops in Rome for a quick bite to eat before putting your feet up back at your hotel.
Everyone knows that a day of shopping in Rome for souvenirs is exhausting (but fun!)
The BEST Pizza in Rome Italy? PIZZA FLORIDA ROME!
The freshest pizza you've ever seen is laid out, side by side, and your only task is to pick which ones to try.
We were BIG fans of the Potato and Sausage Pizza.
Oh my gosh, it's good.
The boys loved:
the Four Cheese slice, as well as
the Olives and Mozzarella combo style pizza too.
I love the juiciness of the olive oil, the freshly made tomato sauce, and the quality ingredients used on these authentic roman pizza bases.
BUT there are SO many unusual and flavoursome toppings here, including a few vegetarian pizza options.
We bet you'll have to come back more than once too!
Florida Pizza Rome may be the most delicious pizza in the world!
Best Places to Eat in Rome with Kids?
When travelling with kids, one of the biggest challenges is finding a place to eat where:
the food is family-friendly
it doesn't take too long from order to the food arriving at your table,
the restaurant, café or diner are happy to have kids in the place.
But when kids are particularly tired, or grumpy, or have had enough of culture and museums, a quick bite is the best solution which is why we LOVE these quick-service-style pizza places in Rome.
At Pizza Florida in Rome, there's a few casual chairs and tables lined up along the window, so you can people watch while you nibble.
(That's if you are quick enough to grab them.)
Another reason why it's the best Pizzeria in Rome for kids.
What to Eat in Rome? Join a Rome Street Food Tour!
If you love to eat the best Italian pizza in Rome, and other types of Italian food such as pasta and handmade spaghetti as much as we do, join a "best food to eat in Rome" food tour.
This Rome street food tour through Get Your Guide is led by an experienced foodie who will take you to all the best Rome foodie haunts on a tasting tour of Rome.
Food tours are a way you can guarantee finding the best authentic roman pizza and awesome Italian food jaunts, instead of stumbling upon them and trying your luck as we did with this one.
Plus, here's some Italian food inspiration for your food tour:

Book a Pizza Cooking Class
You can also book a "Make your own Pizza" cooking class
You'll be taught how to make traditional Italian pizza dough by a local Italian chef, before topping it with locally sourced ingredients.
The best bit?
You get to eat the pizza once it's cooked, and enjoy a glass of wine to boot!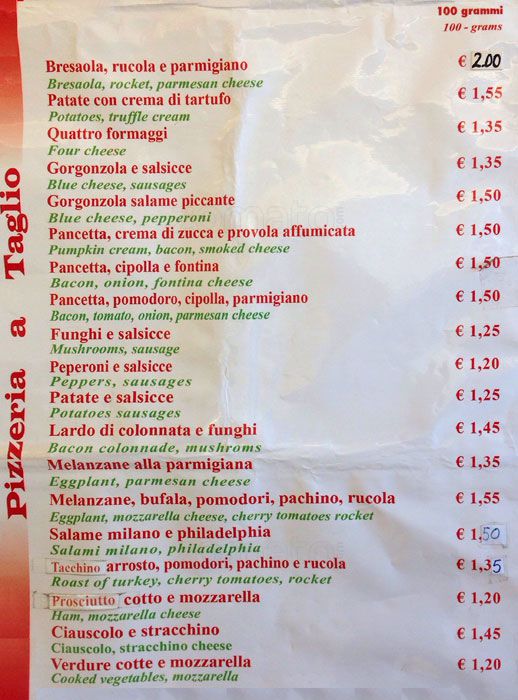 The Inside Scoop – Our vote for Rome Best Pizza
Correct at time of publication. Please check with venue for updates. We apologise in advance if there have been any changes we are unaware of. All prices in EURO.
Address: 00186, Via Florida, 25, 00186 Roma, Italy.
Phone: +39 06 6880 3236
Website: Click here
Opening Hours: Open 10am to 10pm
Pizza Prices at Pizza Florida, THE Best Pizza in Rome:
Pizza slices are priced per 100 grams.
Prices start from one Euro for a plain pizza, up to two Euro per 100 grams for fancy pants toppings.
Where to find the best pizza in Rome
By Car or Bike:
From the Trevi Fountain, Pizza Florida is just a 6 minute trip by car or an 8 minute bike ride along Via del Plebiscito.
Pizza Florida is definitely the best pizza in Rome near Trevi Fountain.
Don't go anywhere else.
By Foot:
The best pizza in Rome is also just a 14 minute walk from the Trevi Fountain.
It's well worth any detour you need to take.
How to get to Pizza Florida in Rome
Where to Eat in Rome? Use this Google Map to find Pizza Florida
Toadstool Rating for Best Pizza in Rome, Italy
Don't wait.
This pizza is tops!
Looking for MORE SUPER DOOPER FUN things to do in Rome with kids (and shopping in Rome too)?
Click the links in blue below.
Disclosure:
This website contains references to products and services from our favourite brands. Some of these are affiliate links. If you make a purchase or booking after clicking on a link on Roam the Gnome™, we may receive a small affiliate commission at NO COST to you. For our Disclosure and Disclaimer statements, and an explanation of our Advertising policy please click here
Roam the Gnome™ is a participant in the Amazon Services LLC Associates Program, an affiliate advertising program designed to provide a means for sites to earn advertising fees by advertising and linking to amazon.com, and related Amazon shopping sites around the world. Amazon and the Amazon logo are trademarks of Amazon.com, Inc. or its affiliates. As an Amazon associate, I earn from qualifying purchases.
Thank you for visiting Roam the Gnome Family Travel™ Website Directory. We encourage you to bookmark this page so you can find us again.