INSIDE: Roam the Gnome's Trusted Guide to the 7 Best Playgrounds in Canberra!
Visiting Canberra with kids?
Looking for the best things to do in Canberra with kids?
Need to find a Canberra playground, quick smart, before somebody loses it?
Here's the solution.
7 of the best Canberra playgrounds, in no particular order.
They are all good fun for kids. Take your pick from our playground finder below.
(Although Pod Playground at the Arboretum wins our whimsical hearts!)
Disclosure: This article contains affiliate links. If you make a purchase after clicking on one of these links, we may receive a small commission at NO extra cost to you.
7 BEST PLAYGROUNDS IN CANBERRA FOR KIDS!
Correct at time of publication on Roam the Gnome. Please check with venue for updates. We apologise in advance if there have been any changes we are unaware of. All prices in AUD dollars, unless otherwise stated
Here's the 7 Canberra adventure playground & parks to check out.
Keep an eye out for local events happening in Canberra parks too.
Hot tip: BYO picnic of healthy snacks & delicious road trip food.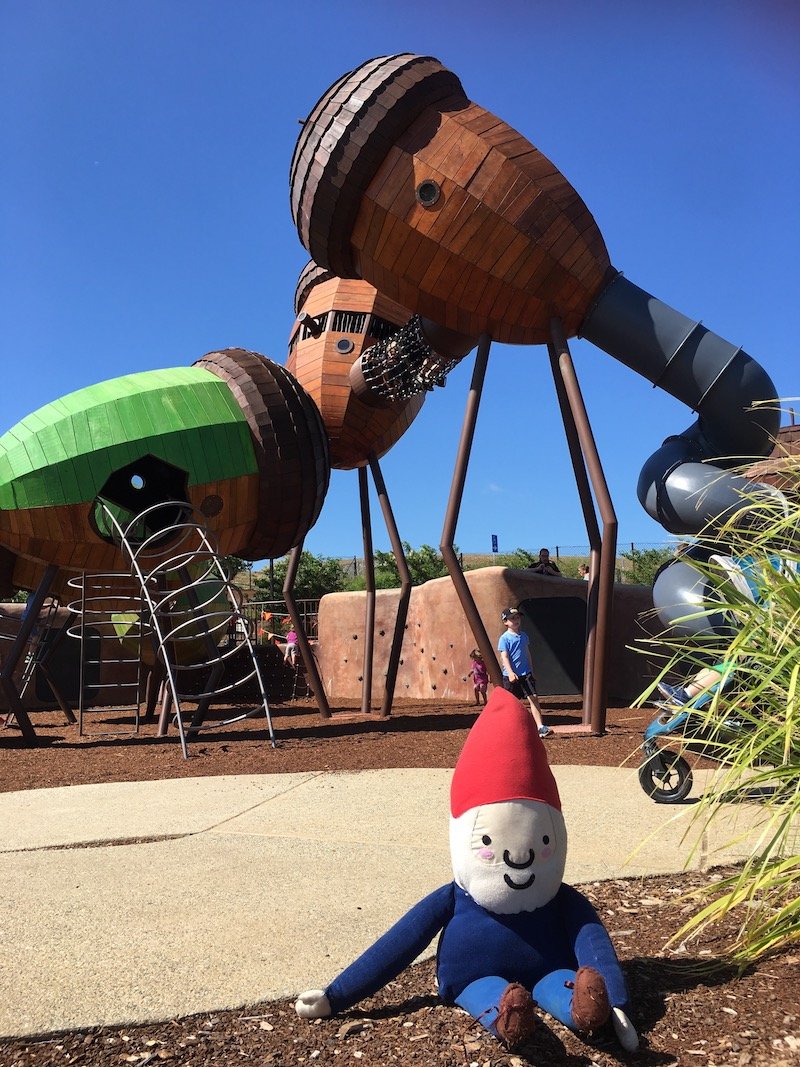 No.1: Pod Playground Canberra
The spectacular Pod Playground in Canberra at the National Arboretum was an entrant in the 2013 Melbourne Design Awards, and it's no wonder.
We've NEVER seen a playground like it. (Or as beautiful)
This whimsical playground features giant acorns and banksia cubbies and kids love it.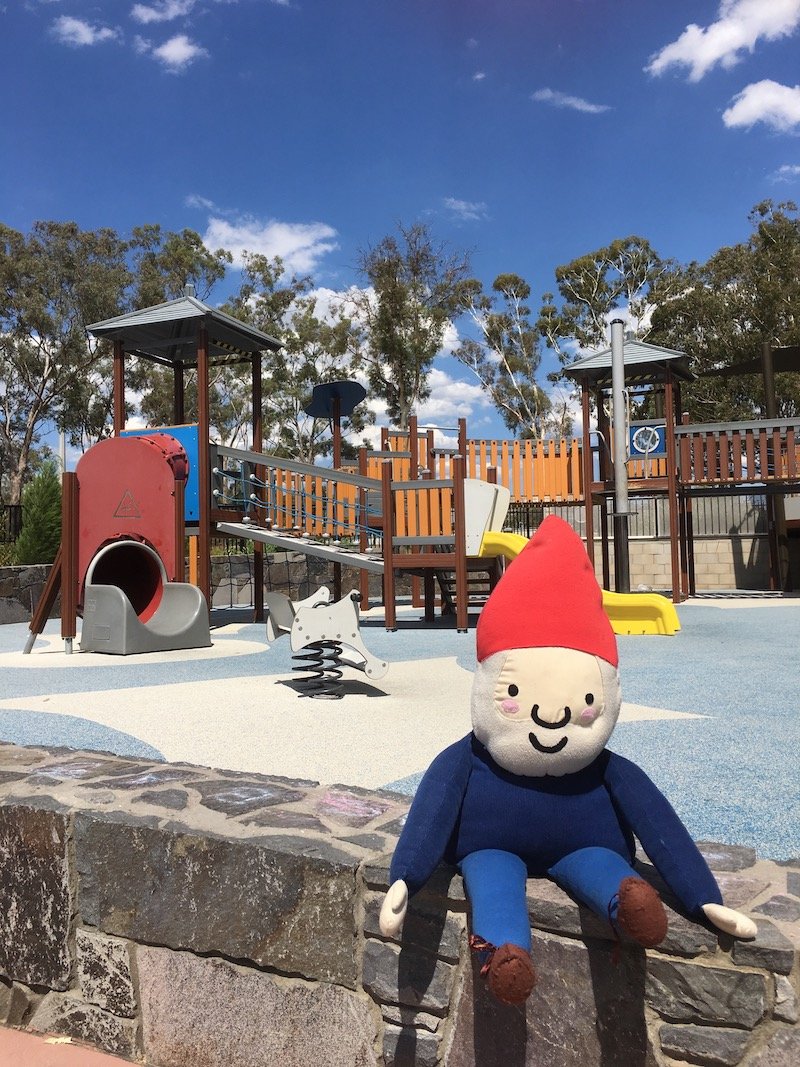 No.2: Boundless Playground Canberra
Boundless in Kings Park is Canberra's FIRST All-Abilities playground, removing the visible barriers to entry in play for children with disability.
It's also Canberra's largest playground for kids and little ones, with three separate play areas, plus water play, and more.
There's toilets on site, and plenty of space for a picnic.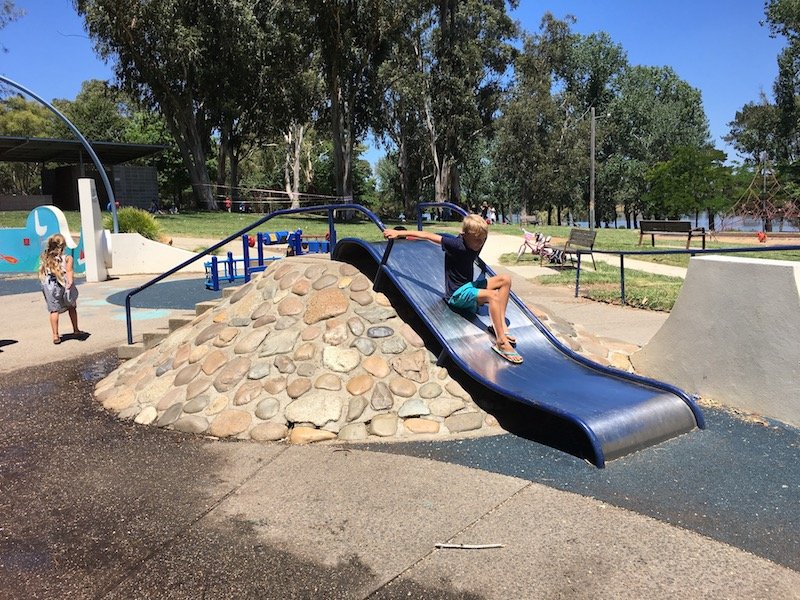 No.3: Weston Park Playground (opposite Yarralumla Play Station)
This is a unique playground with a hand-crafted feel.
Kids LOVE the water play track, and to get their feet wet.
There's play equipment here for young and old.
Do bring a change of clothes, and a towel.
Take a sneak peek at the playground here.
More Things to do in Yarralumla Park with kids
This one is a good one to include in a whole day adventure as: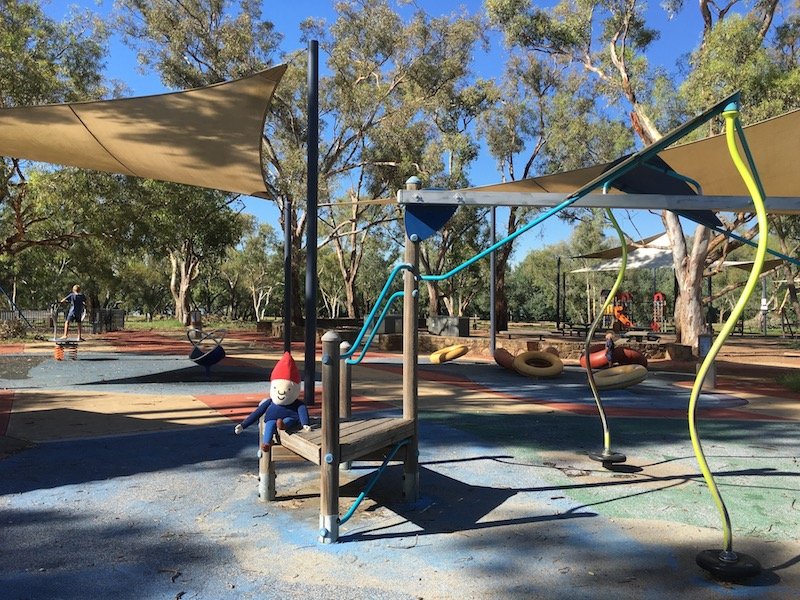 No.4: Black Mountain Peninsula Playground
Black Mountain Peninsula is surprisingly close to the CBD, yet once you are here, you could be deep in the Australian bush.
The landscape is joyous, there's swimming and boating opportunities, and the playground has LOTS of room to run.
Follow the directions below.
BYO BBQ meats, and emjoy a traditional sausage sandwich with tomato sauce for lunch!
How to get to Black Mountain Peninsula playground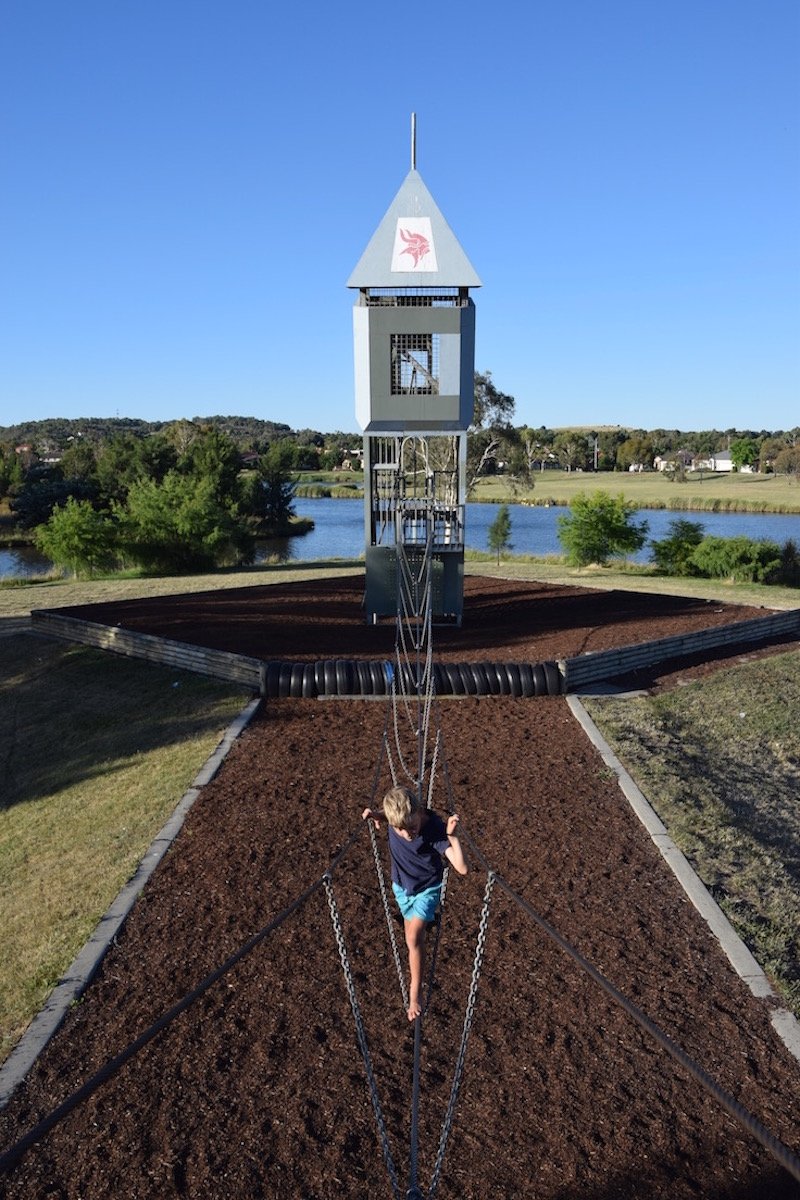 No.5: Gordon Playground Canberra
Gordon playground in Canberra is one of the city's best kept secrets.
Locals keep this one close to their chest.
But the secret's out.
Don't miss it.
It's a HUGE play area, spread out over a massive area, with lots of things to climb, so be prepared to walk.
There's not a lot of shade, so hats and sunscreen is a must.
BYO snacks AND water bottles. The kids will need regular feeding and watering.
Click here for all the details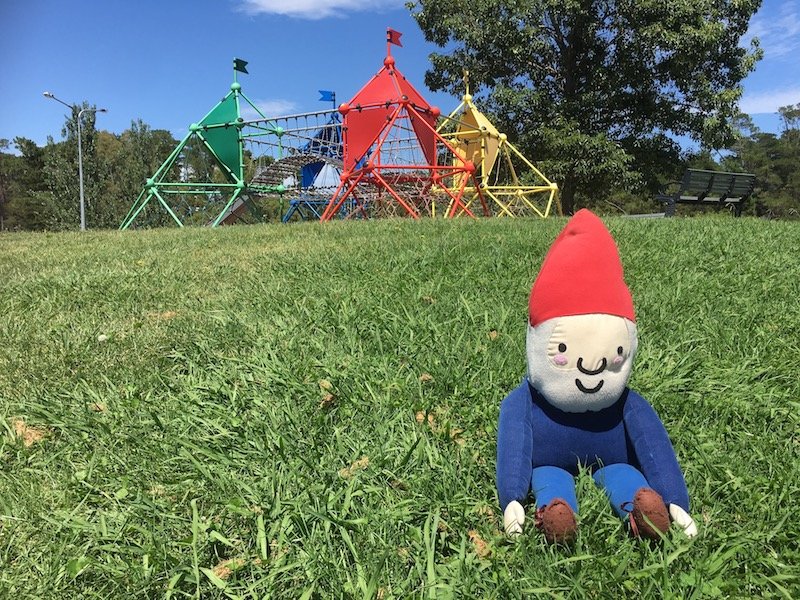 No.6: Fadden Pines Canberra Playground for Kids
The best thing here is the RAINBOW fort!
AND the grassy open space.
AND the second playground for toddlers.
This one is tops for a family picnic outing.
BYO skateboards or bikes to ride the skatepark too.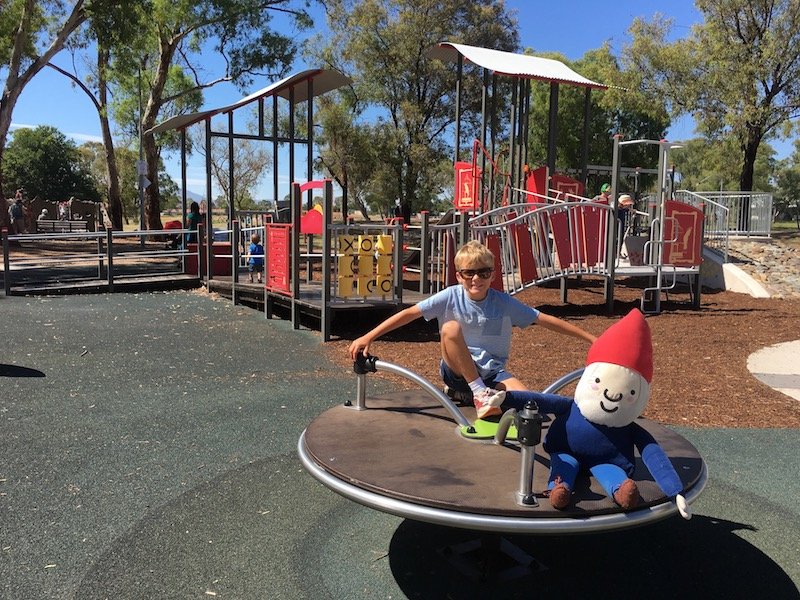 No.7: Kambah Adventure Playground Canberra
Many Canberra playgrounds are surrounded by the magical Australian bush landscape and this one is no different.
Kambah playground gives a nod to Australian culture by incorporating some distinctive elements, including kangaroo rockers for toddlers.
But the best thing is the ROCK CLIMBING WALL!
And the giant zipline.
Read our Essential guide to Kambah District Playground for details on how to get there, and more.

MORE of the Best Parks in Canberra for Kids
Check out:
Farrer Playground & Nature Trail
The Farrer nature play and adventure trail is a natural timber fort, with pipes to crawl through, teepees, swings, and more.
If the kids love nature play, this will be a hit. Find it at 113 Lambrigg St, Farrer.
Tidbinbilla Nature Reserve
Head to Paddys River Road is a much loved locals park in Canberra, with tonnes of wildlife like kangaroos and emus, a raised boardwalk to wander and signed bushwalks.
John Knight Memorial Park & the Rainbow Serpent playground
Drive to Townsend Place, off Aikman Drive, Belconnen Way, Canberra. There's a giant slide, floating wooden lily pads to skip across, and a low lying rocky waterfall that the kids love to tackle and climb.
Lake Burley Griffin
Take this cruise to learn all about the history, with a dollop of humour.
There's actually three Moncrieff playgrounds.
Moncrieff Playground Community Recreation Park
Brightly coloured in yellow and orange, this is Canberra's newest! STOP IN for a visit at Bon Scott Cres, Moncrieff.
BYO bikes to ride the bike track, and be prepared to climb and slide for hours!
Yunggaballi Park
Another giant climbing and slide structure nearby. Click here for directions.
Looking for the Best Things to Do in Canberra for kids?
Click the links in blue below for more Canberra activities for kids.