INSIDE: The Best Soft Cooler Bags Reviews by Roam the Gnome.
Wondering what is the best cooler?
There's so many to choose from, it's crazy!
If you are asking questions like:
Who makes the best soft cooler?
What is the best soft cooler bag?
What is the best soft cooler for the money?
What is the best soft cooler for camping?
What is the best soft cooler for Disney World?
What is the best soft cooler backpack?
You are in the right place.
Here's our easy comparison guide featuring the best soft cooler reviews, so you can skip the overwhelm of choices, and buy the best cooler bag for your needs.
Disclosure: This article contains affiliate links. If you make a purchase after clicking on one of these links, we may receive a small commission at NO extra cost to you.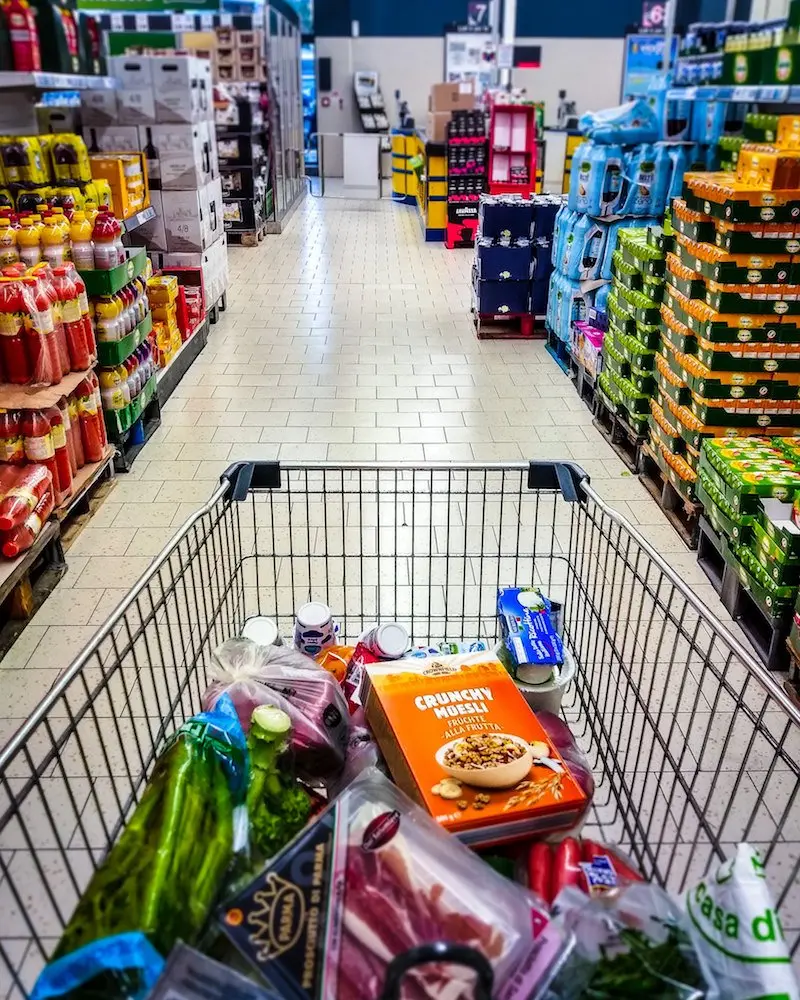 Image credit: Gerlos via Flickr CC BY-ND 2.0
THE BEST COOLERS ON THE MARKET
We've gathered a list of the best small cooler bags, and the best ice cooler bags on the market for our soft sided cooler reviews.
These small coolers and insulated bags can be used for:
grocery shopping (taking home all your cold stuff)
taking your lunch to work
taking all the healthy food and snacks on road trips
camping and outdoor adventures
weekends away
fishing
transporting breast milk
As family travelers, who never leave home without one, we know that insulated cooler bags have varying levels of success, so we've listed the:
the best cooler brands with proven results, as well as
the top rated soft coolers for keeping things cold and ice retention for comparison.
(We've also added a section on the best cooler backpacks.)
Hot tip: Don't want to compromise, and want answers quick smart?
Go for the YETI Hopper soft cooler.
---
RELATED: The Ultimate Guide of the Best Cooler for Camping (Hard coolers)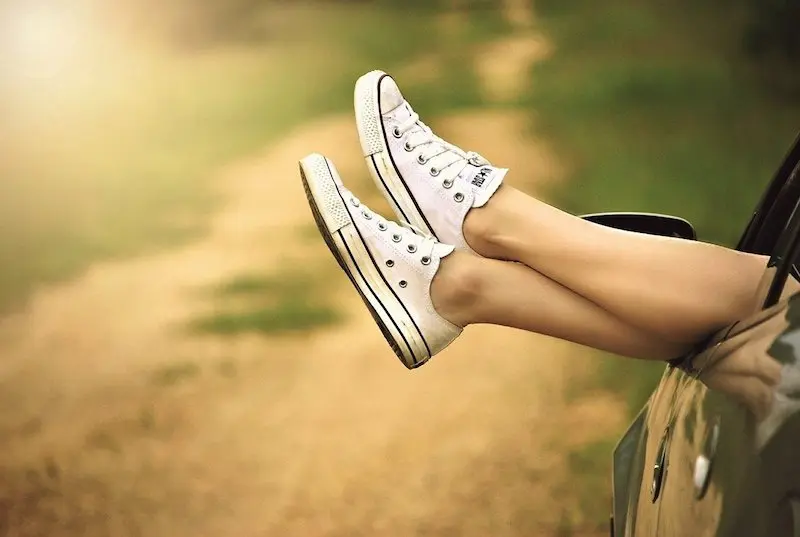 Image credit: Lisa Runnels via Pixabay
Best Soft Cooler Comparison Chart
We've gathered 8 of our top soft side cooler bags to consider.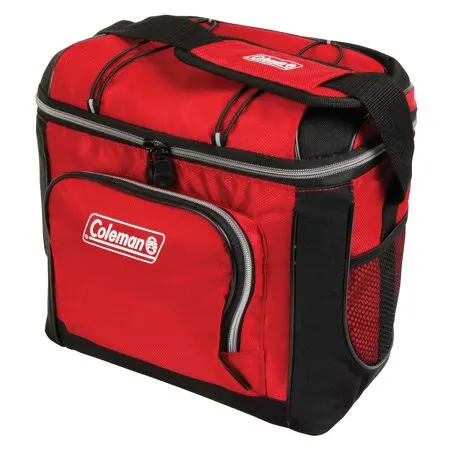 The Best Soft Sided Cooler Bags for Road Trips & Weekend Trips
These are the best soft side cooler bags for road trips, weekend trips and everyday use.
No.1: Coleman Removable Liner Cooler
We LOVE this soft cooler bag because the lining comes out so you can wash it properly under the tap.
This is a genius idea.
Coleman is a trusted brand in coolers too.
That is why we rank this the No.1 Travel Cooler for car trips with kids, and the best soft cooler on the market.
Pros:
Holds 30 cans or equivalent
Lots of extra storage space – there's a front zippered pocket, side mesh pockets and bungee straps on the top too
It's tall enough to fit smoothie cups upright, and bottles of iced tea upright too.
Lots of room for drinks AND lunch containers.
Any spills are contained in the removable bucket liner. The best trick ever!
Cons:
Once you have this one, you'll probably want more in different sizes!
Verdict:
This Coleman soft cooler saves that horrible battle where you have to try to clean the debris and crumbs from the soft edged corners of the bag without spilling water everywhere.
That's why it's our top pick of the soft sided coolers.
BUY NOW ON AMAZON: Coleman Removable Liner Cooler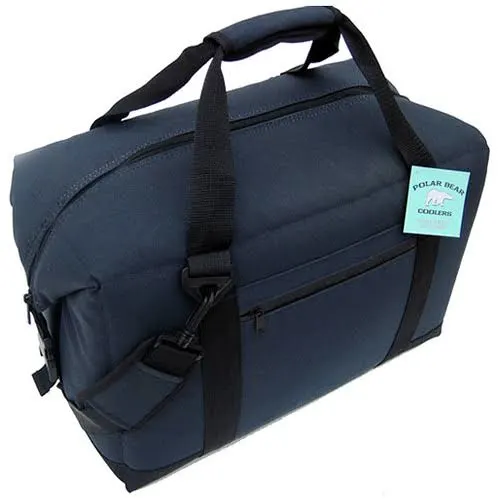 No.2: Polar Bear Cooler 12 Pack
Another popular brand of coolers, the Polar Bear soft cooler has a rugged outer shell, strong zippers, and a range of colors.
(Not just blue and black!)
I personally love the red.
The Polar Bear coolers interior is made from anti-microbial food grade nylon to keep out the nasties, so you can take your road trip snacks or lunch to work without worrying too much about food poisoning.
Pros:
All the seams are double hemmed and anchor stitched to prevent tearing or holes
It has the best density quality foam insulation so ice keeps for at least 24 hours
The 12 pack fits 12 cans plus ice, or 8 bottles plus ice.
Comes with a padded shoulder strap
Cons:
Heavy when full.
Side pocket is useless.
Verdict:
It's a simple design, made from good quality materials, with little chance of it leaking.
There's rarely a complaint from buyers.
A safe bet for a good price.
BUY NOW ON AMAZON: The Best Polar Bear Cooler 12 pack
BUY NOW ON AMAZON: Need a big soft cooler? Try the Polar Bear Soft Cooler 24 can size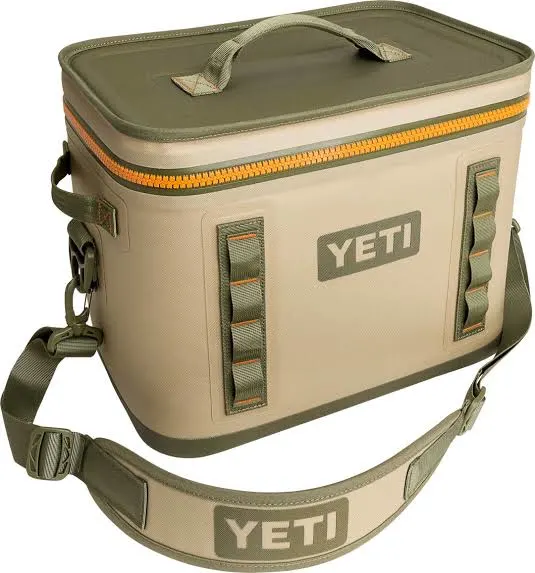 No.3: Small YETI Cooler
There's no doubt a YETI cooler is one of the more expensive coolers on the market, but the quality speaks for itself.
A YETI cooler is for those people who won't accept anything but the best.
Once you've had a YETI, it's always a YETI.
Most YETI owners simply won't buy anything else, and SAVE UP for longer, rather than compromise on some other cooler brand.
This YETI Hopper Flip cooler holds 12 cans of soda or beer, plus ice.
Buy a 4lb YETI block and put the frozen block on the base of the interior to give the whole interior an extra cold boost.
You can also put ice cubes in zip lock bags, and place them in the cooler around the food.
The best thing about the YETI cooler is that is it a canvas soft cooler with a 'DryHide' shell that has been designed to stop or limit mould, a common problem with soft side cooler bags.
Being waterproof, this soft cooler is ideal for the beach, river adventures, canoeing or kayaking on the lake, and boat trips.
Pros:
You can put the soft cooler in the freezer to pre-cool the YETI before filling it with food and drink.
Perfect size for the car
Can carry on board a plane as hand luggage for a USA road trip
Keeps food and drinks cold for days
Cons:
The zipper is not super strong. Do apply zipper lubricant wax regularly to keep it in top condition.
Verdict:
A YETI Hopper soft cooler is worth every single cent if you pre-cool it by popping it in the fridge or freezer as recommended.
Then the coldness truly lasts the distance.
Magnificent.
BUY NOW ON AMAZON: Yeti Hopper Flip Portable Cooler – choose your color – 12 cans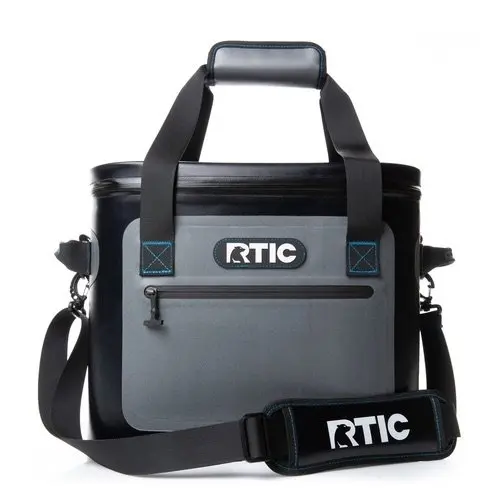 No.4: RTIC Soft Cooler Bag
If you are looking for a small soft cooler with style for a weekend camping trip, this is the one.
We couldn't write a list of soft sided coolers reviews without the RTIC Soft Sided Cooler in it.
It's an excellent Father's Day Gift, good for the golf course, for days on the road, sea kayaking adventures,
You can buy the RTIC Soft Pack 30 in stylish patterns with photography overlays.
Check them out!
Kanati – Autumn leaves design in brown and tan
Pink Camo – leaf and stick design
Rift Blue
Strata
Viper – brown and black futuristic design
Viper Snow – grey and white futuristic design
This small cooler makes my heart sing.
I love to see coolers with style on the market, instead of standard blue, black, grey and brown.
Pros:
Holds 20 cans plus ice
Zipper doesn't leak
No sweating on the outside
Excellent value for money
Cons:
Works best if you pre-cool it (if you have the time)
Zipper works best if you lubricate it when it arrives
Verdict:
This is a cooler bag like YETI. In fact, RTIC are the only soft coolers comparable to YETI in our books.
This RTIC cooler is a very popular budget cooler that works just as well as some of the more expensive brands.
BUY NOW ON AMAZON: RTIC Soft Sided Cooler Bag – Choose your color & design
No.5: Keenstone Leakproof Portable Soft Side Cooler Bags
This is the VIP cooler bag from Keenstone Outdoor Equipment company.
Keenstone is a company that knows their stuff (outdoor adventure), and this cooler bag proves it.
This soft ice chest keeps food and drinks cold for up to 48 hours. It's 100% leakproof too.
The Keenstone soft cooler has three layers of cell foam insulation to keep things cool, including a super strong outer shell, so you know your food is safe.
Plus the style is next level.
Pros:
This soft shell cooler has an airtight zipper to keep in the cold – don't lubricate it. It's supposed to be tight!
Easy clean – wipe it down with a mild soap solution and water
100% BPA free
Cons:
You need to air dry it well before you store it, or risk mildew or mould.
Non collapsible so you need room to store it
Verdict:
A great midrange buy from a reputable company.
BUY NOW ON AMAZON: Keenstone Portable Cooler Bags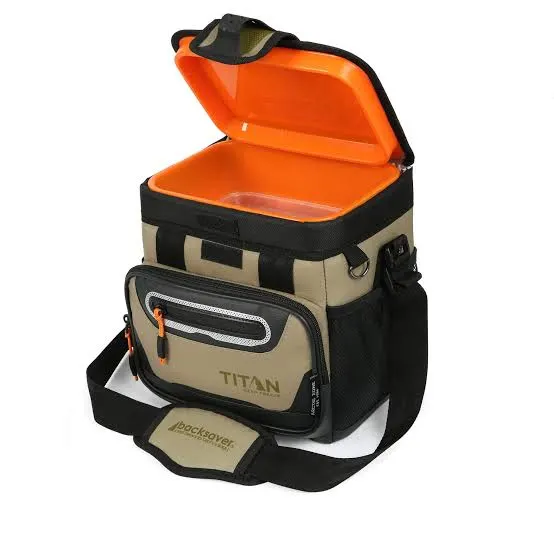 No.6: Arctic Zone Titan Deep Freeze Zipperless Hardbody Cooler
The Arctic soft cooler has an inner hardbody liner with a shelf – the best of both worlds. There's no zipper to battle to get it open, just un-click the lid and open it up.
The shelf is an added touch – a great way to keep sandwiches safe from squashing.
Pop chocolate bars up top on the shelf – close to hand, and within easy access!
Pros:
A leak proof lining with Microban to keep the nasties out. These are soft coolers that don't leak.
Has an adjustable backsaver shoulder strap with a shoulder pad
Value pricing
Cons:
Some brands of water bottles don't fit when standing up (eg Klean Kanteen)
Replacement parts not yet available
Only leak proof if the liner is in good condition with no cracks
Verdict:
The hardbody liner is the selling point, as it helps to keep food and drinks safe from being squashed.
Most importantly, you can take the liner out to wash it.
That's a win in our book.
BUY NOW ON AMAZON: Arctic Zone Titan Hardbody Cooler
No.7: Igloo Soft Cooler
The Igloo soft sided cooler is a fab edition to camping and boating equipment. It carries 24 cans, and is the best soft cooler for boat trips because it's hard lined, so it's portable but sturdy.
The hard plastic removable liner is a big win in our books.
Hot tip: We know some people take the liner out, put an inch of water in the bottom of the tub, and freeze it for a good head start to keep things extra cool.
This blue and white cooler is stylish, and looks like it belongs at the marina, or out on the sea.
Pros:
Compact, stylish design
Removable padded shoulder strap
Has a top hatch with velcro tabs for easy access so you don't have to let all the cold air out every time you want something
Perfect size for 1-liter bottles
Easy to carry and great for daily use
Best soft cooler for kayaking because it's water resistant
Cons:
Only 1 zipper pocket in front
Verdict:
A budget priced cooler with the goods.
BUY NOW ON AMAZON: Portable Igloo Marine Cooler in white and navy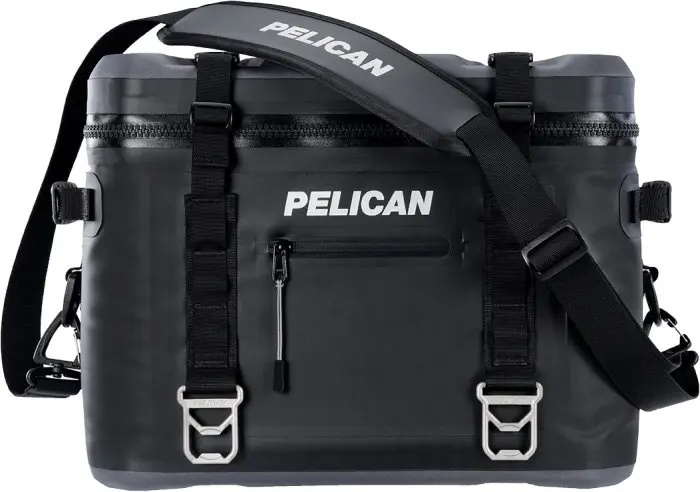 N0.8 Pelican Soft Cooler
This Pelican soft cooler is well built, and on par with the YETI cooler. Zipper is made by the same company as the YETI too.
This Pelican soft sided cooler wins a few points on style if you like the rugged handsome look.
The glossy black fabric together with the stainless buckles give it a tactical look that wouldn't look out of place in the military.
I bet you could spot it in an action movie too – if the characters ever broke for lunch!
Pros:
Comes with a shoulder strap
Waterproof and leak proof
Keeps ice for 48 hours
Holds 24 cans
Cons:
Non-collapsible as the walls are strongly built
Need room to store it
Verdict:
A top of the range cooler for the off- road tripper, road worker, construction crew, or hipster.
BUY NOW ON AMAZON: Pelican Soft Cooler in Black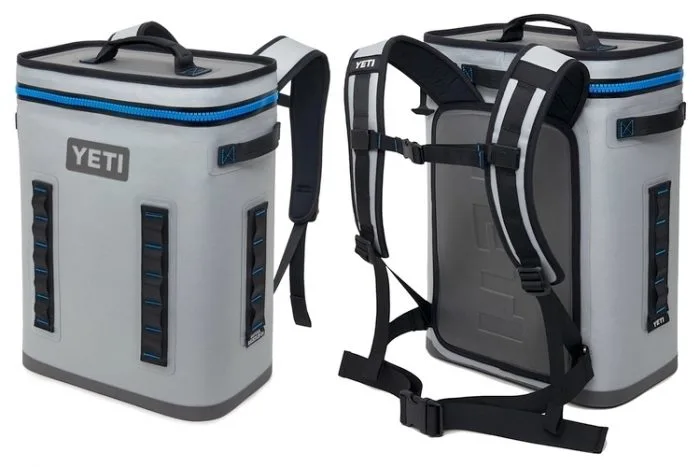 THE BEST BACKPACK COOLER
Our vote: Yeti Hopper Backpack Cooler
If you would prefer a cool bag backpack, take a look at these five, including the YETI Hopper Backflip pictured above.
Backpack cooler bags are fabulous when you travel with kids, as you can be hands free.
They are top cooler bags for hiking and day trips too.
READ MORE: 5 of the Best Backpack Coolers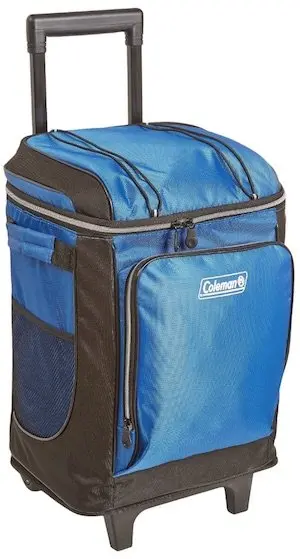 THE BEST SOFT COOLER ON WHEELS
Coleman Soft Cooler on Wheels
Looking for the best soft rolling cooler?
The 42-can Coleman soft sided rolling cooler is our pick of the best soft coolers with wheels.
(Click the blue link to see our reviews of all the BEST COOLERS ON WHEELS.)
This cooler is an ideal mini-fridge substitute for grocery shopping too.
You can collect your fresh and frozen groceries in a trolley, then pack them into this for the drive home.
There's plenty of room.
Take it with you:
on vacation
to group events and parties
or to the beach.
(We've also written about the best beach cooler with wheels for sand here)
Pros:
It has a flexible plastic liner that has been treated with antimicrobial products to stop mould and mildew buildup
Durable wheels to carry a fair amount of weight without issue
Removable plastic liner means it's easy to clean
Use the bungee on top for your extra bits and pieces such as towels for the beach
This is the best soft cooler for Disney World, as it can stand upright so can be left at stroller parking, and is on wheels so you can pull it along, filled with your favorite snacks. (It can carry your best Disney souvenirs too!)
Cons:
It needs to stand upright to stop accidental leaks
Verdict:
An awesome and very popular buy.
BUY NOW ON AMAZON: Coleman 42-Can Soft Cooler with removable liner and wheels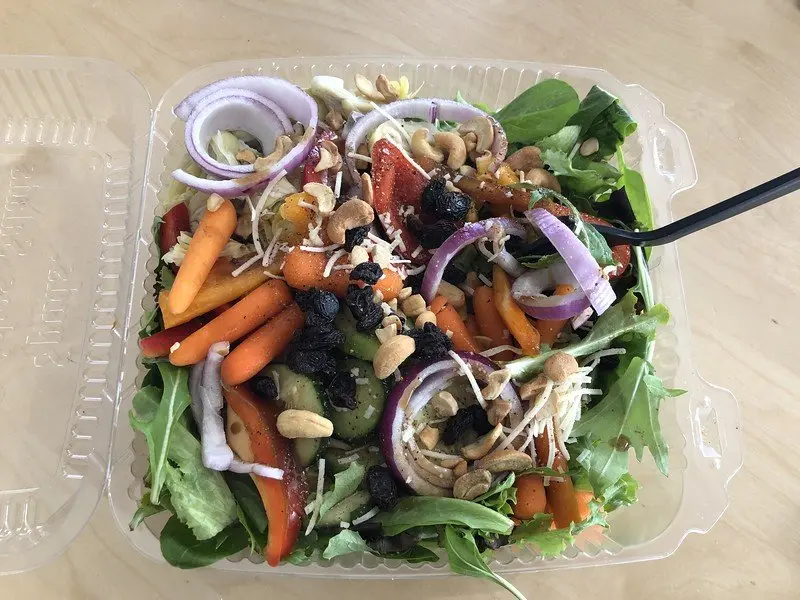 Image credit: I am R. via Flickr CC BY-2.0
OUR VERDICT ON THE TOP RATED COOLERS
The Best Soft Cooler Bags for Keeping Food Cool
Soft cooler bags are the best for taking your own lunch to work, or keeping your leftover takeaway lunch salads cool for the trip home.
Soft sided coolers are also excellent for camping are good for short trips – overnight or a weekend.
But use a hard side cooler if you are staying longer than that.
Unless, of course, you are walking in to your campsite?
Then a soft cooler is better, as it's not so heavy, or as difficult to carry.
Soft cooler bags are also the best cooler bags for road trips, as they are more flexible than hard side coolers so can fit in between the seats, or can be stored on the floor behind the driver's seat without taking up too much room.
Hot tip: If you are heading overseas for a road trip adventure, take a soft cooler bag as your carry on luggage.
---
RELATED: Ultimate Guide to the Best Camping Food List for Families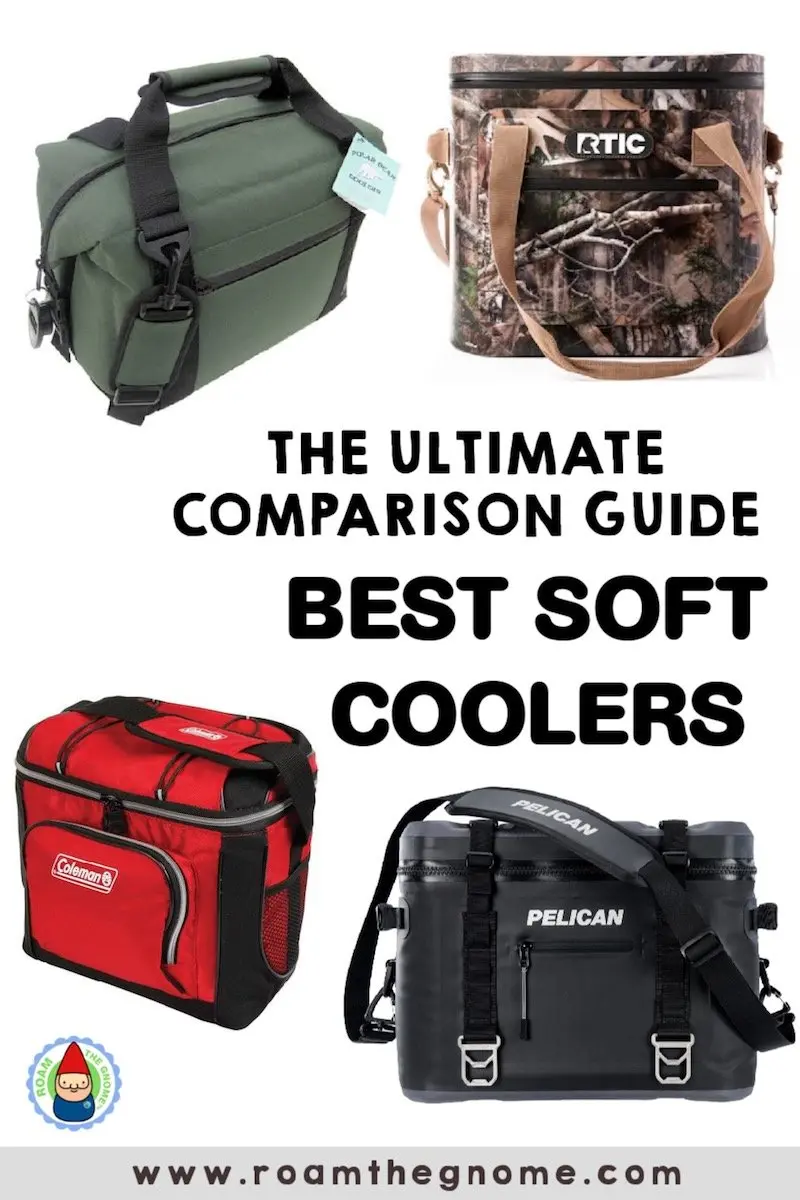 Want more of Roam the Gnome's Best Travel Tips?
Correct at time of publication on Roam the Gnome. Please check with venue for updates. We apologise in advance if there have been any changes we are unaware of. All prices in US dollars, unless otherwise stated
Click the blue links for all the travel tips.