INSIDE: The Ultimate Guide to the Brick Lane Food Market London.
Every visitor to London city must wander through the BRICK LANE FOOD MARKET in London.
Sunday is the best day to go because the Sunday Upmarket and London Street Food Hall is in full swing!
Wedged in between Spitalfields market and the actual Brick Lane road, this Brick Lane market is home to East London's creative community, their fashion scene and street food trends, mashed up in one place.
If you LOVE food, you MUST NOT MISS THIS PLACE.
I have NEVER in my life seen so many amazing colourful aromatic dishes and bubbling vats in one place, and most for less than a tenner.
We didn't walk out of this haven of world cuisine.
We rolled.
Take a sneak peek below to learn all about the street food Brick Lane will entice you to explore!
Disclosure: This article contains affiliate links. If you make a purchase after clicking on one of these links, we may receive a small commission at NO extra cost to you.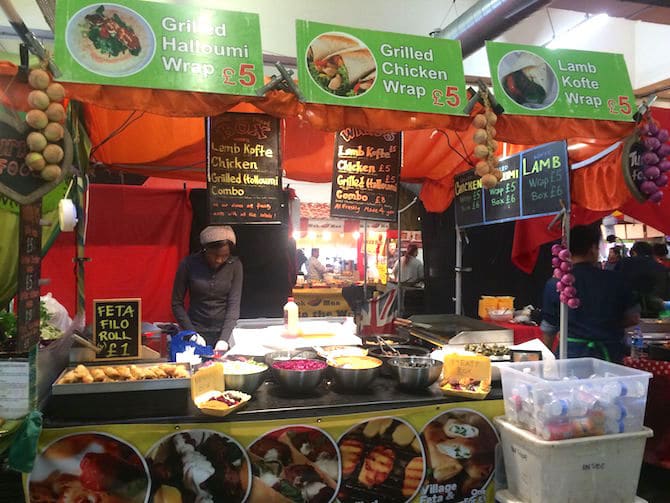 Guide to Brick Lane Food Market (aka Sunday Street Food London style!)
Prepare for A FEAST for the eyes AND tummy at Brick Lane London food market!
It's home to the BEST Street Food Market London has up its' sleeve.
There's vegan and vegetarian cuisine all around including:
at least 3 lentil dhal dishes to try (my fave!)
vegetarian lasagne
potato gnochi
Meat lovers can snack on:
grilled chicken or lamb kofte wraps
lamb curries
chicken curries.
AND SO MUCH MORE.
Variety is the spice of life here.
---
READ MORE: Visit Portobello Market for MORE London Street Food to try, plus antiques & bric-a-brac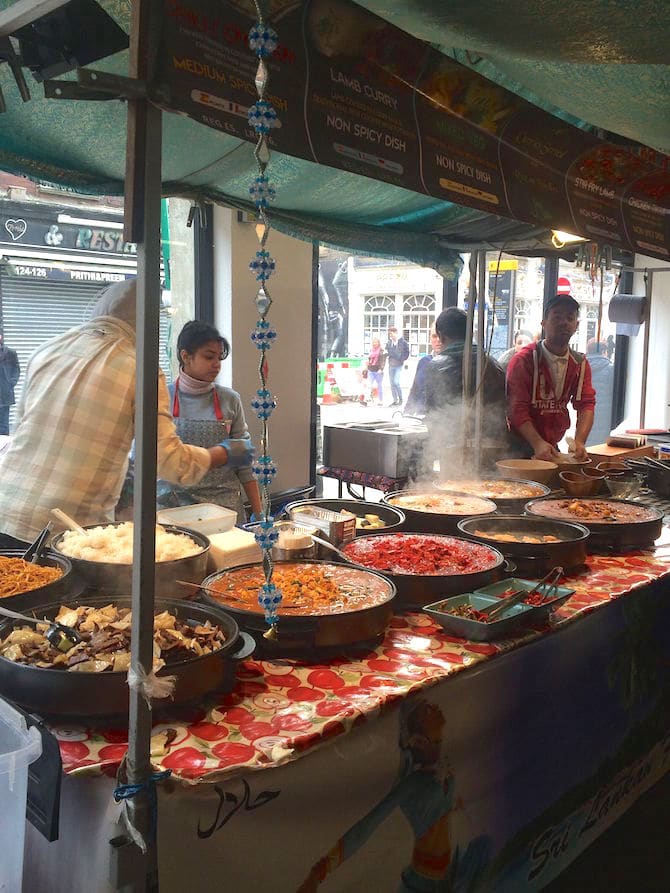 Options at Brick Lane Food Markets
Look out for Brick Lane street food vendors selling:
Turkish specialties
Moroccan dishes
Spanish Paellas and Empanadas
Hand-rolled Sushi (made while you wait)
Japanese savoury pancakes 'okonomiyaki'.
Try a Brick Lane curry.
There's plenty for kids to eat too, even for fussy eaters.
---
RELATED: The ULTIMATE List of Things to Do in LONDON with Kids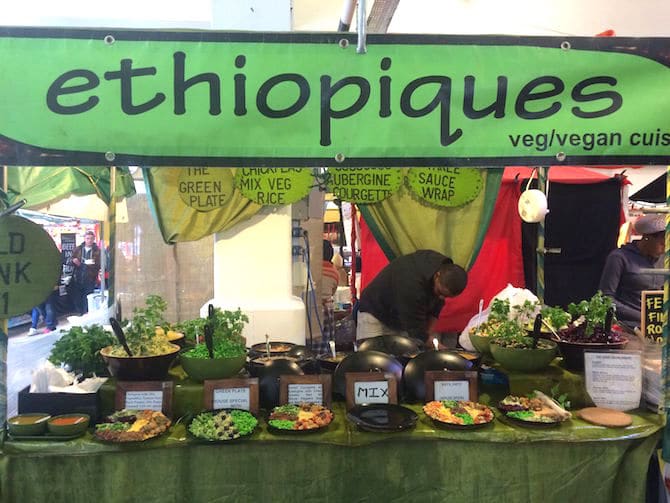 More LONDON STREET FOOD at these Brick Lane Markets
It doesn't stop there.
Get your purse out for these Brick Lane food market specialities:
Afro-Caribbean street stall salads (pictured above)
Chinese pork dumplings (fried, so the bottoms are crispy)
Something from the Bao stand ( beef, or pork, or veg)
Hot Chai and Indian Street Snacks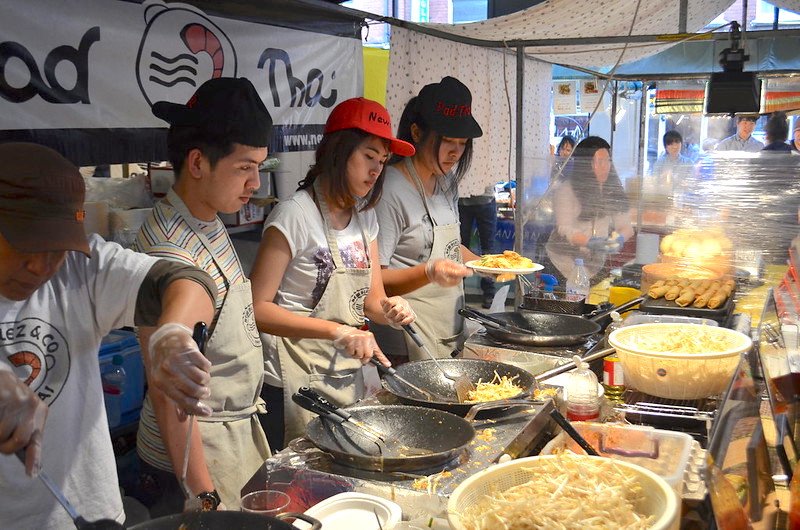 Image credit: E Guide travel via Flickr CC BY 2.0
The BEST Food Markets in London
Don't miss the stalls selling:
Thai Food
Colombian 'arepas' (corn cakes from the griddle, stuffed with fillings)
Italian gnocchi with creamy pesto
Caribbean sea bass and fried plantain sandwiches.
Did we mention Japanese sweets, cake, Ethiopian hand roasted coffee, and other after-lunch treats too?
If you are looking for the best food in London where the locals gather, THIS IS IT.
If this is not yet on the list of famous markets in London, it should be. Opens Sunday 10am.
(Or maybe we'll keep it our little secret).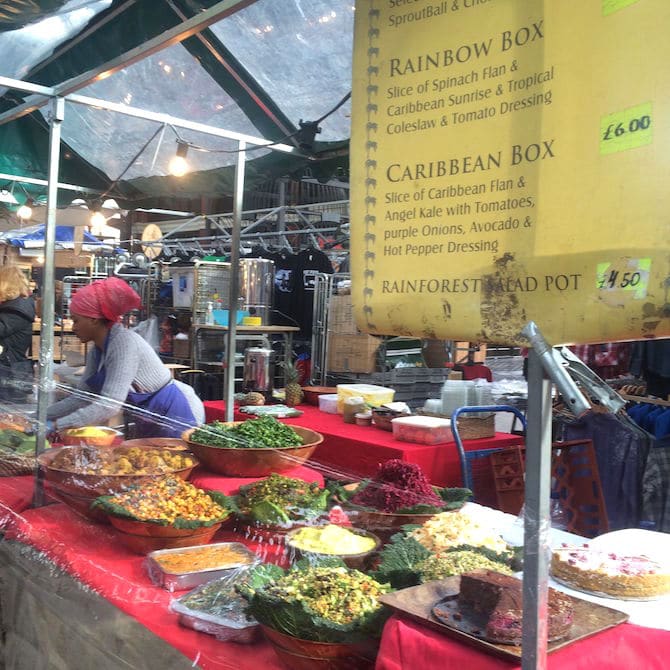 Brick Lane street food caterers
Upmarket's famous food area is all about passionate caterers creating home-to-market food.
It's the newest cottage industry and one you will love!
Chat to the stall holders if you get a chance to find out how their love of food began.
The stories are magnificent!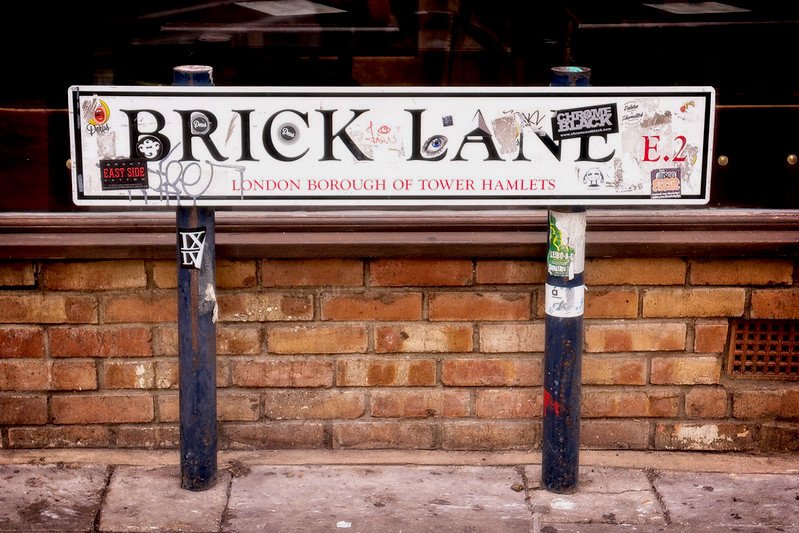 Image credit: Garry Knight via Flickr CC BY 2.0
The Sunday Up Market Brick Lane Market Stalls
Adjoined to the food hall is the Sunday Upmarket, a place where designers, maker, and creative entrepreneurs can sell their one-off bespoke creations direct to their clientele.
It's a place to meet the person behind the brand as the creatives play the role of stall holder.
Sunday Upmarket first opened its doors in September 2004 and now has more than 140 creative traders.
Look out for:
funky unique women's wear
customised men's clothing
delightful children's clothes
vintage wear, antiques and collectables
handmade jewellery and accessories
homewares
art, photos and prints
hand-crafted goodies
music and film archives
handmade health and beauty products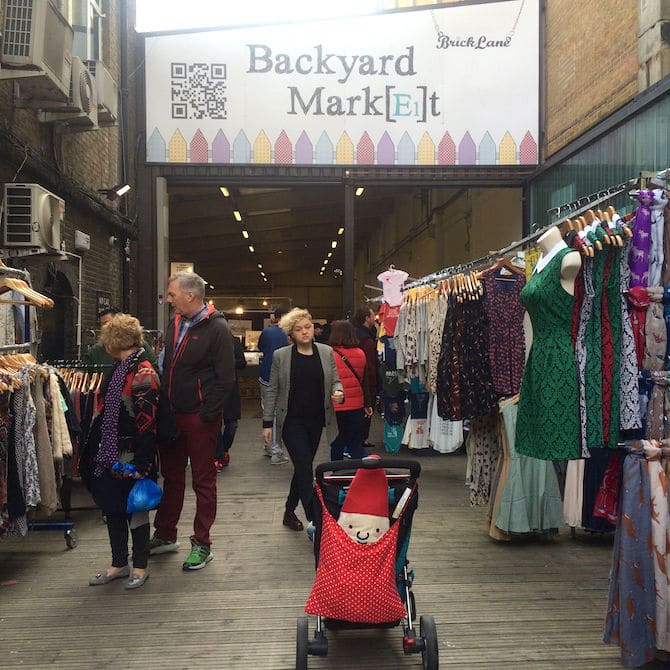 MORE Eating & Shopping at the Brick Lane Sunday Market
Along Brick Lane itself, there are other markets and cafes you should visit.
*NB: Be aware that the street numbers are a little confusing and out of sync with how you would expect them to unfold on a street! Type the address below into your google map for a visual.
No.1: Backyard Market Brick Lane
Backyard Market London is at 146 Brick Lane.
Appreciate London's young creative community and visit the Backyard Market that celebrates arts & crafts, and handmade wares including jewellery and fashion.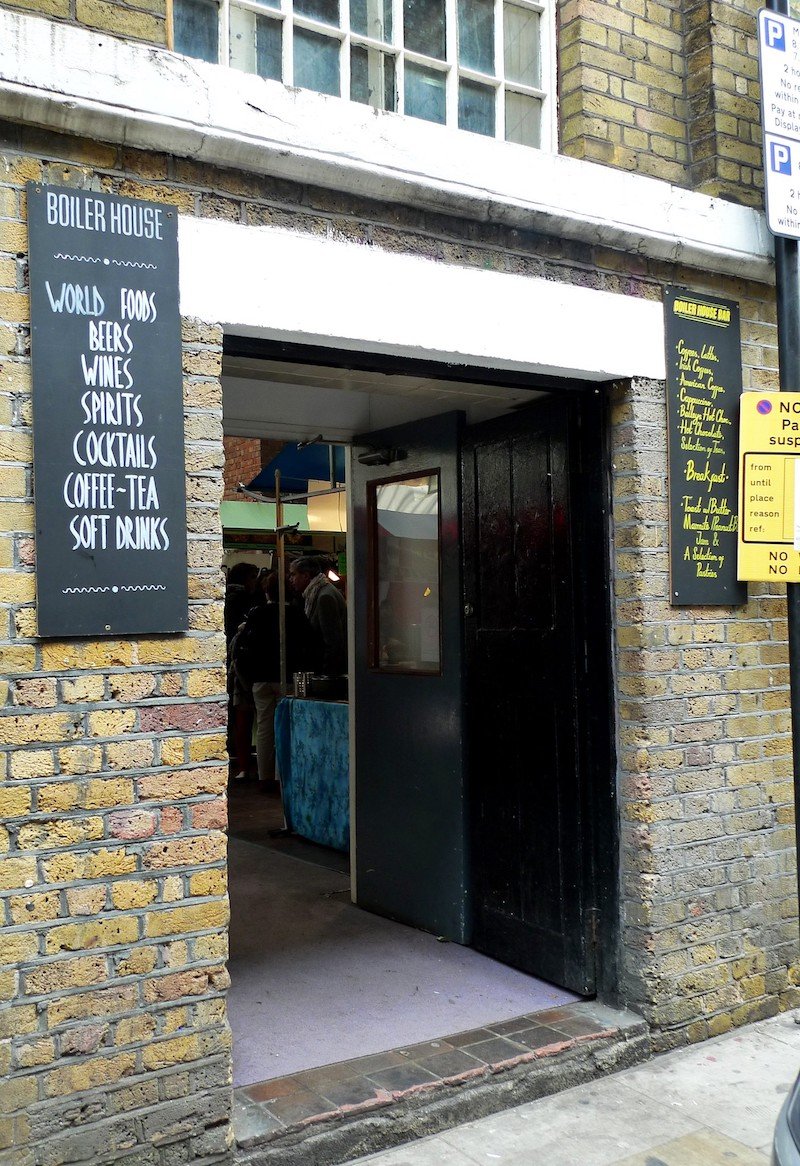 Image credit: Ewan Munro via Flickr CC BY SA 2.0
No.2: The Boiler House Food Hall
Boiler House Food Hall location is 152 Brick Lane, London E1 6RU
Open every weekend
Saturdays 11 to 6pm.
Sundays 10am to 5pm.
Across the lane from the Sunday Upmarket street market and up a bit, there's more Brick Lane food stalls and food vendors, and an opportunity to sit at wooden tables around the great chimney.
There's a lovely secret beer garden for sun and fresh air lovers too.
Image credit: Sugardaddy bakes via Flickr CC BY 2.0
No.3: The Tea Rooms Brick Lane
Brick Lane Tea Rooms are at The Old Truman Brewery, 91 Brick Lane, London, E1 6QL
A secret coffee shop, with traders in vintage and antique suitcases, costume jewellery, records, clothing, fashion, and aprons.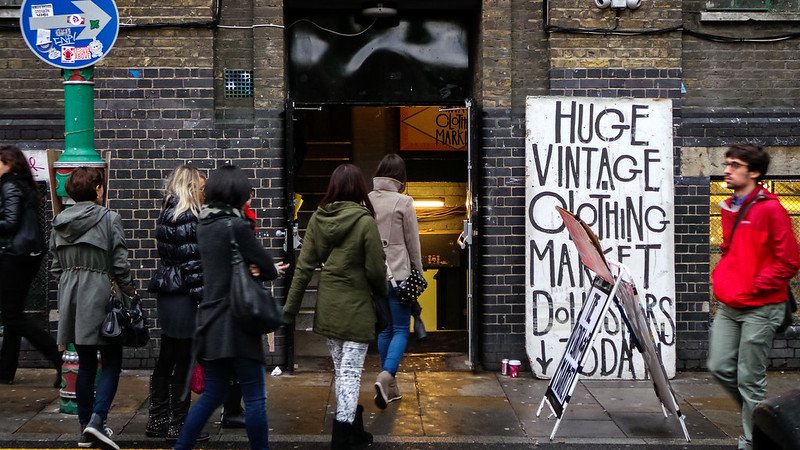 Image credit: Garry Knight via Flickr CC BY 2.0
No.4: Brick Lane Vintage Market
Vintage Market Brick Lane is another market at the Truman Brewery located at F Block, 85 Brick Lane London E1 6QL
Open daily.
Monday to Saturday 11-6pm.
Sunday 10-6pm.
Vintage specialists from across the UK and Europe take part to display their wares at the Vintage Market, next to Upmarket.
Clothing on offer dates as far back as the 1920s, and cover every decade up to the 90s.
Whether it's glam fur coats, feather capes, vintage bridal wear, men's suits or distinctive accessories, there are bound to be some exciting discoveries to be made for both men and women.

No.5: Cereal Killer Cafe Brick Lane
Cereal Killer Cafe is at 192a Brick Lane, London E1 6SA. Open 9am to 9pm.
Visit for breakfast, lunch or dinner of sweet cereal.
This gimmicky themed cafe is SUPER FUN for the kids.
---
READ MORE: The Ultimate Guide to the BEST London Playgrounds for Kids (NEW)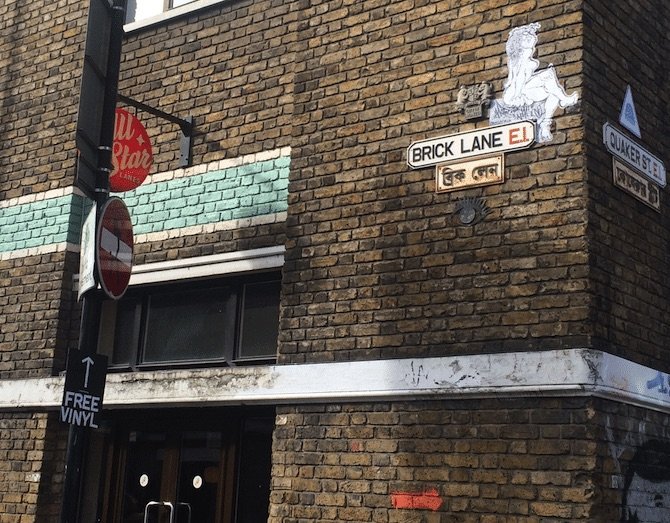 THE INSIDE SCOOP: Brick Lane Market London
Correct at time of publication on Roam the Gnome. Please check with venue for updates. We apologise in advance if there have been any changes we are unaware of. All prices in British pounds, unless otherwise stated
Want to know more about Brick Lane, and how it has changed from a poor slum area to one of London's hottest places to visit? Click here.
Brick Lane Address: The Sunday Upmarket Food Hall is at the Old Truman Brewery complex, 91 Brick Lane, London, E1 6QL, United Kingdom. Find it next to Upmarket.
Telephone: +44 20 7770 6000
Website: Click here
Food Market Brick Lane Entry Fees
FREE entry!
Bring cash.
Food stalls start from £1.
Most main dishes are around £5-6.
Brick Lane markets Opening Hours
Every Sunday 10am to 5pm.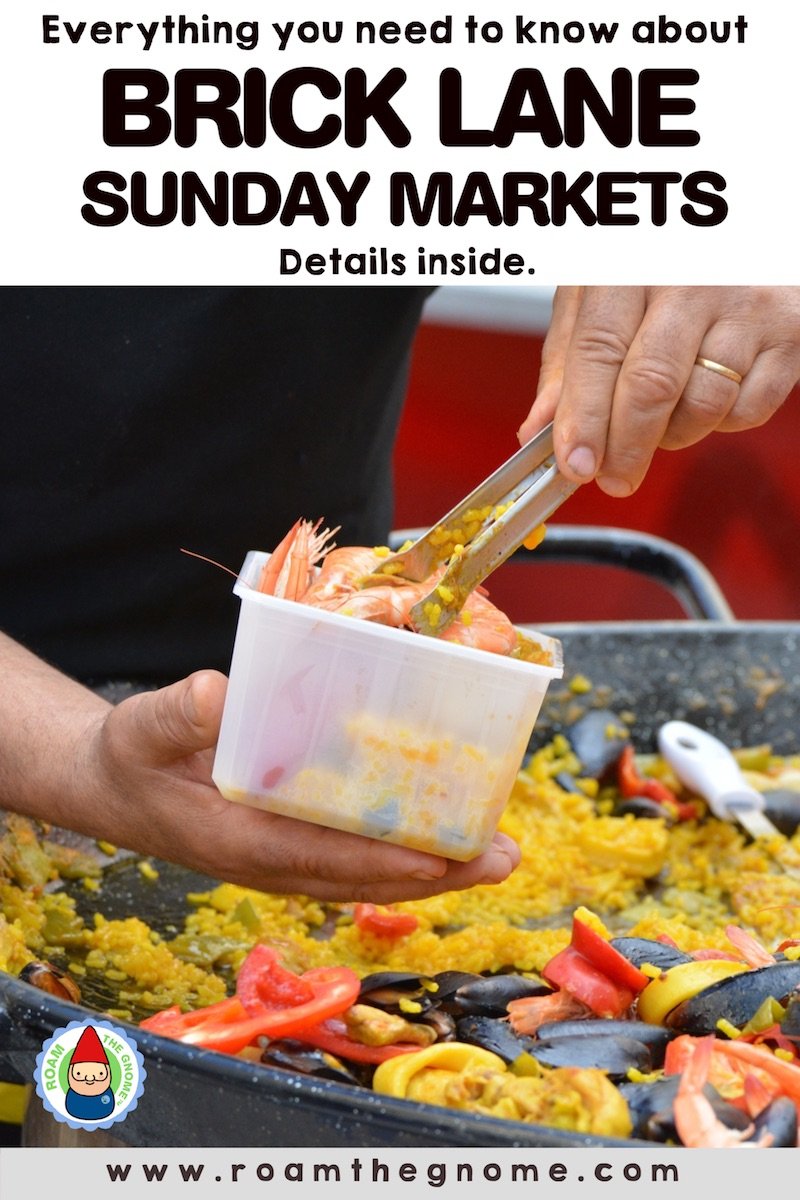 How to get to Brick Lane Market Food
By Bus: The best bet is to get the 8 or 388 bus, and get off at the Brick Lane stop.
By Train: Brick Lane indoor market is just 5-10 min walk from:
Liverpool St, Aldgate
Algate East (underground) and
Shoreditch High St (overground).
Map of Brick Lane Food Hall
Toadstool Rating:
There's so much life, noise and atmosphere here.
Kids will love it. Go early to avoid crowds.

Looking for MORE places to eat in London with kids?
Click the links in blue below for more London tips.