If you are travelling to south east Asia with kids, then you need to pack the best mosquito repellent for Bali, Thailand, Vietnam, Malaysia, Cambodia and the like.
Bali, like many other tropical holiday destinations, can be a hotspot for mosquito-born disease such as malaria and dengue fever so it's wise to take precautions to keep your family safe.
While we always keep a stash of different insect repellent products on hand, the Bushman Insect Repellent range is by far our favourite. This stuff works no matter what. It's lethal to those annoying mozzies.
How to avoid Mosquitos in Bali (and Asia in general)
One of the best ways to avoid mosquitos in bali is to use a mosquito repellent of course.
But there's lots of other tactics too. Read our super helpful guide to avoiding the mosquitoes in Bali to find out more.

Bushman Insect Repellent
We, and lots of other families we know, do not go to Bali without our trusted Bushman Insect Repellent. We pack a roll-on bottle and a tube of Bushman insect repellent gel in our carry-on luggage as well as another roll-on bottle in our main suitcase. (It also comes in an aerosol can. We keep this one at home.)
While not a fan of using anything chemical in our normal life at home (cleaning products, laundry detergents, washing up liquid, makeup…) or putting any kind of chemical on the kids skin ever, when it comes to keeping safe from mosquito-borne diseases in Bali, we don't take chances.
For short trips to Bali, we go for the 80% heavy duty stuff in the Bushman insect repellent gel during peak Mozzie-biting danger zones (in places like the Monkey Forest in Ubud and the zoos, in wetlands and forests, near rice paddies, and in the shadowy areas) and at dusk.
We revert back to the 20% or 40% DEET roll-on during the day . We make sure to reapply Bushman Insect Repellent after swims and showers.

Bushmans Repellent comes in two ranges – Ultra Heavy Duty  & Plus
The Bushman Insect Repellent Ultra Heavy Duty Range includes the original, highly effective 80% DEET Gel, along with a range of ultra-long lasting products which includes 40% DEET aerosols, and a roll on.  These products last 15 hours, are water, sweat, and rub resistant, and have a pleasant smell.
The Bushman Insect Repellent Plus Range combines all the usual Bushman benefits except they are guaranteed to last 12 hours (not 15 as per the other range) and have 20% DEET, BUT they include sunscreen and additional fly repellency too. The Bushman Plus Range comes in Aerosol cans, Roll on, Gel, AND a brand new pump spray.
Bushmans Bug Spray for ALL the bugs!
Did you know Bushmans mosquito repellent also repels ticks, sandflies, sand fleas, march flies, horse flies and leeches should you come into contact? I know. Seriously good stuff.
There's also a Bushman anti-itch gel for the times when the repellent was poorly applied and/ or only applied when people realised they were getting bit!

Where to buy Bushman insect repellent?
Buy your favourite Bushman Insect Repellent at Amcal Chemist now, by clicking one of the blue links below.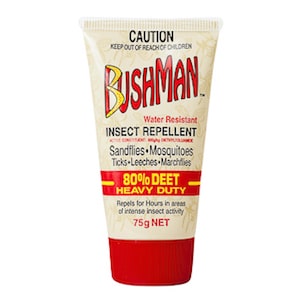 Our Roam the Gnome Family Favourite! The Bushman Ultra HEAVY DUTY 80% DEET Gel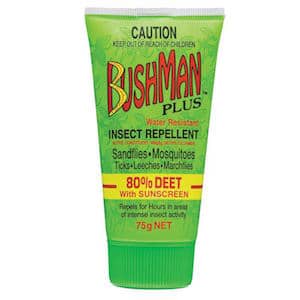 Bushman Plus 80% DEET Gel (Repellent with Sunscreen) – 75 g
Bushman Plus Pump Spray 20% DEET (Repellent with Sunscreen) – 100ml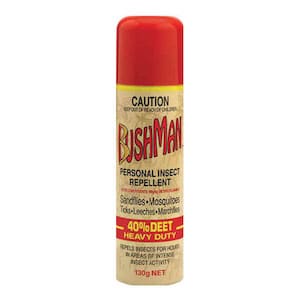 Bushman Ultra HEAVY DUTY 40% DEET Aerosol (Repellent only)
Looking for SUPER DOOPER FUN places to visit in BALI?
Click the links in blue below.
Disclosure: If you book hotels or activities, or buy products through a link on Roam the Gnome, we may receive a small affiliate income.
Thank you for your support in helping us to grow this Family Travel Directory.