All things Snoopy
at the Charlie Brown Cafe Hong Kong

I've been a Snoopy fan since I was a kid. So much so, that I nagged and nagged my family to take me to see a Stage Show production at the Opera House in Sydney when I was a kid. That was a bit of a non-event.  Snoopy was just a guy with a collar round his neck.  Ridiculous and definitely NOT Snoopy.
So to make up for that childhood trauma, we just had to try out the Charlie Brown Cafe Hong Kong, in Tsim Sha Tsui and share afternoon tea with Snoopy and friends. Yes, we did! Come on a visit with us.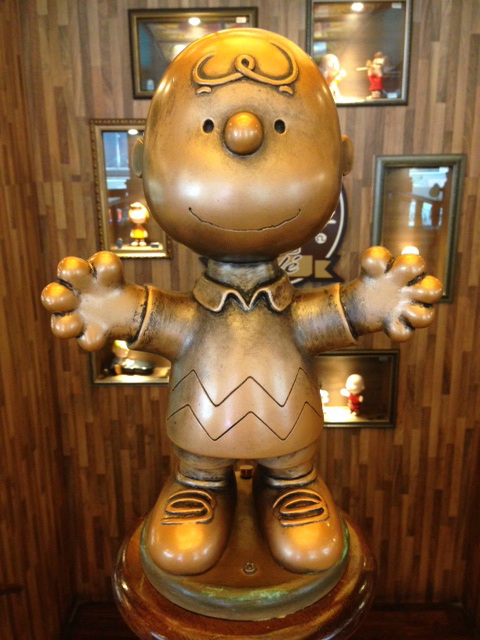 The essential insider info

Charlie Brown Cafe Hong Kong is, let's be honest, an overpriced gimmick cafe BUT it is very cute and the kids (and Roam the Gnome and I) loved the fun decorated food and drinks. If you are a foodie hoping for a sublime experience, this is not for you but if you love Snoopy, love comics, love Charlie Brown and Sally Brown and Linus andPeppermint Patty and that argumentative Lucy, make a run for it. You'll be in Charlie Brown territory and it's cool.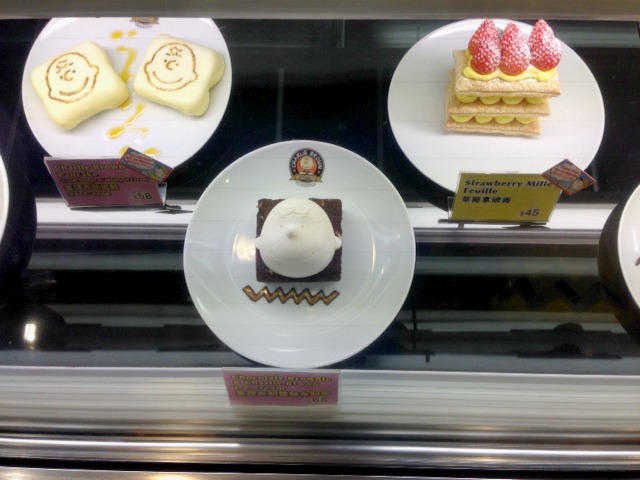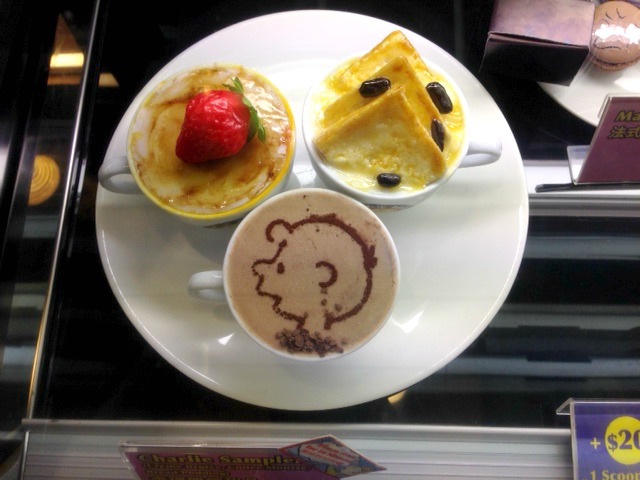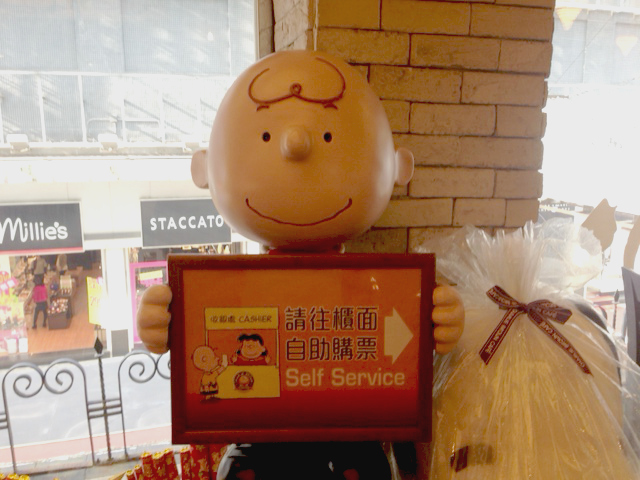 Some of the treats on offer. It's self service, so you have a look at the menu and at the example plates in the cafe's cold cabinets ('samples' similar to the Japanese style of fake food displays) and then order.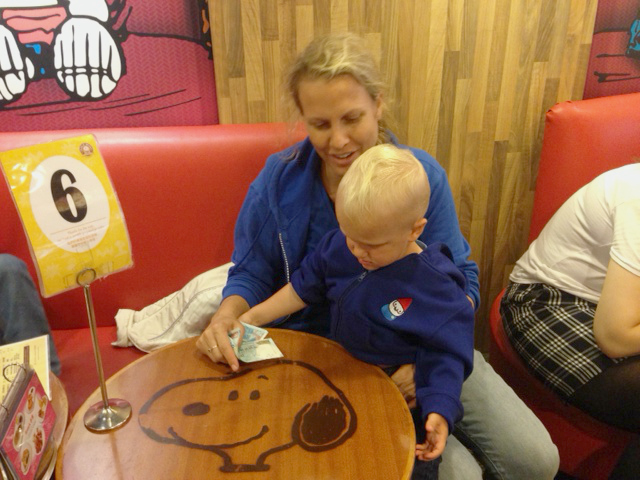 Then it's time to find a seat, and wait for your order to be delivered. There's Snoopy touches everywhere – from the illustrations on the tables, to the cut-outs in the backs of the chairs. Historical photographs and framed memorabilia fill the walls, there's a 'trophy' cabinet of Snoopy and Charlie Brown products from the last 50 odd years since the first Peanuts comic strip came to life, and life-size characters seem to call you over for a 'selfie' – I mean, if you're a big fan, you just have to take a photo between Snoopy and Charlie Brown, right? (Roam the Gnome couldn't resist! He talked us into it!)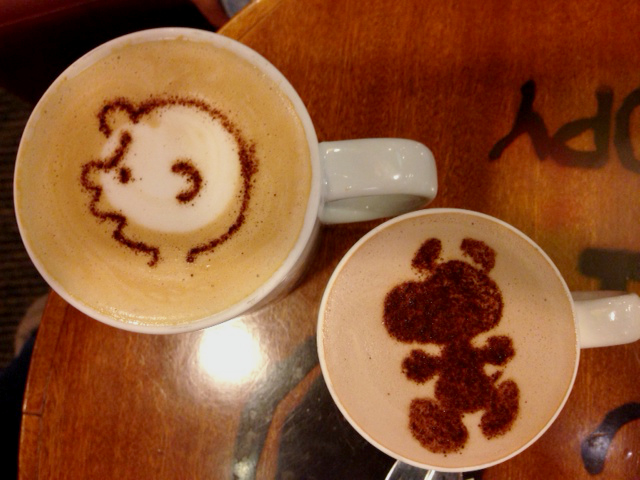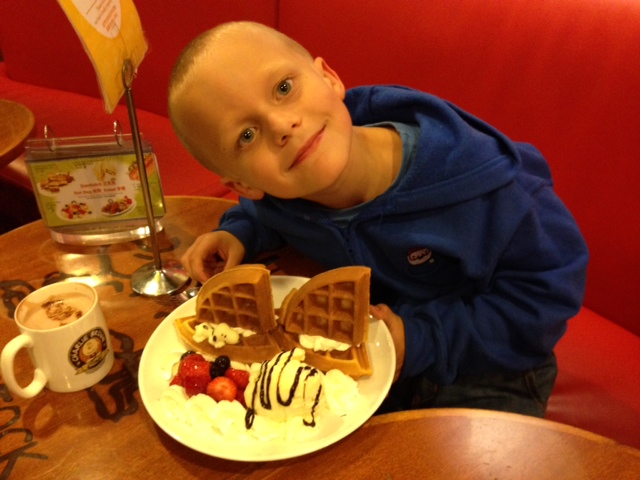 When our yummies arrived, we simply had to take the obligatory photo too!  No-one was starting their hot chocolate before we snapped evidence of the cocoa-shaker cuteness! Oh how I'd love for Charlie Brown to greet me on my morning cuppa each day – how cheery!  There's a number of unconventional delicious-sounding items on the drinks menu too- Charlie Brown Mocha, Toasted Hazelnut Caffe Latte, Ginger Peach Shake'n'Tea and Matcha Cream Frappa (Green Tea!)   But for coffee lovers, there's a CREATE YOUR COFFEE menu!    Click here for the drinks menu and prices

When it comes to food choices, it all depends on the time of day you arrive. There's all kinds of things – Happy Breakfast Sets, including the divine looking Charlie Brown hotcakes (pancakes) and fresh fruit and Charlie Brown french toast, Lunchtime offers burgers and fries, all sorts of spaghetti dishes, toasted sandwiches AND the best thing of all for Snoopy Lovers?  Snoopy Rice with Bolognaise Sauce. You guessed it, rice in the shape of a Snoopy mold! Oh, slow my beating heart.

But I think we all know what we're really here for. Charlie Brown and Snoopy inspired CAKES and sweet stuff!  The most difficult thing is what to choose. I mean, look. Drool now.


Ned ordered waffles and ice-cream, complete with a Snoopy chocolate on the side – on his first day in Hong Kong, how could I say no?  Jack, Roam and I shared (more than) a nibble.

Did you know?
By 1999, Charles Schulz's comic strip about a pensive boy named Charlie Brown and his friends was running in 2600 newspapers in 75 COUNTRIES!
Snoopy has his own star on the Hollywood walk of fame, right next to Charles Schulz's.
SNOOPY has FIVE siblings – Spike, Marbles, Olaf, Andy, and his only sister, Belle.
The history of Peanuts animation traces back to 1960, when the Ford Motor Company featured Charlie Brown and the Gang in television advertisements for the Ford Falcon compact car.
The Peanuts characters literally reached new heights in 1969, when they traveled into space with NASA astronauts. The Apollo 10 crew named their command module after Charlie Brown, and the lunar module was named after Snoopy.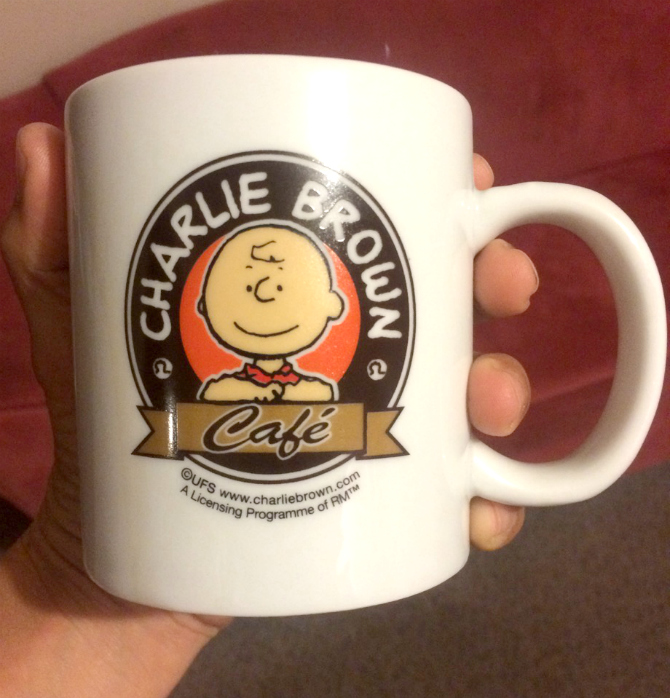 Fun to buy
You won't be able to leave empty-handed. THIS CUP. I love a souvenir that I can use back in normal everyday life – these kinds of souvenirs always take me back to the fun!  So I bought this. Use it every single day.
But if a mug or cup is too heavy to carry around, there's always a key ring, a soft doll, a identifying chain to label your cup, and boxes of Charlie Brown signature cookies.
Have a look at the Merchandise and Gift list of suggestions here.
Our top tips
Seating for the cafe is upstairs, via a steep staircase. Can be a little difficult with a stroller. Take your Ergo Carrier instead.
They have a Facebook Page!  Filled with all the yummy birthday cakes they make, but also current events. LIKE it and check it before you go.
Toadstool Rating (by the kids)
Five out of Five. No Question, says Ned. 


Google map link
The Inside Scoop
It's a 16 minute (approximately 1.1 km) walk from the Star Ferry terminal at Victor Harbour, along the waterfront and turn left into Nathan Road (the main strip) and right into Cameron Road. Or catch the bus.
Walking Route
Bus Route via Bus No. 5 – Hop off at the Oriental Centre on Chatham Road and walk back a few metres.
Hong Kong City Essentials

Thinking about a trip to Hong Kong? Here's a link to find ALL the information you need to know, in one place.