INSIDE: Roam the Gnome's Insiders Guide to Pixie Dust, the magical ingredient of Disney Guest Relations.
Have you ever heard of Pixie Dust?
The special VIP treatments that can make your day during a trip to Disney Parks such as Walt Disney World (Magic Kingdom, Hollywood Studios, Animal Kingdom or Epcot) or Disneyland, or on a Disney Cruise Line.
No?
Well read on to find out more about the delightful Disney World customer service and more!
What is Pixie Dust?
"All it takes is faith and trust… Oh! And something I forgot: Dust.
Just a little bit of pixie dust.
Peter Pan
Pixie dust was first mentioned in the film, Peter Pan. Tinker Bell's magical pixie dust was the charm that gave Wendy and her brothers the ability to fly.
Disney now takes the idea of 'Pixie dust' one step further.
Disney's Pixie Dust experiences are the Random Acts of Kindness given to a Disney World guest of the parks from time to time.
READ MORE: The ULTIMATE LIST of the BEST DISNEY SOUVENIRS TO BUY!

What does Pixie Dust mean for Disney Guest Relations?
Disney Guest Relations staff and cast members are given the power to sprinkle 'pixie dust' goodness on their favourite visitors.
When you visit Disney next time, you might just be the lucky recipient.
Walt Disney World guest services, Disney springs guest services, and Disneyland guest services are all in on the act.

We LOVE Magical Disney Pixie Dust surprises!
Disney Pixie Dust experiences include all kinds of things!
Our forever favourite is the experience of having every cast member say "Happy Birthday to you" when you pass by wearing a birthday button.
But it's the big-hearted care that warms our heart most of all.
A cast member noticing you are cold, and bringing over a rug and a free hot chocolate
A cast member taking extra good care of your property, when you've accidentally left it somewhere, until you return to claim it.
A Disney character going above and beyond to make your child's day with a personal experience of sharing a story, or doing a dance, or using sign language to communicate a special message.
THIS is why Disney rules the world.
Here's a list of the Pixie Dust experiences we know of, and love.
The trick is not to expect them, but to welcome them with open arms if and when they arrive. Surprise and gratitude fuels the magic of Disney.
Resort upgrades for free
Being moved from one Disney World resort to another better one for the duration of your stay
Festive room decor when you arrive to your room on a celebratory day such as a honeymoon
Free cookies
Plush toy gifts
Minnie and Mickey postcards
Gift cards to buy merchandise
Random complimentary meals gifted
Sneaky back-room queue jumping opportunities
Simple acts of kindness such as characters playing with your kids
An invitation to enjoy a private character meeting
The chance to be Grand Marshalls in a parade
Complimentary extra magic hours
Free dining vouchers
Custom made Mickey ears with your name on them!

MORE Surprises from Disney Guest Relations
Guest relations cast members may also sprinkle pixie dust like:
FREE Disney buttons for every kind of celebration
Signed photos of Mickey propped up on your bedside table
A special or personalised greeting by a Disney character
A special balloon handed over unexpectedly
Cast members with bubbles
Fun engagement with cast members cheering for you when you hit big milestones such as finally being tall enough to ride!
Mickey stickers
Mickey shaped chocolates in your room
Mickey ice cream on the house
A Disney birthday cake treat, and being serenaded by a bunch of Disney characters who bring it out to you!
Disney characters catching you unawares at unlikely spots throughout the park, and giving you uninterrupted time to chat with them
Returning lost property by post to your home at no charge
Surprise bonus fast passes from a street sweeper
Front of line passes
No strings attached Fast Passes
If you believe the whispers, there may even be something called a Golden Ticket – a fast pass for every single ride.
We've heard stories where people have been gifted a new bucket of popcorn when theirs has crashed to the ground accidentally.
Cast members have replaced newly purchased lost toys with new ones too.
My HEART SOARS when I hear these stories.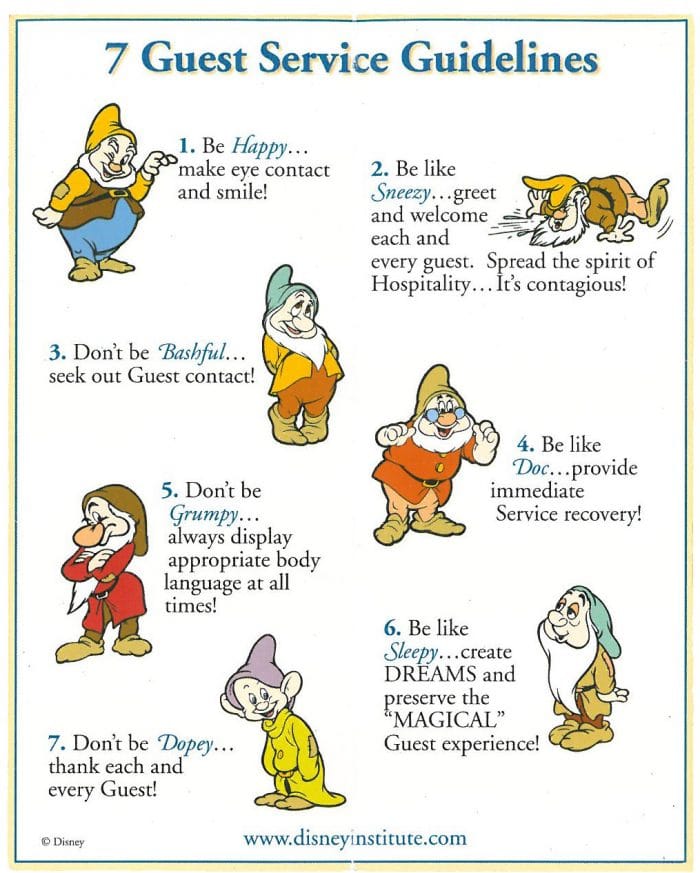 7 More Reasons to Love Guest Services at Disney
People ask why is Disneyland such a happy place?
The real answer is that Disney staff go above and beyond when it comes to Disney customer service.
How do you thank a Disneyland Cast Member?
Be sure to lodge a feedback form at one of the Disney Parks guest relations offices.
These things don't go unnoticed by Disney management.

Looking for more Disney Tips and Tricks?
Disclosure:
This website contains references to products and services from our favourite brands. Some of these are affiliate links. If you make a purchase or booking after clicking on one of these links on Roam the Gnome™, we may receive a small affiliate commission at NO COST to you. For our Disclosure and Disclaimer statements, and an explanation of our Advertising policy please click here
Roam the Gnome™ is a participant in the Amazon Services LLC Associates Program, an affiliate advertising program designed to provide a means for sites to earn advertising fees by advertising and linking to amazon.com, amazon.co.uk, amazon.ca. Amazon and the Amazon logo are trademarks of Amazon.com, Inc. or its affiliates.
Thank you in advance for your support in helping us to grow Roam the Gnome Family Travel™ Website Directory. Bookmark this page to keep us safe and sound.