INSIDE: Roam the Gnome's Insider's Guide to the Best DISNEY HOTELS at Disneyland and Disney World Orlando.
Lots of hotels now offer all the bells and whistles and "tricks" that hotels around the world employ to encourage you to book a stay on their hotel with kids:
the kids menus
the soft toys
the child-size amenities
the fun swimming pools
the entertainment and, all the other
But the only hotel brand we trust to deliver a wholesome and heart-filled family experience 100% of the time is DISNEY.
Disney hotels are the bees knees.
Disney hotels have something for everyone, no matter how old you are.
Take a look and see why.
Disclosure: This article contains affiliate links. If you make a purchase after clicking on one of these links, we may receive a small commission at NO extra cost to you.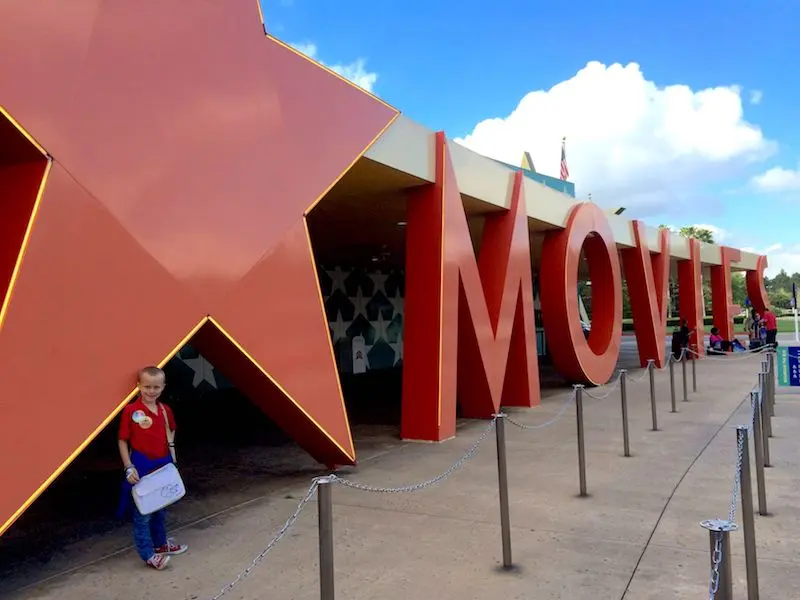 Why you should book Disney World Hotels on property
A Disney Hotel experience is like NO other.
Outstanding customer service. It's ALWAYS service with an extra big smile.
And you never know when you might be sprinkled with Disney's famous PIXIE DUST!
Breathtaking interiors.
On-point DISNEY decor theming and styling in restaurants, cafes, and public areas.
Mouth-watering 5 star menus. (Yes, it's true!)
Sweet aromas and fragrances everywhere you go.
Irresistible swimming pools that stop you in your tracks.
DISNEY themed rooms and grounds.
Opportunities to buy EXCLUSIVE Disney souvenirs in the hotel stores. (Did someone say shopping?)
But it's the ATMOSPHERE that is the real selling point.
I can't put my finger on it, but as soon as you walk in the doors of a Disney hotel, it hits you.
THE DISNEY MAGIC.
It stays with you from the minute you arrive, until the minute you leave.
THAT is worth every extra penny to stay on property at Disney.
Be warned: it's hard to go back.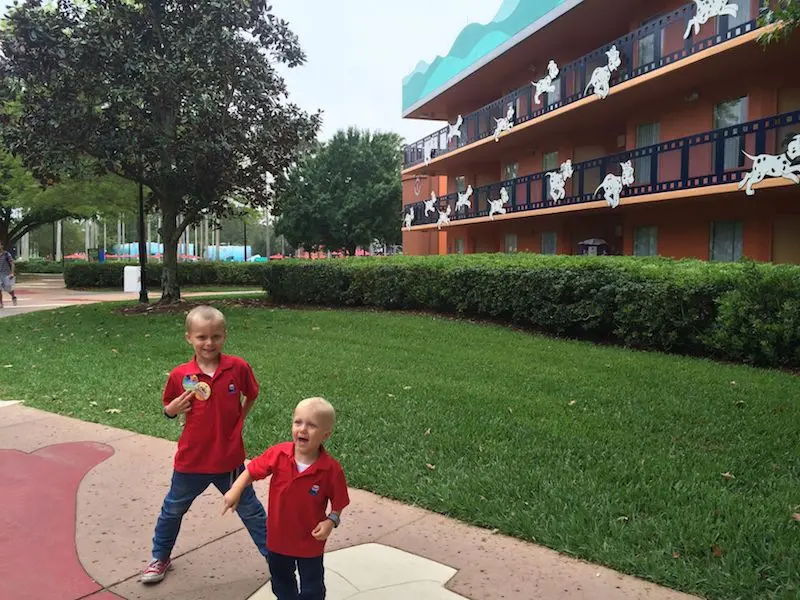 Disney Hotels are full of surprises!
Correct at time of publication on Roam the Gnome. Please check with hotels for updates. We apologise in advance if there have been any changes we are unaware of. All prices in US dollars, unless otherwise stated.
There's DISNEY surprises like these around every corner!
Meet and Greets with Disney Characters and Disney Princesses
Disney Caricature Artists sketching in the foyer
Disney musicians playing your song
GIANT sized statues like the Dalmation one above!
And every now and then, a special unexpected Disney surprise to give you goose bumps.
---
HOT TIP: Special shoutout to our Favourite LA Hotel, Magic Castle Hotel.
Magic Castle Hotel in Los Angeles is the only hotel we know of where the service AND fun is comparable to a DISNEY hotel.
Plus, they have a POPSICLE HOTLINE!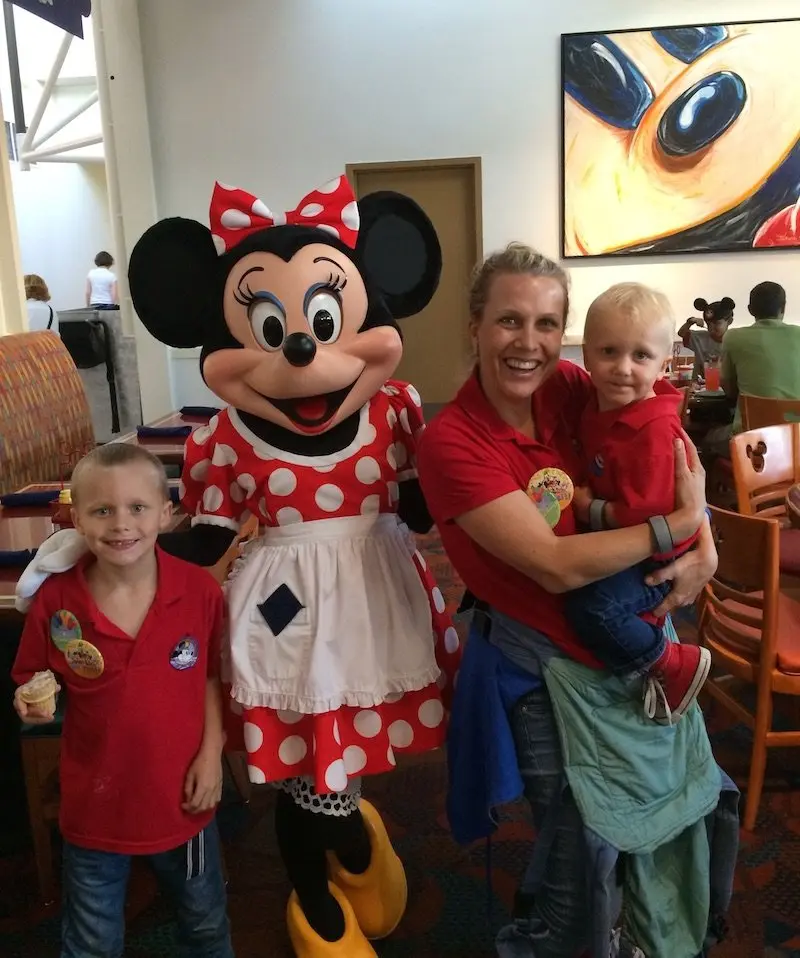 Disney Parks around the World
If you are planning a Disney vacation to any of the Disney parks listed below, we can help you find the best on property Disney accommodation for your trip in our comprehensive guide to Disney accommodation below.
We've also listed Disney-approved hotels for each of the parks too.
Disneyworld in Orlando (Magic Kingdom, Epcot, Animal Kingdom, or Disney's Hollywood Studios)
Disneyland or Disney's California Adventure Park in Los Angeles
Paris Disneyland
Tokyo Disneyland & Disney Sea
Shangai Disneyland
Hong Kong Disneyland
Your only task is to PICK & CHOOSE where you'd like to stay!
To help you out, we've list our top three preferences for Disney World accommodation, and our top Disneyland Anaheim hotels, otherwise the list can be overwhelming.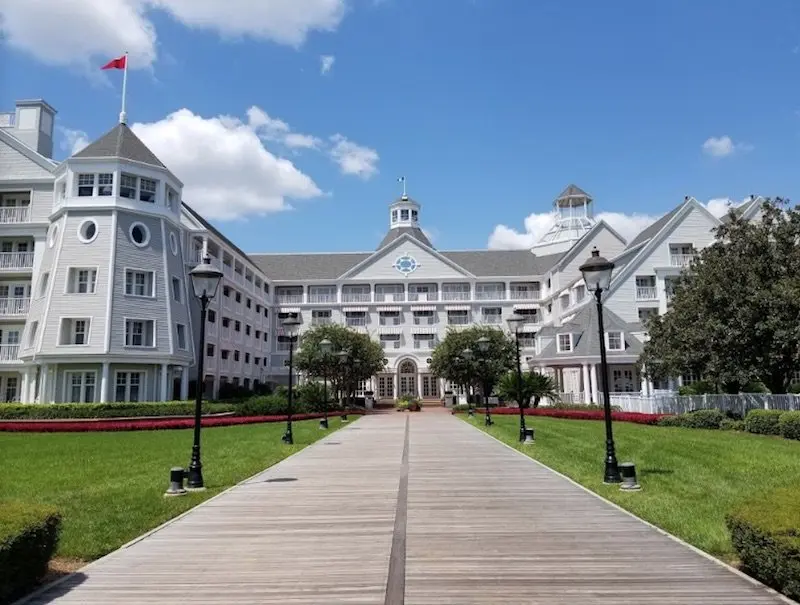 Disneys Yacht Club – Image credit: Jason B
DISNEY WORLD HOTELS, ORLANDO
There's thirty-four resorts and hotels on the Walt Disney World property, and twenty-eight of these are owned and operated by Walt Disney Parks.
The entire Walt Disney World site is MONSTER SIZED.
I really had no idea.
There's SO many perks to staying at Disney World hotels on property that the only reason we'd choose otherwise would be if we were visiting on a super super tight budget.
But even on a tight budget, Disney value hotels can save the day.
We'd rather stock up at the supermarket and BYO snacks to a Disney vacation, and make compromises elsewhere ( a shorter stay than we'd hoped, taking a red eye flight, travelling on a low cost carrier airline…) than choose an alternative non-Disney hotel stay.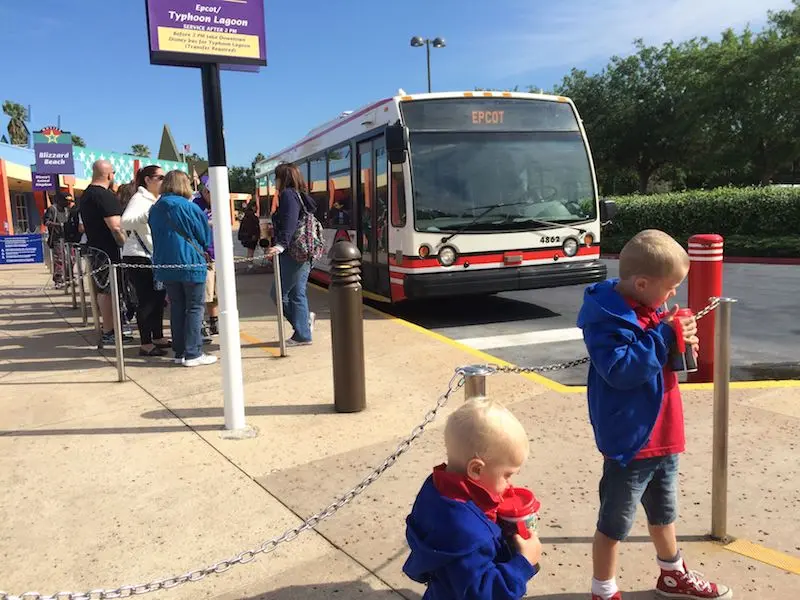 Benefits of Staying on Property at Walt Disney World Resort Hotel
Benefits of staying at Disney World on property include:
No.1: Disney's Magical Express bus
Start your vacation the moment you arrive at the Orlando International Airport. Be met by a Disney guest relations team member and make your way to the bus. They drop you right to your front door of your hotel. The complimentary Disney Luggage tags make you feel extra special and like a VIP! They'll pick you up in time for your return flights home too.
No.2: Location, Location, Location
You never have to travel far to the entrance gates when you stay on property.
No.3: FREE Disney transportation
Disney hotels on property offer free transportation to all four parks via bus, boat or monorail depending on where you are staying.
If you drive, being a hotel guest means you can park for free.
No.4: Disney Extra Magic Hours
Disney hotel guests are given the opportunity to enter the park early before the day tripping crowds arrive, or stay late to enjoy Disney after dark.
Extra Magic Hours change times and venues each week, so check the My Disney Experience app for the current schedule.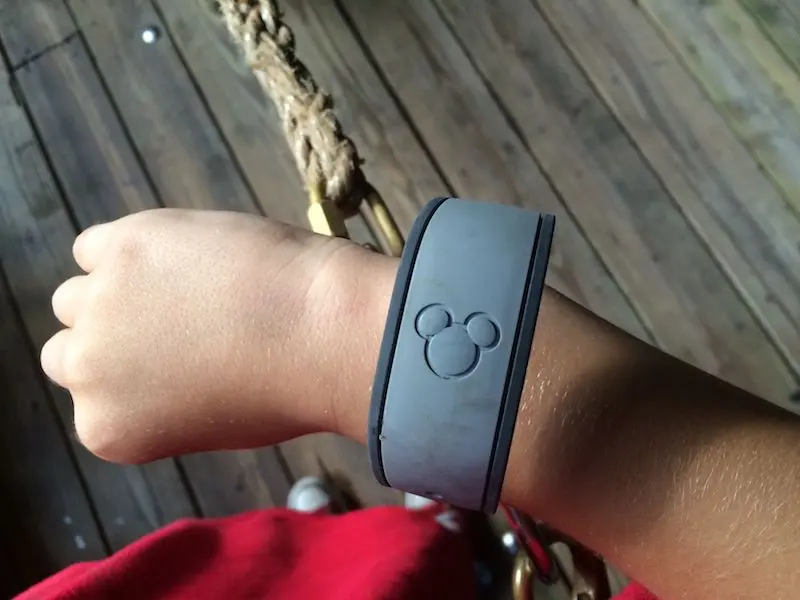 No.5: Disney Magic Bands
Every hotel guest is given complimentary Magic Bands for every one in their group.
Magic Bands:
unlock your room
are your ticket to entry at the parks
allow you to check in when it's your turn to FastPass+ an attraction, and
connect your Photopass to your account.
You can also use it to shop, charging food and merchandise to your room.
Hot tip: you must sync your Disney Magic Band to the app for it to work properly.
No.6: Disney Fast Pass+ Priority Booking.
Book 3 Fast Passes+ for the theme parks before everyone else – up to 60 days before you arrive.
This means you can plan your day to make the most of your time at Disney with fewer queue holdups.
No.7: Enchanting themed swimming pools
Need we say more?
No.8: Disney Dining Plans
As a budget queen, I spent a lot of time doing the calculations on this one, and it's true.
Disney Dining Plans save you lots of money on food at Disney, especially if you take advantage of booking a Disney Character meal, or three.
We love the time saving element too – eating at sit-down restaurants in Disney is much quicker than lining up for quick-service meals, and the food is better too.
We saved quick service for breakfast in the hotel.
MORE of the Best Disney Resort Extras
There's also these things:
The chance to sleep in a Disney themed hotel room at some Disney properties!
Special events, every single day – your hotel or resort may host Disney Movies under the stars, Disney hotel pool parties, Disney bedtime storytelling, and Disney craft activities
Arcade games rooms for kids (extra fee)
Fun extras like this one: The chance to call concierge and book a wake up call with Mickey on the line!
You can make your stay more memorable by booking an in-room celebration for your kids for their birthday or special event, with:
Disney gifts
Disney treats and
Disney decor.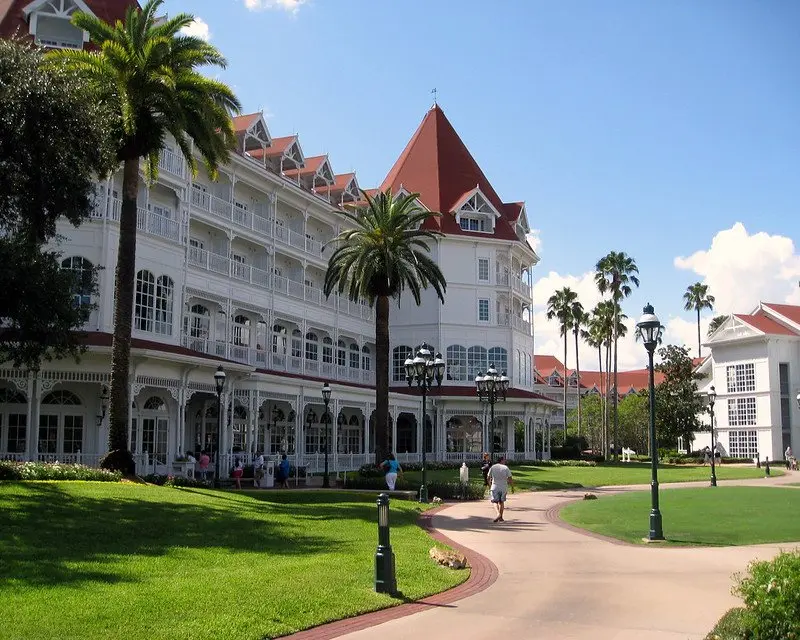 Image credit: Jared via Flickr CC BY 2.0
DISNEY WORLD LUXURY HOTELS
These are the best Luxury Deluxe DisneyWorld hotels on property.
Luxury Hotels at Magic Kingdom Resort Area
These are the best Disney World hotels for families.
No.1: Disney's Grand Floridian Resort and Spa
Disney's Grand Floridian Resort & Spa (pictured above) is the best of the best, arguably the most popular or sought after Disney hotel at Disney World for elegance and style.
But it's priced accordingly of course.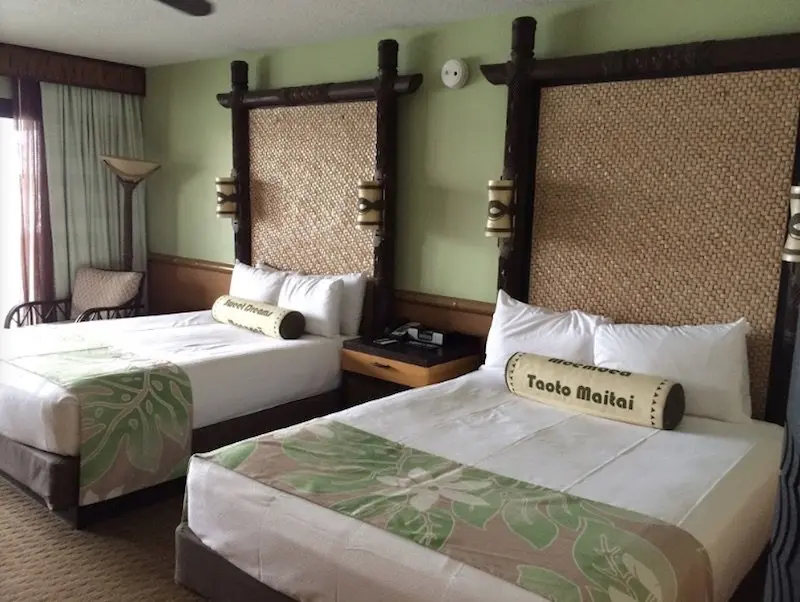 Image credit: Mark Greger
No.2: Disney's Polynesian Village Resort
Disney's Polynesian Village Resort is the place to stay if you want a little bit of Hawaiian cheer, with hula dancing and luaus to boot.
It's been a favorite since 1971, and many families return year after year.

No.3: Disney's Contemporary Resort
Disney's Contemporary Resort is within a few hundred metres walk from the front gates of Disney World, and the monorail goes right through it.
It's light and bright, and a favorite of families who are visiting Magic Kingdom with toddlers as it's the easiest Disney resort if you want to take the kids home for a midday nap.
Book a table at Chef Mickeys Character Meal during your stay to meet Mickey and Minnie, and their friends too.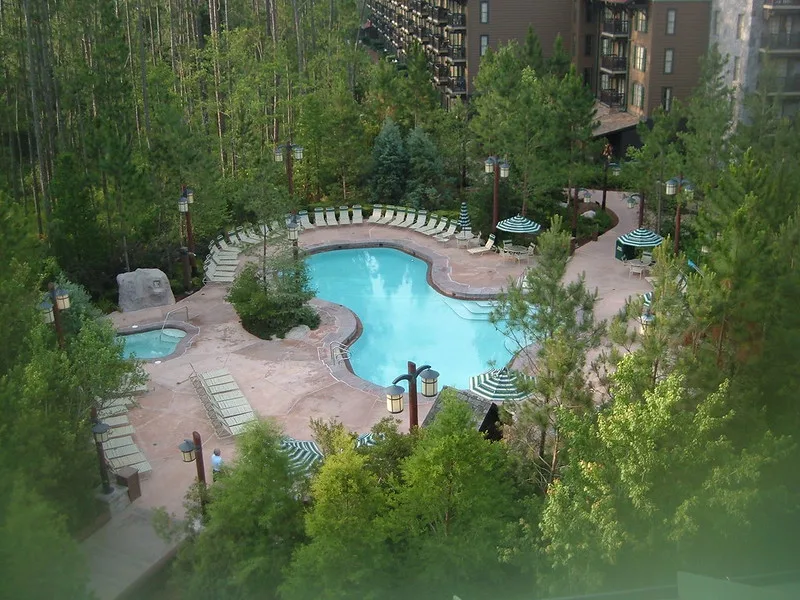 Image credit: Michael Gray via Flickr CC BY SA 2.0
No.4: Disney's Wilderness Lodge
We love Disney's Wilderness Lodge for an all American rustic getaway.
The landscaping surrounding this old-school National Park lodges inspired resort makes you feel you are in the great outdoors somewhere out west.
There's a whirlpool spa, and a heated pool with a huge waterslide. Meet Snow White and friends here at Storybook dining.
The interior design of this resort makes it my favorite.
Image credit: Loren Javier via Flickr CC BY ND 2.0
Luxury Hotels in Epcot Resort Area
These three Disney World resort hotels are for people who like to travel in style.
No.1: Disney's Beach Club Resort
Disney's Beach Club Resort pays homage to New England, and the charming laid back elegance of Cape Cod, the summertime destination of wealthy or connected Americans.
The kids will be wowed by Stormalong Bay water park, pictured above, with its' life-size shipwreck and waterslides, and lazy river.
There's a brand new gondola from the beach resort to carry you to Epcot and Disney's Hollywood studios too!
If you fancy a peep into this kind of lifestyle, Disney's Beach Club resort is for you.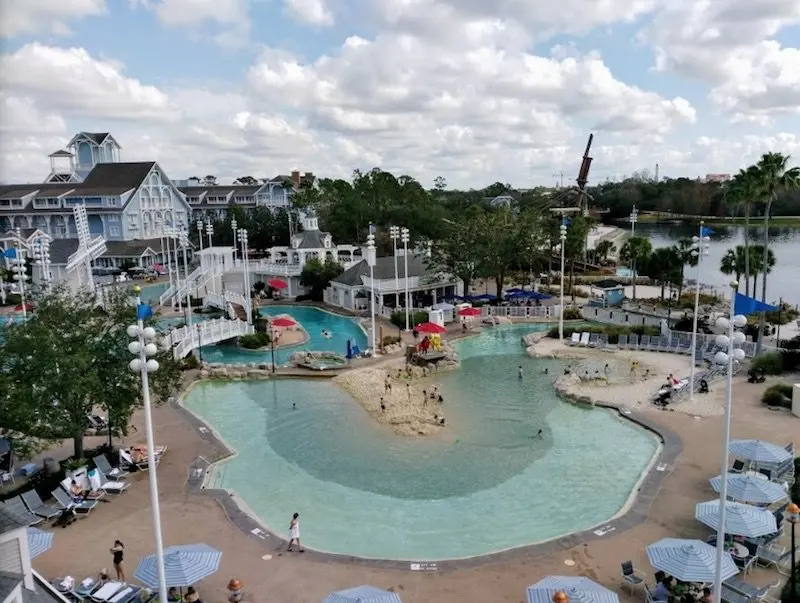 Image credit: Philip A Alia.
No.2: Disney's Yacht Club Resort
Disney's Yacht Club Resort – another resort inspired by the stylish refinement of a New England yacht club.
This hotel shares the fabulous Stormalong Bay water park above.
Nautical themed for the boat lovers out there.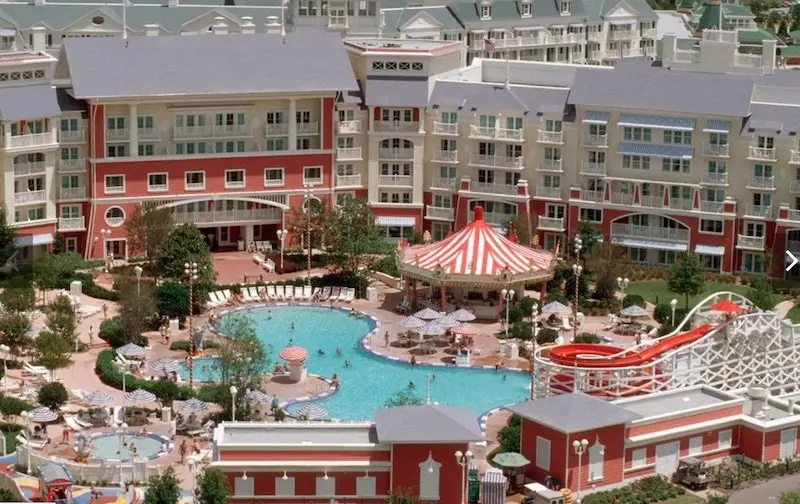 Image credit: Disney Boardwalk Inn
No.3: Disney's Boardwalk Inn
Disney's BoardWalk Inn evokes the charm of Atlantic City circa 1910, that other famous American holiday destination with a waterfront boardwalk full of:
arcade games
street entertainment
performance artists
strung lights, and
carnival atmosphere.
Kids will LOVE the miniature carousel INSIDE the hotel lobby AND the carnival themed Luna Park pool!
Image credit: Dave and Margie Hill via Flickr CC BY SA 2.0
Luxury Hotel in Disney's Animal Kingdom Area
No.1: Disney Animal Kingdom Lodge
This is the best Disney resort for animal and nature lovers!
If your kids LOVE animals, then this is the hotel for you.
It's the place to spy over 30 different types of animals, strolling around the grounds, including:
zebras
giraffes and
gazelles
(Head to the rear window of the lobby overlooking the savannah to try your luck!)
Disney's Animal Kingdom Lodge has African hut inspired accommodation.
Book a room with a balcony, and you can see the animals up close!
The spectacular open-air pool and slide is surrounded by lush greenery and African decor theming, so you'd never know you are in a Disney hotel.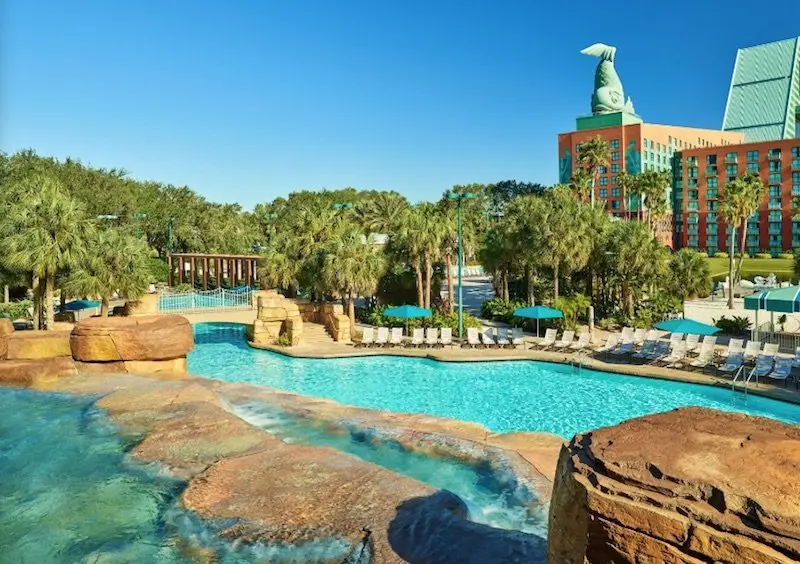 Image credit: Walt Disney Swan and Dolphin Resort
MORE HOTELS ON DISNEY PROPERTY
These four hotels are NOT owned or operated by the Disney Company.
Disney owns the land, but leases the hotels to other well-known hotel corporations to manage.
These hotels however do receive similar benefits as an on property Disney hotel such as transportation options to the theme parks on the Disney Buses.
Disney Magic Bands are NOT included in your stay but you do receive access to Disney Magic Hours!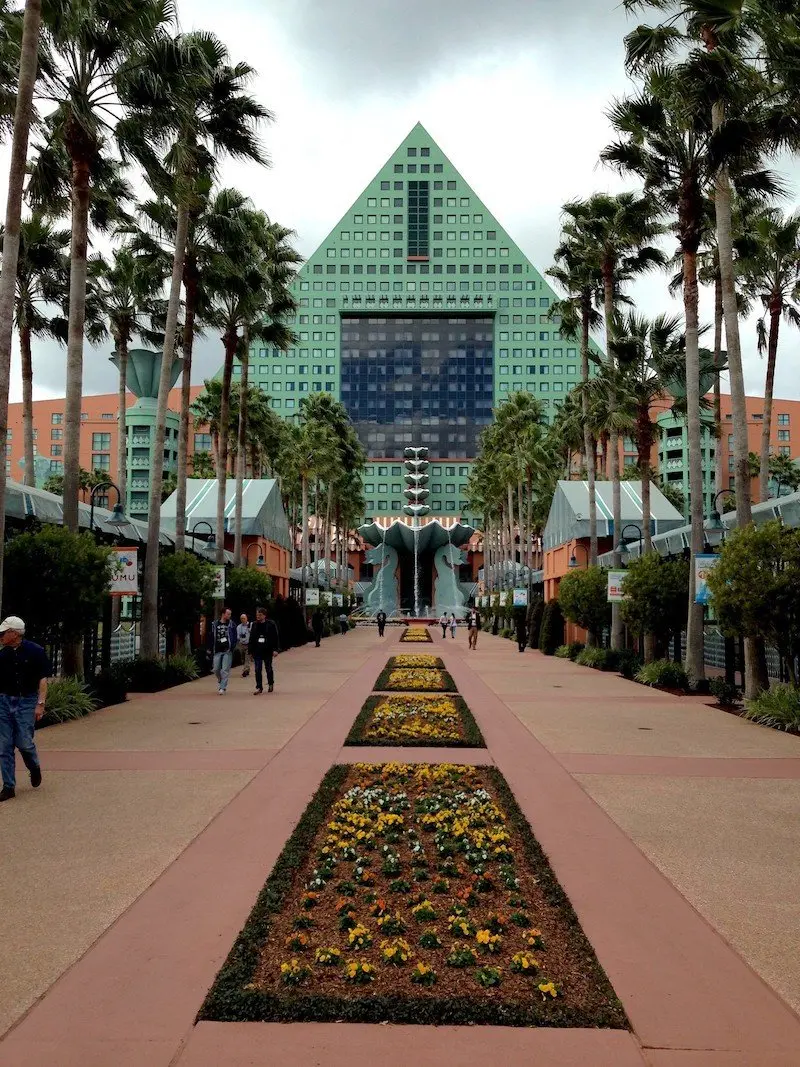 No.1: Walt Disney World Dolphin Resort
Walt Disney World Dolphin Resort in the Epcot resort area catches your eye with roof top sculptures, and a pyramid shaped entrance way.
Colored in hues of aqua and coral, the underwater theme continues throughout.
Kids will love the swimming pool oasis, plus there's Camp Dolphin kids club.
No.2: Walt Disney World Swan Resort
Walt Disney World Swan Hotel, also in the Epcot Resort area, is the sister hotel to the Dolphin, and backs onto the Disney World Dolphin hotel.
Spot the giant twin swans on the roof!
There's on site Disney character dining too.
Word of warning: The Dolphin and Swan hotels are the hotels of choice in Orlando Florida for conference convenors and attendees, as they have excellent meeting facilities and conference venues.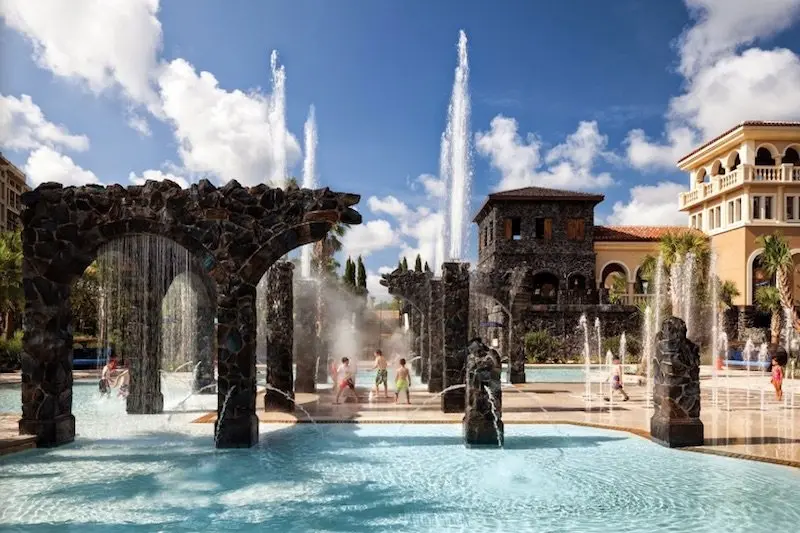 Image credit: Four Seasons Resort Orlando
No.3: Four Seasons Resort Orlando at Walt Disney World Resort – Walt Disney World Area
Four Seasons Orlando at Walt Disney World is the best of Four Seasons experience combined with a taste of Disney.
You can book a round of golf on their famous green, or take some blissful time out at the five-star spa.
Kids will love Explorer Island, with the very cool one-of-a-kind rock wall splash park and lazy river.
The best bit? Access to Disney Extra Magic Hours and Disney Fastpass bookings 60 days in advance.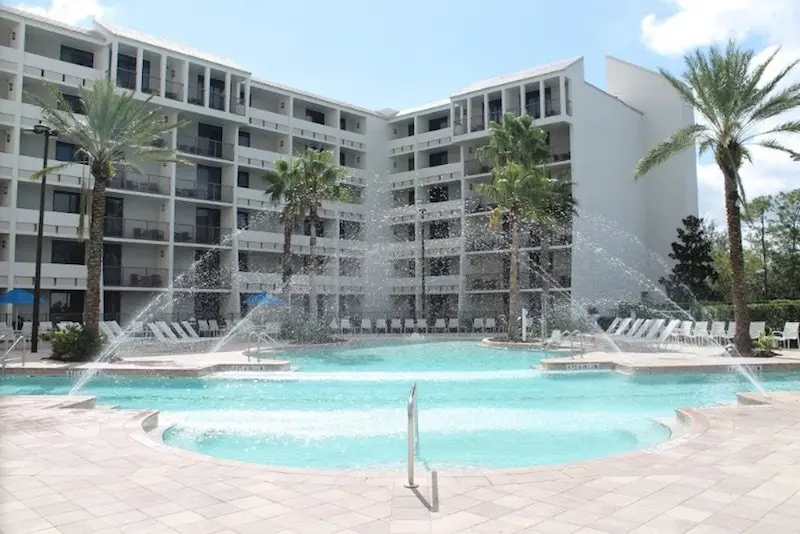 Image credit: Holiday Inn Orlando
No.4: Disney Springs Resort Area Hotels – Disney Springs Area
There are SEVEN hotels in the Disney Springs® Resort Area that all offer the Disney advantage and exclusive benefits not available outside the WDW Resort area.
Stay at any one of these hotels and you still get:
Extra Magic Hours
the opportunity to book your FastPass+ tickets up to 60 days in advance of your stay
FREE shuttle bus service to the four parks
access to Disney Springs shopping, and
access to water parks nearby.
Plus here you'll get an exclusive discount passport for Disney Springs shopping center too.
The Disney Springs Resort Area hotels are:
B Resort & Spa
Best Western Lake Buena Vista
DoubleTree Suites by Hilton Orlando
Hilton Orlando Buena Vista Palace
Hilton Orlando Lake Buena Vista
Holiday Inn Orlando (pictured above)
Wyndham Garden Lake Buena Vista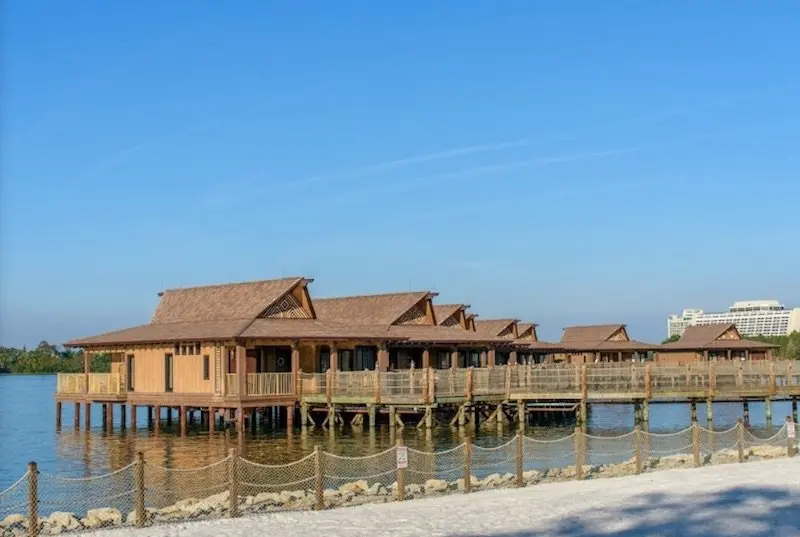 Image credit: George Rollins
BEST DELUXE VILLAS AT DISNEY WORLD
No.1: Disney Polynesian Villas and Bungalows
Disney's Polynesian Villas & Bungalows is one of the original Walt Disney World Hotels.
These overwater bungalows are Walt's tribute to an island paradise, but with monorail access to the Magic Kingdom at Disney World.
These two bedroom bungalows are perfect for families as they have a kitchen, so you can eat breakfast in the confines of home before you brave the Disney World crowds. It's the next best thing to a Maldives holiday!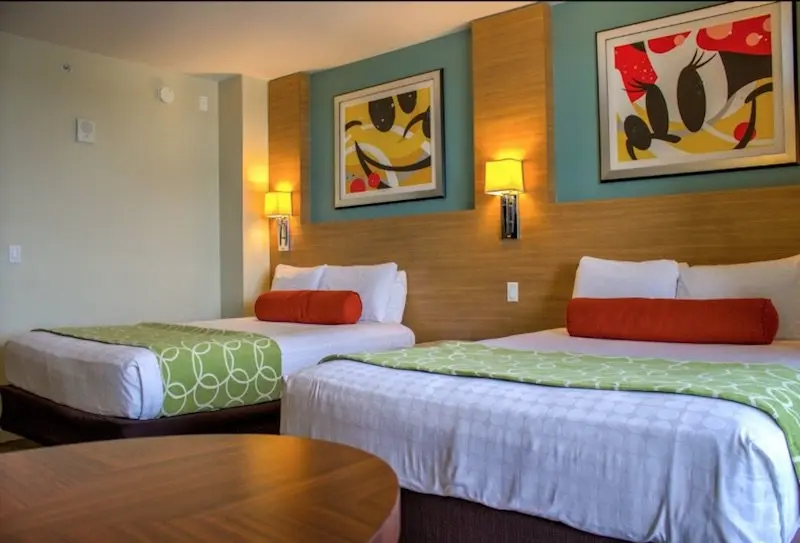 Image credit: Bay Lake Tower at Disney's Contemporary Resort
No.2: Bay Lake Tower at Disney's Contemporary Resort
Bay Lake Tower at Disney's Contemporary Resort is an arm of Disney's Contemporary resort. These are basic hotel studios and units, perfect if you just need somewhere to sleep.
Catch the monorail to Magic Kingdom, or walk. The main gates are 5 minutes away.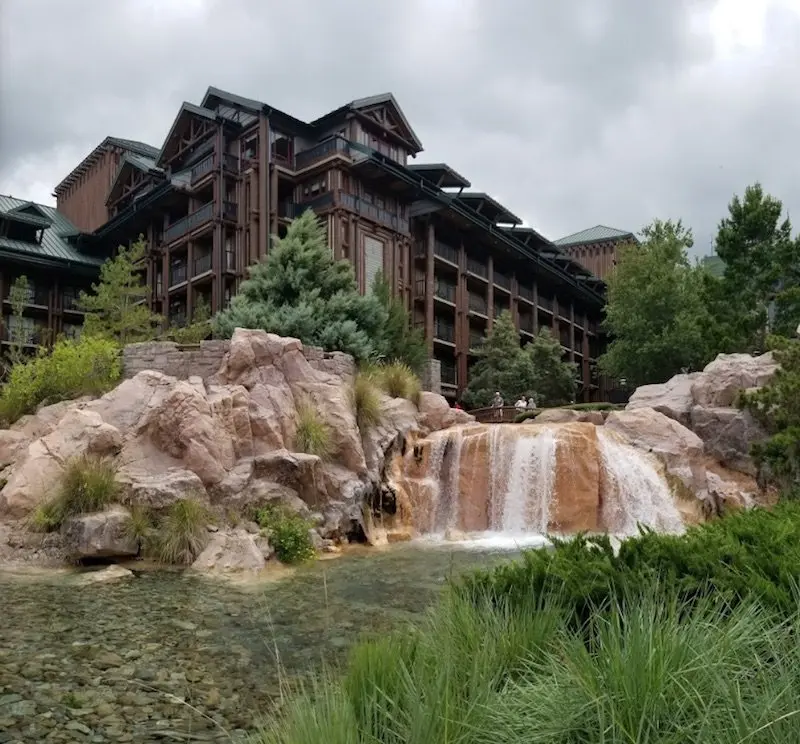 Image credit: Tony Taranto
No.3: Boulder Ridge Villas at Disney's Wilderness Lodge
Boulder Ridge Villas at Disney's Wilderness Lodge is the family friendly alternative to a hotel room at Disney's Wilderness Lodge.
These villas have kitchens, washers, dryers, and separate bedrooms, but still evoke the aura of 1860's railroad hotels of the American West.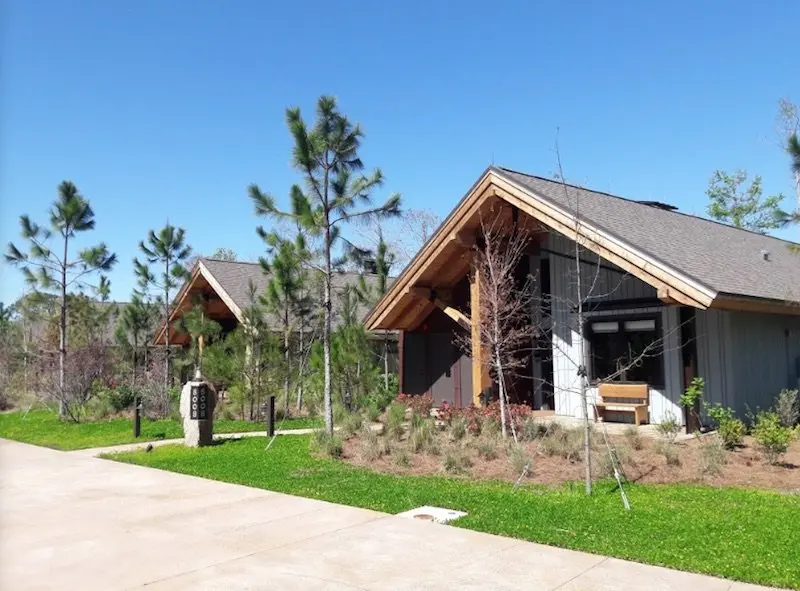 Image credit: Javier Martinez
No.4: Copper Creek Villas at Disney Wilderness Lodge
Copper Creek Villas & Cabins at Disney's Wilderness Lodge is the spot to book if you are travelling with extended family.
These mini standalone houses have a pioneer feel, with rustic stone fireplaces, family dining tables, separate bedrooms, and they are just around the river bend from Magic Kingdom!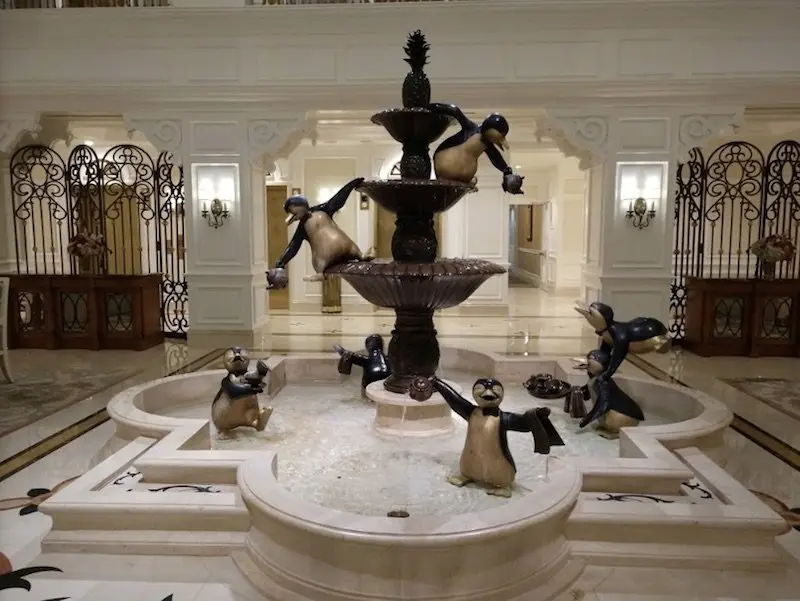 Image credit: Jen. P
No.5: The Villas at Disney's Grand Floridian Resort and Spa
The Villas at Disney's Grand Floridian Resort & Spa has the benefit of home-like amenities (kitchen, washing machine, dryer, bedrooms) at the iconic stately Grand Floridian Resort and Spa.
If you love Victorian style, wrought iron furniture, and elegant powder puff sofas, but need more room for the kids, this place is for you.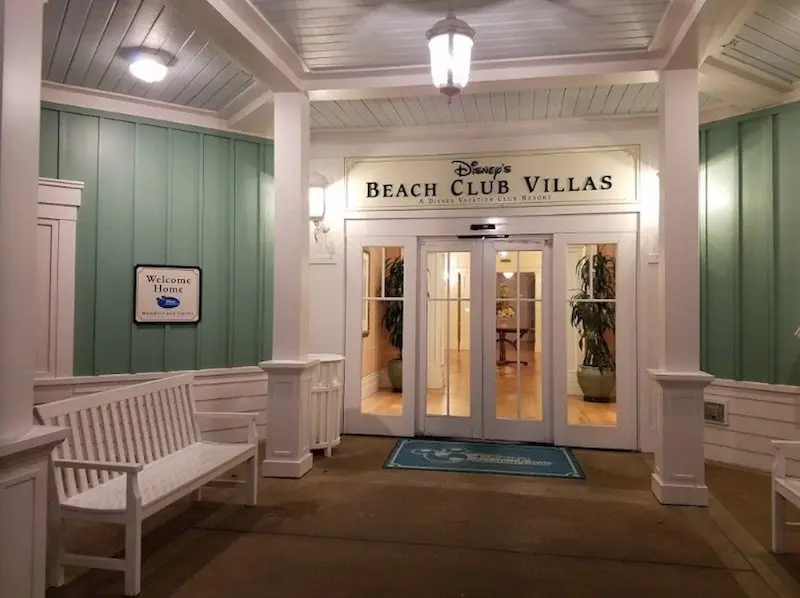 Image credit: Krystal Dube
Villas in Epcot Resort Area
As above, but with kitchen facilities in house, plus a washer, dryer, and separate bedrooms.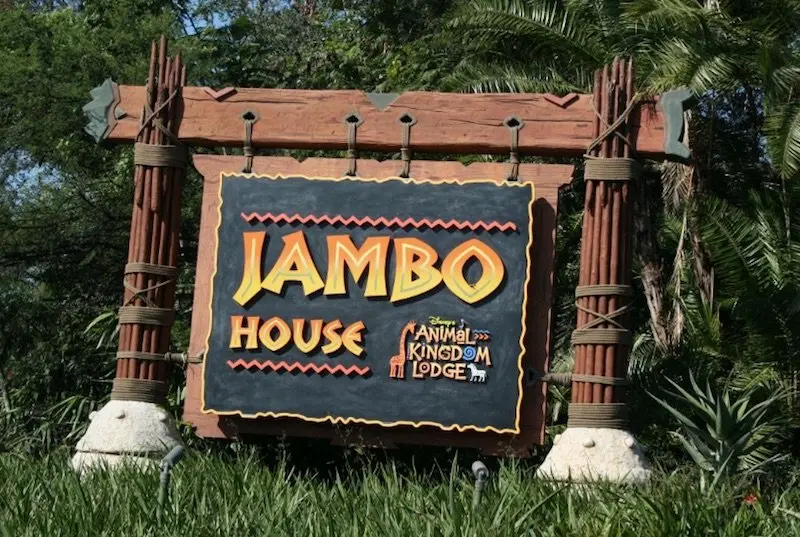 Image credit: Simon Dawson
Villas in Disney's Animal Kingdom Resort Area
No.1: Kidani Village at Disney Animal Kingdom
All the benefits and experiences of a stay at Animal Kingdom Lodge but with more space, and more of a home-like experience with a kitchenette, washer, dryer and separate bedrooms for the kids.
Word on the street is that Disney's Animal Kingdom Kidani Village villas have better views of the African savannas if you want to spot any of the 30 African animal species that roam freely around the place.
No.2: Jambo house
Book Kidani over Disney's Animal Kingdom Villas – Jambo House if you can.
But if you can't, Jambo is a suitable alternative that kids love.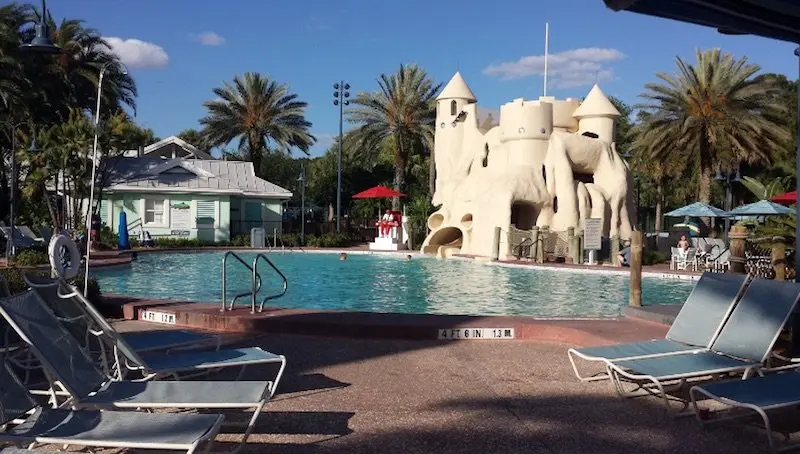 Image credit: Edward Klimczak
Villas in Disney Springs Area
No.1: Disney's Old Key West Resort
Disney's Old Key West Resort is colored shades of pale pink, dusty blue, and white, evoking the island style living down Key West way in the Florida Keys. The villas have kitchen facilities, washers, dryers, and separate bedrooms.
Swaying palm trees, rope netted boardwalks, white picket fencing, and a functional boat harbour brings the classic resort style of Americana to life.
Look out for the "hidden mickey" on the castle waterslide!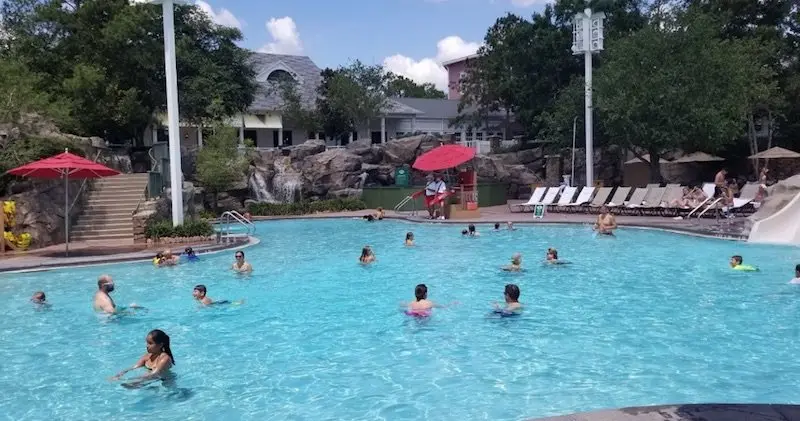 Image credit: Jayson Gnall
No.2: Disney's Saratoga Springs Resort and Spa
Disney's Saratoga Springs Resort & Spa pays homage to the historic Saratoga Springs retreat in New York, a haven for the horse racing elite.
This handsome hotel is heavily influenced by the motifs of horse racing, so you'll find whimsical decor touches throughout.
Kids will love the splash pad water park with the 'horses' just out of the gates!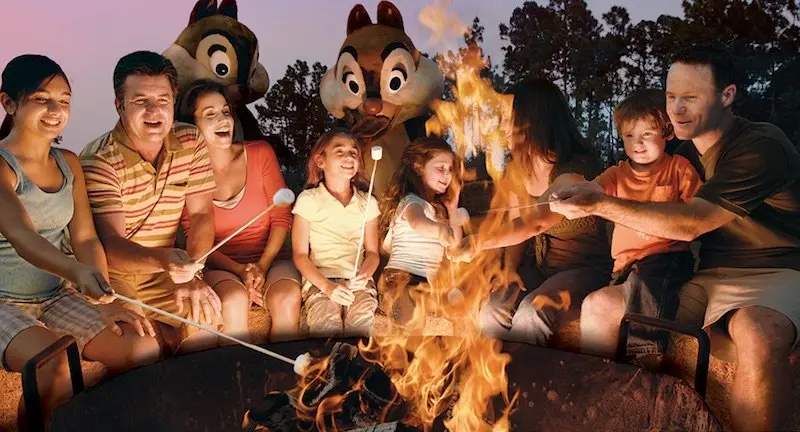 MODERATE DISNEYWORLD HOTELS ON PROPERTY
Moderate Hotels in the Magic Kingdom Area
No.1: Cabin's at Disney's Fort Wilderness Resort
The best thing about staying at the Cabins at Disney's Fort Wilderness Resort is that you have close access to the FREE Chip and Dale Campfire Singalong, Marshmallow Roasting and Movie night.
It's on every night, rain or shine.
This Disney hotel has both cabin accommodation, and budget Disney RV and camping accommodation too.
It's a fabulous place for families of all ages and sizes, with a pool and water fun too.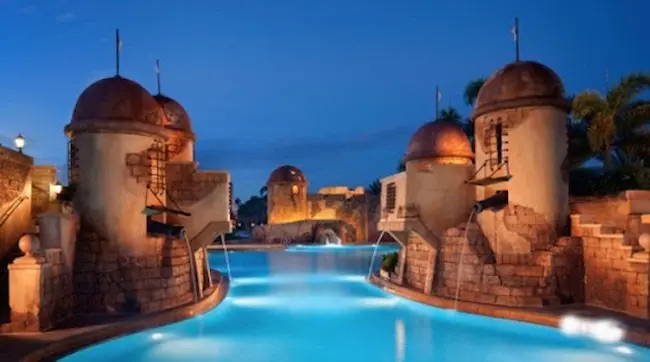 Moderate Hotels in the Epcot Resort Area
No.1: Disney's Caribbean Beach Resort
Disney's Caribbean Beach Resort is the place you go if you love a Caribbean party vibe and tonnes of fun filled activities on offer.
Check in via the Old Port Royale, a vibrant marketplace and trading post inspired by the island vibes of Barbados, Jamaica, Martinique, Trinidad and Aruba, and then fall into the laid back lifestyle of the Caribbean.
The pool is themed as an old Spanish citadel (fortress) with slides from the top of the turret.
Little kids will love the shipwreck water play area with the giant water dumping bucket!
This lively resort has PIRATE themed rooms too.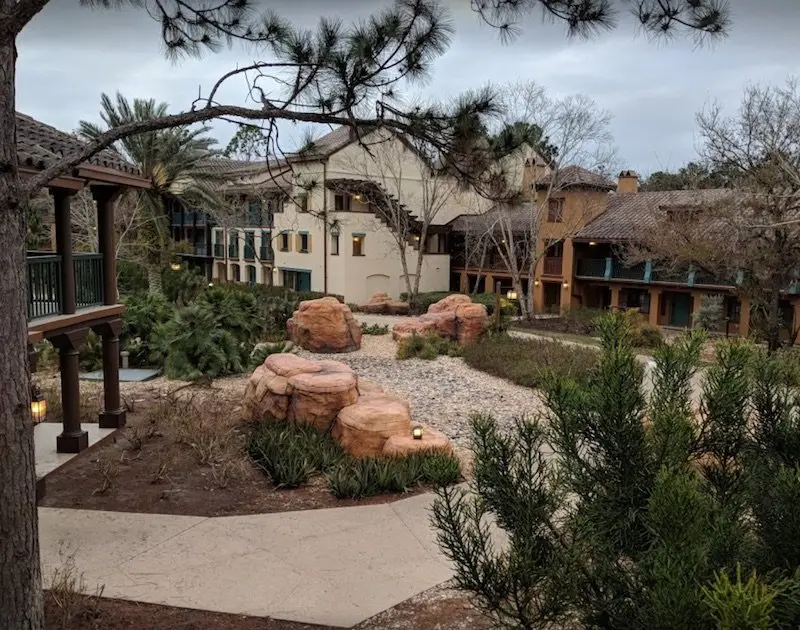 Image credit: Vitad Pradith
Moderate Hotels in the Disney Animal Kingdom Resort Area
No.1: Disney Coronada Springs Resort
Love Spanish, Mexican and the American southwest landscapes like Nevada and Arizona? Then Disney's Coronado Springs Resort is the place to go.
Kids will love the Mayan pyramid pool with waterslide.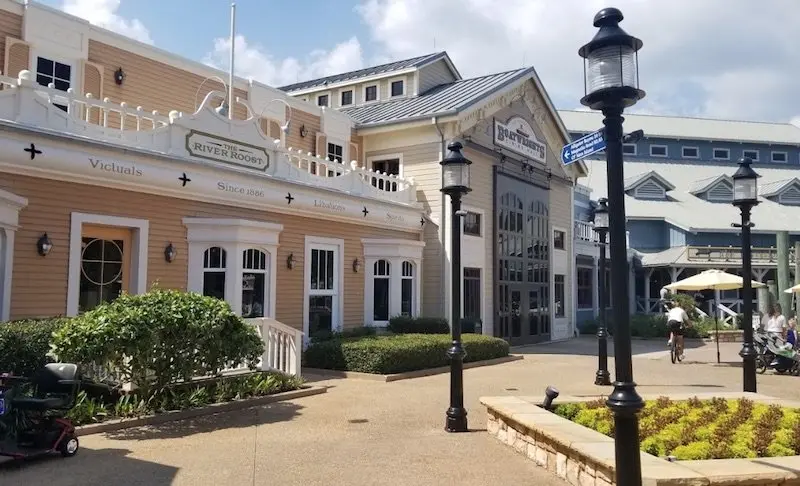 Image credit: Rick Crites
Moderate Hotels in the Disney Springs area
No.1: Disney's Port Orleans Resort – Riverside
Hire a horse-drawn carriage at Disney's Port Orleans Resort – Riverside to discover the unique atmosphere of this jazz-filled New Orleans-inspired laid back resort on the Bayou.
Kids love the newly renovated guest rooms with regal touches inspired by Princess Tiana and friends.
But it's the Cajun and Creole foods that make this place.
Fans of the Adventures of Tom Sawyer will be inspired by the old fashioned swimmin' hole and sawmill slide! Ol' Man Island has a catch and release fishing hole to try.
Dogs can stay too!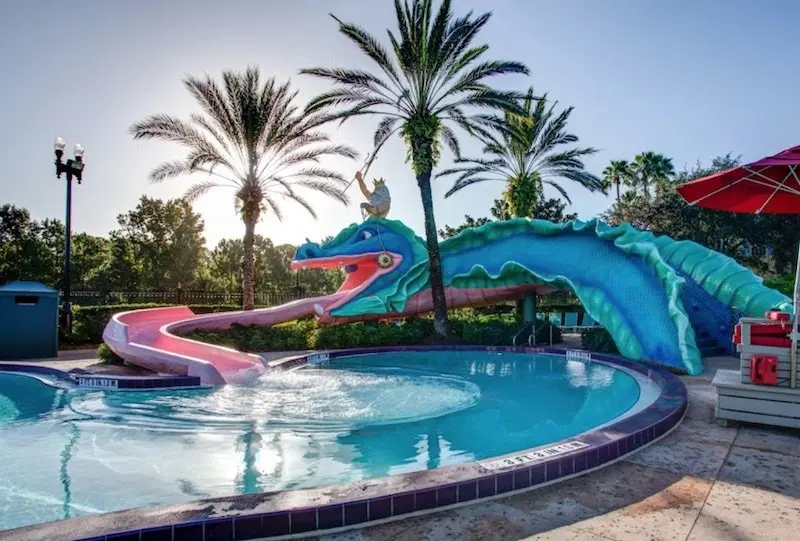 Image credit: Larry Charlie
No.2: Disney's Port Orleans Resort – French Quarter
Disney's Port Orleans Resort – French Quarter has cobblestone streets bordered by gas lamps, and vine covered elegant wrought iron balconies.
Kids love the pool where King Neptune sits atop the giant sea serpent – the slide is the serpent's TONGUE!
The water sprays from the Giant Clams keep them cool too!
Disney All Star Movies hotel
VALUE DISNEY HOTELS ON PROPERTY
We can vouch for All Star Movies as a super fun option for budget travel to Walt Disney World resort and Disney World Magic Kingdom.
These cheap Disney hotels may be lighter on your budget but that doesn't mean they are any less fun.
These budget Disney hotels are perfect for first time visitors to Disney World who won't be at the hotel for long.
Discount Disney hotels are also perfect for busy families on a Disney Vacation who are only there to sleep before heading straight back to the parks to make use of Extra Magic Hours.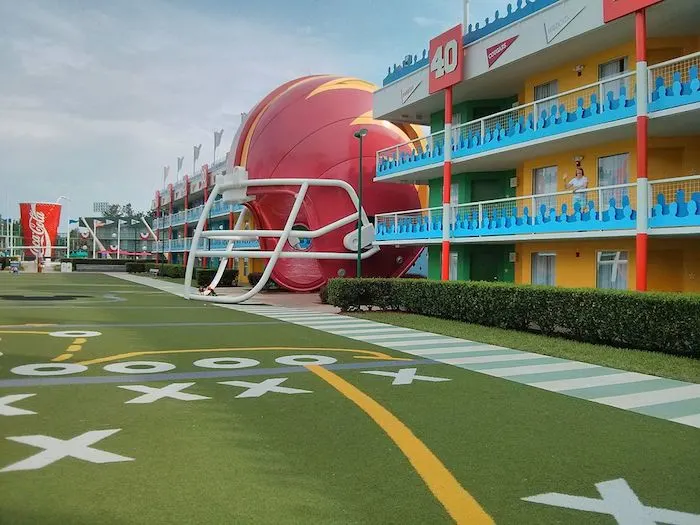 Disney All Star Sports hotel
Best Disney Resorts List for Cheap Stays
Here's a list of ALL the value hotels at Disney World.
Discover all the value hotels in Disney World below.
No.1: Disney's Animal Kingdom Area
No.2: ESPN Wide World of Sports Area
No.3: Camping – Magic Kingdom Area
READ MORE: For more information, check out our Complete Guide to the Disney Value Resorts here.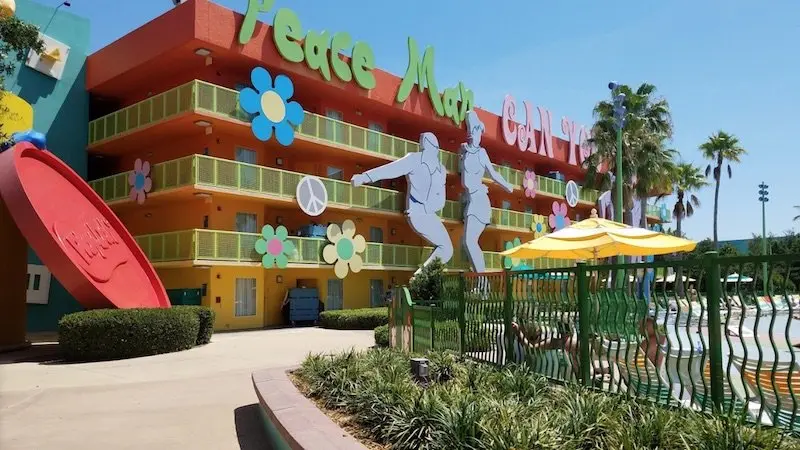 Image credit: Jennifer Van Hill
OUR TOP THREE DISNEY WORLD RESORTS RECOMMENDATIONS
Disney Wilderness Lodge (the architecture gives you a feeling of being transported back in time)
Ned chose the Disney Animal Kingdom Kidani Village because seeing animals in real life just meters from your balcony is as good as being in Africa
Disney's Pop Century for the bright colorful interiors and fun!
---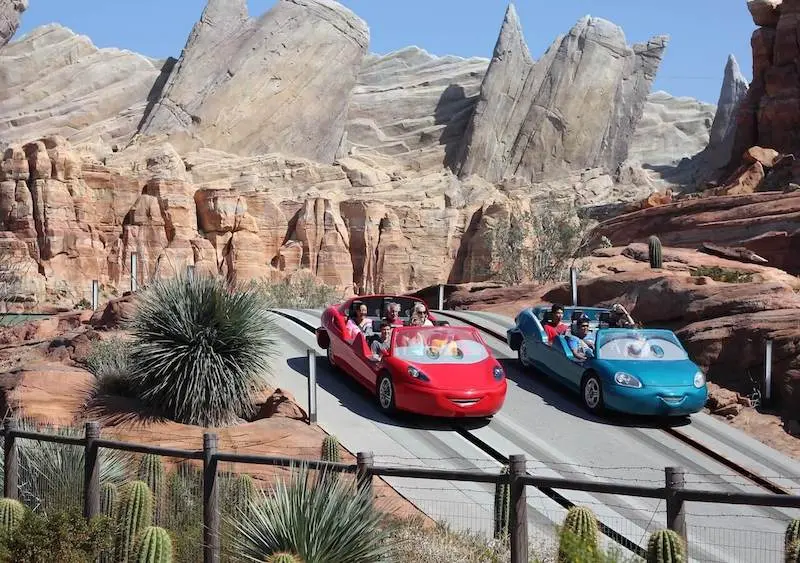 DISNEYLAND RESORT HOTELS, LOS ANGELES
There's big benefits to staying at a Disneyland Resort Hotel.
The most important one, by every measure, is that special Disney pixie dust they sprinkle over you from the moment you step through the door.
NO other hotels in the world do it quite so well.
Disneyland hotels are something special.
Of course, this magical pixie dust at Disney comes at a price, so you want to make the most of it.
You MUST factor in some time to enjoy every little nook and cranny of the Disneyland hotel you choose.
We recommend adding an extra day/night to your stay if at all possible.
This 'rest' day gives you the chance to fully explore and enjoy your Disneyland hotel experience.
It's an opportunity to take advantage of the Disney hotel location too – some rooms have views of Disneyland from your hotel window so your whole family can watch the fireworks in comfort!
We recommend staying at a Disneyland resort hotel at least once in your lifetime.
If it's not in your budget, start a side hustle and do everything in your power to book a stay.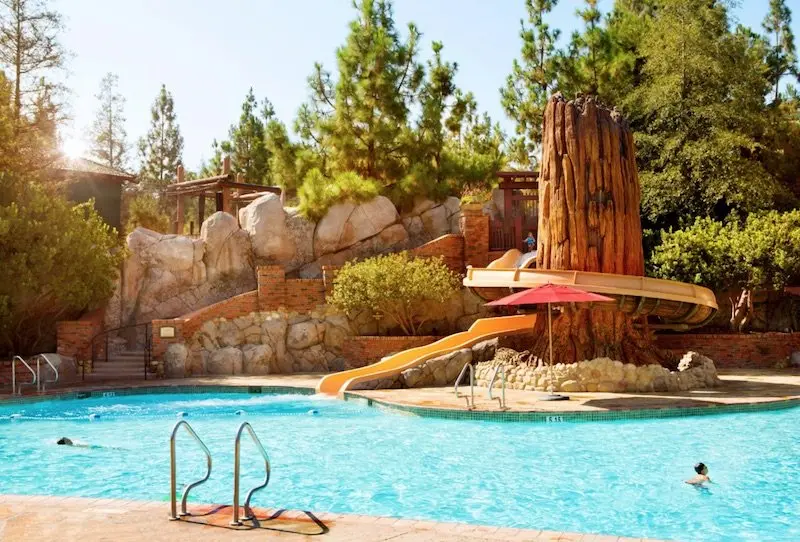 Image credit: Disney Grand Californian Hotel and Spa, via Tripadvisor
LUXURY SUPERIOR DISNEYLAND RESORT HOTELS
No.1: Disney's Grand Californian Hotel and Spa
Disney's Grand California Hotel and Spa is Disneyland's Luxury hotel.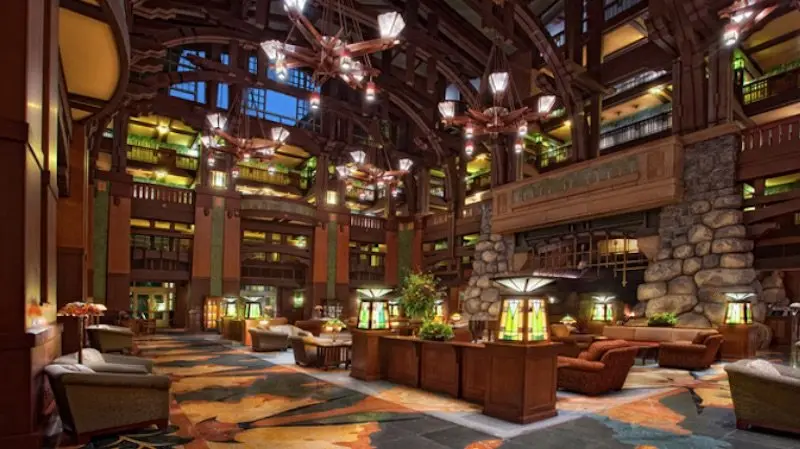 Set right next to Disney California Adventure Park, the hotel is an ode to the American craftsman style of architecture, with pioneering themes, polished timber, and carved rocks making a grand appearance.
You would NEVER know you were in Los Angeles!
Look out for the Disney artwork in the rooms.
The Redwood Pool is a stand out feature with a 90 foot long slide
Hot tip: Stay here to take advantage of the special entrance to Disney California Adventure Park from the hotel grounds. Valid ticket required.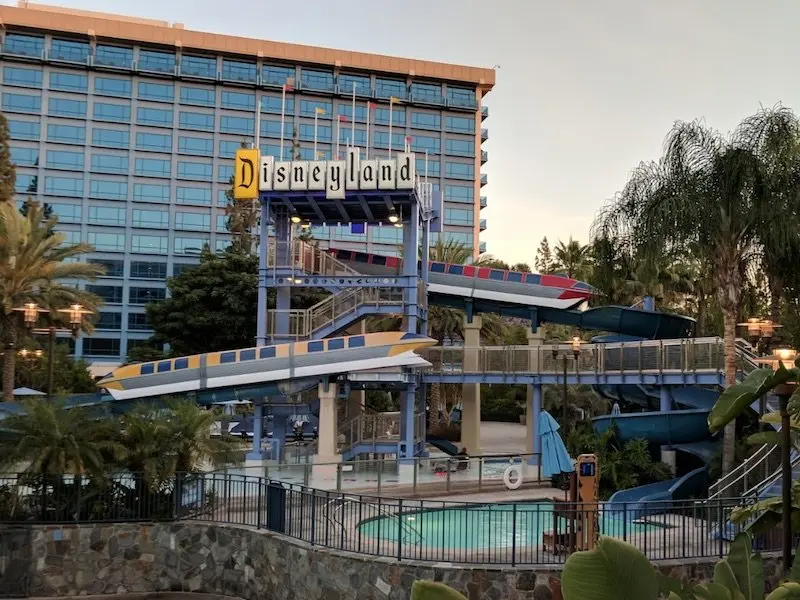 Image credit: Don. S
MODERATE DISNEYLAND RESORT HOTELS
No.1: Disneyland Hotel
The Disneyland Hotel is THE hotel if you want to be in the centre of the action, steps from Downtown Disney, and a short walk to both Disney parks in Los Angeles.
There's 5 different themed suites for kids with exclusive Disneyland park decor.
Kids love the 'monorail' water slides, and we love the old school signage at the E-ticket pool.
Take the kids to breakfast at Goofy's kitchen for an all-you-can-eat buffet.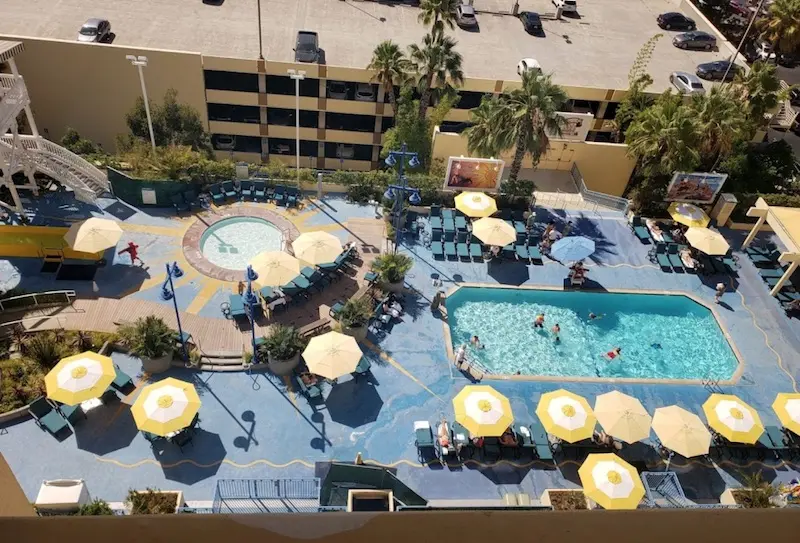 Image credit: Trevor L.
Disney's Paradise Pier Hotel
The best thing about this Disneyland hotel is the ROOF TOP POOL!
Swim, or ride the twisty slide "California Streamin' all the way down.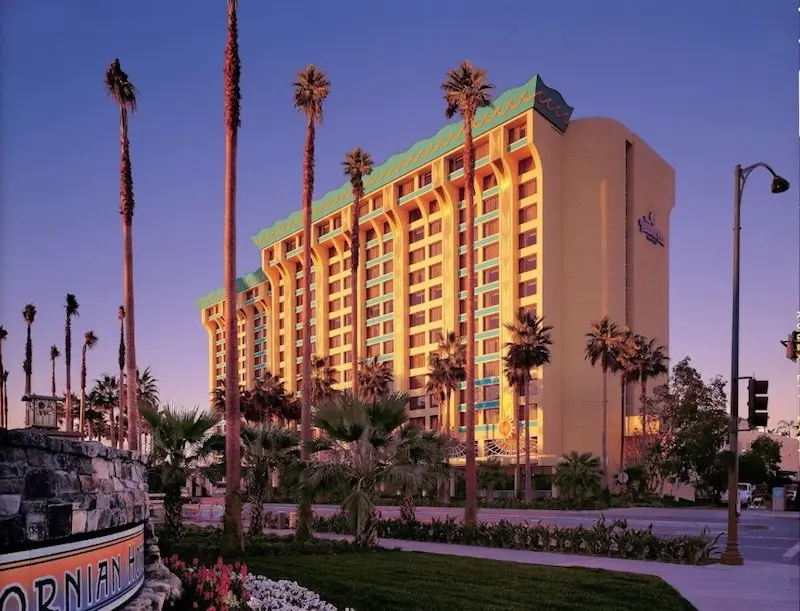 Plus, the hotel has a retro seaside theme, harking back to days at Californian summer days at the pier.
And you can't be anything but joyful in a place like that.
---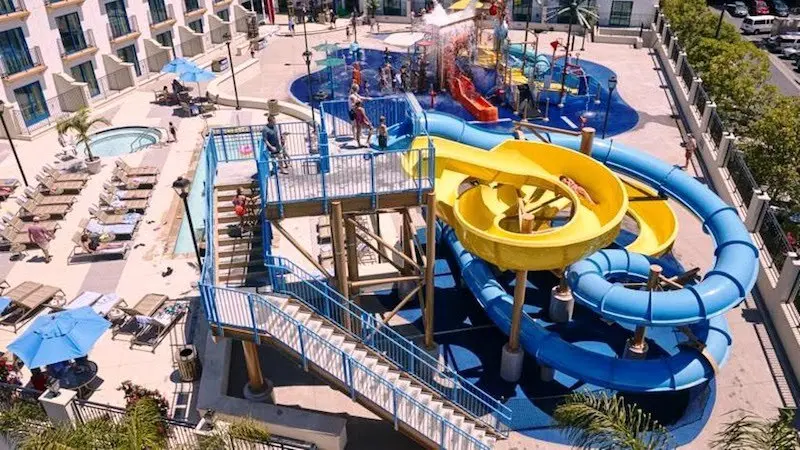 DISNEY APPROVED HOTELS
Hotels near Disneyland Resort in Anaheim Los Angeles
These Good Neighbour Hotels are approved by the Disney Company as being an excellent alternative to the official Disney hotels in Anaheim.
LUXURY DELUXE HOTELS NEAR DISNEYLAND
Located across the street
Courtyard by Marriott Anaheim Theme Park Entrance (Surfside waterpark pictured above)
Located less than half a mile away
Desert Palms Hotel and Suites Anaheim Resort
Red Lion hotel Anaheim Resort
SUPERIOR HOTELS NEAR DISNEYLAND
Located less than half a mile away
Anaheim Marriott
Hilton Anaheim
Located less than a mile away
Anaheim Majestic Garden Hotel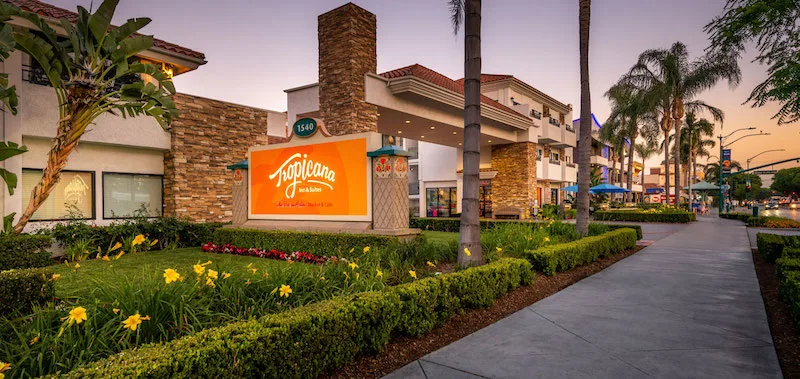 MODERATE HOTELS NEAR DISNEYLAND
There's little point spending big money for accommodation for an on property Disney hotel if you are going to be at the parks all day long, and are only coming back to crash out, before getting up to do it all again.
This is when these hotels in Los Angeles are a great help.
Located across the Street
Anaheim Camelot Inn and Suites
The Anaheim Hotel
Best Western Plus Anaheim Inn
Best Western Plus Park Place Inn and Mini Suites
Castle Inn and Suites
Tropicana Inn and Suites
Located less than Half a Mile away
Best Western Plus Pavilions
Candy Cane Inn. Free transport.
Howard Johnson Anaheim Hotel and Water Playground. Transport available for a fee. (Pictured below)
Our verdict: I only hear good things about the Howard Johnson Anaheim Hotel.
It's a much loved favorite by regular Disney goers.
Let us know how you go with booking your family travel to Disney.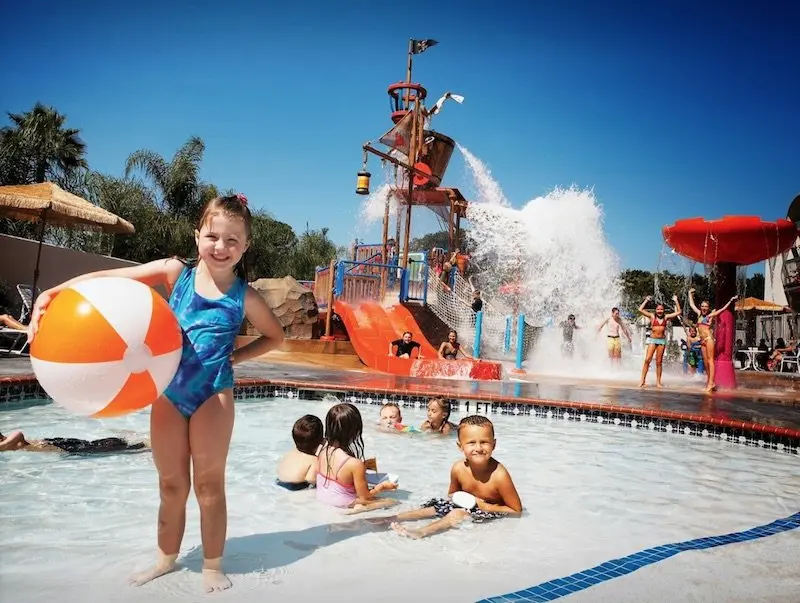 Image credit: Howard Johnson Hotel & Waterpark
OUR TOP 3 DISNEYLAND HOTEL RECOMMENDATIONS
Disney's Grand Californian Hotel and Spa for the spectacular interior design and magical atmosphere
Disney's Paradise Pier – we love a good 1950's throwback to simpler times
Howard Johnson Anaheim Hotel – we're going to trust our tribe and add this to our bucket list.
---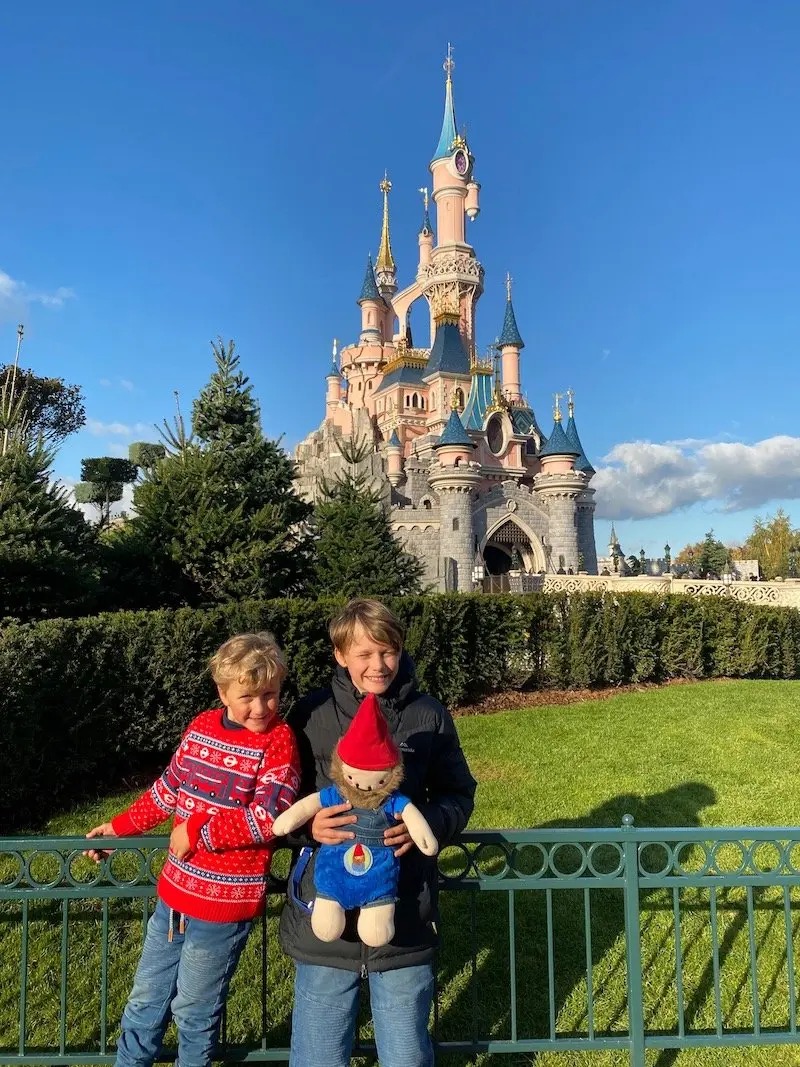 DISNEYLAND PARKS AROUND THE WORLD
Tokyo Disneyland was the first Disneyland I ever visited, back when I was a 15 year old on a school trip. I've been a big fan of Disneyland, and an even bigger fan of Disney hotels, Disney customer service and Disney pixie dust since then.
We're making it our mission to visit ALL the Disneyland parks (and the best Disney hotels) around the world.
Next stop?
Hawaii Aulani Resort .
Take a look at the Disney hotel accommodation for these Disney parks around the world below.

HONG KONG DISNEYLAND
Did you know they have Disney Bedtime stories?

PARIS DISNEYLAND
Coming soon: Paris Disneyland Hotel Reviews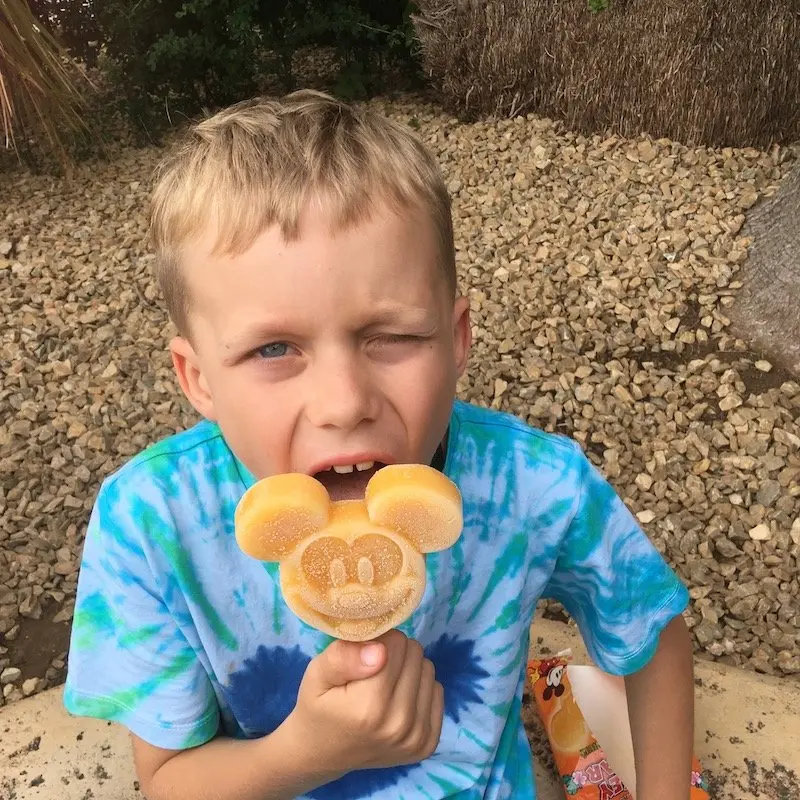 TOKYO DISNEYLAND & DISNEY SEA
Does Tokyo Disney have hotels?
The answer is YES. FOUR of them.
The Tokyo Disney Sea Hotel Mira Costa, Tokyo Disneyland Hotel, Tokyo Disney Celebration Hotel, and Disney Ambassador Hotel.
SHANGHAI DISNEYLAND
Coming soon: Shanghai Disneyland Hotel Information

Frequently Asked Questions
No.1: Does Disney hotels allow dogs? Does Disney hotels allow pets? and are Disney hotels pet friendly?
Disney's Port Orleans Resort – Riverside does.
Yes it's pet friendly.
No.2: Are Disney hotels hurricane safe?
If you want to know are Disney hotels safe during a hurricane, check out Disney's hurricane policy here.
No.3: Which Disney hotels are on the monorail?
Disney's Contemporary Resort, Disney's Grand Floridian Resort and Spa, and Disney's Polynesian Village Resort are all stops on the monorail line.
No.4: Are Disney Hotels clean?
Rooms are cleaned thoroughly each day at most resorts unless you opt out.
We've never had a problem, and we rarely hear of any complaints.
If there is occasional one, the problem is fixed in a jiffy and visitors are usually sprinkled with a bit of pixie dust to make up for the inconvenience.
No.5: Are Disney Hotels All Inclusive?
Not traditionally.
You can however, book a Disney Dining Plan in advance if you are staying at a Disney property, so all your meals, drinks, and snacks are included in the one set price you pay at the outset.
Our tip: BOOK the Dining Plan.
We wouldn't go without it.
No.6: Best Paris Disneyland Hotels?
The Disney CARS Hotel at Paris Disneyland is the spot for CARS movie fans!
Disney's Hotel Santa Fe, as it's called, has a fabulous restaurant, and is only minutes away from the Euro Disney parks by free shuttle bus.
There's also the:
Disney's Davy Crockett Ranch
Disney's Hotel Cheyenne
Disney's Sequoia Lodge
Les Villages Nature Paris (this is where we're staying next – check it out. SO COOL!)
Disney's Newport Bay Club
Disneyland Hotel.
The newest hotel at Disneyland Paris is Disney's Hotel New York – The Art of Marvel which is dedicated to all things MARVEL!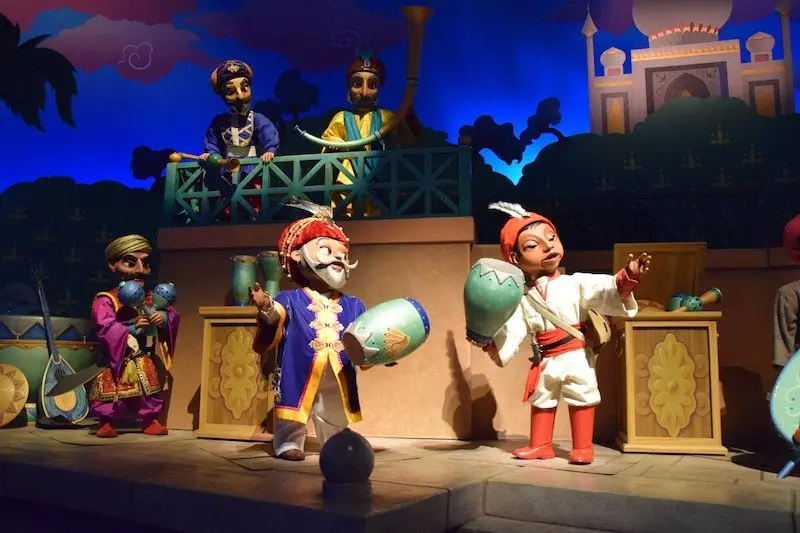 Looking for more Disney Tips and Tricks?