Family Hotel Hong Kong – Don't miss this SUPER FUN hotel for kids!

At Roam the Gnome, we are ALWAYS on the lookout for the SUPER DOOPER STUFF, and the Gold Coast Family Hotel Hong Kong has created something so cool, we are jumping out of our skins to get back there for a weekend stay.

What's so special you ask?  It's the creation of their SIX designer themed rooms that kids are just going to go gaga over.  Lined with realistic themed wall paper, loaded with decorations, and fitted out with themed furnishings, your kids will be propelled into the land of imagination and storytelling. With every stay, a themed afternoon for the whole family is included, along with attendance at a themed craft workshop. It's all covered! So much fun.

SIX themed rooms!  Which one will you choose?

1. Hong Kong Tram Room

Ding Dong! Ding Dong!  To dive into a truly authentic Hong Kong experience, you need to catch a Ding Dong Tram. Imagine sleeping in your very own Ding Dong tram too?  That's next level. The walls showcase Hong Kong's bustling street and city life too. Every little nuance has been taken care of, from the wooden trunk seating to the transport-inspired bedding and cushions.  Watch as your kids replay their Hong Kong experiences before bedtime.


2. Magical Princess

If you plan on visiting Disneyland while you are in Hong Kong but aren't staying onsite, booking a stay in the Magical Princess room will enchant your little ones just as successfully. Kids can wander through the forest to their very own elegant royal carriage bed, sleep under a crystal chandelier and be bathed in starlight. The prancing horses on the carpet is a special touch! Fairytale motifs – unicorns, pretty blooms, mirrors, jewels, and glittering tiaras – abound.


3. Jurassic World Dinosaur Experience

Any Dinosaur Tamer's in your family?  Then this is YOUR room.  Sleep in the middle of a forest with dinosaurs roaming round!  Yep, there's a giant T-Rex skeleton and dinosaur egg pillows too. (FYI. The real bed in the room isn't quite this fantastic. I believe a little creative licence has been applied to this picture to create a timber log bed.)


4. Blast off into Outer Space

Of all the rooms, this would be Roam the Gnome's favourite!  That Rocket Bed for the kids is truly out of this world. But Roam loves that HE gets to be an astronaut on the big crater bed too!  Look at that cool bedding. The kids and you will love the in-room telescope too. What can you find in the galaxy above?  Kids will make an "Astronaut Mosaic Design and Ceramic UFO Painting" in the craft session included too.


5. Swashbuckling Pirate Adventure Land

Take off to your very own Treasure Island with a Pirate Getaway. Shiver me timbers! The turquoise waters of the Caribbean will lull you to sleep on the Pirate Galleon while the kids sleep in the jellyfish palace hung with crystals and jewels and treasure from the seas. We love the decoration in this room – friendly sea animals, maritime flotsam, and treasure chests to store your loot. Kids will design a tote bag and paint a ceramic pirate ship.


6. Be Tarzan in the Jungle Safari

If wild animals, 4WD jeeps, and adventure is your kid's thing, book this room. It's a wildlife paradise, with a safari jeep bed for the big people and a camping tent for the little ones. There's even a campfire table for night time snacking!

The Inside Scoop

We've heard this hotel is about the closest thing you'll find to a family resort in Hong Kong. The geometric design hotel sits on Golden Beach and overlooks a marina in Castle Peak Bay, and is 4km from the town of Tuen Mun.  All rooms have free Wi-Fi, flat-screen TVs, minibars, and tea and coffee making facilities. There are four restaurants on site, two outdoor pools, and a whole bunch of kids areas (see below for details.) For those mums and dads who like to exercise while on a trip, you'll be happy to know there's a gym and spa too.

While only 30 minutes from the hustle and bustle of down-town, this family hotel Hong Kong takes you away from the noise and the pressures of a CBD after a big day out. It's green, and scenic, and inviting!

Hotel Packages
Packages to stay in a themed room start at $2488 HK dollars (Monday to Thursday), $HK2,788 on Fridays and Sundays, or $3388 on Saturdays and Public Holidays.  Valid until 31/12/16.
As an example, the Dinosaur Room Package include one night's accommodation in a Dinosaur Room with Seaview Balcony, Breakfast buffet for two adults and one child, participation in the "Kids Check-In" session at Indoor Kids Zone (kids receive a personalised name badge, a "Dinosaur Park" afternoon tea set for two adults and one child, a special gift upon completion of the in-room "Treasure Hunter" games, one session of "Wooden Pen Holder Making and Dinosaur Fossil Discovery Workshop", "Best Discount Guaranteed" dining privileges at the hotel, complimentary Wi-Fi, complimentary access to Indoor Kids Zone, Water Park, Kids Island, swimming pools and gymnasium and complimentary shuttle bus service between the hotel and Tsim Sha Tsui, Tsuen Wan or Tsing Yi (subject to availability).  Another child can be added to this package for $HK450.
Make an enquiry or book your stay here.
Travel options

The Hong Kong Gold Coast is within easy reach via public transport, while our hourly shuttle bus service (normally approx. $6 AUD per trip per person), transports you to and from Tsim Sha Tsui in around 35 minutes.

Location and Map
1 Castle Peak Road (Castle Peak Bay), Tsuen Wan, Hong Kong
Phone (852) 2452 8888
Email for more information: info@goldcoasthotel.com.hk
Key points of interest

Sandpit and Water Park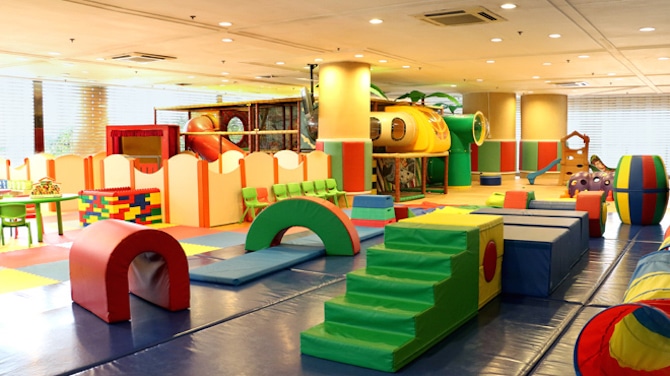 Indoor Kids Zone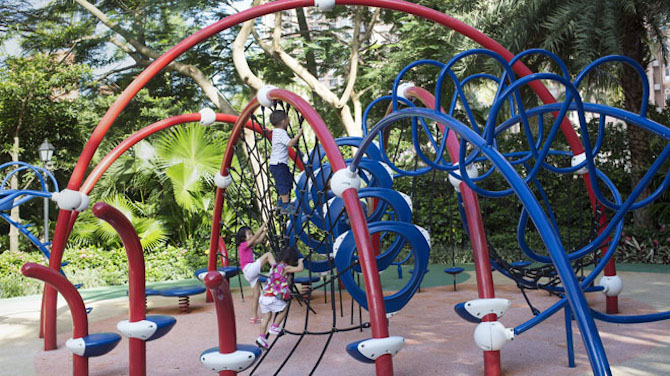 Kid's Island
This family hotel Hong Kong sure does know what kids want!  Not only do they offer the best themed room set ups, they have not one, not two, but FOUR kid zones – Kids island with it's swirly-whirly climbing frames, the Sandpit zone, the Waterpark splash and run area, and the Indoor Kids Zone. They'll never want to leave!
The Gold Coast Hotel also has an organic farm and a herb garden where hotel guests can experience the fun of sustainable farming while helping to protect the environment!
Toadstool Rating (by the kids)

We've put this place up at the top of our list of FUN hotels we want to stay in around the world.

Follow Roam the Gnome (Family Travel Ideas) on Instagram —> Click here
We love to share the SUPER FUN kid-friendly stuff we find around the world, so you can go there too!