INSIDE: Roam the Gnome's Guide to Le Bon Marche, the large Department Store in Paris with history and style.
For those who love shopping in Paris FOR their children (if not so much WITH those said children), then shopping in Paris's most famous French Shop, the famed Le Bon Marche is a must-do.
This large Department Store in Paris, Le Bon Marché is arguably the most famous and exclusive department store in Paris.
Founded in 1838 and revamped almost completely by Aristide Boucicaut in 1852, it was the first ever modern Department
Store.
Disclosure: This article contains affiliate links. If you make a purchase after clicking on one of these links, we may receive a small commission at NO extra cost to you.
History of Le Bon Marche, Large Department Store in Paris
"The birth of Le Bon Marché heralded a whole new culture of commerce that included fixed prices, lower margins, home delivery, item exchange, mail order, promotional periods and sales, private concerts, a reading area and much more.
This ground-breaking and revolutionary couple had come up with a commercial model that would soon be copied around the globe.
The start of 1875 saw the opening of an art gallery.
The store served as a free intermediary and facilitator between artists and art lovers."
( Courtesy of the Company Website)
Le Bon March Luxury Department store is also a French shop famed for it's architecture and design.
Definitely worth a look if you are in the area.
Hot Tip: Take a Paris Arcades Shopping Tour to discover Paris's old shopping arcades and secret passageways

Things to do in Le Bon Marche Paris Department Store
This French Shop, Le Bon Marche, has it all!
It's one of the best Department stores in Paris, if not the best?
And shopping here is definitely one of the 10 best things to do in Paris on a family vacation.
Of course, as family travellers, we tend to head straight to the kid's stuff.
It's where we find the quirky stuff too.
Don't you?
Hot Tip: Take a French Perfume walking tour, and visit 3 iconic perfume shops to learn how the different fragrances are made.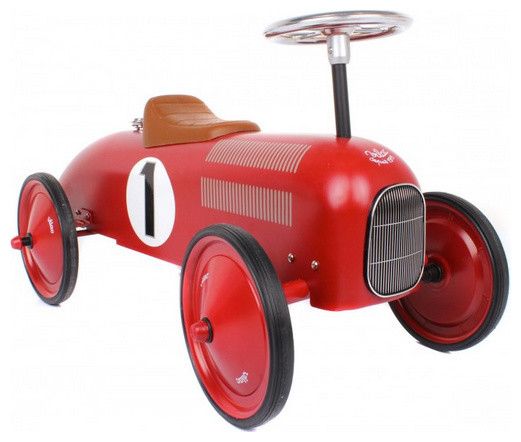 Visit the Children's Department at the Le Bon Marché large Department Store in paris
The Children's Department on the 3rd floor of reveals a fun, light-hearted space selling children's fashion.
This iconic Paris shopping department store is known for its' carefully curated selection of clothes and goods for children.
There's a splendid book section too.
The new Children Zone at Le Bon Marche also has:
workshops for younger and older children
fun and games, and
a flying saucer!

The Best Shopping in Paris for French Toy Brands
You'll also find iconic Parisian Toys in this Classic French shop. French toy brands stocked in store include:
Vilac
Moulin Roty
Djeco, and
Petitcollin dolls
You won't find toys like this in many other places in Paris.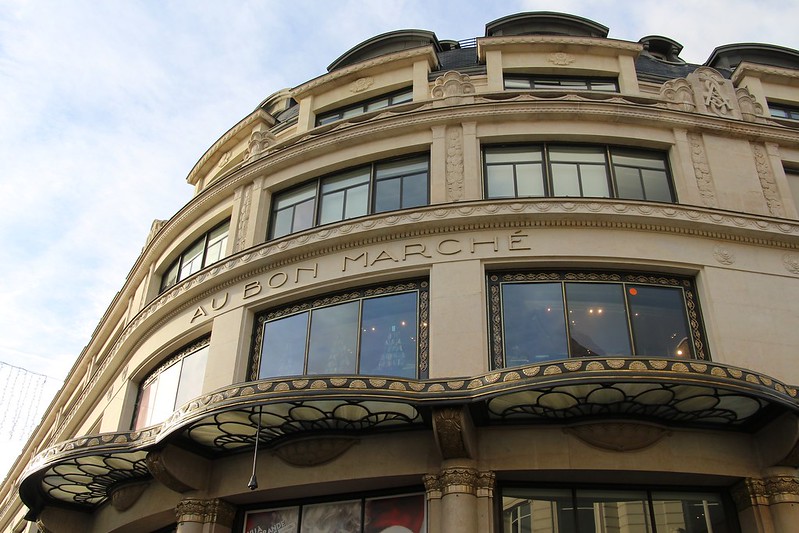 Image credit: Fred Romero via CC by 2.0
Where to Shop in Paris for Luxury Goods
Don't just come here to shop for kids!
The Le Bon Marche French Shop is home to a kaleidoscope of beautiful luxurious things to buy for the home, for travel and for yourself.
Ground Floor Luxury
Designer fashion brands and luxury goods from the most prestigious companies in the world are housed in fashion boutiques on the ground floor.
Go treasure hunting in stores belonging to:
Louis Vuitton
Dior, and
Chanel
Fine watches from Rolex, Hublot, Jaeger-LeCoultre and Piaget
Look for upmarket jewellery from timeless brands on the ground floor of Le Bon Marche too.
First Floor Women's Fashion
Designer and everyday fashion, displayed in dedicated zones such as:
Denim
Designers
The Gallery of Sports (featuring Nike, Adidas, Sweet Pants, K-way) and
A Customisation Studio
Footwear
Lingerie and beachwear
Fashion accessories including leather goods, costume jewellery and textile accessories such as scarves
Lower Ground Floor – Men's Wear
Men's suits, sportswear and shoes including:
La Ville bespoke men's suits and formal wear, bespoke tailoring and a shoe shine
Men's accessories
Everyday wear
Men's fashion labels
Gym and sport's gear

Lower Ground Floor – Gallery of Imagination
A curated collection of the best and latest must-have trends, including bespoke design:
homewares
sunglasses and eyewear
high tech brands selling speakers, headphones, and music equipment
Leisure items, totes and more
Lower Ground Floor – Beauty Department
Beauty and cosmetic supplies
1st and 2nd Floors – Homewares and Furniture
Bespoke furniture by exclusive brands, in limited editions and colourways not seen elsewhere!
cooking and tableware
travel goods
bedroom decor items and lighting
An eye-popping collection of well made French gifts and souvenirs, perfect for family and friends who love design.
2nd Floor – Books and Stationery
Check out the light-filled glass roofed atrium full of novels, fine books, coffee table books, art and design books, and the latest releases.
If you love stationery, the Stationer's shop features the best French brands of stationery to peruse.

Image credit: Florian Plag [CC BY 2.0]
Events at Le Bon Marche store
Even if you are only window shopping, stop in to check out the current events.
They include everything from:
history and architecture tours
guided tours of the design collection
guided tours of the contemporary art collection
cooking demonstrations and workshops, to
foodie events
Click here for current listings.
Things to do with Kids in Paris – Cultural Insight via the Food Hall
While this Paris definitely on the upper end of the spending scale, the graceful and long-standing store deserves a few moments of your time, if only to see the luxurious architecture.
Take a detour via the La Grande Epicerie de Paris food hall on your way home.
If you love food, do not skip it.

Kids in Paris + Macarons = Heaven
Imagine 30,000 gourmet products from around the globe in one Paris shopping centre.
Including:
rainbow macarons
chocolate truffles
sugar dusted tartes aux fruits made on-site
divine cakes, and
bottled sauces
jams
herbs and spices, and
the best foodie gifts
I fear that sweet tooths and their children might suffer a lack of restraint here.
Best set a limit on what you'll buy BEFORE you go in.
It's dangerous.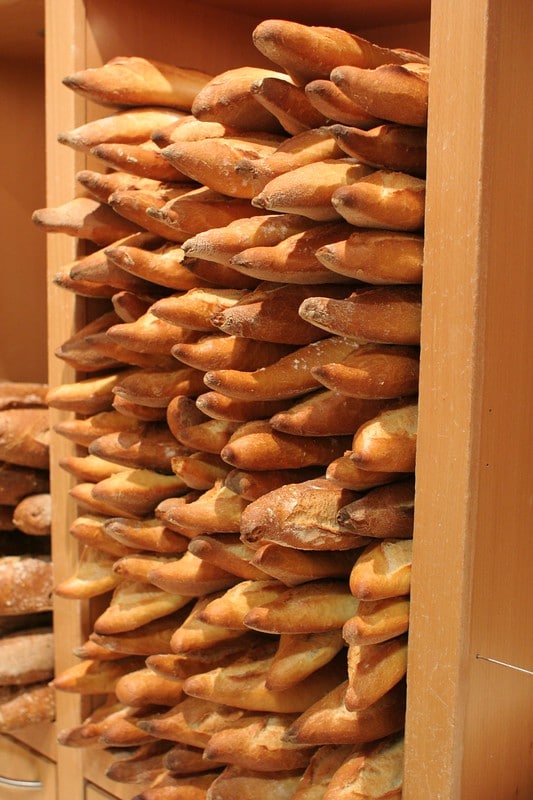 Image credit: Ken Tan via CC 2.0
The Inside Scoop at this Exclusive French Shop!
Correct at time of publication. Please check with venue for updates. We apologise in advance if there have been any changes we are unaware of. All prices in euro, unless otherwise stated
Address: Le Bon Marché Rive Gauche, 24, rue de Sèvres, 75 007 Paris France
Telephone: 01.44.39.80.00
Email: relationsclientele@lebonmarche.fr
Website: Click here
Le Bon Marche Opening Hours
10am to 8pm on Mondays to Saturdays
10am to 7.45pm on Sunday
How to get to Le Bon Marche Paris, the Iconic French Shop
By underground: Lines 10 and 12 – Sèvres Babylone station

By bus: Service numbers 39, 63, 68, 70, 83, 84, 87 and 94
Map of Le Bon Marche Department Store in Paris
Toadstool Rating.
Looking for MORE SUPER DOOPER FUN things to do with Kids in Paris?
Click the links in blue below for more Paris activities.
Disclosure:
This website contains references to products and services from our favourite brands. Some of these are affiliate links. If you make a purchase or booking after clicking on a link on Roam the Gnome™, we may receive a small affiliate commission at NO COST to you. For our Disclosure and Disclaimer statements, and an explanation of our Advertising policy please click here
Roam the Gnome™ is a participant in the Amazon Services LLC Associates Program, an affiliate advertising program designed to provide a means for sites to earn advertising fees by advertising and linking to amazon.com, and related Amazon shopping sites around the world. Amazon and the Amazon logo are trademarks of Amazon.com, Inc. or its affiliates. As an Amazon associate, I earn from qualifying purchases.
Thank you for visiting Roam the Gnome Family Travel™ Website Directory. We encourage you to bookmark this page so you can find us again.