INSIDE: Roam the Gnome's Epic Guide of all the fun things to do in Brisbane with kids and family. Updated 2019.
Brisbane is the most family friendly city in Australia.
There's NO doubt about that.
The weather is warm, the people are generous of spirit, there's LOTS of open space and parkland in the city, and plenty of room to walk (or run) by the river.
The SPACE in this city is one reason people move here.
Brisbane is a relaxed, soul reviving place with enough city vibe, events, shows, art and culture to satisfy the most die-hard city dwellers.
Disclosure: This article may contain affiliate links. If you book a product or service after clicking on one of these links, we may receive a small commission at NO extra cost to you.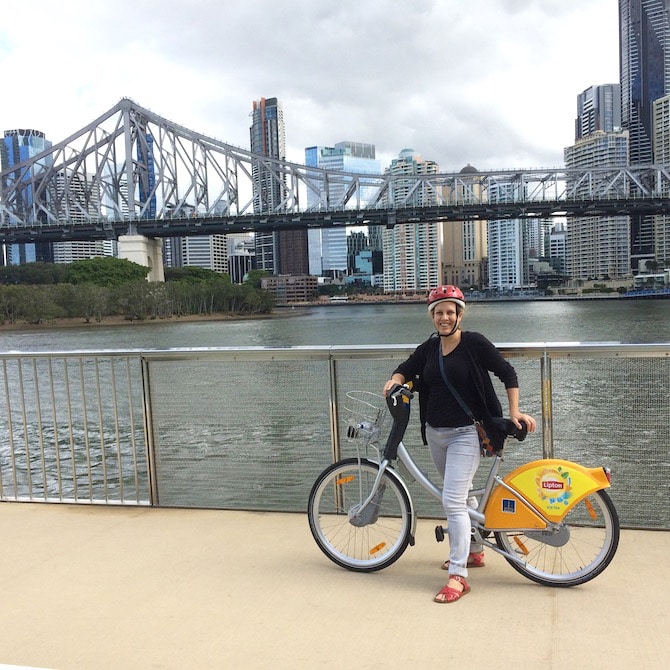 Getting around Brisbane
Here's our monster guide to getting around Brisbane.
Ride a city cycle bike around Brisbane CBD for FREE!  (Well, so long as you swap bikes every half hour. There is also a daily subscription fee of $2. But it's worth it.)

Eating in Brisbane with Kids
Roam the Gnome loves Sushi Edo Brisbane. The boys do too. Especially ordering by ipad!  Super fun.
Check back soon for more yummy places to eat with Kids in Brisbane.

Things to do in Brisbane with Kids

Epic Playgrounds in Brisbane for Kids
Brisbane has the BEST playgrounds around. Visit these ones for yourselves!

Special events in Brisbane
Held yearly, the Christmas Carols in Brisbane held in the St Johns Cathedral will send shivers up and down your spine. What a place to immerse yourself in the Christmas spirit!
Take the kids to see a Musical at QPAC. Roam the Gnome, the kids and I LOVED the Wizard of Oz
Oktoberfest in Brisbane has a family day, specially for families and kids.
Out of the Box festival for kids is great fun and happens once a year, with bucketloads of art events, shows, and creative things to do for kids in Brisbane. Our favourite Out of the Box festival experience so far was definitely the Bubble Show!
Logan Hyperdome Shopping Centre has special events every school holidays. We loved the very cute and tasty Willy Wonka Candy Academy!

Farm Stays near Brisbane
Lillydale Farm Stay tops our list of Brisbane farmstay experiences. We made a video. Check it out here.

Things to do in Ipswich with Kids
Here's a quirky one. Take the kids in the early evening to try to spy the mysterious Bremer River creatures in Ipswich.
Make a day of it by visiting the Queens Park playground in Ipswich , the Ipswich Nature Centre (it's FREE!), and the Ipswich Art Gallery has ever-changing exhibitions for kids. Don't forget to stop by the Bob Gamble Park Waterpark (it's FREE too!).

More Things to Do Around Brisbane
The Goomeri Pumpkin Festival has a pumpkin rolling contest. Plus pumpkin scones!
Did you know there's a Mary Poppins Festival in Maryborough each year?  This festival celebrates all things Mary Poppins. They even have a Chimney Sweep competition!
Subscribe
Bookmark Roam the Gnome
Disclosure:
This article may contain affiliate links. This means if you make a booking or purchase after clicking on one of these links on Roam the Gnome™, we may receive a small affiliate commission at NO extra cost to you.
Roam the Gnome™ is a participant in the Amazon Services LLC Associates Program, an affiliate advertising program designed to provide a means for sites to earn advertising fees by advertising and linking to amazon.com, amazon.co.uk, amazon.ca. Amazon and the Amazon logo are trademarks of Amazon.com, Inc. or its affiliates.
Thank you in advance for your support in helping us to grow Roam the Gnome Family Travel™ Website Directory