INSIDE: Roam the Gnome's Guide to Hong Kong Disneyland Hotel.
Right at the top of our Family Travel Bucket List is a Hong Kong family holiday to visit Hong Kong Disneyland.
But the main reason is to stay a few nights at the Hong Kong Disneyland Hotel for some Grand Victorian Elegance, and a fabulous surprise for the kids!
Want to know why?
Disclosure: This article may contain affiliate links. If you book a product or service after clicking on one of these links, we may receive a small commission at NO extra cost to you.
Image credit: Hong Kong Disneyland Hotel
Overview of Hong Kong Disneyland Hotel
Correct at time of publication. Please check with venue for updates. We apologise in advance if there have been any changes we are unaware of. All prices in local currency, unless otherwise stated.
Be a Royal for a Day & Night at the Kingdom Club
This SUPER DOOPER fun experience is exclusive to those who stay in the elegantly furnished Kingdom Rooms and Suites.
It is seriously the closest you'll ever get to living like a Royal (and we love trying out new and exciting VIP adventures!)
There's also FREE scrumptious Disney snack food and meals on tap for your tribe throughout the day including:
fresh pastries for breakfast
hot breakfast selections also
homemade cookies and fresh fruit during the day
moreish appetisers and a lovely glass of your favourite red (or white) during the witching hour, and
cookies and beverages for supper.
CHECK LATEST PRICES on HONG KONG DISNEYLAND HOTEL

Image credit: Hong Kong Disneyland Hotel
HK Disneyland Hotel Bedtime Stories and Craft Club
But that's not the best bit.
No siree!
The best bit is not just a bit, but two bits.
Disney Hotel Hong Kong Craft Club!
Oh my goodness me.
Disney and "Craft" in the one sentence sounds like too much fun!
The kids can join in a Disney craft extravaganza with a Cast Member and make stuff but I think I'm going to have to join in too!
There's a session or two of the Disney Craft Club at the Disneyland Hotel in Hong Kong on offer every day – just ask when you check in.
A material fee applies on a per craft basis.
Craft workshops are held in the Storybook Playroom is located on Level 1 of the Conference Center.
You can access the playroom from either the lift or stairs near Crystal Lotus. Admission is complimentary for up to 4 Guests per room staying on premises.

Disney Bedtime Stories at Disneyland Hotel Hong Kong
The highlight of this stay at the Disneyland Hotel in Hong Kong for the kids is a chance to experience Disney Bedtime Stories!
After a full day of adventures at Hong Kong Disneyland, kids love having a Disney bedtime story read to them in English by a Kingdom Club Cast Member, complete with a cookies and milk supper to enjoy.
Then, to top off a fabulous day of Disney dreaming-come-true, a pyjama clad Disney Character will pop in to say GOOD NIGHT!
Will it be Goofy? Or Donald? Mickey? Or MINNIE?

Oh, are you swooning with anticipation just like me?
Heading off to book your trip now?
I know! I know! It's the coolest thing ever.
It will be a memory they keep for LIFE.
BUY NOW ON AMAZON: Don't forget your new Mickey Mouse Pyjamas!


Image credit: Hong Kong Disneyland Hotel
Hong Kong Disneyland Accommodation Tip: Fill that Piggy Bank
Start saving now.
These family rooms sleep four.
Hong Kong Disneyland Hotel Price
Kingdom Club Rooms at Hong Kong Disneyland Hotel start from $HK4900 ($910 AUD) per night.
Kingdom Suites start from $HK7375 ($1370 AUD) per night.
The Kingdom Club FROZEN Suite starts from $HK 9160 ($1702 AUD) PER NIGHT!
It's costly to be a royal you know!
Thankfully, the Disney Hotel in Hong Kong does have special offers and a Hong Kong Disneyland hotel package from time to time. If you can book one of those, the pain is not so bad and you might even get an upgrade.
How to Book Hong Kong Disneyland Hotel
Check latest prices for HK Disneyland Hotel here.

Hot Tips for Hong Kong Disneyland Resort Hotel
Disney Princess Visits
Keep your eye out for a Disney Princess at breakfast when staying in the Kingdom Club!
They are known to frequent this exclusive domain from time to time.
Personalised Service
Staying in the Kingdom rooms and suites provides you with personalised service and special activities add an extra level of enjoyment to your stay.
They'll help you with:
car rentals
childcare
directions
fresh flowers (should you need them!)
travel guides
travel arrangements and tour information
shipping packages (just in case you shop till you drop at Disney!)
weather updates
park tickets
even wake up calls!
With Mickey on the line!
Hong Kong Disneyland Club Lounge
Those staying in the Kingdom Suites and Rooms also have access to the Club Lounge.
The lounge provides an exclusive viewing area during the evening for the "Disney in the Stars" Fireworks Spectacular, complete with it's own soundtrack.
Everyone knows you must stay for the fireworks, but this way you don't have to.
A Kingdom Suite or Room stay allows you the opportunity to retreat back to your hotel with tired kids in tow, and watch in comfort from there!
Crowd-free firework watching?
Now, that is royal!


Image credit: Hong Kong Disneyland Hotel
Mickey Mouse Maze
There's a Mickey shaped MAZE for the kids to explore too!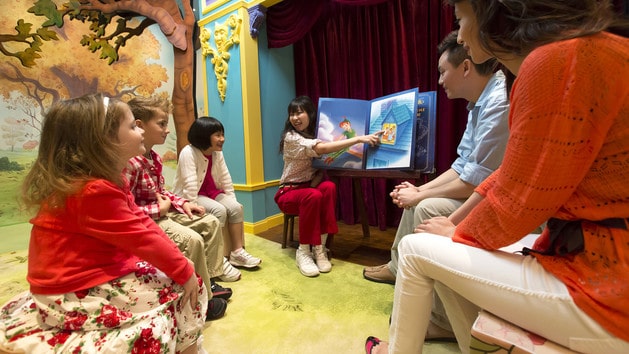 Image credit: Hong Kong Disneyland Hotel
Hong Kong Disneyland Hotel Playroom for kids
The hotel also has a dedicated children's playroom available to ALL guests.
It's a fairy-tale story delight, with the room themed with a rowboat, castle, and woods.
Children are free to enjoy enchanting activities, games, toys and puzzles that inspire creativity, good times and laughter.
The miniature theatre is charming, providing the setting for the screening of classic Disney films AND Disney story time, where a Cast Member narrates a tale for the children before bed.
The Inside Scoop – HK Disneyland Hotel
Address: Hong Kong Disneyland Resort, Magic Road, Lantau Island, Hong Kong
Telephone: + 852 3510 6000
Enquiries: Click here
Website: Click here

Kingdom Club Hong Kong Disneyland
Opening hours: 7.30am to 10pm.
Getting there from Hong Kong International Airport
By car: Take Route 8 (towards Kowloon). Take Exit 5 to Penny's Bay Highway. Take Exit to Magic Road at the Roundabout. Take Exit to Fantasy Road at the Roundabout
By train: From Hong Kong International Airport, walk to the Airport statoin and catch the Airport Express to Tsing Yi station. Swap to the Tung Chung line and catch the train to Sunny Bay Station. Then catch the Disneyland Resort Line to the Disneyland Resort Station. Get google map directions here.
There is a complimentary shuttle service for Disney Hotel guests to and from the Hong Kong Disneyland Hotel, and the Disneyland Public Transport interchange.
Hong Kong Disneyland Park is a short walk from the station.
Hong Kong Disneyland Hotel Map
Hong Kong City Essentials
& Getting around Hong Kong
Thinking about a family holiday to Hong Kong, and looking for things to do in Hong Kong with kids?
Wondering where to stay in Hong Kong with kids, or want to check prices on Hong Kong family hotels?
Here's a link to our Hong Kong travel blog to find ALL the information you need to know for your trip.
Toadstool Rating for HK Disneyland Hotel Resort

Looking for more things to do in Hong Kong with Kids?
Click the blue links for details:

Disclosure:
This website contains references to products and services from our favourite brands. Some of these are affiliate links. If you make a purchase or booking after clicking on one of these links on Roam the Gnome™, we may receive a small affiliate commission at NO COST to you. For our Disclosure and Disclaimer statements, and an explanation of our Advertising policy please click here
Roam the Gnome™ is a participant in the Amazon Services LLC Associates Program, an affiliate advertising program designed to provide a means for sites to earn advertising fees by advertising and linking to amazon.com, amazon.co.uk, amazon.ca. Amazon and the Amazon logo are trademarks of Amazon.com, Inc. or its affiliates.
Thank you in advance for your support in helping us to grow Roam the Gnome Family Travel™ Website Directory. Bookmark this page to keep us safe and sound.