What's on Brisbane Today – Ipswich Art Gallery

The Ipswich Art Gallery is the home of Australia's first dedicated Children's Gallery. Right now, and right up until the 26th February, get set for extraordinary adventures for your kids when you take them to the Ipswich Art Gallery. It's time for Tape Scape and Construction Zone! Go early to beat the queues and dive right into the super fun hands-on activities on offer. Brisbane kids (and Gold Coast kids!) will love it, we guarantee.



Australia's First Dedicated Gallery Space for Kids

Let your kids run (semi) wild as they explore:

TAPE SCAPE

A unique two-storey 20 metre-square creative play space. Roam the Gnome loved exploring the tunnels and slides. Did you know this indoor play space is made entirely from 56,000 metres of packing tape? Yep, this slippery slidey installation was  designed and created by artist Eric Lennartson and comes direct from the US!  It's exclusive to the Ipswich Art Gallery this summer.

CONSTRUCTION ZONE

Head upstairs to find a room full of giant foam blocks in all shapes and sizes to build whatever you can imagine. Construct a castle or a sky-scraper, or work together as a team to build a whole city! Watch out for those rogue (toddler) builders though… they love nothing more than to push things down before you are done!

BALL RUN

Just up the stairs beyond the entrance, the Ball Run is a creative challenge of major proportions. Roam the Gnome, along with Ned and Jack, had a 'ball' (pun intended) as they stacked and positioned grooved timber lengths, cardboard tubing, flexible plumber's pipe, and funnels in different configurations using bucketloads of masking tape to hold everything in place while trying to make the perfect vertical ball run. It's not easy but it's fun!

PLUS… MORE Hands-On Fun Things for Kids to Do at Ipswich Art Gallery!
A Model-Making Zone (Ground floor)
"Paint a Picture" activity on TV screens (ground floor near entrance)
Visiting the Ipswich Art Gallery definitiely ticks the 'Toddler Activities Brisbane' and the 'Fun places for kids in Brisbane' boxes. Plan your visit. Now that school holidays are over, you'll have the place to yourselves!

PS: The Children's Gallery has dedicated staff and a program full of exhibitions curated for children. This one is simply outstanding and MORE than worth the drive if you are looking for things to do around Brisbane!

[mc4wp_form id="1416″]

Eat and Drink

As with most art galleries, food is a no-go. it's best to eat before you come or stop mid-way for a snack stop outside. Bottles of water are permitted. When you arrive, see one of the staff at the Gallery Information Desk and leave your food and drink items in the Cloak Room while you explore our exhibitions. Remember to collect them again as you leave.

Here's a list of cafes and eateries within walking distance of the Gallery with thanks to Ipswich Art Gallery.

Or you can pack a picnic and eat it in one of Ipswich's fabulous parks.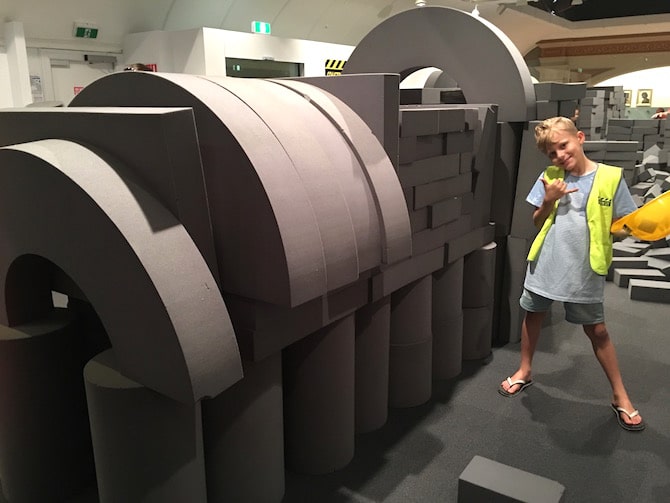 The Inside Scoop
Opening Hours:
Exhibition open daily 10am–5pm (unless stated otherwise)
All ages. Recommended for ages 2 to 12 years.
Children must be accompanied by an adult at all times.
Entry Fees:
All ages entry – 2 years and over: $5
All ages entry with TapeScape socks: $8
Family pass – admits up to five people with at least 1 adult: $15 (socks not included)
Babies and toddlers (up to 2 years): FREE
TapeScape Socks per pair: $3
NB: Socks must be worn for play in the TapeScape.
Contact:
07 3810 7222
email: info@ipswichartgallery.qld.gov.au
Keep up to date with Ipswich Art Gallery Info via the Ipswich Art Gallery e-Newsletters, Facebook and Twitter.

Location and Map:
The Ipswich Art Gallery is located in d'Arcy Doyle Place; a pedestrian mall section of Nicholas Street between Brisbane and Limestone Streets in the Ipswich CBD.


Travel Options:
By Train or Bus
The Gallery is a short walk from the Ipswich Railway Station as well as bus stops.
If travelling by train, alight at Ipswich Station. The Gallery is a 4-minute walk from the station. Walk left up Bell Street, right onto Brisbane Street and left onto d'Arcy Doyle Place. Visit TRANSlink for service and timetable information.
By Car
The Gallery is a 40-minute drive from Brisbane CBD and about 1 hour from the Gold Coast.
Free parking on weekends is available in the Ipswich City Square car park. During weekdays Ipswich City Square car park offers free parking for up to 3 hours weekdays. Charges apply for 4 hours or more.
Paid metered parking is available in most side streets. You can find more information about parking in Ipswich CBD here.
If you are coming from out of town, print this helpful information sheet of directions. If you get lost, call the Ipswich Art Gallery on 07 3810 7222 and they'll help you find your way.
Guest Relations
The Gallery is wheelchair and pram accessible.
Small belongings and nappy bags for infants can be taken into the Gallery, however umbrellas, backpacks, large bags and all food and drink (water bottles permitted) must be checked into the cloakroom at the Gallery Info Desk.
The Gallery has a Parents Room located on the lower ground level of the building.
Hot tips!
Take a snap of your kids at play and share it on Facebook and Instagram with these hashtags: #IAGkids #constructionsite #IAG
BYO socks to save money.
The Construction Site exhibition featuring TapeScape and Ball Run is experiencing high visitation weekdays between 10am and 1pm. During this time it is often necessary to queue visitors prior to entry. If you wish to avoid long queues we suggest you plan your visit for the afternoons or weekends when the exhibition tends to be less busy.
The Gallery Shop stocks quality items children will love! If you're looking for fun products that will help kids learn and express their creativity then the Gallery Shop is the place to visit. Recent products include craft kits by 'Seedling' as well as building packs by award-winning brand 'Zolo' and books by 'Scholastic-Klutz' to name a few. The Gallery Shop also stocks items adults will enjoy including historic prints of Ipswich and books about art. The Gallery Shop is located near the front Information Desk.
Toadstool Rating.
MORE Fun Things to do in Brisbane for kids – Make a day or a weekend out of your Ipswich adventure!
Stop by the Groovy Playground in Queens Park

Visit the animals for FREE at the Ipswich Nature Centre

Try out this world-class FREE Waterpark at River Heart Parklands

Visit Denmark Hill Conservation Reserve

Enjoy The Workshops Rail Museum

See the light show at Robelle Domain

Let the kids be pretend airplane pilots at THIS themed playground

Visit the Ipswich Visitor Information Centre to discover more local attractions and activities the family can enjoy!
Disclosure: If you book your accommodation through a link on Roam the Gnome, we will receive a small affiliate income.
Thank you for your support in helping us to grow this Family Travel Directory.