INSIDE: The Top Comprehensive Guide to Japanese Drinks.
You could spend a whole year drinking a different drink in Japan each day, and it's likely you still wouldn't have tasted all the Japanese drinks and Japanese sodas on the shelves in Japan.
The Japanese drinks you can try range from the ordinary to the outrageous!
Take Tomomasu Alien Energy drink for instance. This Japanese alien energy drink is full of vitamins and power from outer space! Or so they say.
And then there's Pocari sweat.
Have you tried it? (THAT Japanese drink will never touch these lips again.)
What I do know is there's a Japanese drink to suit every kind of personality and tastebud.
Disclosure: This article contains affiliate links. If you make a purchase after clicking on one of these links, we may receive a small commission at NO extra cost to you.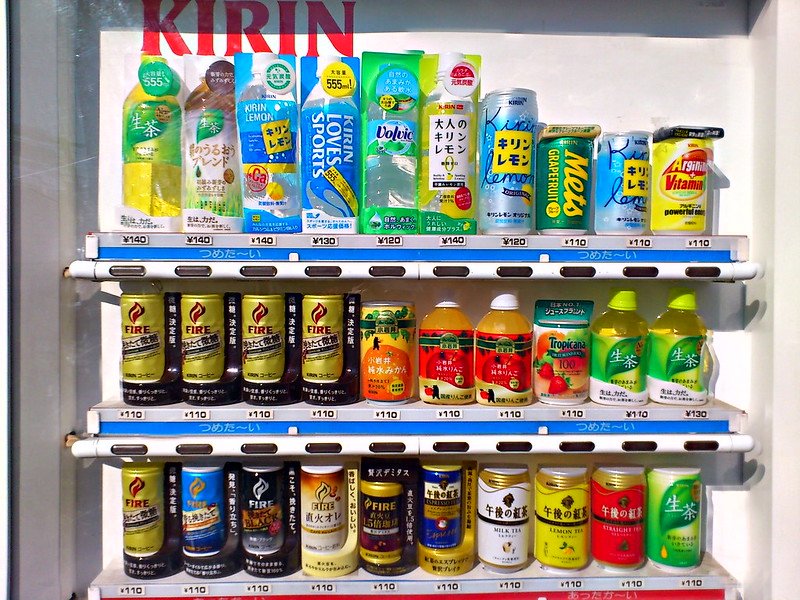 Image credit: David Pursehouse via Flickr CC BY 2.0
The Best Japanese Drinks in the Land of the Rising Sun
We've searched high and low to bring you the most comprehensive list of Japanese drink options in the country.
We've categorised them by:
Japanese sodas
Japanese Fanta
Japanese fruit drinks
Japanese Coca Cola
Japanese energy drinks
Japanese sports drinks
Japanese milk drinks, and
Japanese tea drinks. (All the Japanese non alcoholic drinks first.)
Then, Japanese alcohol.
The rest fit in the 'other' category!
We've also listed our favourite Japanese drinks manufacturers you can trust to create fabulous flavors – just in case you come across a Japanese drink that's not listed here and wonder whether or not to try it.
Plus, all the popular Japanese drinks, and our number one drink in Japan.
Unlike most countries, you can pick up a drink from a Konbini Japanese convenience store anywhere in Japan, or from one of the abundant drink vending machines found on every street corner in Japan, for less than 150 yen.
It's a handful of change. Try them all!
Japanese Sodas (Japanese soft drinks)
Japanese soda come in all the flavors. But a melon-flavored Japanese carbonated drink should be the first one you try. These are traditional Japanese drinks for most people in Japan.
Melon Soda by Sangaria
Smooth Melon Cream soda by Sangaria
Crushing Melon Soda by Sangaria
Pineapple Soda
Musk Melon Cider
White Peach Cider
Mango Cider
Watermelon Cider
Asahi melon cream soda
Japanese lemonade
Japanese lemon soda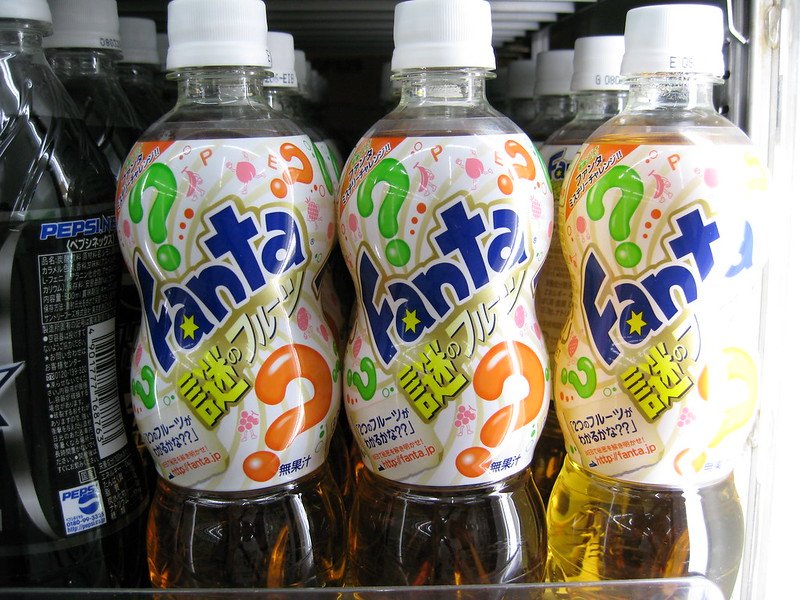 Image credit: Tenaciousme via Flickr CC BY 2.0
Japanese Fanta
I've never seen so many Fanta flavors in one place.
At one can a day, you'll be guzzling Japanese Fanta flavors for a total of 79 days!
Fanta Melon soda
Fanta Melon Cream soda
Fanta orange soda
Fanta pink grapefruit soda
Fanta Yogurt Banana soda
Fanta Lemon Soda
Fanta Okinawa shikuwasa fruit flavor
Fanta Golden Grape soda
Fanta White Peach soda
Lychee Fanta
Tangerine Fanta
Nashi Fanta
Tropical Yogurt Fanta (!)
I'm determined to try Hip Hop Fanta, and Fanta Fun Mix sounds like a winner.
But Mystery Fanta is like a grown up version of a treasure hunt! Let's go find it.
Image credit: Janine via Flickr CC BY 2.0
Japanese Fruit Drinks (Japanese juice)
If you look at the range of beverages in a Japanese vending machine, you'll notice a bunch of Japanese fruit drinks front and centre. These Japan drinks make a nice change when you don't want fizzy drink.
Nectar Peach
Kirin World's Kitchen Salty Lychee
Kirin World's Kitchen Berry Vitamina
Kirin Vegetable Juice
Suntory Gokuri Smooth Grape Juice
Gokuri juice in Funwari peach or grapefruit
Japanese melon drink
Japanese Coca Cola Flavors
Japanese Coca Cola comes in a few different tastes but no where near as many combinations as Japanese fanta. Try Coca Cola Life for a sugar-free treat.
Coca Cola Lime
Coca Cola Clear Lime
Coca Cola Lemon and vitamin c, a seasonal variety of Coke
Coca Cola Orange
Coca Cola White Peach
Coca Cola Zero
Coca Cola Vanilla
Coca Cola Life, sweetened with stevia leaf extract for better health!
You can also find many different versions of Pepsi Cola including Sakura Pink Cherry Blossom Pepsi, special Japanese blend Pepsi, and Pepsi Zero.
Image credit: David Pursehouse via Flickr CC BY 2.0
Japanese Energy Drinks
You can safely bet that these Japanese energy drinks are best sellers. The Japanese work ethic is such that many employees must work their bums off – long hours, little sleep – so a caffeinated drink or two might be the only way to get through the day!
Try these coffee/caffeine infused drinks for size.
Kirin Power Water
Kirin Fire Coffee
Suntory Boss Coffee
Pepsi Refresh Shot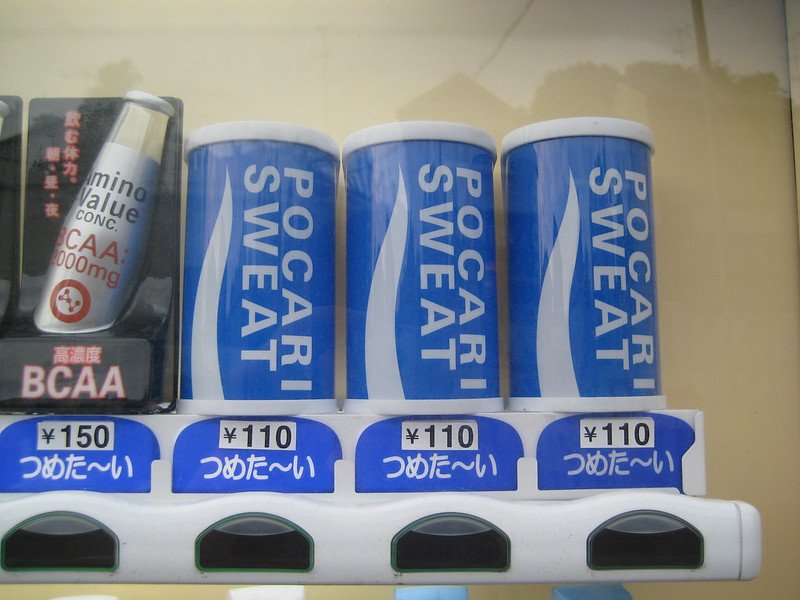 Image credit: James Trosh via Flickr CC BY 2.0
Japanese Sports Drinks
Popular Japanese drinks for post exercise, and as an afternoon pickup.
Aquarius and Aquarius vitamin sports drinks to replenish the electrolyte concentration after a sweaty workout
Pocari Sweat, a sports drink for post-exercise revival. It is an acquired taste!

Japanese Milk Drinks & Japanese Milk Tea
Japanese milk tea is my favourite drink in Japan. I drink bucketloads of the stuff. The cold Japanese milk teas are super sweet and I do worry a little about my sugar intake when sculling one down. The HOT Japanese milky tea comes in a can or a bottle with an orange lid.
These hot Japanese milk teas are the BEST invention I've ever come across.
Even better, they cost 150 yen or less.
I want to move to Japan just so I can have ready access to Hot Milk Tea (and Disneyland!).
Suntory Strawberry Milk
Soy milk drinks
Boss Coffee Cafe au Lait
Boss Coffee Luxurious Sweet Blend
Boss Coffee Rainbow Mountain Blend
Kirin Milk Tea
Kocha Kaden Royal Milk Tea
Royal Milk Tea
The best thing about Japanese Royal Milk Tea is that you can buy it in a flavour sachet to enjoy Milky Tea at home.
Royal Milk Instant Tea Mix comes with 10 servings in a bag. I fill my luggage with the stuff!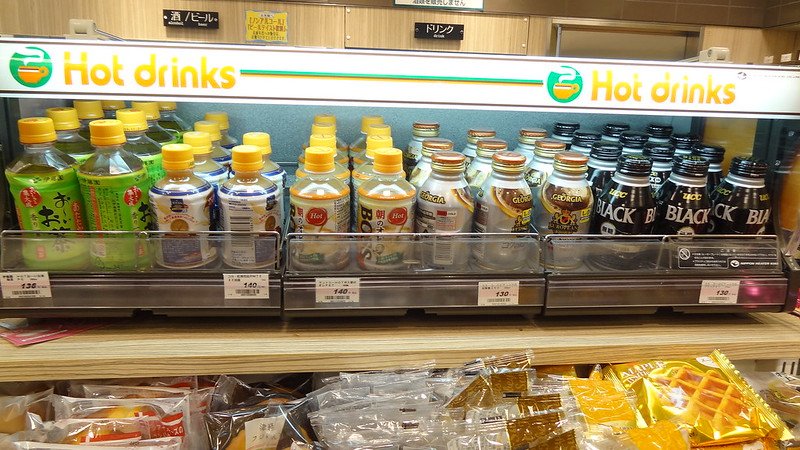 Image credit: Martin Lewison via Flickr CC BY-SA 2.0
Japanese Tea Drinks & Japanese Coffee
Hot or cold, a Japanese tea is always a treat.
Lipton Sakura Tea
Japanese peach tea
Japanese green tea
Barley tea (mugicha)
I also have it on good authority that the hot Japanese coffee (canned coffee) from a Japanese convenience store is not too shabby and at less than 150 yen, it's a good enough substitute when you can't find any fresh beans. Try it for yourself and let me know.

Traditional Japanese Matcha Tea Ceremony
Visit a traditional Japanese shrine or temple and you'll likely find an opportunity to enjoy a traditional Japanese tea ceremony.
This is an authentic Japanese experience where you can observe the beauty of a Japanese tea ceremony.
This is truly a once in a lifetime experience.
It's a careful, considered, thoughtful and spiritual task and I'd bet no-one is immune to the peace that this slowing down of life brings. There's also health benefits.
The tea ceremony matcha tea is an acquired taste, very different to a Japanese green tea bag, or a Japanese green tea you might enjoy in a local restaurant.
This green tea is strong and bitter, and best imbibed with a sweet wagashi treat or one or two tiny sugar balls called Konpeitō Japanese sugar candy.
Other Japanese Drinks
Strangely, the boys LOVE these yogurt drinks. They are kind of thick, and sickly sweet but with a tang.
DyDo Yobick Yoghurt Drink
Suntory Bikkle yogurt drink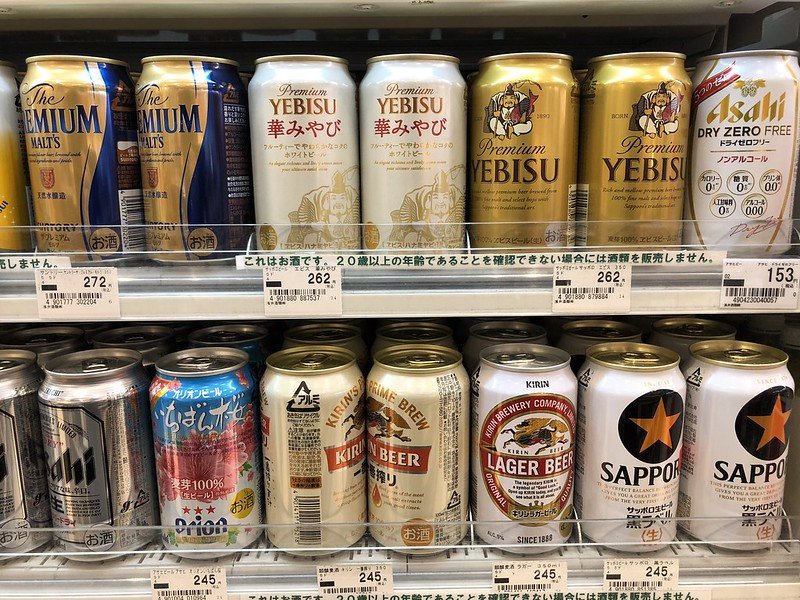 Image credit: Thomas Galvez via Flickr CC BY 2.0
Traditional Japanese alcohol
We can't list all the Japanese drinks without mentioning Japanese alcohol.
Enjoying a Japanese sake in a high end hotel bar, aka the Sofia Coppola-directed film Lost in Translation, featuring Bill Murray and Scarlett Johansson, is a bucket list experience for many.
Japanese sake alcohol
Mitsuya cider
Other traditional Japanese alcoholic drinks including beer, happoshu, chuhai, shochu and wine.
Try a Kirin beer, Asahi beer, Suntory beer or a Yebisu beer for less than 300 yen each!
Japanese Drinks Manufacturers
The most popular Japanese beverage manufacturers, in no particular order, are:
Calpis
Sangaria
Kirin
Asahi
Suntory
Sapporo
Calpis
Itoen
Coca Cola and Nestle are the other major players in the Japanese drinks market.
We'd like to thank all these Japanese beverages companies for their commitment to making quirky and unusual Japanese drinks for committed "funsters" like us to try!

Where to buy Japanese Drinks?
Japanese Supermarkets
A Japanese supermarket has the largest range at the cheapest prices. (Click here for a list of Tokyo supermarkets.)
Japanese Convenience Stores
Japanese convenience stores also have a broad range of Japanese soda, Japanese milk tea, Japanese alcohol and other Japanese drinks but these are slightly more expensive than in a Tokyo supermarket.
If you are buying one Japanese drink, then buying from a Japanese convenience store is fine. If you want to buy more than one Japanese drink, or one for the whole family, the difference adds up.
Japanese Vending Machines
A Japanese vending machine is the easy option.
You'll see these on every street corner, and more.
Family restaurants in Japan
Enjoy a free Japanese tea or water with your meal at any Japanese restaurant, Japanese family restaurant, Donburi restaurant or Japanese curry house.
Japanese Temples & Shrines
Head to a traditional Japanese shrine or temple to enjoy a Japanese Tea Ceremony and try Japanese matcha tea with delicate wagashi sweets.

Looking to expand your knowledge of the best fun food in Japan?
Click the blue links below.