INSIDE: The Ultimate Guide to Santa Claus Secret Forest of Joulukka in Lapland, home of the REAL LIFE SANTA and his Lapland Elves.
Joulukka Secret Forest is THE Ultimate place to meet and visit Santa in Lapland.
Why?
Because there are real life LAPLAND ELVES!
Forest of Joulukka is the secret forest, not far from the Santa Claus Holiday Village post office in the Santa Village Rovaniemi.
Visit Lapland and all your Christmas dreams will come true!
Disclosure: This article may contain affiliate links. If you make a purchase after clicking on one of these links, we may receive a small commission at NO extra cost to you. Please note, we paid for this tour independently and were not sponsored to attend. All opinions are our own.
Visit Santa in Lapland AND meet his LAPLAND ELVES too!
The Santa's Elves in Lapland have:
pointy pixie ears
freckles
rosy pointed noses (perhaps a touch of frostbite?)
elfin coats and dresses
elfin hats
and …. and, well everything an Elf should have, including bucketloads of charm!
If you are keen to give your family a magical Lapland Christmas, book a Forest of Joulukka tour today.
This is the BEST LAPLAND SANTA EXPERIENCE of all the Santa Claus trips you can do.
PS: Joulukka means "Christmas is Everywhere"
Proof of REAL LIFE LAPLAND ELVES
The Santa's Toy Factory Tour to the Secret Forest of Joulukka starts the moment you are collected for your bus by a pair of friendly and very cute elves, speaking with a delightful elf accent.
See! I caught them on camera.
Magic Bus ride
Two Lapland Elves invited us on a short bus ride with about 12 other families.
During the ride, the kids and I were asked to write our Secret Wish for Santa.
Ned asked for a Emerald Monitor lizard.
Jack for a green scooter.
White Christmas Setting
The magic bus led us out of town and out into the snowy forest, a picture postcard destination for those wanting a White Christmas experience like we did.
More Santa's Helper Elves
Upon arrival, we were met by MORE Elves.
Oh my, these elves were happy to see one another, with hugs, and cuddles, and bouncing up and down, and squeezes all round!
What an adorable thing to watch!
Lady Boss Elf gathered us all together in family groups.
That meant time for each family huddle and cuddle!
It was a hug fest of families from around the world!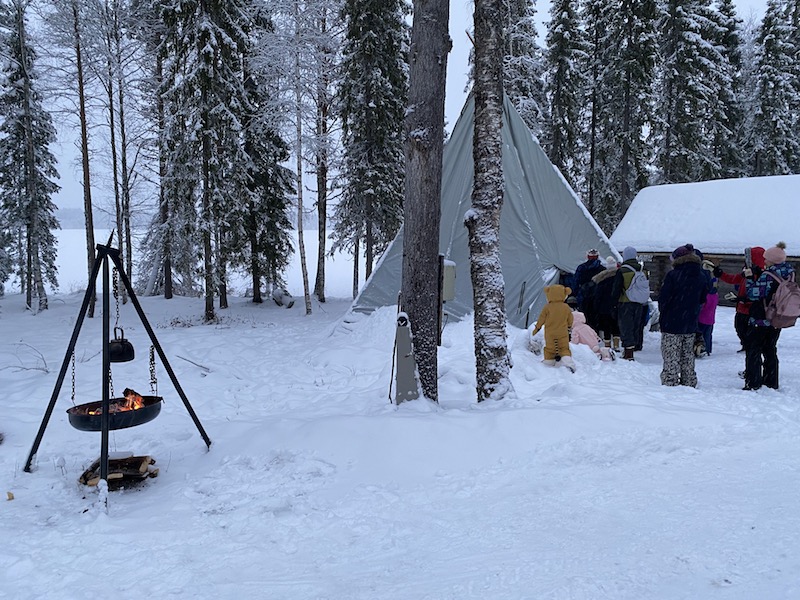 Taking Turns for a Private Santa Visit in Lapland
The Lapland Elves explained to us that Santa was very busy with the last minute toy making, but that if we were good and quiet, he was happy for the elves to take us, family by family, into Santa's Real Toy Factory for a look around.
While we waited for our turn, the kids played in the snowy forest.
Berry Juice refreshments
We drank gallons of berry juice.
Rode "Elf Taxis"
Families took turns to push one another along the forest pathways of freshly fallen snow on these so-called Elf Taxis.
What a setting for this adventure!
The boys and their new mates climbed on the mini playground too.
Marshmallow toasting on an open fire
And toasted marshmallows on the fire pit!
Also, huddled around the fire to stay warm.
READ MORE: What to wear in Lapland in Winter
I'm sure the general rule is supposed to be one marshmallow at a time, but Ned obviously skipped that memo.
Crunchy Toasty Marshmallows
Hot tip:
Did you know you can dip your newly toasted marshmallows IN THE CLEAN SNOW for an extra crunchy treat?
This was a hoot.
Santa's Toy Factory Joulukka Forest
Here is a sneaky picture of the ACTUAL Toy Factory.
Although Ned is certain it's a front.
He thinks the Santa's real toy factory is actually underground, only accessible through a magic door somewhere inside.
"It's just not big enough, Mum"
Best place to see Santa in Lapland
Soon enough, it was our turn!
Family No. 4.
We brushed off our snowy boots, and were welcomed inside by an elf we hadn't met before.
Inside Santa's Toy Factory
I can't show you inside Santa's Toy Factory, as obviously Santa needs to keep the gifts for all the children around the world hidden until Christmas Eve.
But I did snap TWO little sneaky photos.
I also don't want to spoil the surprise or the magic for those of you who choose to visit Santa in Lapland during the next Lapland Christmas holidays.
But I will say that's it's NOT your typical 'don't touch' the exhibits tour.
Santa's Toy Factory is interactive!
Santa's Elves pictures
Notice how the elf somehow made himself all blurry in this photo above so we can't see him properly?
I DID NOT DO THAT.
Elves have all kinds of magical powers, and this must be one of them.
Our private meeting with Santa in Lapland
And look who we did meet!
The Big Man at the Santa Claus Secret Forest of Joulukka Rovaniemi himself.
If your kids have ever asked, Where does Santa live? you now know the answer and can tell them.
The REAL SANTA lives in the North Pole Forest of Joulukka, not far from Rovaniemi.
Santa's elf took this one, and told me it was ok to share it with family and friends.
The boys were surprised one last time in this room with a little gift, and then it was time to say goodbye.
PS: I cried.
READ MORE: The Complete Guide to Choosing the BEST Rovaniemi Santa Claus in Lapland (because there's more than one in town)
Dancing with Elves in Lapland
Back in the snowy forest, the Elves invited us to dance and sing, and then guided us into the Finnish Lavvu tent where we attended a short session of Elf School.
Unlike the Elves who have to attend Elf school for 99 years, or stay in school for 129 years to work with Santa, or commit to another 14 years to find a position at the Toy Factory, our Elfish school session was sped up into Elf time.
Elf School at Joulukka Forest
We learned in a jiffy to:
wrap the presents, ready for the sleigh
put the gifts on the shelves
keep warm by dancing
decorate the tree
It was thirsty work!
Did you know Elves noses don't begin to grow until after they are 99 years of age, so the length of the Elves noses at Joulukka is a good indiction of how old they are.
Santa's Elves Names
PS: That's NITA Elf on the left, and Whitey Elf on the right.
Minu was the boy elf who accompanied us on the bus.
Forest Walks
One of the thrilling things for Australians is to be outside in the cold weather, frost bitten noses and all, to stand on the thick carpet of freshly fallen snow in the strange midday light of Northern Finland.
Walking through a snowy forest is pure magic.
There were LOTS of kids, including mine, who could not resist shaking a few of the pine trees to see a snow shower.
Our walk behind the elves led us to this snow-covered Kota hut.
Hot Chocolate on the Kota Firepit
Inside, the Elves poured cups of sweet hot chocolate, warmed on the fire.
And then it was all over.
(Tears rolling down cheek… )
Final farewell
A final farewell to the Lapland Elves, and back to the bus we wandered.
This whole experience of meeting Santa in Lapland has now flown up the tally to the Number One spot on our family 'Best Activities We've Experienced Around the World' List.
I'm not sure if there's anything that could ever top it.
A memory we'll never, ever forget.
Dream of Joulukka Tours
And dream of Joulukka we will.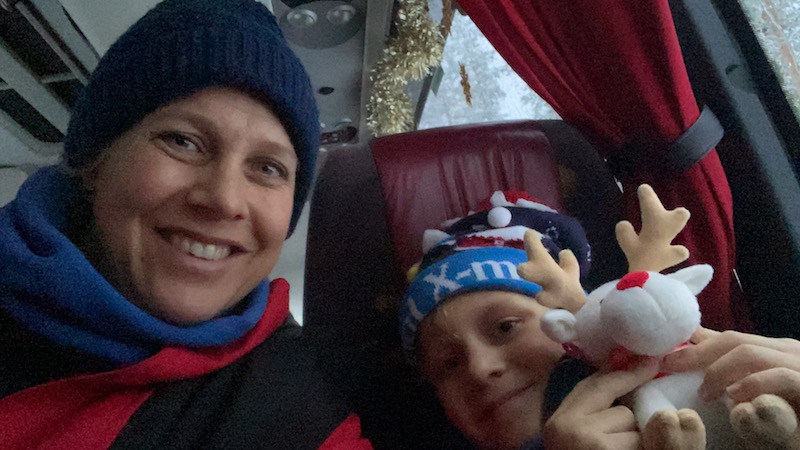 The Inside Scoop: Dream of Joulukka review – Santa's Toy Factory Tour
Correct at time of publication. Please check with venue for updates. We apologise in advance if there have been any changes we are unaware of. All prices in US dollars, unless otherwise stated
Santa Claus Secret Forest of Joulukka Website: Click here
Santa Claus Secret Forest – Joulukka Rovaniemi email: reservation@santaparkarcticworld.com

FREQUENTLY ASKED QUESTIONS ABOUT FOREST OF JOULUKKA TOURS
How much is it to visit Forest of Joulukka?
Santa's Toy Factory Tour price: Not cheap. Let's be honest.
The Adult rate in 2019 for the Santa's Toy Factory Adventure was 192.00 Euro.
The Child rate in 2019 for this tour was 152.00 Euro.
In total, it cost me 496.00 Euro. (or equivalent to around $800 Australian) for a tour running from 10am to 1.30pm, including free transport from the Santa Village hotel reception.
In our opinion, worth EVERY CENT.
Where else IN THE WORLD can you do this?
Nowhere.
Book as early as possible to avoid disappointment.

What is the difference between "Weekly Departures" and "Private Programs"
Dream of Joulukka Weekly Departures
Weekly departures are group tours, where you are collected on a large 60-seater coach from the Santa Holiday Village, or select Rovaniemi hotels, and share the experience with up to 60 other adults and children.
However, although there are lots of people, the elves are good at separating the big group into smaller groups, using different parts of the forest for activities so you never feel like you are lost in the crowd.
These tours run more than once a week in peak season.
Check the website above for available dates, and remember to book early.
Private Programs
Private Programs are individually tailored to your own personal family, or group.
They cost A LOT more, but you can take up to 5 to 10 people for the one group price, depending on the tour. You can invite more people for an additional per-person cost, so it may work out more affordable for big family groups, or friends travelling together.
As well as the two main tours (Dream of Joulukka, and the NEW Santa's Toy Factory), there are more options for private groups, including:
a Gingerbread Masterclass,
a Private Meeting with Santa Claus,
a Lappish Dinner in a KOTA hut,
and a Guardians of Lapland tour.
Private tours are run by request.
Toadstool Rating: Visit Father Christmas in Lapland at Joulukka Forest
Joulukka is one of the best Finland attractions we know of.
Please, please don't miss it if you are visiting Lapland.
Become one of Santa's Lapland Elves
Did you know you can become one of Santa's Lapland Elves in Rovaniemi or Saariselkä, Finland?
A Santa's helper elf has the job of helping to keep Santa's toy factory running, so Santa has time to meet all the guests and visitors who arrive in town on their Lapland Christmas holiday.
Check out these employment agencies if you think taking a job as an Elf in Finland is your calling!
Elf jobs at the North Pole are highly sought after.
They start recruiting for Lapland Elves jobs mid-year.
Unfortunately, a Lapland Elf salary is secret business so we can't publish it.

Where to stay in Rovaniemi?
Santa Claus Holiday Village.
While there are plenty of hotels in Rovaniemi, and four hotels in Santa Claus Holiday Village itself, the pick of the bunch is definitely the Santa Claus Holiday Village Cottages.
The cottages and suites are located two minutes walk from the Christmas House Restaurant & Coffee Bar, and the main Three Elves Restaurant and Reception building in the village.
You are only minutes walk away from the Santa Village plaza, the Arctic Circle crossing (where the Santa Village Live Cam points), the Main Office of Santa Claus, and the Official Santa Post Office where all Santa's mail is sent.
There is nothing like STAYING ON SITE, to truly experience the best Lapland Christmas Holiday.
(Take a sneak peek of our stay here)
Book early, or miss out.
CHECK LATEST PRICES FOR SANTA CLAUS HOLIDAY VILLAGE ON BOOKING.COM

More Hotels in Santa Village in Rovaniemi
There are three other hotels IN the Santa Village itself, also only a few minutes walk to the plaza.
Snowman Glass Resort
Nova Skyland and Restaurant
Santa's Glass Igloos on the Arctic Circle
Read our guide to these three hotels here.
Please, do take my advice and organise to stay in Santa's Village in one of the four choices.
It's a once-in-a-lifetime chance to visit this region of Lapland for many, and we strongly and firmly believe that staying on site is the ONLY way to truly appreciate the place and the magic!

Frequently Asked Questions
Is Lapland in the North Pole?
No, but it's close enough.
Lapland is the northern-most area of Finland (and other Nordic countries.) Rovaniemi, in Lapland, is the official home of the Real Santa Claus which is why people are confused about this.
Does Santa Claus live in the North Pole or does Santa live in Lapland?
Santa lives in Lapland, although his spirit home is the North Pole.
He relocated as there was no wifi in the North Pole, and he needed to keep up with the times!
What is Santa's Address Lapland?
If you are wanting to write a letter to Santa, send it to this address:
Santa Claus Main Post Office, Tähtikuja 1, 96930 Rovaniemi, Finland
This is the official post box in Lapland for Santa, managed by the Finnish Postal Service.
We can't possibly give away Santa's home address in the forest, but you can visit for yourself IF and ONLY IF you book a meeting (tour) to visit the Forest of Joulukka someday.

Looking for MORE THINGS TO DO IN ROVANIEMI Lapland with kids?
Click the links in blue below.
Disclosure:
This website contains references to products and services from our favourite brands. Some of these are affiliate links. If you make a purchase or booking after clicking on a link on Roam the Gnome™, we may receive a small affiliate commission at NO COST to you. For our Disclosure and Disclaimer statements, and an explanation of our Advertising policy please click here
Roam the Gnome™ is a participant in the Amazon Services LLC Associates Program, an affiliate advertising program designed to provide a means for sites to earn advertising fees by advertising and linking to amazon.com, and related Amazon shopping sites around the world. Amazon and the Amazon logo are trademarks of Amazon.com, Inc. or its affiliates. As an Amazon associate, I earn from qualifying purchases.
Thank you for visiting Roam the Gnome Family Travel™ Website Directory. We encourage you to bookmark this page so you can find us again.