INSIDE: Roam the Gnome's Sneak Peek inside the Marimekko Outlet Finland store in Rovaniemi Lapland.
One of the most exciting Finnish Design Stores can be found in the Santa Claus Village.
The best thing about this store?
It's an Marimekko Outlet shop in Finland, which means there are Marimekko bargains to be had.
A few at least!
Take a sneak peek below.
Disclosure: This article contains affiliate links. If you make a purchase after clicking on one of these links, we may receive a small commission at NO extra cost to you.
Marimekko Outlet Store Finland in Rovaniemi Lapland
The Marimekko Outlet Store in the Santa Claus Village has a range of discounted Marimekko gifts and souvenirs, and also a range of normal priced products.
Be sure to check!

History of Marimekko
According to the shop information, MARIMEKKO is a "Finnish Lifestyle Design House celebrated worldwide for it's original prints and vibrant colours".
The Marimekko dress was introduced in the 1950's, giving Finnish women a chance to dress boldly and bravely in a bland world, and truly embrace the joy of life and share it outwardly in fashion, lifestyle and homewares.
The Marimekko meaning
Fun Fact: The Marimekko meaning in Finnish actually translates to "Mari's dress".
The most famous Marimekko pattern is arguably the Marimekko flower print known as Unikko, created in 1964 by Maija Isola.
This Marimekko poppy fabric and pattern is but one of the Marimekko design house' 3,500 designs which now adorn clothing, bags, accessories, kitchenware, bedding, fabric, and socks.
Marimekko has its' own printing factory in Helsinki, and this is the workhorse of the brand, where the large scale patterns and colours come to life.
Take a look at some of what's on offer these days!
MARIMEKKO HOME
My favourite part of the Marimekko store in Rovaniemi is the home section.
You'll find Marimekko homewares here at the Finland Marimekko outlet store including:
Marimekko mugs
Marimekko dishes
Marimekko platters and serving trays
Marimekko vases
Marimekko trays
Marimekko coasters
Marimekko Kitchenware
These pastel pink mugs and bowls caught my eye.
So did the Ketunmarja Red Fox design on the Oiva mug in white, brown and black.
More Marimekko spoons, plates, cups
Including the famous Marimekko Unikko mug and plates.
You can also Marimekko oven gloves, Marimekko cloth napkins, and Marimekko aprons, and Marimekko tea towels.
Christmas Gifts at the Marimekko Outlet Finland
I ADORE these Marimekko white dishes with leather strap handles so much.
These were my favourite thing in store.
The Marimekko salad servers (pictured with white bowls) and the Marimekko Oiva/Räsymatto black and white dot mugs are two more elegant gift choices.
Marimekko Bags
The Rovaniemi Marimekko store has ever changing stock of:
Marimekko handbags
Tote bags
Marimekko backpacks, and
Cross body bags.
Marimekko Shoulder Bags
Marimekko Stationery
Find Marimekko notecards and envelopes in 20 different Unikko designs.
These Marimekko cards retail for 14,90 euro.
Plus Marimekko pencil sets and notepads and jotters to write down all your goals and dreams, and Marimekko wrapping paper too.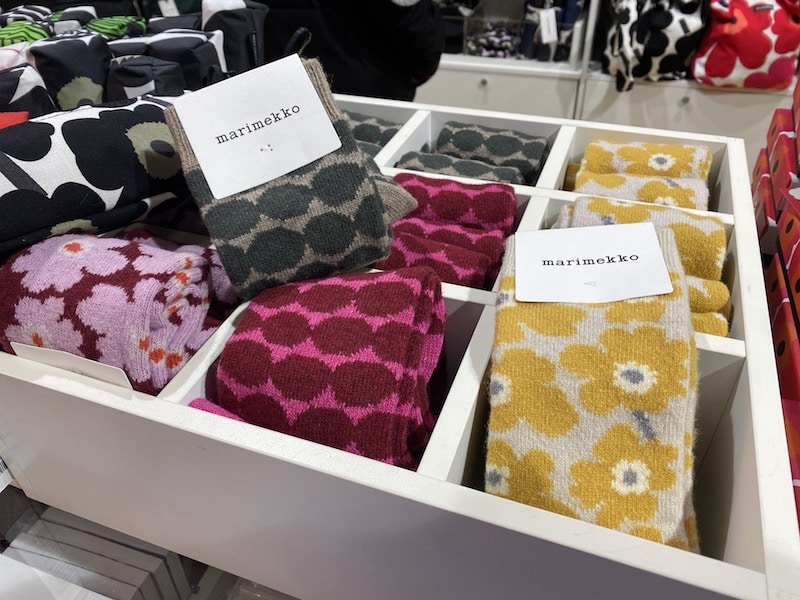 Thick Marimekko Wool Socks
These adorable and stylish Marimekko socks retail for 30,00 euro at the Marimekko outlet store in Finland.
Made from 70% wool, 29% polyester and 1% elastane, these are an affordable and well made gift for a Marimekko fan.
Marimekko Cotton Socks
Socks for everyday use
MARIMEKKO CLOTHING
The Marimekko outlet store in Lapland stocked an amazing amount of clothing considering the size of the store, including
Pitkähiha cotton jersey shirts in the classic Tasaraita even stripe pattern (long sleeve)
Ilma shirts with the same stripe, but with cropped sleeves
I was impressed.
Marimekko Dresses, Coats & Raincoats
This picture gives you an indication of the array of clothing available in store, including a number of different Marimekko dress designs, sunglasses, and Marimekko scarf options.
Marimekko Pyjamas & Marimekko Towels
I do adore the Marimekko dressing gowns too.
Marimekko Kids Clothing
There's a small selection of Marimekko children's clothing in store, along with baby jumpsuits and socks.
Look for Marimekko baby blankets, and baby bedding too.
Marimekko umbrellas
Marimekko umbrellas come in four sizes:
Regular classic umbrella with a stick and hooked handle, ala Mary Poppins
Aoc style – Has an automatic telescopic shaft. Comes with water resistant zipper case.
3 section manual – This light umbrella is small enough to fit in your purse
Mini manual – Super compact, ultra light umbrella with 5-part aluminium telescoping tube
As you can see, umbrellas come in all kinds of famous Marimekko patterns such as Pieni Unikko in a variety of colours, Kivet, Marilogo, Piccolo, Kivit black and white dots, and Unikko.
They sell rain ponchos also.
Marimekko Purses
Purses in five different shapes/sizes and fabrics.
Mini 12,00 euro
Pieni 16,00 euro
Kortti 16,00 euro
Silmalasi 18,00 euro
Puolikas 20,00 euro
Marimekko Cushion Covers & Marimekko Throws
These Marimekko textiles liven up any home.
Marimekko Cushions & Pillow Covers
Plus, blankets, and Marimekko bedding and sheets.
MARIMEKKO FABRIC
There's walls of it.
Take a peek.
Marimekko Fabric by the Yard
Prices starting from 27,00 euro a metre.
There's all kinds of Finnish textiles including Marimekko curtain fabric.
Clever people use these fabrics to make Marimekko stretched fabric wall art, Marimekko curtains, aprons, tea towels, and clothing.
Why not use this bold fabric each year as recyclable Christmas wrapping paper too?
Marimekko Oil Cloth on the Roll
There's a number of different designs in store of the Marimekko oil cloth.
Handicraft enthusiasts use this pliable fabric to make make up bags, lunch bags, toiletry bags, baby pouches to store wet wipes, beauty bags for travel, and as small tote bags.
There's no limit except what is in your imagination for it's uses.
Marimekko Serviettes
Last but not least, if your budget doesn't stretch to most Marimekko design goods, at least you can always buy paper napkins for your next party.
Some of the other Marimekko products you may find in store from time to time include:
a Marimekko shower curtain
a Marimekko iphone case
THE INSIDE SCOOP: Marimekko Shop in Santa Claus Village
Correct at time of publication. Please check with venue for updates. We apologise in advance if there have been any changes we are unaware of. All prices in euro, unless otherwise stated
Address: Joulumaantie 1, 96930 Rovaniemi, Suomi
Email: napapiiri@marimekko.com
Telephone: +358 50 407 1440

How to get to Marimekko Outlet Finland
The Marimekko shop in Rovaniemi is located in the Santa Claus Office building in the heart of Santa Claus Village in Rovaniemi, Finland.
You can drive, or catch a taxi or Santa Express bus from both the Rovaniemi airport, Rovaniemi train station, or Rovaniemi city hotels. Santa Village is 8km from town.
The cost of a taxi to the village is approximately 25 – 30 euro.
The Santa Express bus is 3,50 euro one way per adult.
Marimekko Helsinki Store
The revamped Marimekko Flagship store Helsinki is located on Mikonkatu in the Galleria Esplanad since 2016.
Marimekko now has a total of 15 stores in the Helsinki metropolitan area, and in all there are some 150 Marimekko stores worldwide.
Looking for more Marimekko stores in Finland , Europe and the world? Click here for the Marimekko store locator.
Toadstool Rating: Marimekko Napapiiri
A beautiful store for those who love Marimekko Finnish design.
Looking for more shops and things to do in Santa Village?
Click the blue links below:
The Ultimate Guide to Rovaniemi Shopping in Santa Claus Village
Disclosure:
This website contains references to products and services from our favourite brands. Some of these are affiliate links. If you make a purchase or booking after clicking on a link on Roam the Gnome™, we may receive a small affiliate commission at NO COST to you. For our Disclosure and Disclaimer statements, and an explanation of our Advertising policy please click here
Roam the Gnome™ is a participant in the Amazon Services LLC Associates Program, an affiliate advertising program designed to provide a means for sites to earn advertising fees by advertising and linking to amazon.com, and related Amazon shopping sites around the world. Amazon and the Amazon logo are trademarks of Amazon.com, Inc. or its affiliates. As an Amazon associate, I earn from qualifying purchases.
Thank you for visiting Roam the Gnome Family Travel™ Website Directory. Bookmark this page so you can find us again.