INSIDE: Roam the Gnome's Guide to Mercredi Bali Homewares & Linens
Could your bedroom feature in a homewares magazine?
Do you daydream about your bedroom and the cosy nook you've created there?
Or do you shut the door tight, and pray no-one looks in?
If the latter is your reality, it's time to head to Mercredi Bali to spice up your life.
Take a look.
Disclosure: This article contains affiliate links. If you make a purchase after clicking on one of these links, we may receive a small commission at NO extra cost to you.
Mercredi Bali Homewares Store
If it's the former, find any excuse to shop at Mercredi to add a dash of Bali style to your collection with elegant new bedding and pillow covers.
Mercredi Bali is the ultimate Bali shopping destination for anyone wanting to revamp the bedroom with classic linens, bedding, sheets and bedspreads, and decorative pillows to pimp and plump up your sleeping quarters and living spaces.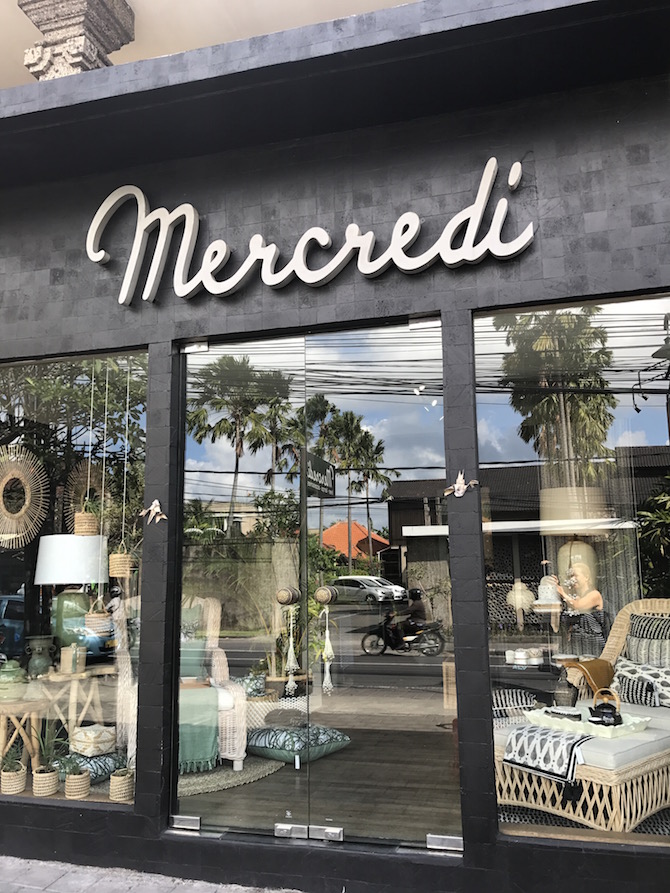 Mercredi Seminyak brings Paris in Bali
If you are in the mood to shop, put MERCREDI Bali Home Decor shop on your list.
I took my boys in (boys = big energy. not always easy…) but if you really want time to browse, leave the kids in Kids Club.
It's a little bit of Paris in the heart of Seminyak filled with homewares and bedding in glamorous shades of green and blue.
The curated collection is inspired by the clear skies and tropical surrounds of this lovely island.

Shopping in Bali for Homewares and Gorgeous Bedding
What can you buy at MERCREDI Bali?
Here's a list of what you'll find at this colour-coded Balinese interior design store.
A curated collection of Parisian designed but locally hand-crafted linens and bedding
A generous selection of small, medium and large plump pillows and Bali cushions in stylish classic prints. These cushions can be used on your bed, on lounges and chairs, day beds and as floor cushions
Cloth Tableware including serviettes, teatowels, tablerunners
Bedspreads and bedcovers
Elegant baskets for storage
Tea trays, teapots, and teacups
A generous trendy selection of enamel tea and coffee cups, and sealable lunch containers
Table settings including plates, bowls, dishes, bamboo placemats and wooden spoons
Woven plant pots
A selection of rattan furniture
Ceramics and Balinese wall hangings
Lamps and nature-inspired mirrors

The must-buy item – Bali linens
A printed bedspread.
The quickest way to spruce up your bedroom style.

No. 1 Homewares Bali – Seminyak Shopping
MERCREDI Bali is in our TOP THREE Balinese homewares stores to visit.
(Want to know what shop is Number One on our list? Click here to find out!)
Last trip, I walked out the door with a French-designed but Balinese-made Queen Bedspread in indigo blue.
My neighbour backed it for me with ivory fabric so it's now a doona cover.
I wish I'd bought matching pillows.

Don't miss this Seminyak Shopping Store
Visit MERCREDI for loads of elegant Balinese interior design ideas too.
It's an ever-changing space, a sea of calm in amongst the busy Balinese life we all know and love.
The Inside Scoop – MERCREDI BALI Homewares Boutique
Correct at time of publication on Roam the Gnome. Please check with venue for updates. We apologise in advance if there have been any changes we are unaware of. All prices in rupiah, unless otherwise stated
Address: MERCREDI Bali -The store is situated at the junction of Jalan Basangkasa and Jalan Kayu Aya in Seminyak.
Phone: +62 (0)361 735 516
Opening Hours: Open from 9am to 9pm
Website: Visit Mercredi Bali Facebook page for updates
Looking for MORE SUPER DOOPER FUN things to do and places to eat in Bali?
Click the links in blue below.