INSIDE: Roam the Gnome's Guide to Monsieur Spoon Bakery in Bali.
Lemon Meringue Tart.
Strawberry Tart.
Salted Caramel Tart.
How the heck do you choose?
Monsieur Spoon French Bakery
At Monsieur Spoon, you don't.
Buy all three, then eat them in one go. That's dedication to the craft of food right there.
Monsieur Spoon in Canggu is the spot if you are looking for places to eat in Bali. Monsieur Spoon is a French bakery with FIVE individual outlets across Bali, each one with it's own charm and speciality.
All the artisan breads and patisseries are made daily using the traditional French ways with the best quality ingredients. In their words, "Monsieur Spoon allows life to develop in its dough. It smells, it sticky, it is beautiful."
At the Canggu and Ubud outlets, you can try:
Crepes
Macarons
Handmade chocolates and jams
French cakes including vanilla, almond, raspberry and almond, chocolate and lemon cakes
French pastries – our favourite Vanilla Millefeuilles and cream-filled eclairs
Quiches, and salads
Savoury croissants
Ham & cheese brioches
But it's the Viennoiseries they are famous for – delicious French Croissants, Chocolatine croissants, and Almond Croissants. The flaky aroma wafts up your nose as soon as you jingle the door open.

Did you know? The Philosophy of Monsieur Spoon
According to Monsieur Spoon, the key to French Bakery is a complex combination of 4 elements:
Flour
Water
Temperature
and most importantly, the Baker's touch!
We call it love.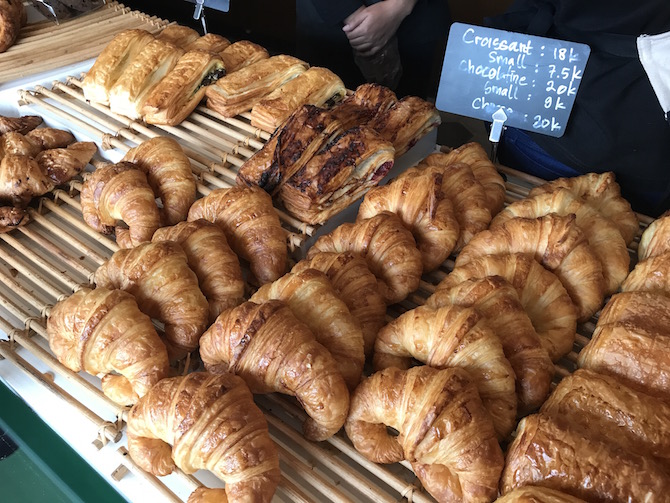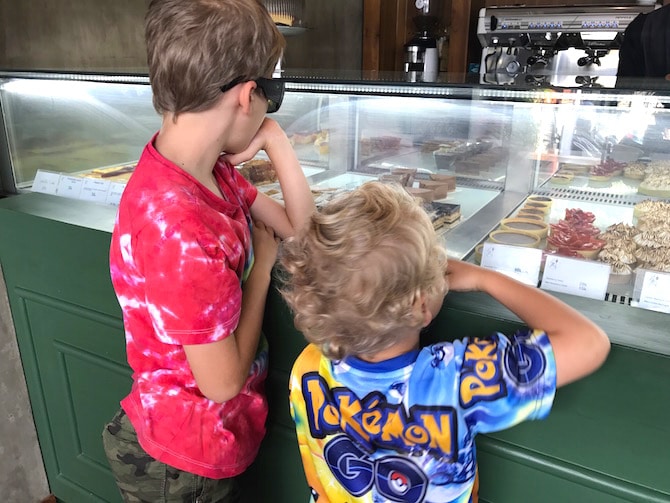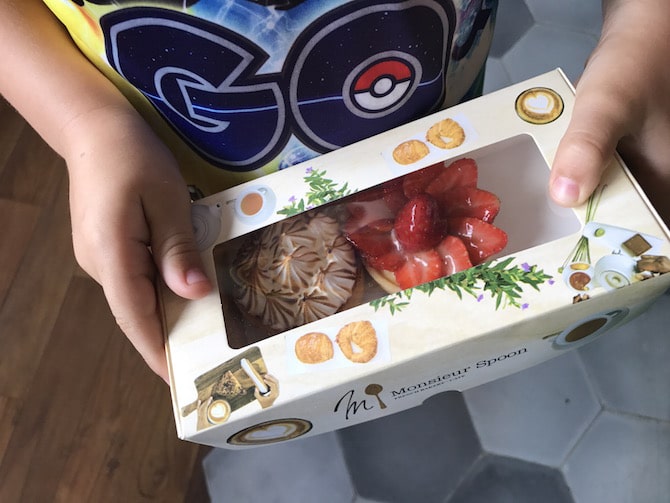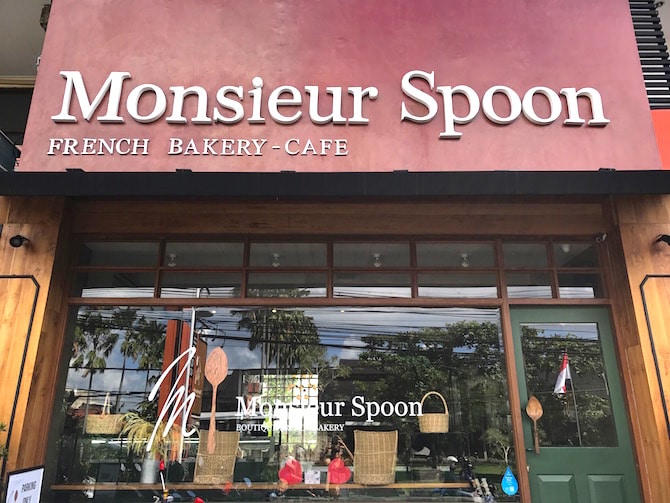 The Inside Scoop – Monsieur Spoon Petitenget
Correct at time of publication. Please check with venue for updates. We apologise in advance if there have been any changes we are unaware of.
Address: Monsieur Spoon Petitenget (with Garden) – Jl. Petitenget no. 112-A kerobokan, Bali.
Opening Hours: Every Day, 7:00am – 9pm
Telephone: +62 7761 556 575
Parking: Limited short term parking out front.
How to get there: By Bluebird taxi, Uber, private car with driver, or scooter/motorbike, or walk from local villas/hotels
General:
Head office: +62 878 6280 8859
Email: order@monsieurspoon.com
Website: Monsieur Spoon website
Upcoming events: Visit Facebook for details
Notes:
Monsieur Spoon happily organises Baking Classes for kids every month in Bali. Contact the office to book: office@monsieurspoon.com
This bakery was last reviewed in April 2018.
Google map coming soon.
Other Monsieur Spoon Bali Locations
If you are looking for things to do in Seminyak, Canggu or Ubud, stop by the cafe for a bit of time out and all the sweet stuff. Thank me later.
Monsieur Canggu (with Garden).
Jln Pantai Batu Bolong no.55, Canggu, Bali.
Open everyday, 6:30am – 9pm
Tel: +62 361 8469112
Monsieur Spoon Seminyak
Jalan Kayu Cendana no. 2 Oberoi (next to Seminyak Square)
Open everyday, 7:00am – 9pm
Tel: +62 87760 307 054
Monsieur Spoon Umalas
Jln Umalas 2, n°43 Kerobokan, Bali
Open everyday, 6:30am – 8:30pm
Tel: +62 87761 160 080
Monsieur Spoon Ubud (with Garden)
Jl Hanoman, Ubud (sideby Bebek Bengil)
Open everyday, 7:00am – 9pm
Tel: +62 81999 710 384
Toadstool Rating- Best Cake Shop in Bali
Looking for MORE SUPER DOOPER FUN places to eat in Bali?
Click the links in blue below.