For a day out with a difference, take a drive to the Museum of Fire in Sydney.
Be greeted by a 1942 Dennis Fire Engine mounted on a pole 4 metres off the ground at the entrance to the old power station.
This imposing and impressive white brick building now houses a world class collection of vehicles, uniforms, communication paraphernalia, fire fighting tools and protective equipment. There's hand drawn, horse drawn, hand operated and steam fire engines and a bunch of other stuff that will have fire enthusiasts drooling.
Fun fact tit-bits fire up the imagination and become a talking point for family members to share their ideas and stories about the power of fire.
Toys and Models at the Museum of Fire Sydney
Children will delight in seeing the toys and models- everything from children's playthings to serious collectible models, depicting the development of real fire engines.
But more importantly, they will dive into the Junior Firefighter children's play and activites area featuring fire safety activities, computer games, puzzles, firefighter dress ups, and a fire engine simulator.
They'll be thrilled with their opportunity to "drive" a fire engine! This hands-on area gives them a good chance to burn some of that pent-up energy from sitting in the car or train.
This place is not just for boys. Girls will find things to amuse and enthrall too.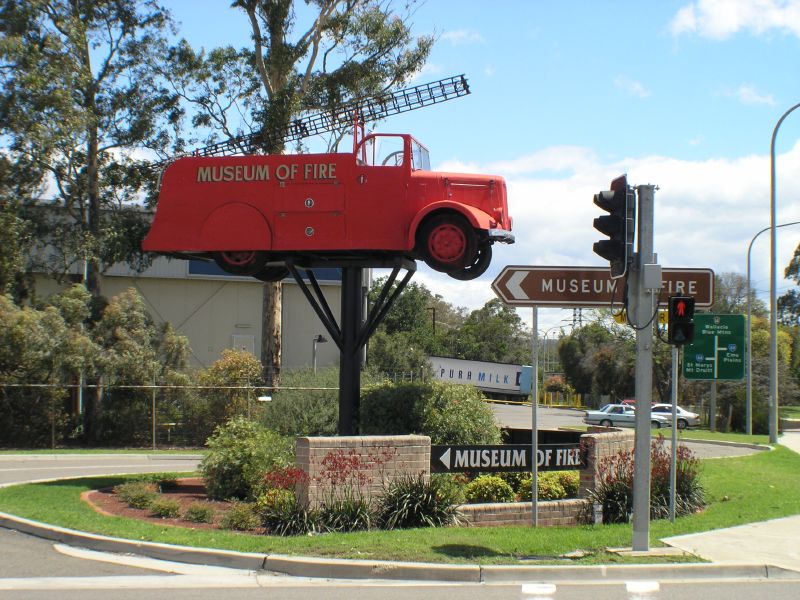 Details…
Other Important Info…
Additional Children (2-13 years) on Family Pass: $3.50*
Students 14-18 years (student ID required) $6.00
Finding your Way
The entrance is located 1 km north of Panthers Entertainment Centre and within 50 m north of the railway underpass bridge
Parking: Plenty of parking on site.
Public Transport:
By train:
CityRail Penrith line from Wynyard/Central/Townhall OR Blue Mountains line from Sydney Terrminal.
TO: Penrith Station; exit via the overhead walk-way to the north side car park, then just a short walk along the access road.
By bus:
Catch an M20 Blue Mountains Line bus from the City CBD direct to the Museum. Approximately 1 hour 50 minutes.
This bus leaves hourly Monday to Sunday.
Download the "See Penrith" Guide here for details on more local attractions and events.
So much to do nearby
If you are making a day trip of it, why not visit the Featherdale Wildlife Park too? Free Koala cuddles all day! A wildlife encounter like no other.
Featherdale Wildlife Park, 217 Kildare Rd, Doonside. Tel: 02 9622 1644
And more…
This area is super kid-fun friendly with indoor play parks and mini golf galore.
Kid About Playland, 10 Gallipoli St, St Marys. Tel: 02 9623 2222
Go Bananas, Cnr Forester & Boronia Rd, St Marys. Tel: 1300 226 262
Lollipops Playland, 233 Mulgoa Rd, Penrith. Tel: 02 4721 8555
Unreal Mini Golf, 69 York Rd, South Penrith. Tel: 02 4722 9229