So, I've been keeping a little secret the past few weeks. That is a very hard thing for me to do. I LOVE to shout good news from the rooftops. But now I can share. "Roam the Gnome" has been selected as a Top 100 Finalist in the Kidspot Voices of 2015 Awards.  I'm one of the 29 finalists nominated in the Food and Travel category.  I simply can't even begin to believe it and I'm beyond exhilarated. My head is in the clouds, I'm floating that high!  And all the while I'm feeling a bit like Anne of Green Gables. "No, can't possibly be true…. can it?"
Thank you and huge gratitude to the person/s who nominated me. You, and this Kidspot Voices of 2015 award nomination, have made not just my day, but my YEAR. I never dreamed it possible, with a brand new tiny weeny blog, but at a time when I'm heads down, bums up with the work, in amongst raising two young boys solo, this finalist nod is a gift. A validation and a little 'keep going, keep going' high-five from the universe. (I'm kind of feeling like 'The Little Engine that Could"…. I think I can… I think I can…   Now, I KNOW I can. Mwah! )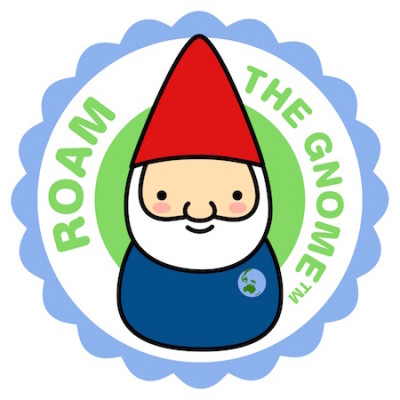 It's a funny thing to be honest. I'm not usually one for big awards and ceremonies and competitions or congratulatory pats on the back. But if there is one competition I'd love to win… one that I care about… it's THIS one. I LOVE my blogging tribe, and to sit among the best of the best... I'm simply overwhelmed and filled up like a helium balloon.  Chuffed?   Yes.  I am.
Mostly, though, I just do my thing… little by little by little, and hope that what I put out into the blogosphere is helpful and USEFUL to someone else too.
Perhaps another quirky traveller like me who is wanting to find her kids (and her) super fun places that are a little off-the-beaten-track.
Or perhaps we'll inspire someone to rein in their clothes shop spend in favour of an airline ticket to some place she's always wanted to see.
Maybe, just maybe, Roam the Gnome might entice someone to get off the couch and out for a day of unexpected family fun.
Hopefully, writing or sharing kooky video clips about the super cool playful spots we find or hear of around the world will encourage others to share their secret nooks. I've got my fingers and toes crossed that fun mums and dads and kids will take Roam the Gnome for a sneaky peek of THEIR favourite magnificent finds, and rate their discoveries from one to five toadstools too.  (That's the thing about Gnomes… they do tend to go on wayward adventures with random strangers to unknown destinations, don't they? It's a thing.)
Someone asked me today, "Why do you do it?"
…and I said, because travel and writing are my life and this is my passion project.  I love the treasure hunt, the dig, and the odd bit of treasure I uncover. (It's my version of a Saturday garage sale rummage.) When I find a super kid-friendly travel gem or hot deal, it's my nature to share it because I want you, and your kids, to have fun there too.
But most of all, I believe travel is a game changer.  I've never been the same since I boarded my first flight as a teenager to Japan on a school trip (I can still remember the thrill of waking up on the morning of departure!) and I want my kids to be caught under the spell of wanderlust too. In fact, I want YOU and your kids to catch the wanderlust bug too (if you haven't already)!
There's magic in exploring the world with your own two feet. "Tasting" (both literally and figuratively) all the different cultures, beliefs, foods, communication styles, festivals, weather, cities, and environments is the BEST way for kids to learn understanding, tolerance, patience, kindness, and gratitude. In this time more than ever, travel teaches kids that a 9-5 job is not the be-all and end-all, and that there are many, many ways to make a good living and a good life. On the road, kids meet all kinds of people, doing all kinds of marvellous stuff, living out their dreams, and this can inspire their dreams and goals too.
"The world is a book, and those who do not travel read only one page."
– Saint Augustine
Thank you, Kidspot, and the Kidspot Voices of 2015 Judging Panel and Writing team. I'm humbled and honoured .. and I might have even shed a tear or two. xx