INSIDE: Roam the Gnome's Guide to the Pinocchio Shop Rome selling a huge variety of Pinocchio doll items and Pinocchio toys.
Are you a massive fan of Pinocchio?
Are you looking to add to your Pinocchio Doll collection with authentic and cute-as-pie Pinocchio dolls?
Or a vintage Pinocchio doll, or an original Pinocchio doll from Italy?
We know.
Real Pinocchio wooden dolls can be HARD TO FIND.
On our last visit to Rome, we stumbled upon the most enchanting Pinocchio Toy Shop near the Trevi Fountain.
Imagine our surprise when we turned the corner outside our apartment block, and found a shop selling Pinocchio dolls and toys, and nothing else!
Take a peek inside!
Disclosure: This article contains affiliate links. If you make a purchase after clicking on one of these links, we may receive a small commission at NO extra cost to you.
Pinocchio Doll Shop in Rome
In this Italian Pinocchio toy store in Rome, we found a huge variety of Pinocchio toys including more than one type of wooden Pinocchio doll made in Italy.
READ MORE: Heading to Rome? Visit the Pinocchio Toy Shop in Rome in Real Life. Click here for address.

Where to find a Pinocchio Doll Italy style?
This Pinocchio store in Rome stocks:
Pinocchio wooden toy dolls for ornamental display
Pinocchio wheely dolls
Pinocchio puppets
Pinocchio marionettes
Pinocchio doll statues
Pinocchio wooden soldier dolls
Jointed Italian Pinocchio dolls
Wooden Pinocchio from Italy model kits to decorate
Vintage Pinocchio wooden doll styles
Hundreds of Pinocchio wooden dolls to play with, in all shapes and sizes
Pinocchio toys for babies including Pinocchio ring stackers
The Pinocchio toys here are all brand new, but there are some classic old Pinocchio dolls in a similar style to the Disney film.
I didn't see any hand carved Pinocchio from Italy.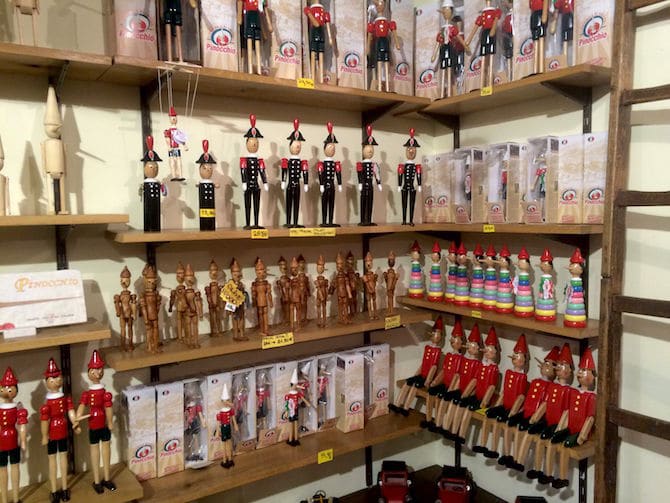 Pinocchio Dolls & Pinocchio Gifts in this Pinocchio Toy Store
Visitors to Rome can shop for Pinocchio gifts for friends and family including:
Pinocchio picture books
Pinocchio bottle opener
Pinocchio door stops
Pinocchio fridge magnets
Pinocchio clothes hangers
Pinocchio musical boxes! (our favourite)
Pinocchio paperweights
Pinocchio hair ties
Pinocchio bedroom door name plaques
Pinocchio toppers for pencils and pens
Pinocchio ring dishes
Pinocchio wall decor and wall ornaments for baby rooms
Pinocchio stationery – notepads and letter writing paper
Pinocchio artisan postcards to use as wall displays in a frame

Pinocchio Toys & Pinocchio Souvenirs Italy
Our stuffed suitcase could only fit so many Pinocchio doll figurines!
But luckily for us, and for other Pinocchio lovers like us, this Pinocchio Toy Store has an online store.
All you need to do is apply Google Translate to transcribe the check out page into English, and you can be the owner of a whole bunch of new Pinocchio doll toys too!

Visit the Online Store of this Pinocchio Toy Shop in Rome!
You don't have to travel all the way overseas to visit this Pinocchio toy shop in Rome or find Pinocchio toys for sale in person.
This Pinocchio store in Rome online shop is the place to purchase all your Pinocchio dolls and Pinocchio souvenirs online, and have them shipped to you.
Pinocchio Dolls for Sale Below:
Click this blue link for the Online Store selling a range of wooden Pinocchio doll made in Italy.

"Gladiator Training" Tour in Rome
Why we think you should book a Vacation to Rome!
We DO recommend you put a visit to Rome on your bucket list!
If only to visit the Pinocchio shop in Rome in person, and follow it up with a visit to an Italian cafe to drink a decadent thick Italian hot chocolate, a reward for the restraint you showed at the shop counter perhaps?
But Pinocchio aside, there are SO MANY fun things to do in Rome with kids, AND for adults too.
It's the number one place in the world to immerse yourself in the artefacts of Roman culture.
Who doesn't want to visit the Colosseum and Roman Forum, and walk in the footsteps of the Roman Gladiators who fought in battle in front of crowds of up to 70,000 Roman citizens?
(Did you know you can be a Gladiator for a Day in Rome too? Take a look at this tour we did!)
I know you want to!
Start saving your pennies.
Take a look at our epic guide to Rome below.
READ MORE: Roam the Gnome's Ultimate Guide to the Best Things to Do in Rome with Kids
8 FUN FACTS YOU MIGHT NOT KNOW ABOUT ITALIAN PINOCCHIO DOLLS
1. What does Pinocchio mean in Italian?
The name Pinocchio is a variant of common pinolo ("pine seed")
2. Who carved Pinocchio?
Pinocchio the wooden puppet was created by a woodcarver named Geppetto in a village near Florence. He dreamed of becoming a real boy. He is a wooden marionette, controlled by wires, not a hand puppet. One suspects the piece of wood Pinocchio was magic as he moves independently and is lively and animated
3. Who was in the Cast of Pinocchio?
There have been tens of Pinocchio productions over the years. Pinocchio first appeared in a cinematic adaptation in Pinocchio (1911), an Italian live-action silent film, directed by Giulio Antamoro but the most well known is the Disney animation created in 1940, voiced by Dickie Jones.
4. How old is Pinocchio?
The Adventures of Pinocchio was written in 1883 by Italian writer Carlo Collodi, making him over 130 years old!
5. What are the names of the main Pinocchio characters?
Pinocchio, Jiminy Cricket, Geppetto, the Blue Fairy, Lampwick (sometimes called Candlewick), The Coachman, J. Worthington Foulfellow, The Stupid Little Boys, Honest John and Gideon, Figaro the cat, Monstro the Whale, Stromboli and Cleo the goldfish.
6. Where is Pinocchio from?
The story is set in a villa in Collodi, where Carlo Collodi had spent his youth, in 1826. This villa is now named Villa Pinocchio.
7. Why does Pinocchio's nose grow?
His nose grows whenever he tells a lie. But more interestingly, it is made smaller again when the Blue Fairy summons woodpeckers to peck it back to normal when she is convinced he has learned his lesson.
8. What is the theme song of Pinocchio?
When You Wish Upon a Star, sung by Cliff Edwards in the Disney film.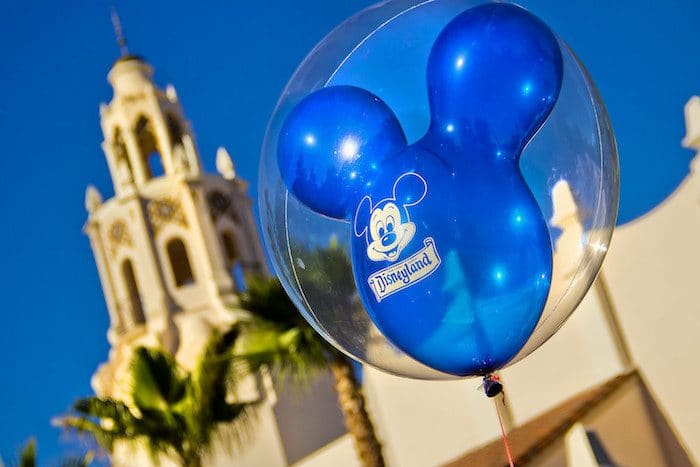 Looking for more shopping ideas?
We'd love to help.
Click the links in blue below for our best shopping guides.
Disclosure:
Correct at time of publication. Please check with venue for updates. We apologise in advance if there have been any changes we are unaware of. All prices in euro, unless otherwise stated
This website contains references to products and services from our favourite brands. Some of these are affiliate links. If you make a purchase or booking after clicking on a link on Roam the Gnome™, we may receive a small affiliate commission at NO COST to you. For our Disclosure and Disclaimer statements, and an explanation of our Advertising policy please click here
Roam the Gnome™ is a participant in the Amazon Services LLC Associates Program, an affiliate advertising program designed to provide a means for sites to earn advertising fees by advertising and linking to amazon.com, and related Amazon shopping sites around the world. Amazon and the Amazon logo are trademarks of Amazon.com, Inc. or its affiliates. As an Amazon associate, I earn from qualifying purchases.
Thank you for visiting Roam the Gnome Family Travel™ Website Directory. We encourage you to bookmark this page so you can find us again.