INSIDE: Roam the Gnome's review of the Porta Portese market.
One of our favourite things to do when visiting a new country as family travellers is to find the BEST flea markets in town.
It's THE quickest way to meet the locals, see where the locals hang out, eat local street food on a budget, and get off the tourist track.
But finding good Rome markets was not easy…
We searched and searched the internet, local tourist magazines, and the local tourism bureau trying to find information on the best flea market Rome had to offer, and finally came up with this one to try:
The Porta Portese market in the upmarket suburb of Trastevere.
We caught a cab from our AirBnB near the Trevi Fountain and arrived around 9am with much excitement.
BUT that soon wore off.
See why below.
Disclosure: This article contains affiliate links. If you make a purchase after clicking on one of these links, we may receive a small commission at NO extra cost to you.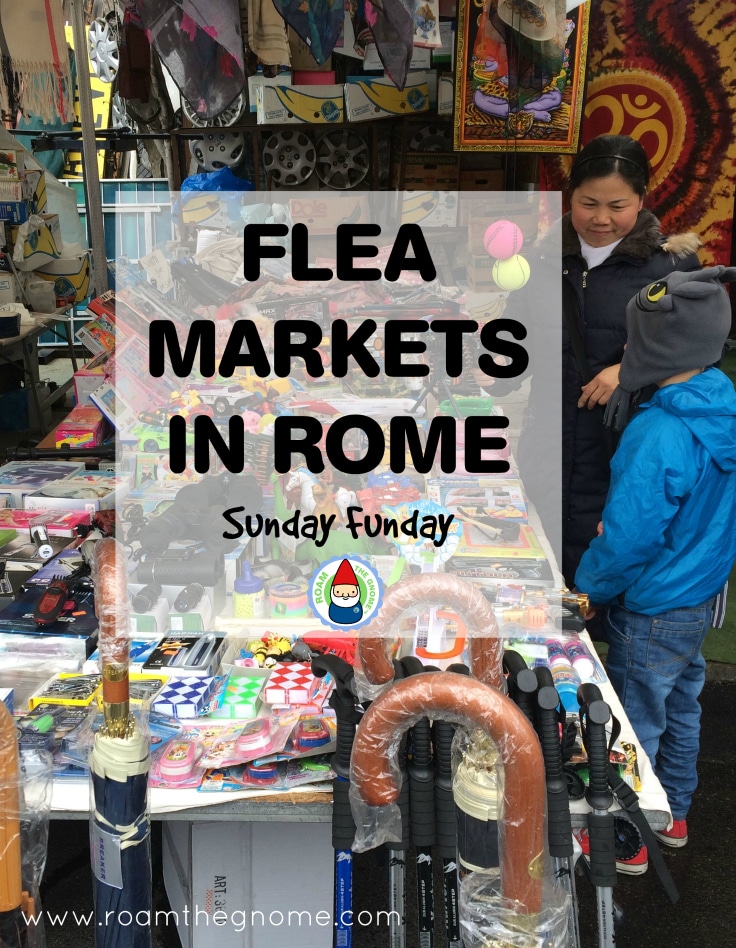 Porta Portese Flea Market – the Overrated One.
I was hoping to find beautiful leather handbags for gifts at the Rome Porta Portese market founded in 1945.
But the only thing we saw in this grotty place filled with hundreds and hundreds of stalls was lots of imported Chinese junk.

What's for Sale at the Porta Portese Markets
At the Porta Portese market Rome, there's plenty of:
cheap plastic toys and dolls
discounted DVDs and CDs
fake designer purses and jewellery
imported clothing
fake cheap brand shoes and sneakers
dodgy Chinese electronics
kitschy handbags and jackets (and hundreds of cheap jacket-length "puffer" jackets)
household goods like cutlery sets
magnifying glasses, and
tablecloths
vinyl records
Basically lots of flea market junk!
You'd have to search hard to find any kind of real treasure at Porta Portese market.
We couldn't even find any decent Rome souvenirs, not even for the kids.
This Rome Flea Market was a complete waste of our time.
Pizza next to the Porta Portese Market Rome saved the day.
The saving grace of this whole failed expedition was pizza.
Slabs and slabs of some the best pizza we've ever eaten in Rome.
Bought by weight.
We hadn't yet stumbled upon Pizza Florida, but the Pizzeria at Porta Portese markets was a good start on our pizza eating quests.
Wandering around Porta Portese Trastevere
Upon leaving the Porta Portese market, we spent the rest of the day happily wandering around the cobblestone streets of Trastevere.
We love this area of Rome so much.
It's filled with character and charm.
Next time, we want to join a tour of the Jewish Ghetto and Trastevere so that we can learn more about the history of this magnificent cobbled stone locale of Rome.
We meandered along the riverside all the way up to the Castel Sant'Angelo, and over to Piazza Navona and the Pantheon.
We love nothing better than a good walk to really get to know the city.
But the best thing in Rome is stopping in one of those little Italian cafés that entice with THICK Italian hot chocolates for three!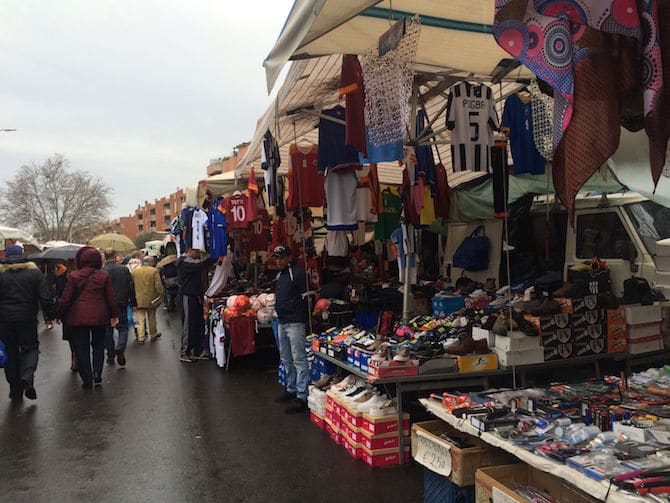 The Inside Scoop – Porta Portese Market in Rome
Correct at time of publication. Please check with venue for updates. We apologise in advance if there have been any changes we are unaware of. All prices in euro, unless otherwise stated.
Address: Where is the Porta Portese market in Rome? It's located on Via Portuense & Ippolito Nievo, 00153 Rome, Italy (Trastevere)
Telephone: 0623143456
Rome Porta Portese Market Hours
The Porta Portese market opening hours are every Sunday from 7am to 1-pm
Note: Pickpocket Alert.
Keep your bags, phones, and cameras in front of your body.
Cross your shoulder strap over your body where possible
Zip up your bags always.
Entry Fees at Porta Portese Market: Free entry.
How to get to Porta Portese Market
By Tram:
Off Viale di Trastevere (take tram 8 into Trastevere about five stops).
Covers streets of Via Ippolito Nievo, Via Ettore Rolli, and Via Portuense
By Metro: Piramide (B) or Circo Massimo (B)
By Bus: 3B, 44, 44F, 75, 125, N19
By Hop On Hop Off Bus: Stop: Vaticano
Porta Portese Map
Toadstool Rating – Rome Market Shopping at Porta Portese Mercato
Travel with kids to the Porta Portese markets?
Nope.
We wouldn't bother.
Don't waste your time. There's nothing special.
Looking for MORE SUPER DOOPER FUN things to do in Rome with kids?
Click the links in blue below.
Disclosure:
This website contains references to products and services from our favourite brands. Some of these are affiliate links. If you make a purchase or booking after clicking on a link on Roam the Gnome™, we may receive a small affiliate commission at NO COST to you. For our Disclosure and Disclaimer statements, and an explanation of our Advertising policy please click here
Roam the Gnome™ is a participant in the Amazon Services LLC Associates Program, an affiliate advertising program designed to provide a means for sites to earn advertising fees by advertising and linking to amazon.com, and related Amazon shopping sites around the world. Amazon and the Amazon logo are trademarks of Amazon.com, Inc. or its affiliates. As an Amazon associate, I earn from qualifying purchases.
Thank you for visiting Roam the Gnome Family Travel™ Website Directory. We encourage you to bookmark this page so you can find us again.