The best public playgrounds in Hong Kong?  Try Middle Road Playground near the Avenue of Stars.
Finding cool playgrounds in Hong Kong is a bloody big challenge. Although there are many cities and councils around the world that have, in recent years, started to invest in super creative playgrounds and nature-based outdoor play structures, Hong Kong has not yet seen the light! Finding any kind of playground that is more than a set of swings and a basic slide set up can be hard work.
One of the best we have found is the Middle Road playground in Tsim Sha Tsui.  Sitting on top of the East Tsim Sha Tsui MTR station and accessible by a steep staircase from Chatham Rd South, this hidden treasure is a delight for travelling families and locals alike.
Parents will LOVE the seating areas that encircle the play equipment. These forward facing chairs give you the opportunity to sit down and watch the kids play, while keeping them in sight. We were there on a weekday and there were only 4 or 5 other families there but I've heard that it can get pretty packed on a weekend with locals, expats and the few visitors who find it too.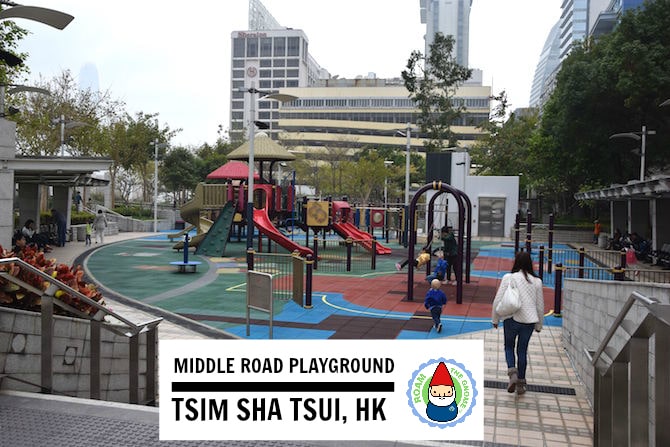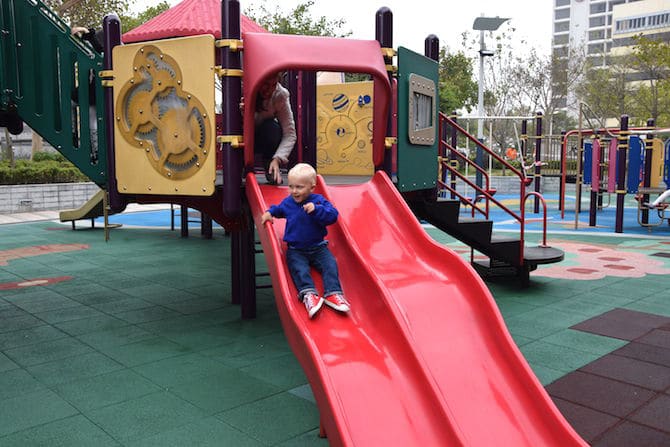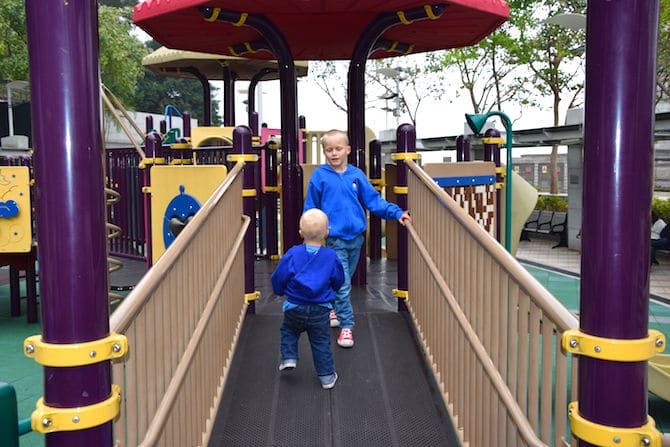 The essential insider info
There's swings, a huge fort in the centre of the playground with both straight, twisty and double-trouble slides, plus plenty of climbing opportunities. Ned spent a bit of time challenging himself on the different "Monkey Bar"- style bars and handholds. There's also a slightly smaller toddler fort slightly hidden to the right of the bigger one.
It's worth at least 30 minutes of your time on your walk from the Avenue of Stars on the way to the Science Museum. Take the lift down to the bus shelter, walk around to Salisbury road on the waterfront side, and follow the pink street signs to the Science Museum. It's about a 10 minute walk from here.

Toadstool Rating (by the kids)
Take this rating with a bit of salt. In Hong Kong, any playground, when you find one, is worth visiting!
Google map link
The Inside Scoop

City Essentials
Thinking about a trip to Hong Kong? Here's a link to find ALL the information you need to know, in one place.