Looking for a budget-style Family Hotel Hong Kong in a central location?

If you are planning to travel to Hong Kong on a budget, and need a family hotel Hong Kong style, the VELA hotel in Causeway Bay is a good choice for families who want to be close to the action. It's located right opposite the Happy Valley Racecourse just off Canal Road East, at 84 Morrison Hill Rd and is within walking distance of Hennessey Road and the Ding Dong tramway.

Set in the vibrant Wan Chai district, this informal hotel in a modern tower is 3 minutes' walk from a bus stop, 5 minute walk from Times Square and Causeway Bay MTR subway station (Exit A), 7 minutes' walk from the Happy Valley Racecourse and 2 km (20 minutes walk) from the Hong Kong Convention and Exhibition Centre.


Playground right outside your door (and 20 steps to the right!)

Turn right outside the front door, and walk to the curb, and you'll find a small dual-level playground across the street. It's the spot for your morning coffee while the kids have a quick play before your busy city-centric day begins. (This was such a Godsend in Hong Kong as you need to take all the 'fenced in, run around' moments you can get. Hong Kong traffic can be heart-stopping when you have a wilful toddler or a day-dreamy child with you.)


The essential insider info

My friend Tania, an expat who has lived in Hong Kong for 14 years, was GOBSMACKED by the size of the room and could not believe all the open floor space. (I wasn't awed but apparently, in Hong Kong, this room was gigantic.) The room was spacious enough for me to lay my suitcase open on the floor, and still have enough room for the boys to lie down and draw.

The bathroom was clean, tidy and LARGE too with a newly tiled double-sized shower. (Careful with the kids though- slippery!). The VELA supplies toiletries including all the standards.

By the entrance, a small 'kitchenette' with microwave and kettle lined the wall. BYO tea, milk and sugar just to be safe. (As a travelling mama, I NEVER want to be left without the necessities of a cup of tea when we've made it back to the room after a day of city adventuring so we don't leave home without these things!)

Our room was air-conditioned (a necessity in humid Hong Kong) and fitted with a Queen sized bed. Wooden floors were a saviour too, as it's easy to sweep up the detritus left by my messy kids! Views to Happy Valley Racecourse entertained my kids both nights, as they watched the horses race around the track on the World's busiest raceway. There's a flat screen tv in every room. FREE WI-FI too!

While there was nothing fancy about this hotel, or anything to make it SUPER DOOPER family friendly, as a budget hotel with everything a family needs, it was priced right in a central location.

 
Key points of interest
The Hong Kong Central Library and Victoria Park are both within 10 minutes walk of the hotel to the East. While we didn't make it there this trip, we know that Victoria Park has 5 (YES, FIVE!) playgrounds scattered throughout the park. We'll definitely be heading there next time.
The Causeway Bay MTR station and SOGO Department Store are very close too. For those who like five-star luxe shopping, SOGO should be a must-visit. For those with kids, the Le Petit Hello Kitty Café is also located on the B2 floor of SOGO. Read our review here.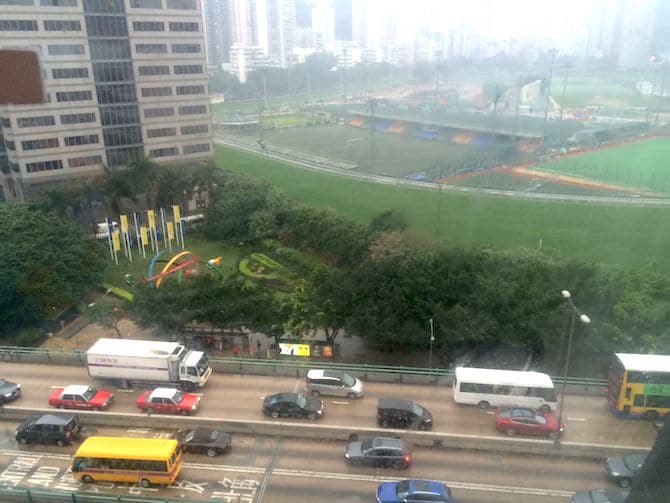 Our Top Tips for the VELA family hotel Hong Kong
Try Booking.com We paid $120 AUD for the night for a family of one adult and two kids.
Call the hotel direct on +852 3755 1755 or email info-cwb@thevela.hk to enquire about rates. Or check out their direct rates here. We always compare rates before booking (unless the deal is so good, we know it can't be beaten.) The inconvenience is usually worth it if you are travelling on a budget.
Have at least one meal at Din Tai Fung at the Yeewoo Branch in Causeway Bay – read our review here.  (Seriously yummy dumplings on the cheap.)
When you are leaving town on your way to the airport, catch a cab from outside the hotel to the In Town check-in. It's super cheap (about $HK20) and saves the hassle of public transport when you've got kids in tow.
Toadstool Rating (by the kids)


While only a TWO on their 'fun score' chart, this hotel rates a special mention for cleanliness, spaciousness, and locality. A GREAT budget option.

Google map link
The Inside Scoop
City Essentials

Thinking about a trip to Hong Kong? Here's a link to find ALL the information you need to know, in one place.