SUPER DOOPER Cute Food at Hello Kitty Cafe Hong Kong!
Hong Kong has super cute cafes and restaurants hidden throughout the city. This one, the Le Petit Hello Kitty Cafe Hong Kong is a tiny hole-in-the-wall shopfront deep in the Food Hall basement of the SOGO Department Store in Causeway Bay.  The Food Hall itself is a wonder filled with lots of Japanese and Asian inspired food vendors, some of whom you might already be familiar with such as Beard Papa, Mother's Crepes, and Milk Top.  There's a curry restaurant, Hokkai ramen,  and the Sogo Cafe ready to serve you breakfast, lunch or dinner, plus a supermarket and grocery aisles filled with packaged and fresh foods to cook at home, gifts, snack food, baby food options, and cold drinks. You could spend hours wandering around!
Let's be honest. The Hello Kitty Cafe Hong Kong is not your cheapest way to have coffee and cake. There's definitely a premium price to be paid for the fun of a Hello Kitty feast but hey, we're all about fun when we travel and we budget all year at home so we can splurge on the SUPER DOOPER FUN stuff we find.
There are so many cakes and desserts on offer – Mousse in three flavours (chocolate, hazelnut, red bean/green tea, blueberry), cheesecake, chocolate cakes, red and green apple cakes, and Hello kitty shaped biscuits  ($HK 10 each), Hello Kitty Macaroons (starting at $HK 28). Ned tried a Strawberry Tart that had a little Hello Kitty chocolate sitting in the cream. Jack and I shared a love-heart strawberry mousse cake. The mousse was small, but the texture was out of this world and worth a visit to eat it again.

I was a bit put off by the paper plates. I can deal with wooden spoons and takeaway cups, but surely when you are paying a premium, a china plate for the cakes is the least they can do to make the experience a little more worthwhile. But this cafe is not about the sit-down experience. There's only a very small side counter where you can pull up one of three stools to sit on, and these are not easy to come by unless you go early.
The essential insider info
 The store opens at 10am and not a minute sooner. Plan your visit for early in the day so that the food hall is not too crowded.
Find the lift and make your way to the B2 floor, then wander the outside aisle of the food hall until you spy the Hello Kitty Cafe.
FYI, We asked for directions at the information desk and were told there was no Hello Kitty cafe in the store!  Luckily we went to check ourselves.
Key points of interest
If you can find a minute for yourself, The SOGO Department Store is worth a wander too. They stock all the BIG brands – Burberry, Celine, Coach, Gucci, Hermes, OMEGA, Saint Laurent, Tiffany & co, Chanel, Dior, Estee Lauder, Georgio Armani and more, plus have floors and floors filled with lavish and luxe children's clothing, toys, stationery, leather goods, homewares and home furnishings, handbags, shoes, and fine craft supplies too.
Did you know?
There are three other Hello Kitty cafes/restaurants in Hong Kong. This is the smallest but the most accessible.

There's another Le Petit Hello Kitty Cafe Hong Kong at 2A Hart Ave, Tsim Sha Tsui, Hong Kong, the Hello Kitty Secret Garden at 19 Ormsby Street in Tai Hang (Ph: 28082868) and the Hello Kitty Dim Sum Restaurant at Shop A-C, G/F, Lee Loy Mansion, No.332-338 Canton Rd, Yau Ma Tei, Hong Kong.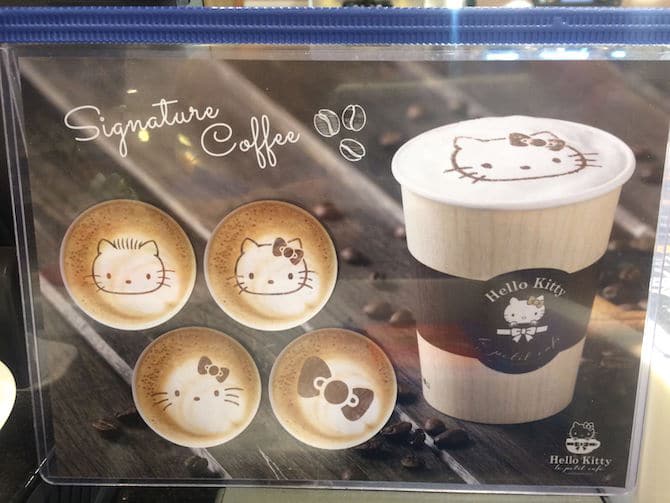 Fun to buy
A signature coffee!  How can you resist a coffee with a Hello Kitty insignia?  It is IMPOSSIBLE!
Our Top Travel Tips!
If you plan on stopping by a few times during your stay, be sure to say YES to the Rewards Card.  That's one free coffee in every 10!
FREE gifts!  Ned and Jack were given a Hello Kitty paper fan to take home. Staff don't always offer these things to English speaking tourists if they are shy about explaining why to you, so it does pay to ask if you see these 'souvenirs' around. Unless of course, you prefer to travel lightly. Sometimes, we defer simply because we don't want to add to the world's rubbish problem if we don't really love the thing on offer.
Toadstool Rating (by the kids)

Google map link
SOGO Department Store, Causeway Bay.  Closest MTR station: Causeway Bay.
The Inside Scoop
Parking available onsite. Redeem your purchases for a free parking coupon. (T&C's apply)
Toilets, Public Telephones, Cashier, Nursery Corner available onsite.
City Essentials
Thinking about a trip to Hong Kong? Here's a link to find ALL the information you need to know, in one place.