We visited the Hong Kong Goldfish Market – and now Ned wants to take a turtle home!


Let me say this. If you have animal-mad kids, you MUST VISIT the Hong Kong Goldfish market.

Did you know it's NOT just filled with Goldfish?  Ned was given the best surprise of the day when the Goldfish Market turned out to be the Goldfish/Turtle/Lizard/Frog/Iguana market too.

While we weren't in the market to purchase any goldfish, tropical fish, or iguanas that day, Ned would say this place was better than the zoo.  So many things to look at, and study, and observe. He might have had a few tears** and a mini tantrum when I told him we couldn't take a baby turtle home.  

(** those tears must never be mentioned!)  

Jack also thought all these fish and fishtanks were the best thing since sliced bread!  His giggles at the funny things he was seeing was an icebreaker for many of the shopkeepers who couldn't help but laugh along. (Hot tip: BYO toddler)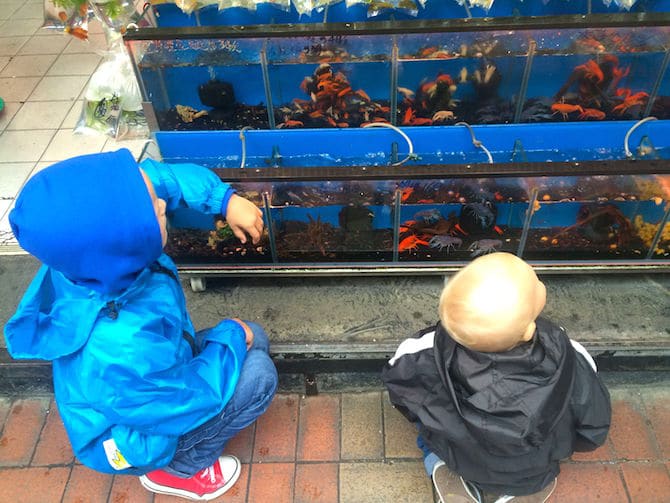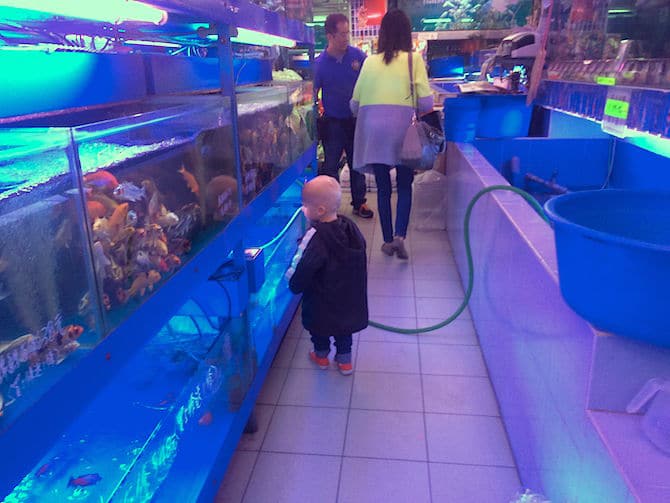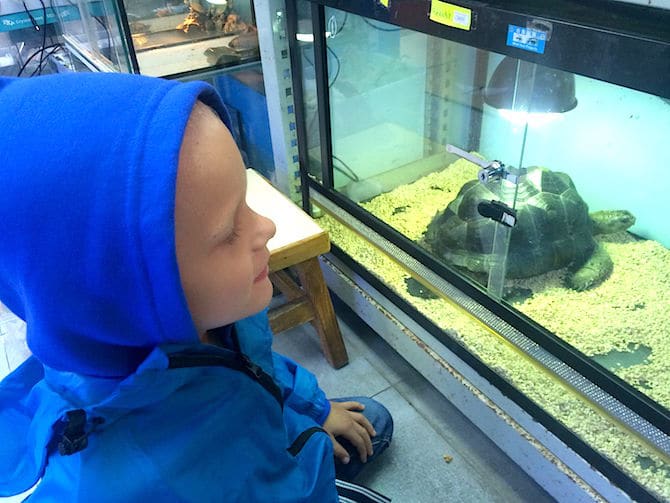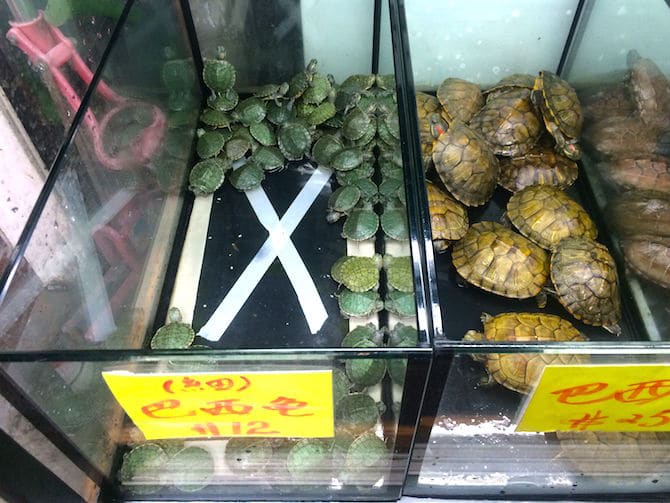 The essential insider info

The Hong Kong Goldfish Markets are located on Tung Choi Street North, Mong Kok in Kowloon.

MTR Prince Edward Station, Exit B2. Walk east along Prince Edward Road West until you reach the market; or,
MTR Mong Kok East Station, Exit C. Walk to Sai Yee Street via the footbridge and follow the signs.

The Goldfish Market starts just a few shops along the road after you leave the bridge.

Open and Close

Most shops in the Goldfish Market area of Tong Choi Street, Mongkok, open in the mid morning time, around 10:00 or 10:30am and stay open until 8pm-ish.  The street itself is quite quiet at this time as most visitors do not arrive until later. Visiting after dark is impressive too – the lights change the whole look and feel of the place.

World Schooling – Fun Facts for the Kids
Why are Goldfish so popular in Hong Kong?  Well, it's all down to Feng shui. Feng shui is the Chinese philosophy where it's important to harmonize and balance yourself with the environment for austerity (simplicity and style) and prosperity. Goldfish are seen as a totem for bringing good luck (and wealth!) and so people buy fishtanks and goldfish, and place them in particularly auspicious spots inside their homes as a homage to increasing their luck.
 Goldfish can tell different faces apart and are able to distinguish between different shapes, colors and sounds.
 Goldfish have been known to live in captivity for 40 YEARS!
Goldfish sleep with their eyes open! (They don't have eyelids)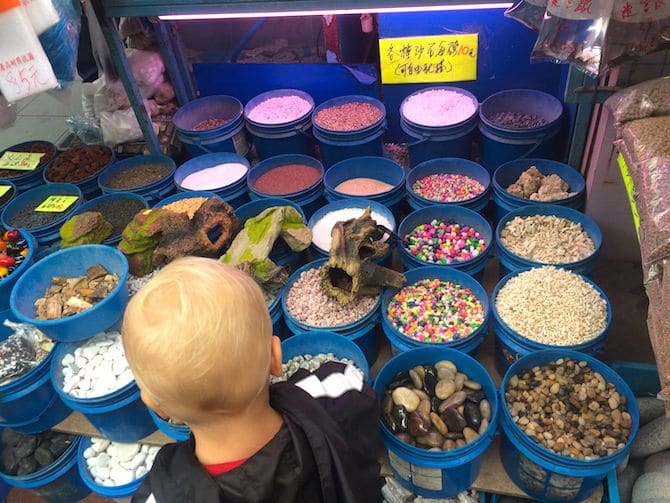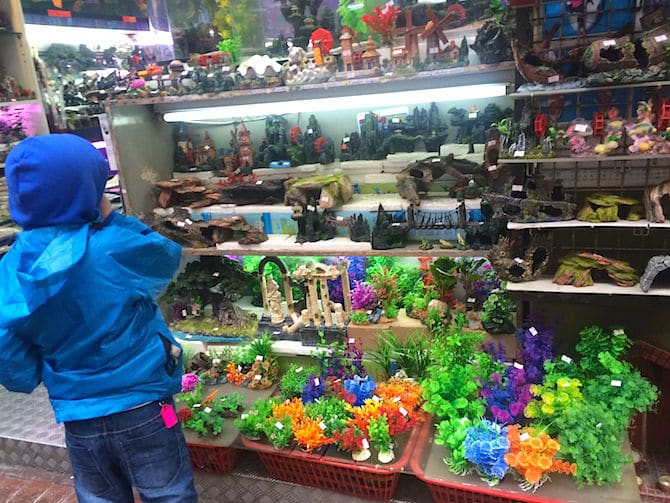 Fun to buy
Interspersed among the aquariums, you'll see a number of shops selling ornamental supplements for fishtanks. There's fake plants, greenery, shrubs, rock caves, stones, colourful pebbles, coral, slate – even rope bridges! If the kids are really keen for a souvenir of their visit to the Hong Kong Goldfish Market, a fishtank ornament is your only legal and waterproof option!
Eat and Drink
Our Top Tips for the Hong Kong Goldfish Market
While the shop owners were happy enough for the boys to browse out the front, some of them were not so keen for the boys to enter their shops. Smile LOTS!
Be mindful when taking photos. Be as discreet as you can. Some shops have signs asking you not to take pictures. Respect this.
While in the area, visit the Hong Kong Bird Gardens on Yuen Po street too.  The flower markets are pretty but boring for the kids.
Toadstool Rating (by the kids)