Mist or not, Ngong Ping 360 is SUPER FUN for kids!



One of the places high on our bucket list of family-friendly things to do in Hong Kong was to visit Ngong Ping 360 and take the cable car up to visit the Giant Buddha and see the famous Po Lin Monastery.

We caught the train (clean, super fast, not crowded in the slightest) from Central on the Orange Line (Tung Chung line), and stayed on until the last stop, Tung Chung (about a 30 minute ride). From there, it was just a few minutes walk across a giant plaza to find the Ngong Ping 360 Cable Car building (Lower Terminus), the place to buy tickets and embark on this journey.




We bought the 1+1 Standard & Crystal Round Trip Cable Car tickets, planning to take the standard car up and the crystal car on the way back, at a cost of $240 HK for me (approximately $45 AUD) , and $155 HK dollars ($27 AUD) for Ned. Jack, being under 3, was free.





Hot tip:  The journey to Ngong Ping is 6 kilometres long, and takes about 25 minutes!

Don't do as we did, and go to hop off at the first stop!  This is where the cable car changes direction 90° towards the giant steep mountains of Lantau and the journey REALLY begins. (Felt like twats, we did!)  At first, it was clear skies and just a little bit of drizzle.

But, proving the theory that when you visit Hong Kong in Spring, you'll want to bring a variety of clothing to cope with the changing conditions, the mist started rolling in halfway up. By the time we arrived at Ngong Ping 360, we could barely see a few metres in front of us, which of course didn't bode well for our chances of seeing the Giant Buddha in full glory, but such is the luck of the traveller.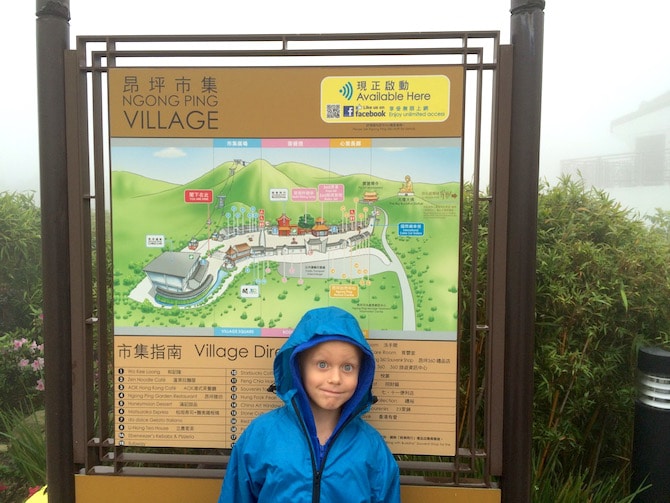 But in our eyes, all travel is good travel. Weather doesn't bother us in the slightest. Rain and mist can be quite a bit of fun in fact. It makes for a good game of hide-and-go seek too!

Stepping out from the Cable Car into the manufactured 'theme park' style world of Ngong Ping 360 Tourist Village was a little strange – a row of touristy shops, souvenirs, food and drink stalls including noodle cafes and a teahouse. There's even a Starbucks and Subway. Ngong Ping 360 village was NOT what I expected. It's very, very kitschy, but very clean but full of festive decorations. Although a misty day, there was still some street entertainment and we've heard there's often performances, workshops, and stall games during peak visiting times.

There are also three "touristy" entertainment shows on offer in Ngong Ping 360 village too but we didn't visit as Jack was a little bit small to sit for too long.

For those interested, there's Walking with Buddha, an immersive multimedia attraction that showcase the life of Siddhartha Gautama (the man who became Buddha) and his path to enlightenment.

Stage 60 is another option, a live show with explosions, wire work and special effects! Go behind the scenes with the director and watch professional stuntmen perform classic action sequence from Hong Kong movies right before your eyes, and showcase your own flying kick too.

Motion 60 is the third choice of entertainment activity. Choose your choice of 3D film, either "Discover Lantau" where you'll fly over the Big Buddha, swim into the habitat of Chinese white dolphins, and travel through the Wisdom Path or "Little Ants Adventure", where you'll immerse into the world of the little ants, and embark on their thrilling journey on a leaf.

We just walked right on through to get to the cultural stuff on the other side.






The walk to the Giant Buddha and Monastery passes through the 12 Guardians. Each one of these statues represents a different Chinese year, and also a time of day, eg 7am to 10am. The stories of each one's backstory are fascinating (and intriguingly, somewhat familiar!) and I kept the kids close by reading a bit about each one.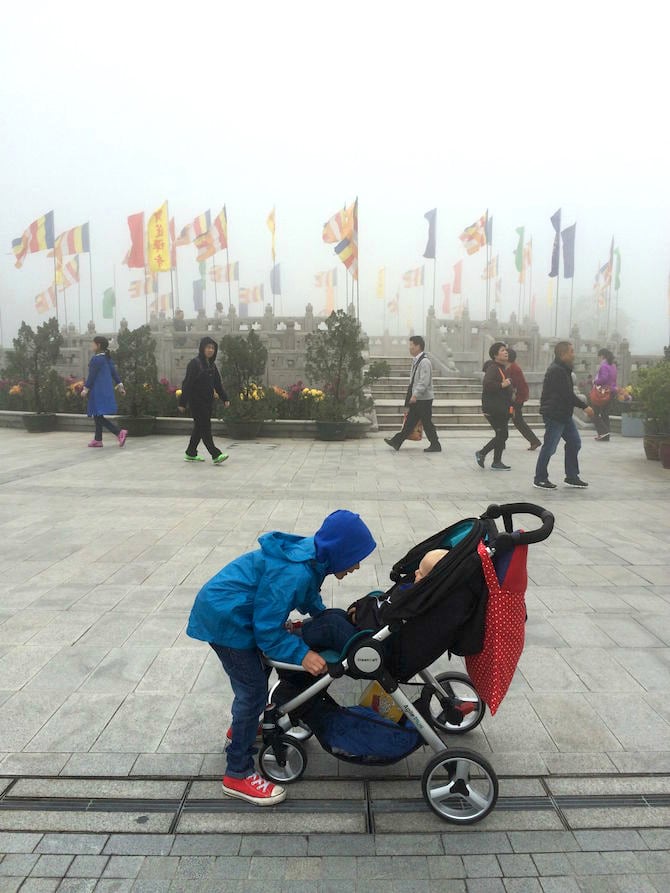 When you reach the flags, it's time to choose. Right to the Buddha, or straight on to the Monastery. We went to the Monastery first, to try and give the weather a chance to clear up before our ascent to the Buddha.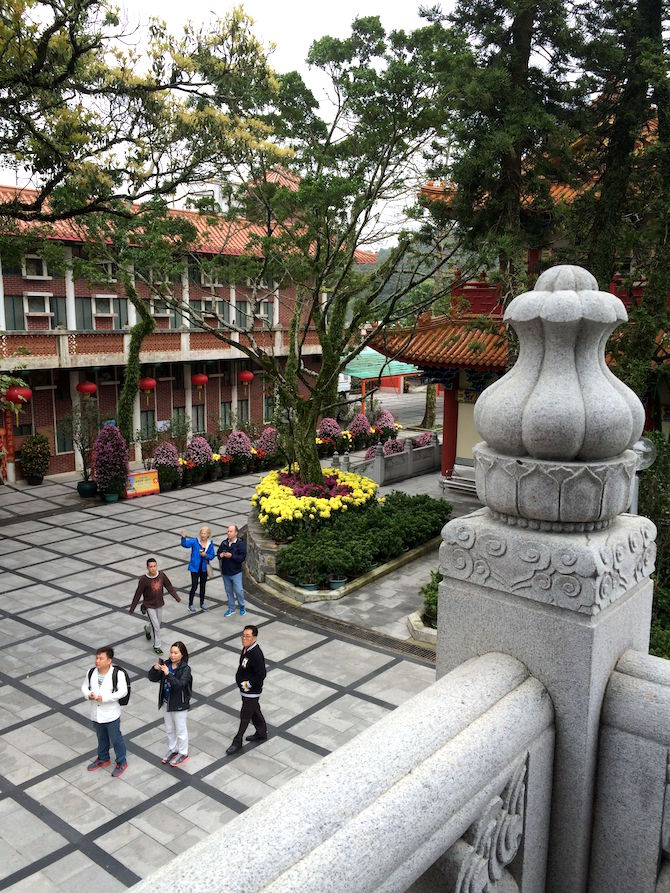 Strangely, the mist cleared for a moment to allow us to see the Monastery in full blooming colour and hear the ever present birdsong.  This Po Lin Monastery was once remote, hidden by the mountain scenery, and it was only the construction of the Giant Buddha in 1993 that brought it to people's attention. It's one of the most important Buddhist centres in the world now, and pilgrims (and tourists alike) come from all over Asia and the world to visit.

As it is a religious site, it is important to keep the kids contained and somewhat quiet out of respect to others who visit to pray and be reverent.  Many visitors (worshippers) light incense in small bundles and the kids loved watching the people use their hands to waft and wave the smoke over their faces and bodies, a practice is said to purify the surroundings, bringing forth an assembly of buddhas, bodhisattvas, gods, demons, and the like.

But in front of the monastery, there's also a bit of joviality as people try their luck on throwing a good luck coin into a giant vessel, and bang on the giant drum gongs. A local told us that banging the drum is part of a ritual to help people to 'wake up', both literally (as in rising in the morning) and figuratively,  to stay conscious in daily life, as well as a signal for meals, and bedtime.  I've also heard stories that if you listen carefully to the beating of the drum, you can hear the sounds of wind, rain, and thunder.  This signifies good weather and therefore national prosperity, so banging the drum is something the kids can join in too.

The Big Buddha.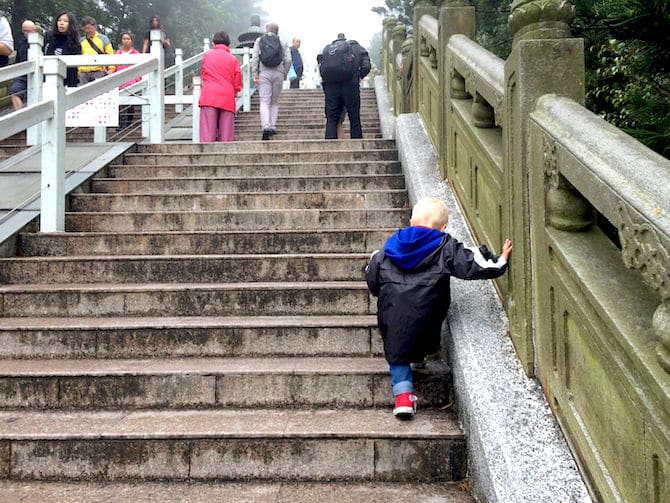 Finally, we headed to the Buddha. I admit I felt stark terror at the prospect of carrying Jack in the ergo up the 268 steps but luckily for me, his independent streak won over and he wanted to climb. And climb he did. ALL THE WAY TO THE TOP!  Slowly going of course, but he made it, with me close behind.  A word of warning – be careful on those steps. They can be VERY, VERY slippery. Hold on tight to the rails where you can.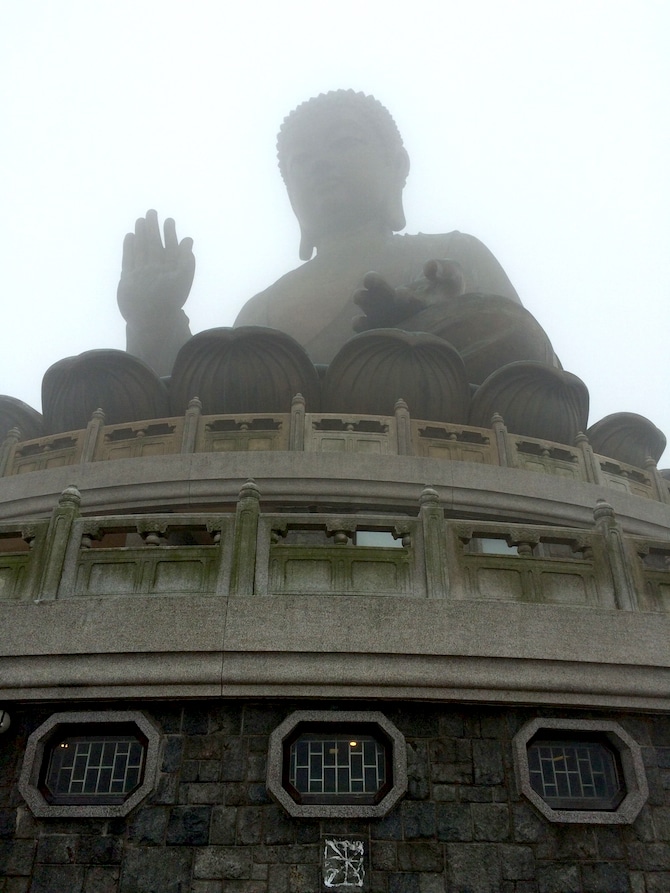 When we got there, THIS was our view. A bit misty but not completely hidden. We walked around the base and the kids conned me into a lolly pop from one of the convenience shops underneath the Buddha for their stair-climbing efforts!

Did you know?
The Big Buddha sits 34 metres high and faces north to look over the Chinese people.
According to Discover Hong Kong, "the eyes, lips, incline of the head and right hand, which is raised to deliver a blessing to all, combine to bring a humbling depth of character and dignity to the massive Buddha, which took 12 years to complete."
Staff are happy for you to leave your stroller near the Charms and Offerings counter at the base of the steps.  Thankfully.  You couldn't lug it up there.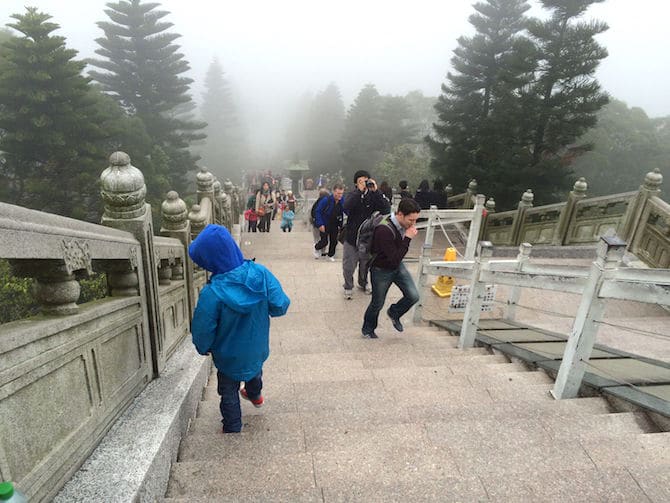 The Trip Down

Once you've climbed back down the stairs, there's plenty of room in the grounds for the kids to run off a bit of steam.  We also encountered our first non-western toilet. Feet on either side of a hole type thing, a bit of a novelty event for them. Jack and Ned shared the stroller for the slow walk back to the Cable Car.  And as luck would have it, the mist had become a complete white-out for our Crystal Car trip. We couldn't see a thing!  But they thought that being enveloped in white cloud was just about the best thing ever. Especially looking down.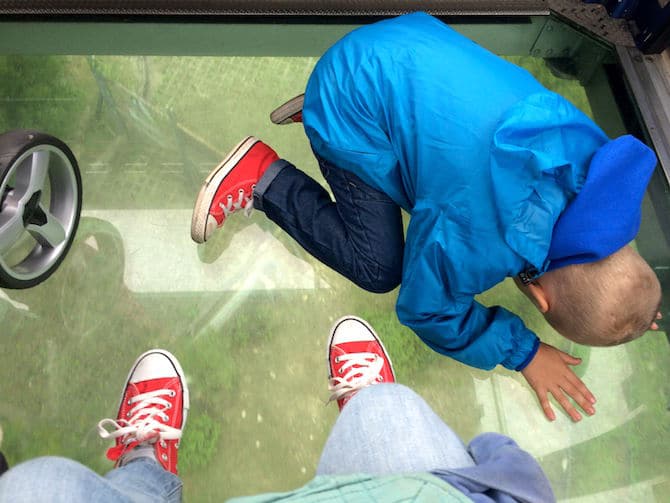 Towards the bottom, the mist began to clear and we could see land, including the bush walking tracks that criss-cross to the top of the mountain. We could see people walking on them too, far below. Those people have stamina (or a death wish), that's one thing for sure.

For those scared of heights

I'm normally a bit queasy with heights but this experience was not too scary at all. The wind, however, was a different story. Swaying from side to side, while the wild winds scream past you as you hang way up high was NOT my idea of fun. I had to keep taking deep breaths but the kids weren't bothered at all. We'd definitely recommend the Crystal Car for at least one way of the trip. It's an added extra that really does make a difference to the level of FUN to be had!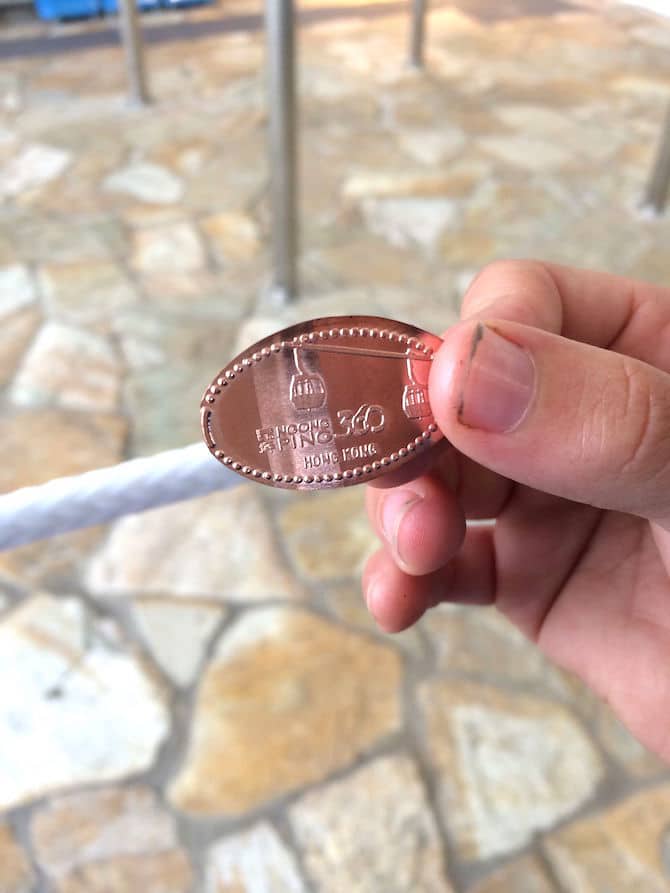 Fun to buy
There's a souvenir penny (pressed penny) machine near the back entrance to the shop and top terminus of the cable car.  As Ned collects these, we always stop to make one. We've since discovered you can buy a little book to keep them in so this makes for a cheap and lightweight souvenir if you are travelling long distances and don't want to lug too many things about.

Eat and Drink
You can eat a vegetarian lunch at the Po Lin Monastery but with kids, I wasn't sure this was a good idea for our little tribe (as much as I wanted to go) so we skipped it.
Take snacks and drinks with you for the visit. It's fine.
Caramel popcorn. Need I say more?  Available in the main ticketing area.
We decided to eat lunch at the food court in the Outlet Mall, "City Mall", which you pass on your way back to the train. There were plenty of options for both asian and western food, and reasonable prices too.
Roam the Gnome's Top Ngong Ping 360 Tips
Get a 10% off coupon by subscribing to the Ngong Ping 360 newsletter here.This e-coupon can be redeemed for a 10% discount on any type of Ngong Ping 360 tickets at the Ticketing office at Tung Chung Cable Car Terminal during the valid redemption period.
The cable car is a chance to rest for a moment while the kids are "contained". Hong Kong is pretty busy wherever you go, and keeping an eye on the kids on busy streets and in markets is exhausting. Enjoy a bit of downtime.
Do buy a caramel popcorn before you embark. It's super delicious and worth the investment to make the journey even more peaceful (Even though you are not supposed to eat in the cable car, no-one bats an eyelid.)
If you are in Hong Kong for 12 hours or less lay-over, Ngong Ping 360 and the Giant Buddha is the closest tourist option for you from the airport.
Ngong Ping 360 has Wifi, and battery charging services.
The Tai O fishing village is nearby, about a 50 minute bus trip from Tung Chung, or a 20  Tai O is "home to the Tanka people, a community of fisher folk who've built their houses on stilts above the tidal flats of Lantau Island for generations. These unusual structures are interconnected, forming a tightly-knit community that literally lives on the water". (Discover Hong Kong)  When we head back to Hong Kong, this is on our bucket list as we ran out of time this visit. Here's why.  From Ngong Ping, you can take bus 21 or for convenience, grab a taxi ($50 HK approx.) Although I have NO idea where you get on. Ask at the Cable station up top.
Toadstool Rating (by the kids)

One visit is enough.

Google map link

The Inside Scoop
City Essentials

Thinking about a trip to Hong Kong? Here's a link to find ALL the information you need to know, in one place.