INSIDE: Roam the Gnome's Guide to the best things to do in Piazza Navona with kids.
One of the must-do tourist attractions in Rome is the Piazza Navona.
Built on the Stadium of Domitian back in the 1st Century AD, the Piazza Navona is an example of Baroque architecture with three famous fountains in the open space in the centre of the stadium-like piazza.
While it's definitely a cultural hotspot and an architecture lovers dream destination, the Piazza Navona is interesting enough for kids, especially on a sunny day! (Unlike the day we visited)
See below for a list of the top things to do in Piazza Navona with kids.
Disclosure: This article contains affiliate links. If you make a purchase after clicking on one of these links, we may receive a small commission at NO extra cost to you.
7 BEST THINGS TO DO IN PIAZZA NAVONA WITH KIDS
The main Piazza Navona fountain in the centre of the Piazza Navona is the world-famous Fontana dei Quattro Fiumi or "Fountain of the Four Rivers" (1651) by Gian Lorenzo Bernini.
This fountain is topped by the Obelisk of Domitian, and is a sight to see.
Piazza Navona has two other fountains.
The fountain at the southern end is the Fontana del Moro.
There's a basin and four Tritons sculpted by Giacomo della Porta (1575).
To which, in 1673, Bernini added a statue of a Moor, or African, wrestling with a dolphin.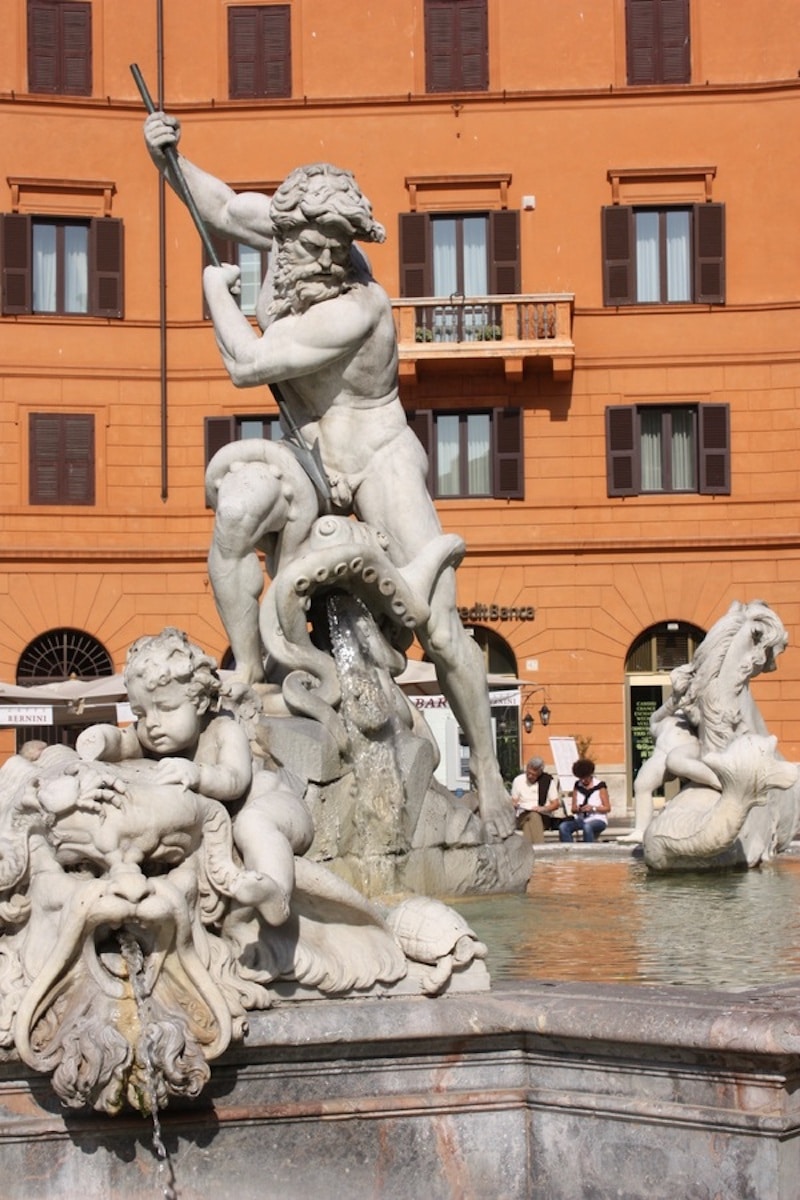 The fountain at the northern end of the Piazza is the Fountain of Neptune (1574).
Also created by Giacomo della Porta.
The Statue of Neptune, by Antonio Della Bitta, was added in 1878 to create a balance with La Fontana del Moro.

Image credit: Sarah E. Bond via Flicker CC2.0
Explore the only stadium ever built from masonry in Ancient Rome.
Take a skip-the-line audio guide tour of the ruins of the Stadium of Domitian, a Unesco World Heritage Site.
See amazing reconstructions of the former site of the ancient Olympic Games, located 5 meters beneath Piazza Navona.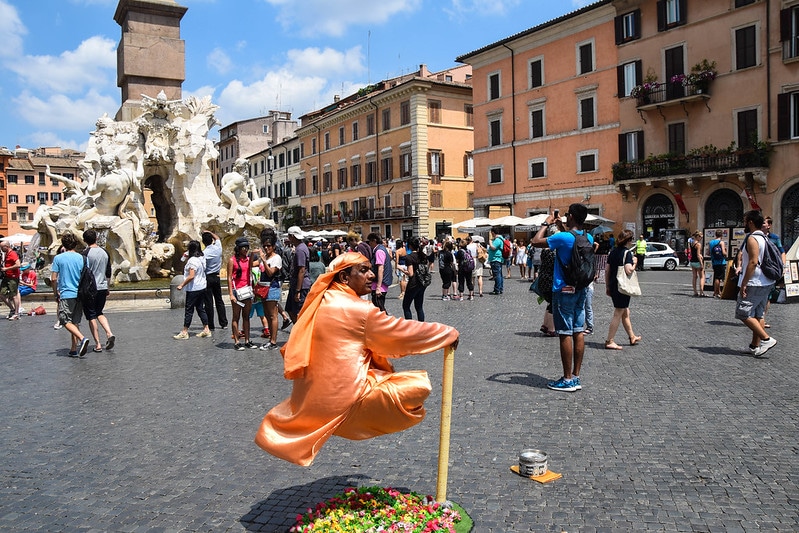 Image credit: Maria Eklind via Flickr CC2.0
There's Street Entertainment Galore
Be prepared for lots of street entertainment, including:
buskers
portrait painters
silent human statues
The Piazza Navona is filled with stylish people to watch so grab yourselves a gelati icecream cone and find a seat.
Hot tip: Take a "Squares of Rome" street tour, with street food, tiramisu and gelato!

Image credit: Tre Scalini
No.5: "Death by Chocolate" – Try the World-famous dessert "Il Tartuffo" at Tre Scalini.
Unless of course, you are planning to indulge in the world-famous dessert "Tartuffo" truffle cake at Tre Scalini cafe-restaurant and ice cream parlour.
Death by Chocolate, created in 1946 by the found of the Ciampini family, is a local speciality and must be tried at least once.
This is one of the top things to do in Rome for foodies.

Image credit: Seanfoneill via Flicker CC2.0
If you happen to visit Rome on a family vacation during December and up to the first week of January, you'll be delighted by the Christmas Market in Piazza Navona and the atmosphere there.
Go for the Christmas food and the vibe, and you won't be disappointed by the lack of original art, or the array of cheap Chinese imports.
The kids will love picking out a Christmas souvenir or two though!
Image credit: Al Sogno toy store in Rome
If you are in Rome with kids, do stop by the Al Sogno Toy shop in Rome at one end of the piazza.
In this dreamlike store with a Gladiator and Pinocchio by the front door to greet you, there's:
stuffed animals
teddies
fairy dolls
wooden puppets
porcelain handmade dolls, and
marionettes.
It's the Aladdins Cave of Toy Stores in Rome.
Hot tip: Book this kid friendly tour of Rome (with gelato tasting!)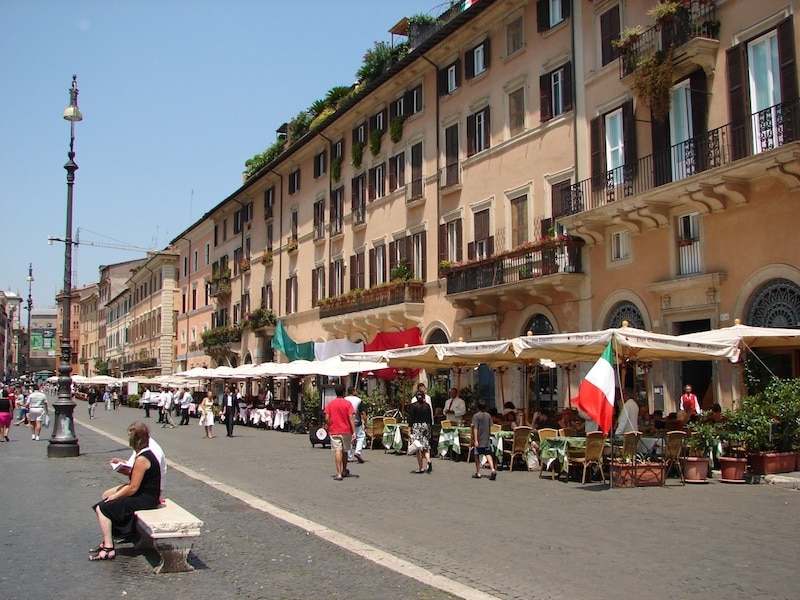 The Inside Scoop – Rome Places to Visit with Kids
Correct at time of publication. Please check with venue for updates. We apologise in advance if there have been any changes we are unaware of. All prices in euro, unless otherwise stated
Address: Piazza Navona, 00186 Roma, Italy
Opening Hours at Piazza Navona
Entry Fees:
Entrance to the Piazza is free.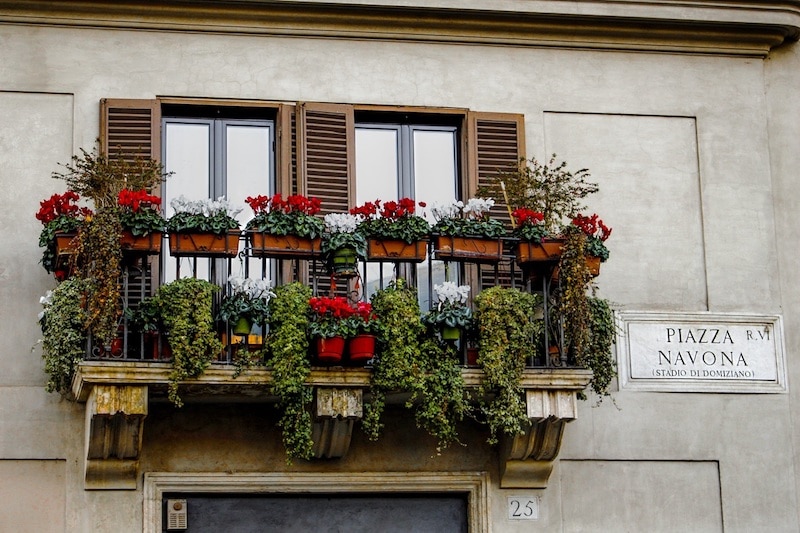 Map of this famous Roman Square
On foot
Walking is the best option.
You can do a fab tourist loop by starting at the Piazza del Popolo, down to the Spanish Steps, walk to the Trevi Fountain, and arrive at the PN square via the Pantheon.
By Metro: There are no Metro stations nearby.
By Bus: From the Termini, take bus 64, 70 or N15 and alight at the C.So Vittorio Emanuele/S. A. Della Valle stop.
By Taxi or Uber: The square is easily accessible by taxi or Uber.
Click here for detailed directions

Try Chiostro del Bramante Cafe
Head up to second level to sit in the courtyard.
Via Arco della Pace, 5
Telephone: 06 6880 9035
Open from 10:00 am-9:00 pm.
Need a sweet treat?
Visit Gelateria Tre Scalini.
Hot Tip: We'd suggest finding elsewhere to eat your family meals as the prices here are tourist-level and not so family-friendly.
If you are up for Pizza, our favourite pizza shop is just 400 metres walk away.

Another ancient square in Rome full of beauty and history.
Stop by on your wanders.

Looking for MORE SUPER DOOPER FUN places to visit in Rome for kids?
Click the links in blue below for more Rome ideas.
Disclosure:
This website contains references to products and services from our favourite brands. Some of these are affiliate links. If you make a purchase or booking after clicking on a link on Roam the Gnome™, we may receive a small affiliate commission at NO COST to you. For our Disclosure and Disclaimer statements, and an explanation of our Advertising policy please click here
Roam the Gnome™ is a participant in the Amazon Services LLC Associates Program, an affiliate advertising program designed to provide a means for sites to earn advertising fees by advertising and linking to amazon.com, and related Amazon shopping sites around the world. Amazon and the Amazon logo are trademarks of Amazon.com, Inc. or its affiliates. As an Amazon associate, I earn from qualifying purchases.
Thank you for visiting Roam the Gnome Family Travel™ Website Directory. We encourage you to bookmark this page so you can find us again.