Imagine a kids' bike track with REAL working traffic lights, road line markings, and pedestrian crossings.
A place where kids can learn to ride their bikes and scooters along with all the road rules, without fear of being run over in the street.
It's the number one reason to visit the Sydney Park Bike Track at the Sydney Park Cycling Centre, the place where riders of all abilities can learn safe riding skills.
At Sydney Park Cycling Centre, there's:
concrete and brick pathways and roadways for kids to scooter and cycle
an imaginative play area with a pretend shop-front, and refuelling station
a giant circular tunnel, an 'underpass' of bright yellow poles, traffic light 'stop and go' signals , road signs, cul-de-sacs, and bridges
roundabouts and miniature concrete barriers, just like the ones you see on the sides of the road
twists, turns, and up and down hills
a bike pump
a giant undercover riding area (lessons are held here too – find out more here)
barbecue facilities and picnic areas alongside the track
Created with the Community in Mind
The creators of one of Sydney's best bike tracks worked with the local community, including local children and park users to design and build this innovative bike park.
It's all lovingly designed with eye-catching sculptures amongst the bush habitat of shrubs and greenery. It's the perfect bike track in Sydney for beginners especially.
Plus, FREE Balance Bike Courses!
Free Balance Bike Clinics run from 11am until 3pm every Saturday.
No need to book, just turn up and register with the instructors at the Sydney Park Cycling Centre.
Balance bikes and helmets are provided.
More bike riding workshop clinics are held during school holidays. Please email Bikewise on info@bikewise.com.au for details of upcoming clinics.
Courses are run by BikeWise, the current provider of Bike Courses for the City of Sydney.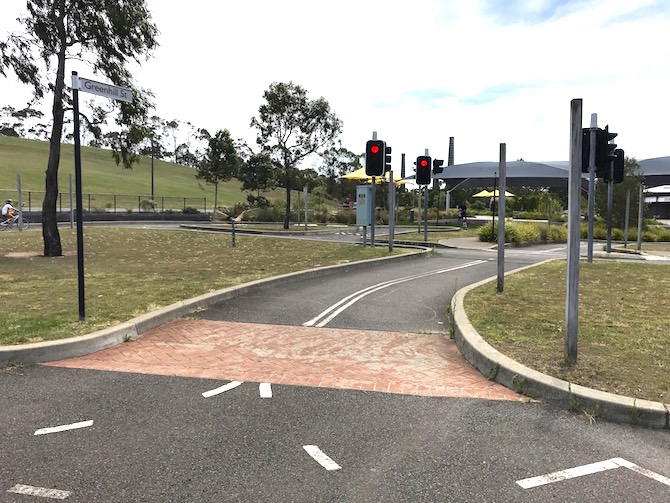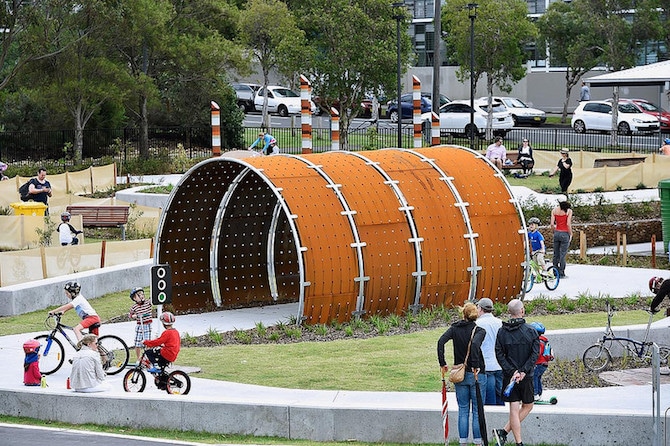 The Inside Scoop – Sydney Park Cycle Centre
Address: Sydney Park Bike Track is at 410-416 Sydney Park Road, Alexandria
Phone: 02 9265 9333
Opening Hours: Dawn to Dusk
Parking: The Sydney Park bike track is next to the car park on Sydney Park Road (opposite Mitchell Road)
Nearest Takeaway Coffee: Sydney Park Kiosk, behind the Sydney Park playground.
Toilets: At the Sydney Park playground (click link above), 5 minutes walk away
Enclosed: Yes, fenced along the main roads, and the entrance is far enough away from the carpark to give chase.
Public Transport: St Peters train station is within walking distance.
Bus route 370 stops at Sydney Park Road, near Mitchell Road, Alexandria.
Bus route 308 stops at Mitchell Road, near Coulsen Street, Erskineville.
Bus route 422 stops at King Street, near Concord Street, St Peters.
Looking for more SUPER DOOPER FUN THINGS TO DO IN SYDNEY?
Click the blue links below.