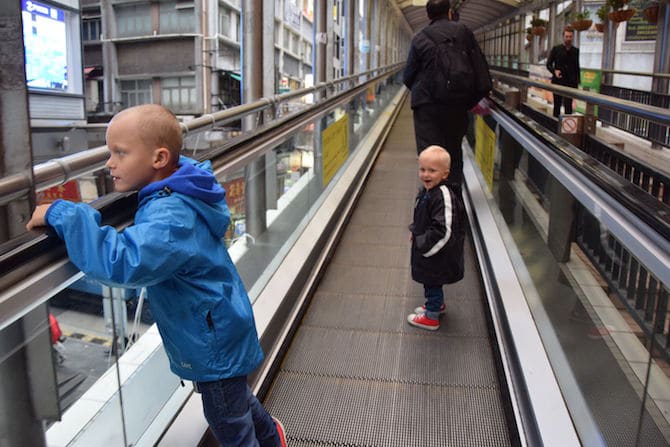 Hong Kong Escalator Street Adventures!
Did you know that Hong Kong escalator street, the Central Mid-Levels Escalator and Walkway, is the world's longest covered walkway? Constructed in 1993, it links the Central and Western districts to help commuters move around but it's become a bit of a tourist hotspot too.

You can take moving walkways and moving stairs for a length of 800 metres from Central, through Soho and right up to the Mid-levels. The Hong Kong escalator street rises in elevation by 135 metres over the journey too
The essential insider info

The escalator runs through the whole length of Cochrane Street, between Queen's Road Central and Hollywood Road. Then it continues on running the length of Shelley Street.

Ask a local or in one of the shops along Queen's Road to find the starting point. It's a little hidden. The beginning of the system above 100 Queen's Road Central.


Key points of interest

We were a little surprised to see the Hong Kong escalator street was a series of escalators, rather than ONE LONG ONE. The kids hadn't made that assumption so they were thrilled with the idea of hopping on one escalator or moving travelator after another, after another, after another. This really is something fun for the kids!

The escalators daily run downhill from 6:00 a.m. to 10:00 a.m. and uphill from 10:30am to midnight. My boys thought that was the funniest thing ever- escalators that swap direction? Hilarious!

There's plenty of restaurants and shops lining the route. There is an entrance and exit on each road it passes, often on both sides of the road, just in case the kids need a drink or snack stop half way. Stopping by here is an excellent way to explore the busy streets of Central with Hong Kong's oldest market district, world famous antiques and art district, museums, historic buildings and museums and the quaint Mid-levels district.


World Schooling – Fun Facts!

• Travelling the length of the Hong Kong escalator street takes 20 minutes, unless you walk/run at the same time. Why not make it into a bit of a race to see how long it takes your family?
• The Hong Kong escalator street is listed in the Guiness Book of Records (Longest outdoor covered escalator system in the world)
• The Hong Kong Escalator street provides for over 85,000 pedestrian trips A DAY! (A new survey will be conducted this year. We bet it'll be over 100,000 by now.)

Our Top Tips

• If you are looking for somewhere for the kids to run off a bit of steam after this adventure, try the Caine Road playground. Travel back down the escalator to Caine Road and walk about 500 metres to your left. Fenced playground gloriousness!
• If your kids love watching people working on building sites, keep your eyes peeled for the construction of bamboo scaffolding! You've never seen anything like it.

Toadstool Rating (by the kids)
Google map link
City Essentials

Thinking about a trip to Hong Kong? Here's a link to find ALL the information you need to know, in one place.