Things to Do in Narita Airport with Kids
KIDS PARK – Soft play areas to run off their energy before flight time!
If you are looking for things to do in Narita Airport with the kids while waiting for your plane, you'll be happy to know that Narita Airport has SEVEN soft play areas called Kid's Parks scattered throughout Terminal 1 and 2.  The reality is that these soft play areas are not going to win any awards for creativity or design, but they will be helpful for those with children under 5. (Older kids will be bored out of their mind by these areas so plan ahead.)
All the areas have large foam blocks which double as seats and a barrier to contain babies and toddlers, with the exception of the Kids Park on the 3rd floor near Gate 51. This kid's park (pictured below) is in a dedicated room. All the kid's park areas are filled with small-size play equipment including foam blocks, rockers, miniature slides, crawl-through play equipment, and the odd toy truck or car too.
Children must be accompanied by an adult to use these kid's play areas.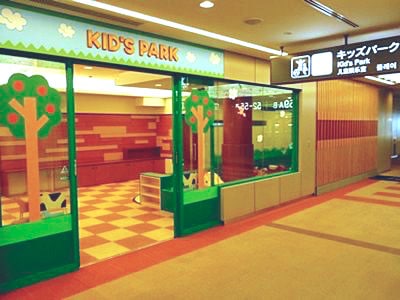 Gate 51 park
Terminal 1
Before passport control
After departure procedure areas
Domestic services, 2nd Floor
3rd Floor (Near Gate 41)
3rd Floor (Near Gate 51)
Terminal 2
Before passport control
After departure procedure areas
Connecting corridor between Main & Satellite Buildings
Satellite, 3rd Floor
Main Building, 4th Floor
Terminal 3
After departure procedure areas
3F Area – After Outbound Passport Control at M10 on the map
See picture at top of page.
2F Area – After Domestic Security Screening (Satellite)
Location and Map
Address: 1-1 Furugome, Narita, Chiba Prefecture 282-0004, Japan
Phone: + 81 476-34-8000
Toadstool Rating (by the kids)
Instagram:
Family Travel Ideas with Roam the Gnome
We love to share the SUPER FUN kid-friendly stuff we find around the world, so you can go there too!