INSIDE: Roam the Gnome's Complete Insider's Guide of Things to Do at Jewel Changi Singapore Airport.
When Singapore Airport needed to expand Terminal 1 to cater for the growing number of visitors to Singapore, they did it in style and created The Jewel at Changi Airport.
Now a shopping and dining destination in it's own right, it's the JEWEL ATTRACTIONS for kids that captured our attention.
That, and the amazing waterfall centrepiece.
Wondering what to do at Jewel Changi?
Take a look at this big list of ALL the awesome things to do at Jewel Airport Terminal in Singapore below.
Disclosure: This article contains affiliate links. If you make a purchase after clicking on one of these links, we may receive a small commission at NO extra cost to you. Main image credit: Steve Nagata via Flickr CC BY-2.0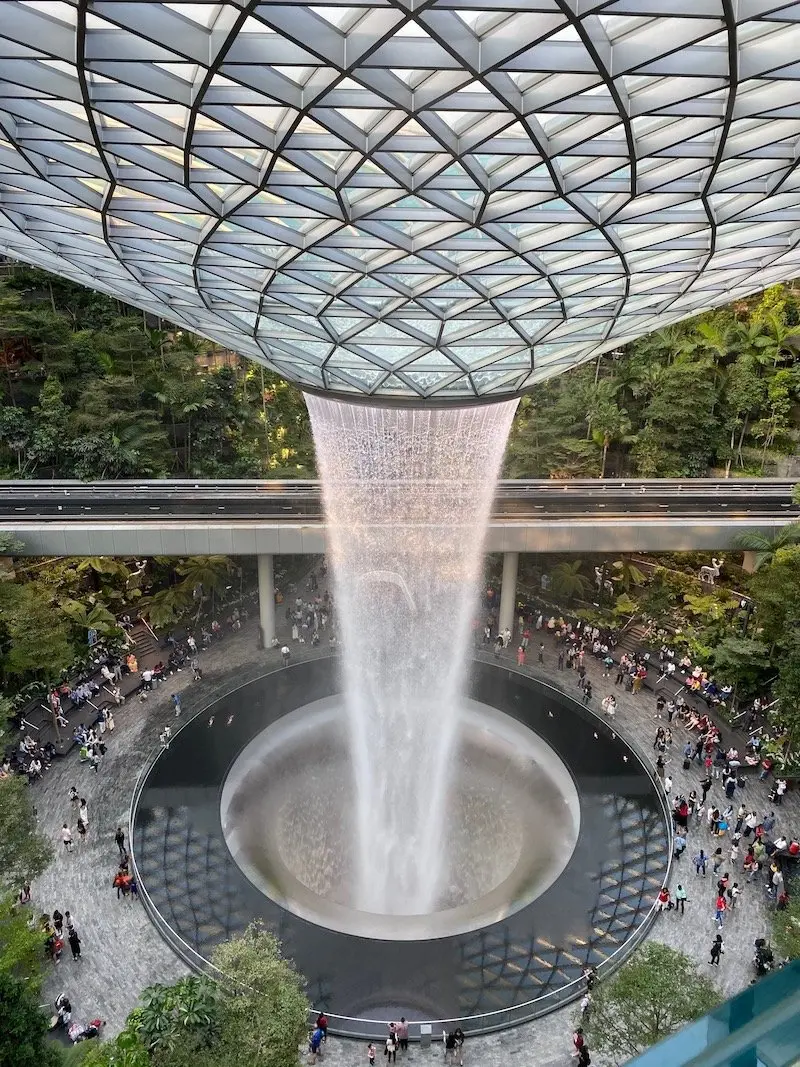 THINGS TO DO IN JEWEL CHANGI AIRPORT
The Jewel Garden on the top level of this space-age shopping and destination hub has 13 Jewel activities and attractions to visit.
We've listed them one by one, with pics, below.
Bring a stroller for your toddler as it covers the whole top floor of the building and there's quite a distance to walk.
Best of the Jewel things to do?
Don't miss the giant SKY NETS!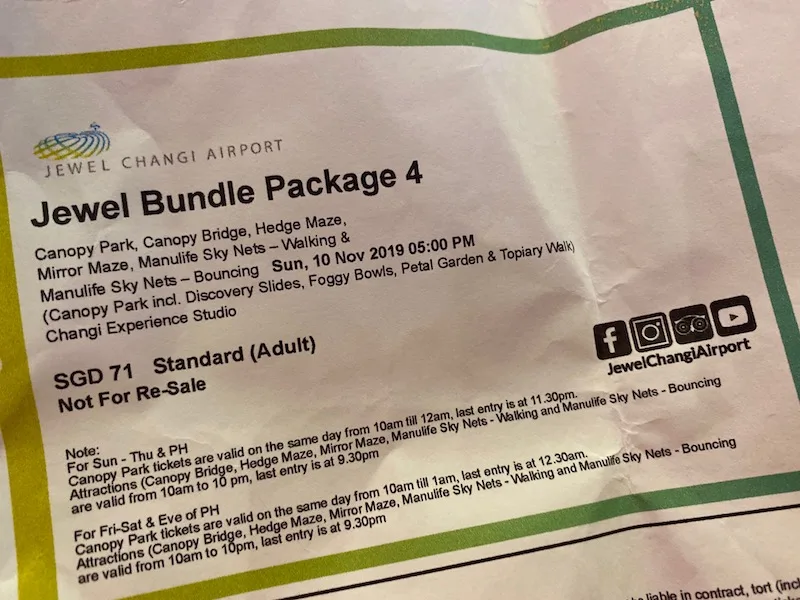 Hot tip: Buy Jewel Changi Playground Tickets ASAP
You can book tickets at Jewel Changi airport playground to walk the nets, or bounce on the nets, or both!
We recommend both.
These two attractions are very popular, with limited time slots to keep numbers in check, so don't delay.
Buy in advance, so you don't miss out.
Hot tip: Ride the free Changi skytrain through Jewel Canopy Park at least once for a birds eye view of the Jewel gardens.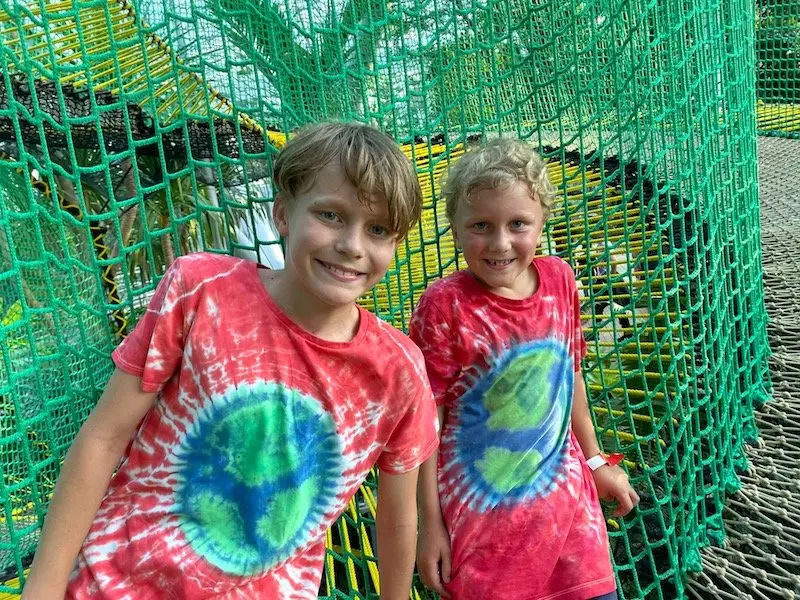 13 Jewel Changi Airport Playground Attractions
No.1: Bounce Sky Nets
What to do in jewel first?
Head straight to the Bounce Sky net in Changi Jewel.
The 250 metre long Bouncing Sky Net is a giant suspended trampoline above the canopy park.
At one point, you are 8 metres above ground!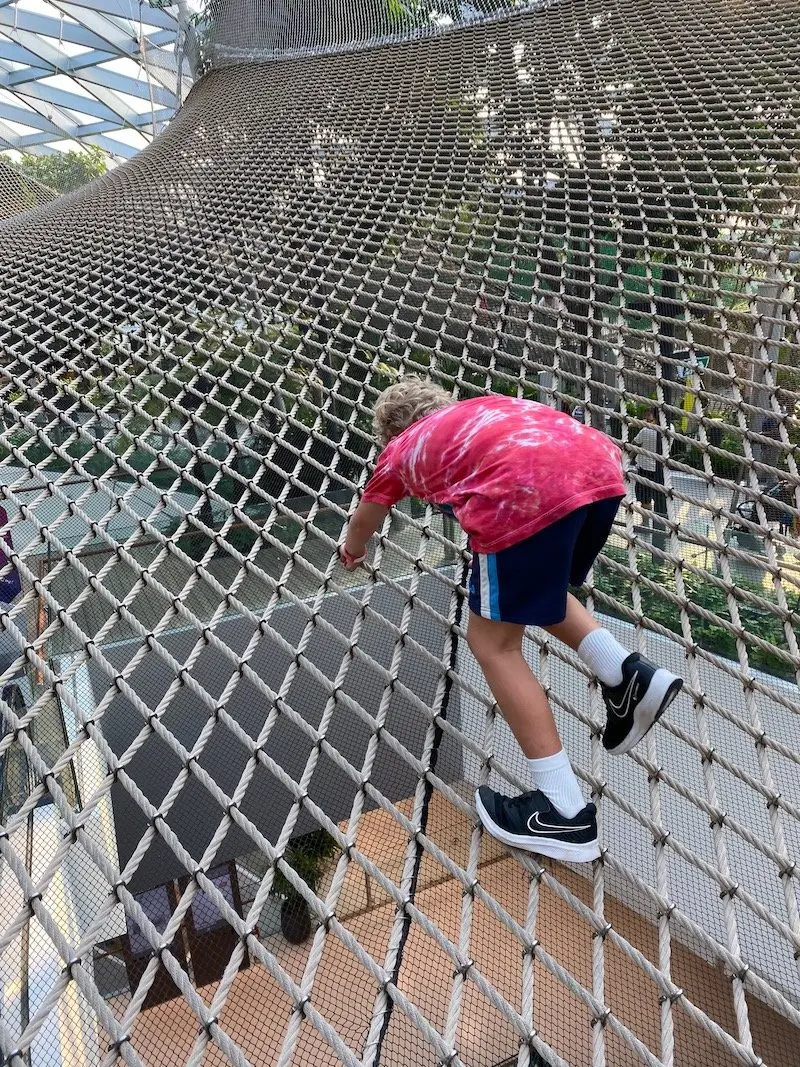 No.2: Walking Sky Nets
These Walking sky nets are higher than the Bounce sky nets.
Stretched as a web of rope 25 metres above the Canopy park, this is a fun unique experience for kids and adults alike.
Kids must be taller than 110cm to enter.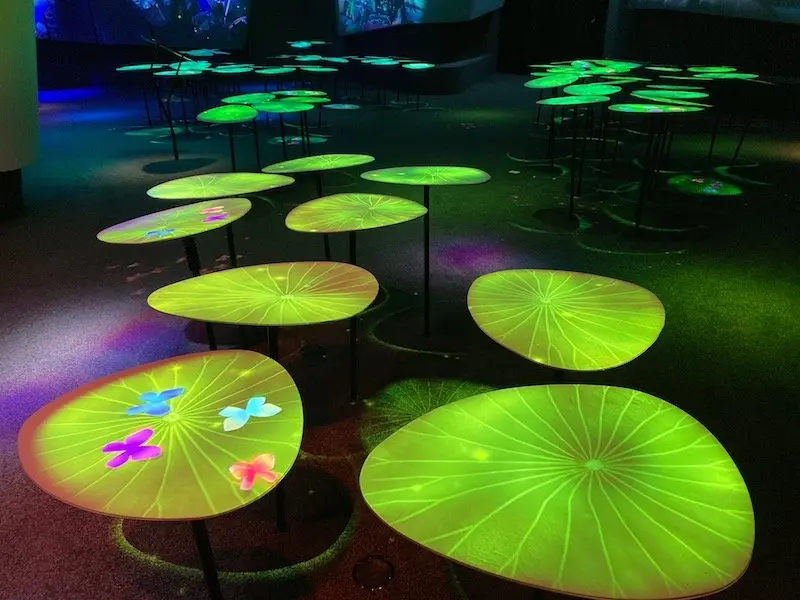 No.3: Changi Experience Studio
Don't miss the Gardens of Harmony, where you can make music with your arms.
This multiplayer game will set your heart, and soul on fire!
We've never done anything like it.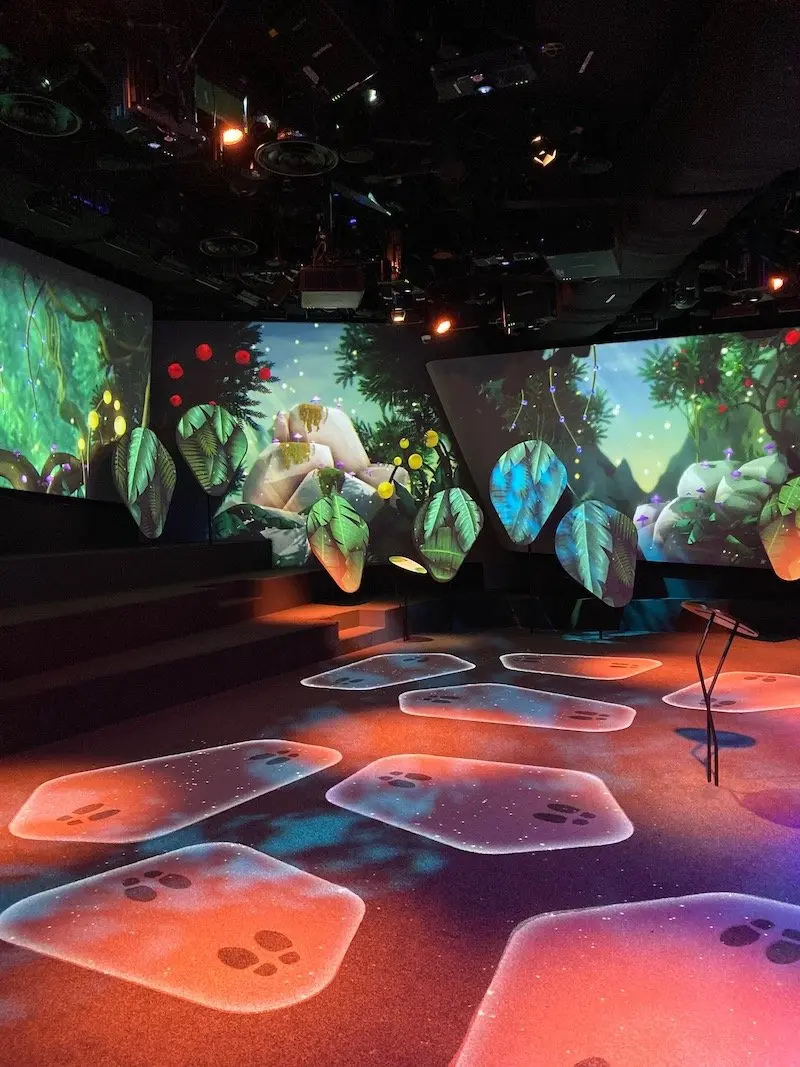 Gardens of Harmony at Changi Airport
Imagine standing in a room, dancing to the music with your arms and legs, and watching nature-inspired light and sound projections come to life!
Expect it to be 100 times better than it sounds.
Changi experience studio is full of:
projection experiences
hands-on interactive games, and
shows where you join in.
There's over 20 different activities in 10 themed areas to try.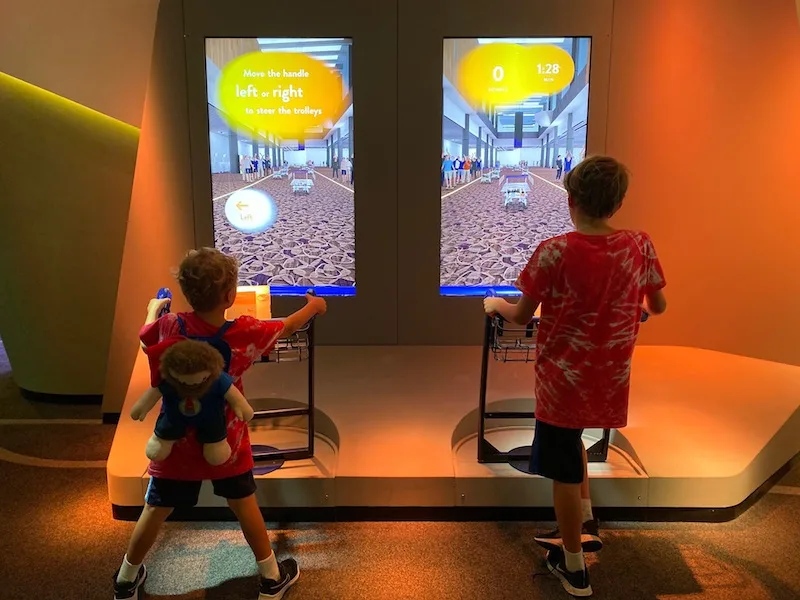 Ned and Jack loved the one where you are sent on a quest to collect all of the airport trolleys.
Now that's more of a challenge than it sounds.
Airport trolley collections in a lineup get out of hand pretty quickly, and are very hard to steer!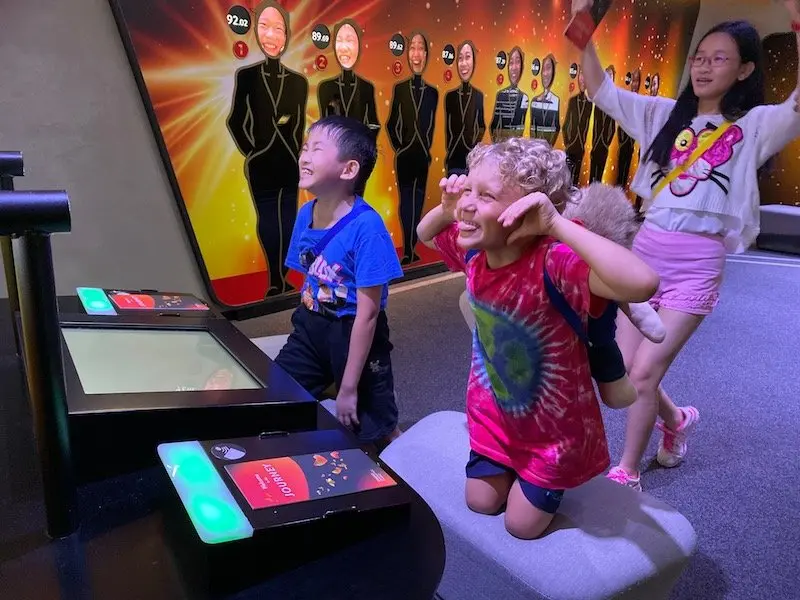 Smile Challenge at Jewel Changi Experience Studio
But the best one is the SMILE CHALLENGE.
Line up in front of the camera, next to a competitor.
Both challengers listen for the countdown, smile their BIGGEST smile in time with the click of the camera, and then wait to find out their score on the leaderboard.
Be prepared to play this game for an hour or more!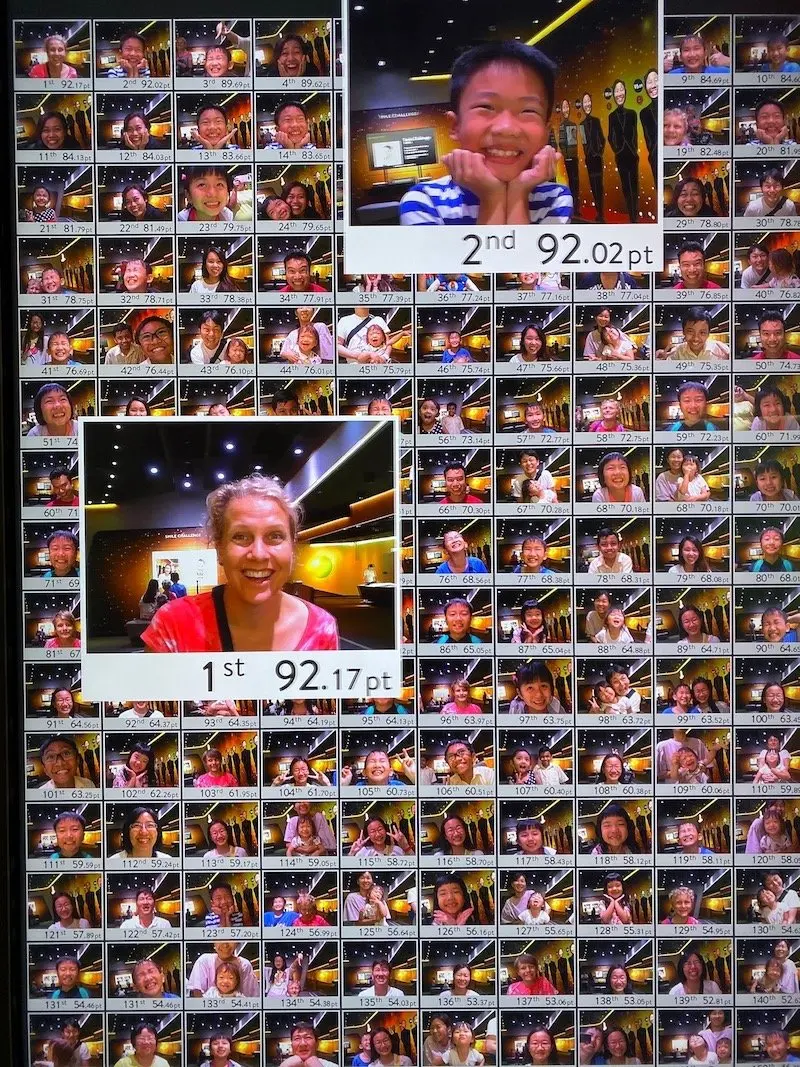 Guess who was the winner with this grin???
1st position!
The boys were demoralized by their defeat, especially as they tried again, and again, and again!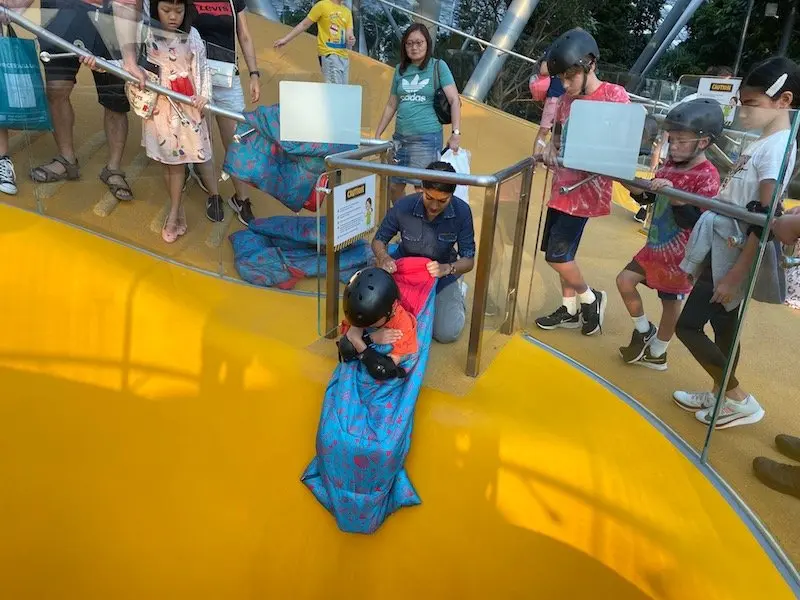 No. 4: Discovery Slides
Here's a playground in Singapore with a difference.
This giant bean-shaped interactive art piece has a purpose – encouraging kids to play.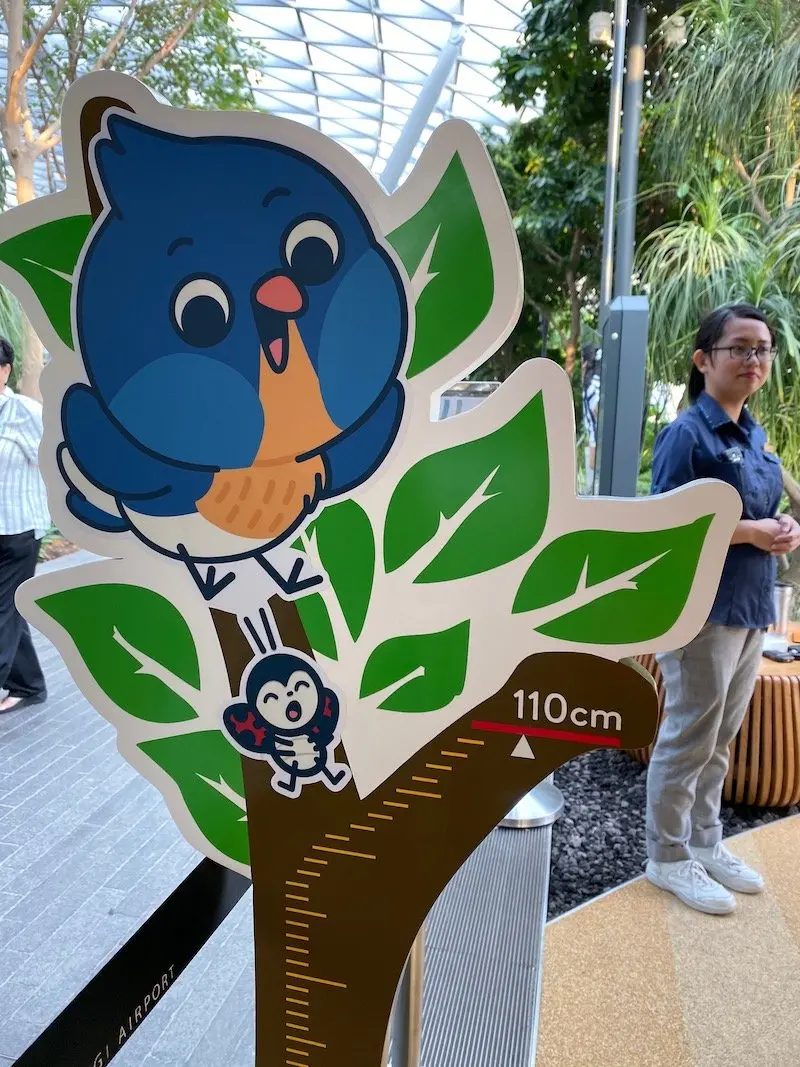 Kids over 110cm can:
go down the freefall drop slide
slide down the tallest tunnel slide
slip down the duo slide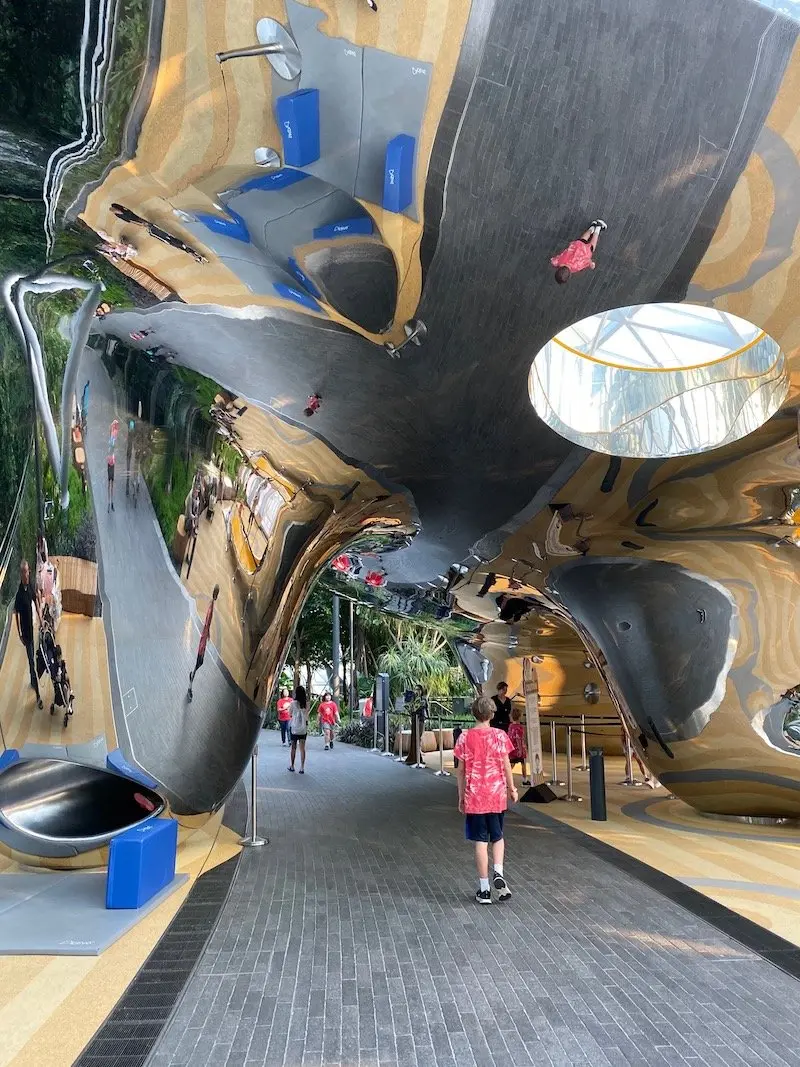 Discovery Slides opening hours
Discovery Slides are open daily from 10am to midnight.
(1am close on Friday, Saturday and public holiday eves)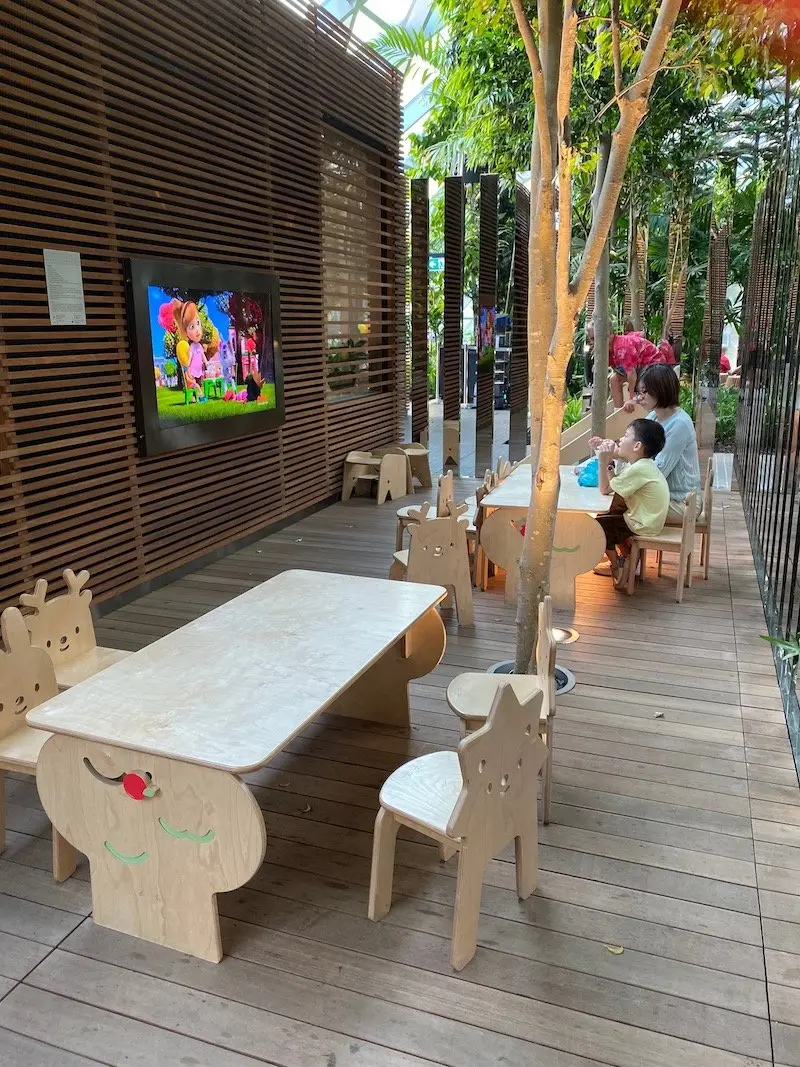 Hot tip: Playgrounds at Jewel Changi Airport
Between the foggy bowls and the Discovery slides, at the entrance to the public bathrooms, you'll find this toddler play area.
There's tables and chairs for kids, a tv screen playing cartoons, and a small wooden slide.
Plus there's water faucets (water bubblers) out front.
If you are looking for somewhere to take a quick snack break, or just need a bit of time out from the busyness of Canopy Park, this is the spot.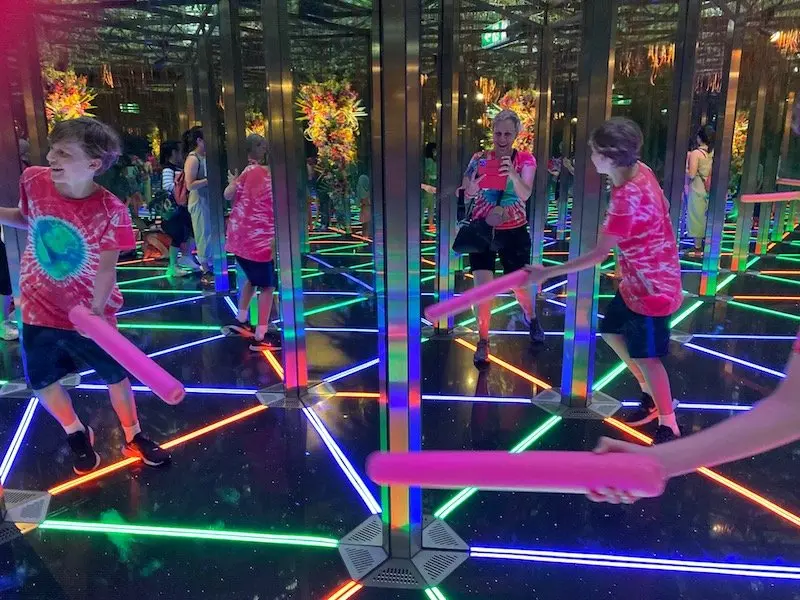 No. 5: Mirror Maze
No visit to Changi is done without a scramble through the magic mirror maze.
Be warned.
You may get lost!
And you may get an unexpected whack from a sneaky son, coming round the corner to bonk you on the head!
Open daily, 10am to 10pm.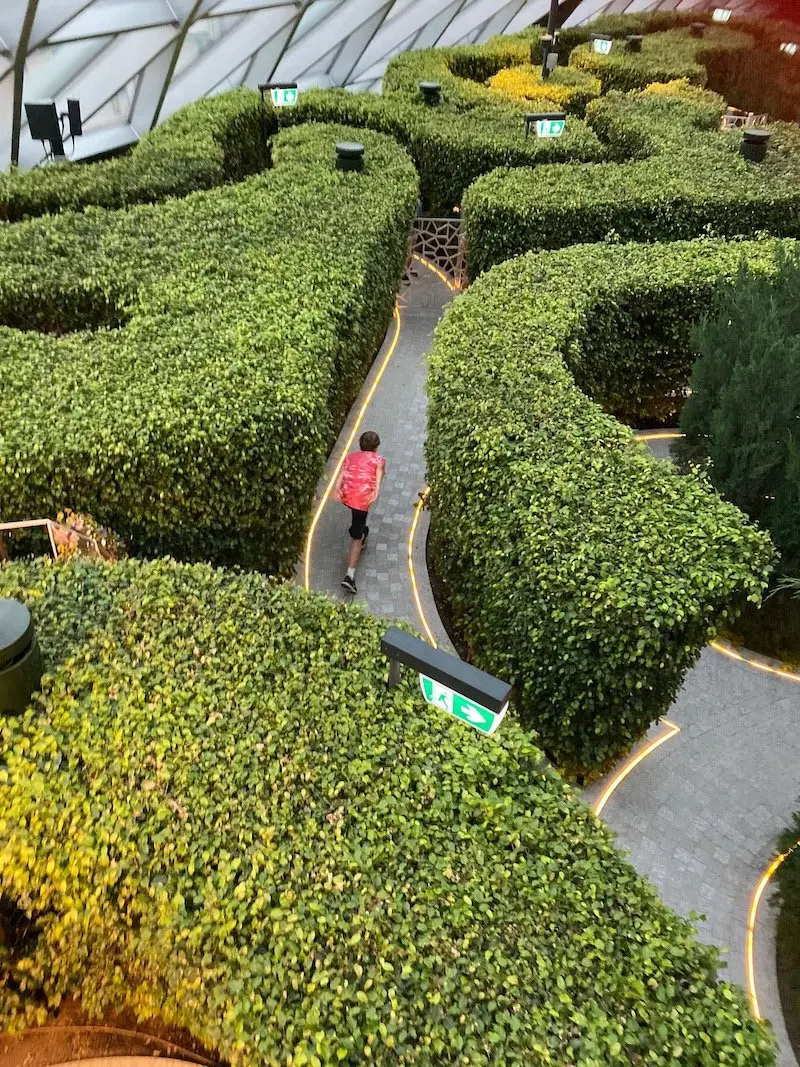 No. 6: Hedge Maze
This is Singapore's largest hedge maze and it's in the centre of Jewel.
Your aim is to reach the Watch Tower at the midpoint.
Can you do it?
Open daily, 10am to 10pm.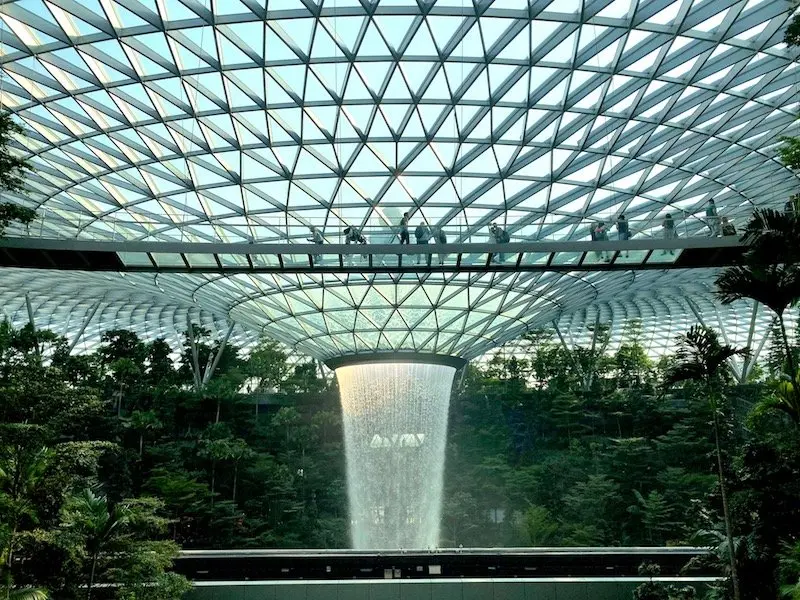 No.7: Canopy Bridge
Get up close to the magnificent Jewel mandala-shaped roofline as you wander along the Canopy Bridge, 23 metres above the Canopy park.
Heads up: There's a glass bottomed walkway half way along. Keep your eyes open but don't look down!
It's like walking in the clouds.
Open 10am to 10pm daily.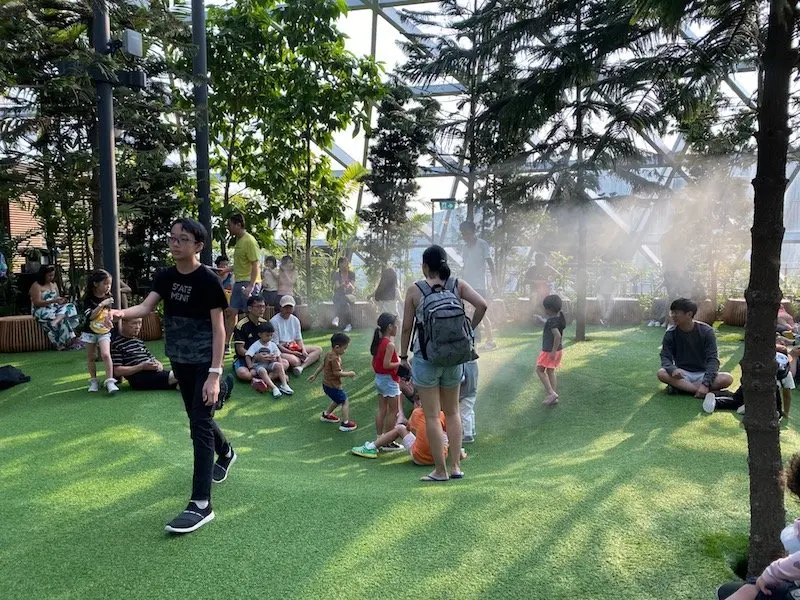 No.8: Canopy Park
Canopy Park is the home of all the attractions.
There's places to eat if you are hungry, or wander the peaceful grounds at your leisure.
Open daily, 10am to midnight.
BUY NOW: Canopy Park Tickets (includes admission to the park, and Discovery Slides, Foggy Bowls, Petal Garden and Topiary walk) – Get Your Guide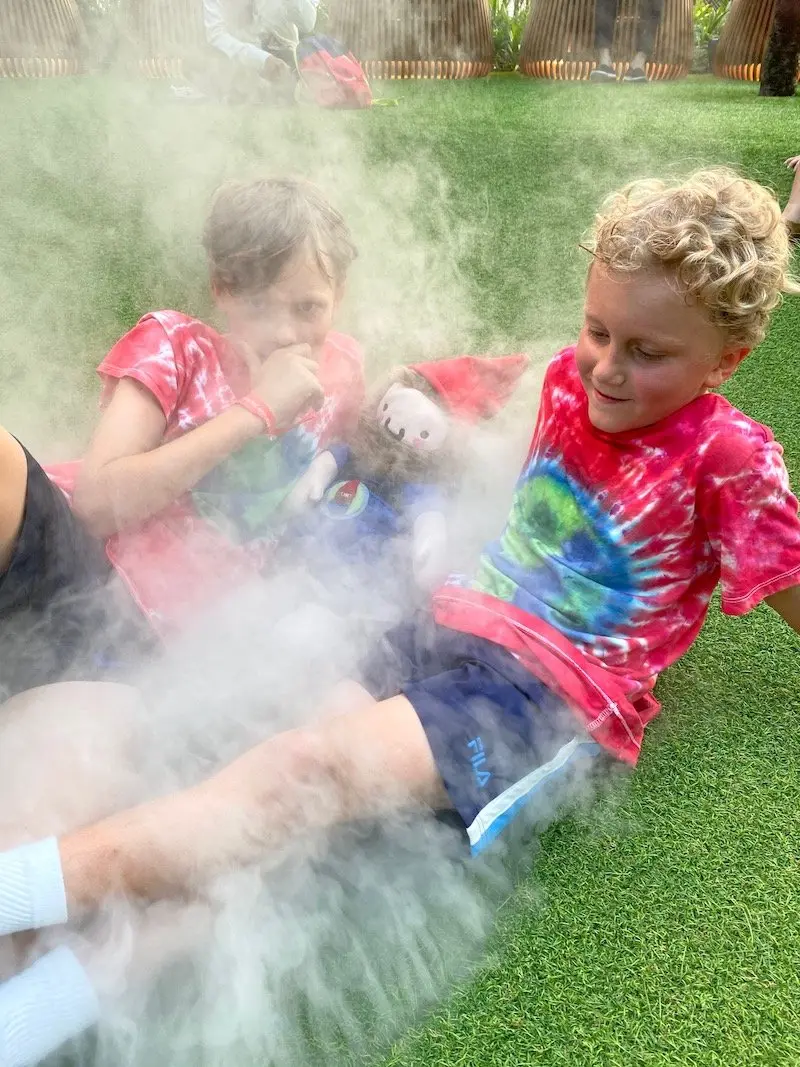 No.9: Foggy Bowls
This is THE spot for toddlers and preschoolers.
A chance to run around on a grassy field amongst misty cloud that is puffed from hidden jets.
It's enchanting!
Open daily, 10am to midnight.
No.10: Topiary Walk
There are some clever florists in Singpore and their flower artistry can be seen here at the Topiary walk.
Your task is to count how many different types of topiary animals you can spy in amongst the hedges and trees.
Bring your camera.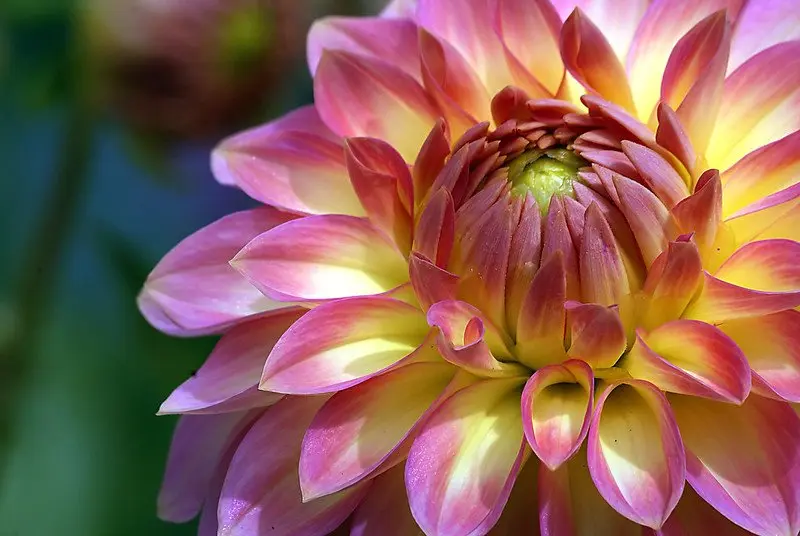 Image credit: Bernard Spragg via Public Domain
No.11: Petal Garden
If you adore flowers, and can't resist buying a bunch at a Sunday market, you'll love the Petal Garden at Changi.
It's a painting with petals!
The colours are mesmerising, and the displays are out of this world.
Open daily, 10am to midnight.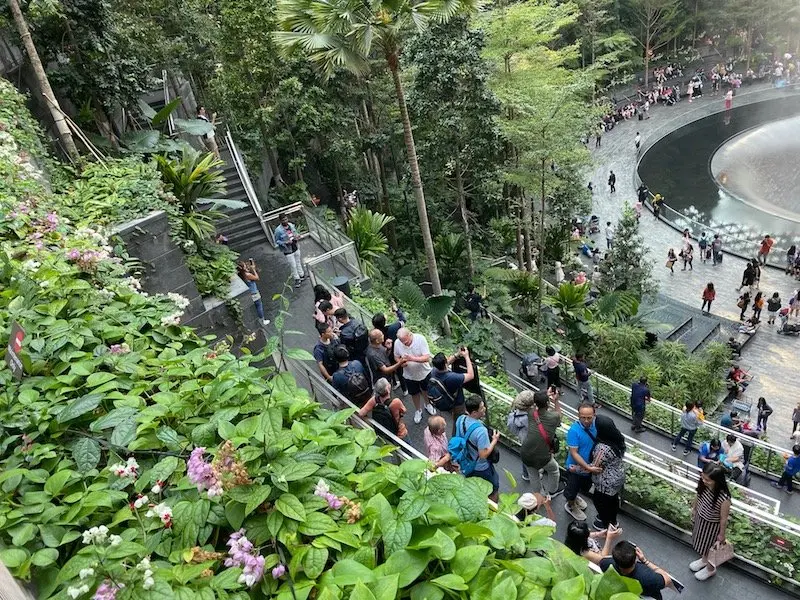 No. 12: Shiseido Forest Valley
Head off on one of the walking trails in Forest Valley at Changi.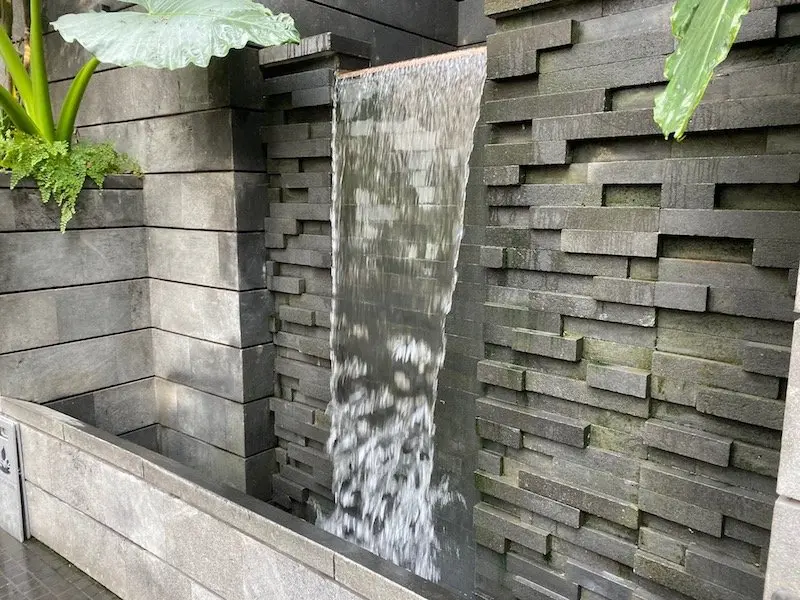 Look out for the stairs that take you past a rocky waterfall wall, up to the Canopy Park top level.
It's unbelievable to think you are walking in a forest in the middle of an airport!
Open daily, 24 hours.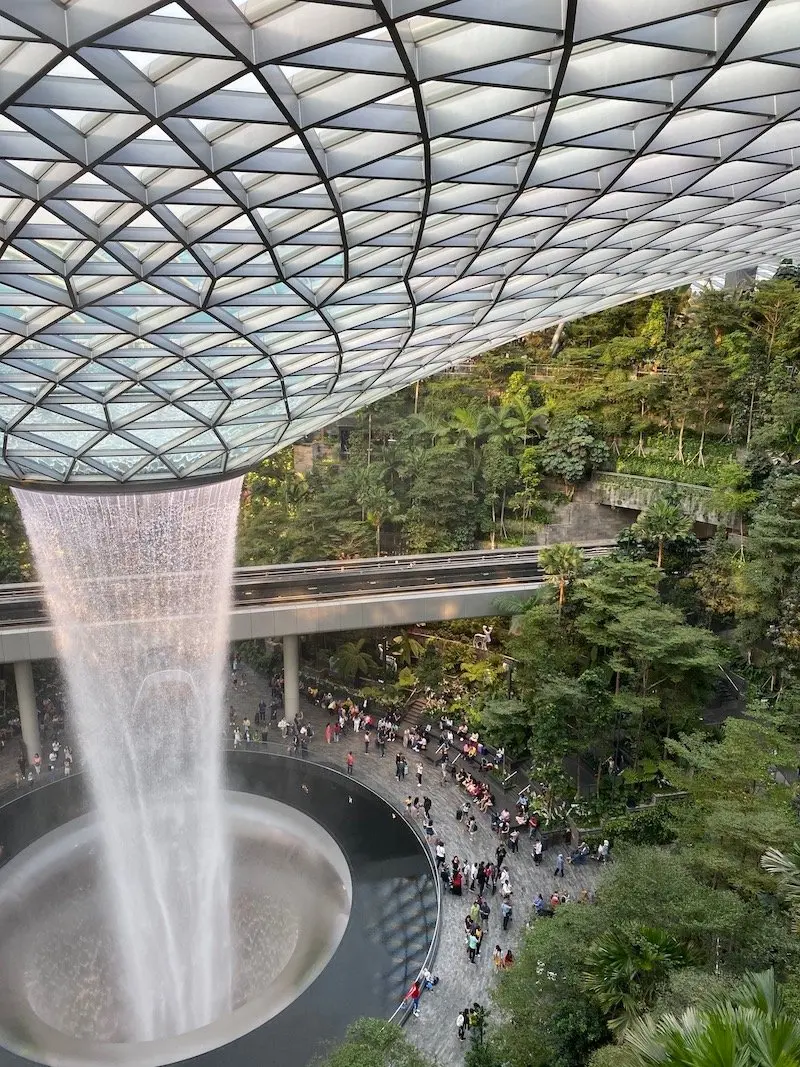 No.13: The HSBC Rain Vortex Waterfall at Changi Airport
We saved the best attraction at Jewel Singapore airport for last.
The giant indoor waterfall is the tallest indoor waterfall in the world.
It's a monster-sized 40 metres tall!
This waterfall has a dual purpose.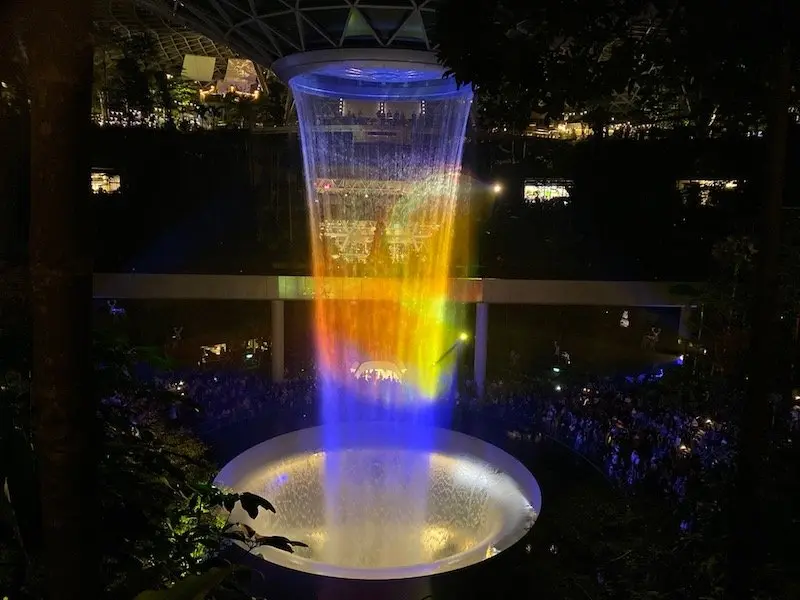 The Jewel Waterfall Show of Lights and Sound
At night, the water becomes the theatre screen for an hourly light and sound show projection.
Starting at 7.30pm, and repeating on the hour until 11.30pm, the light show at Changi airport is a vision of colour and technology.
The beauty of it makes me happy to be alive at this time in history.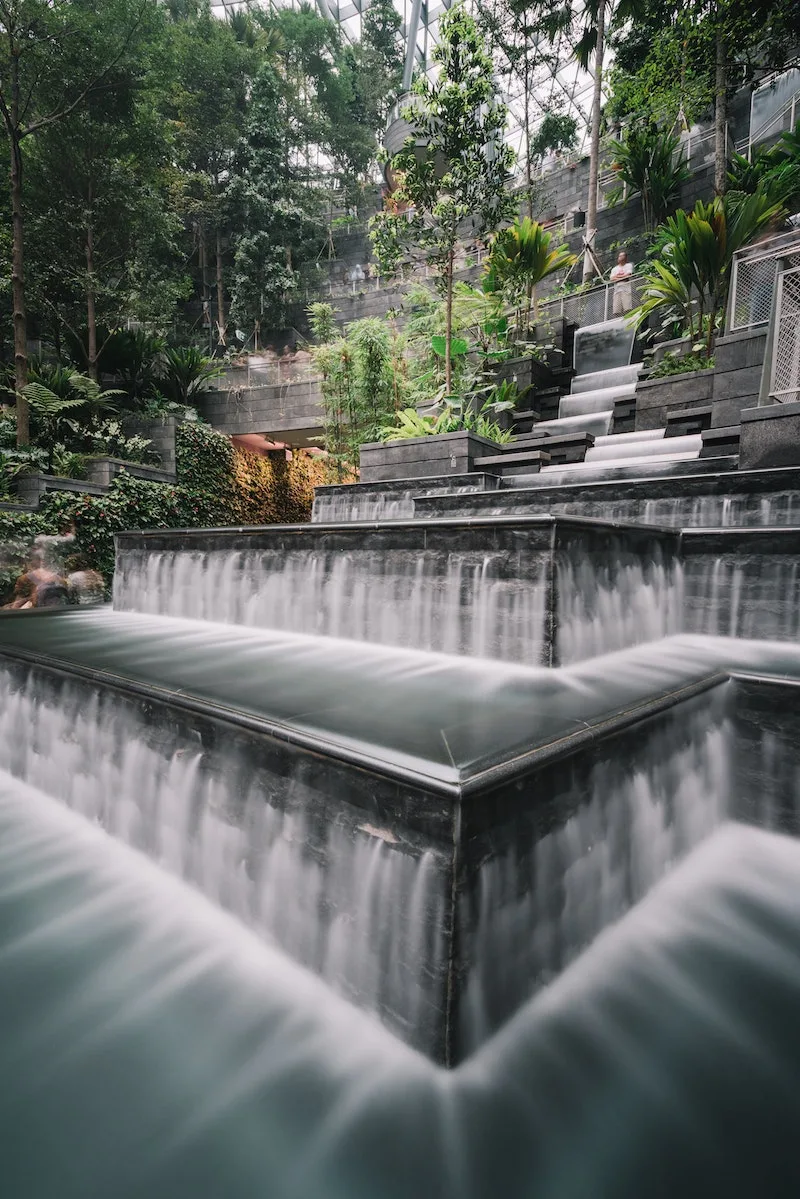 Image credit: Fuyu Yeo via Unsplash
Best FREE Things to do at Jewel Changi airport
Looking for things to do at Jewel for free.
These are your best bets.
No.1: Jewel waterfall light and sound show
As above.
No.2: Walking around the Shiseido Forest Valley
It's unbelievable that this is a built environment and not natural
No.3: Window shopping around the Changi Jewel atttractions
There's plenty to look at if you can squash the jealous monster inside!
No.4: Free entertainment at Jewel Changi
Enjoy the vibe, free entertainment and music
No.5: Best Insta Spots in Jewel Changi airport
Go hunting to find them!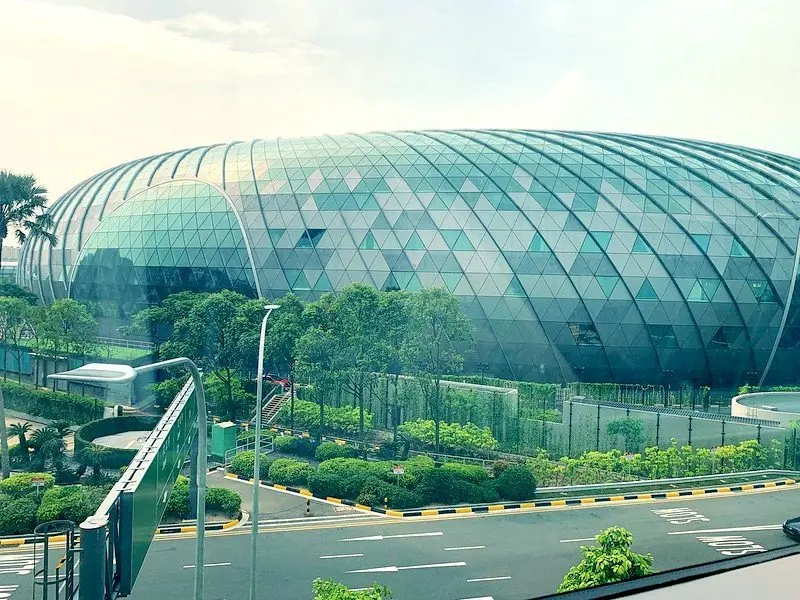 Image credit: Steve Nagata via Flickr CC BY-2.0
THE INSIDE SCOOP: The Jewel at Changi Airport
Correct at time of publication on Roam the Gnome. Please check with venue for updates. We apologise in advance if there have been any changes we are unaware of. All prices in Singapore (or US) dollars, unless otherwise stated
How to buy tickets for Jewel attractions
Visit the Jewel website to buy tickets for Jewel activities.
You can buy individual tickets, or bundle tickets.
Hot tip: The cheapest way to try Jewel attractions is an all-access pass.
What to wear to Jewel Garden
You need comfortable shoes (covered shoes are good), plus t-shirts and shorts or trousers for most of the attractions, especially the Sky Nets.
Where to eat at Jewel
You will find plenty of restaurants and local food options around the Jewel building.
Take your pick.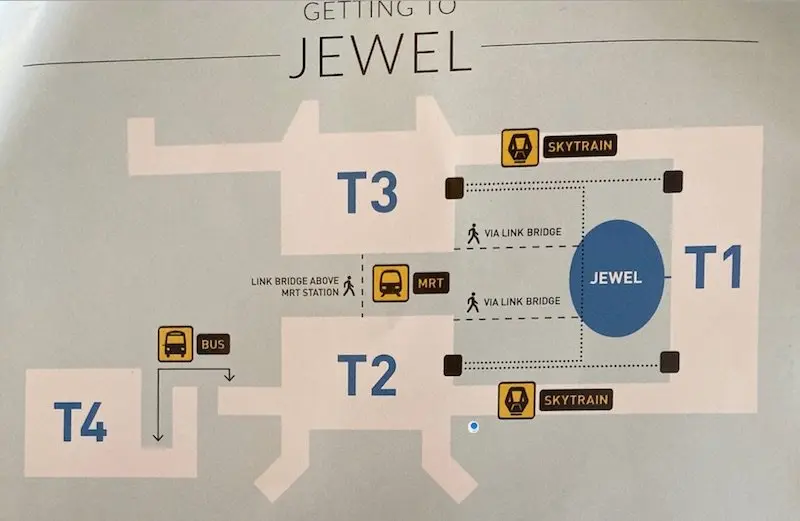 How to get to Jewel Changi Airport
Jewel from T1: Jewel's North entrance is connected to T1, Arrival Hall at Level 1
Jewel from T2: Head to the Departure Hall, Level 2 (Row 1) and take the escalator to Level 3 to access the link bridge to Jewel
Jewel from T3: Link bridge is located at Departure Hall, Level 2 (near Crowne Plaza)
Jewel from T4: Take the complimentary Airport Shuttle Bus to T2 and make your way to Departure Hall, Level 2 (near Row 1). Take escalator to Level 3 to access the link bridge to Jewel.
By shuttle bus: Hop on the complimentary 24-hour Airport Shuttle Bus that runs between T2 and T4.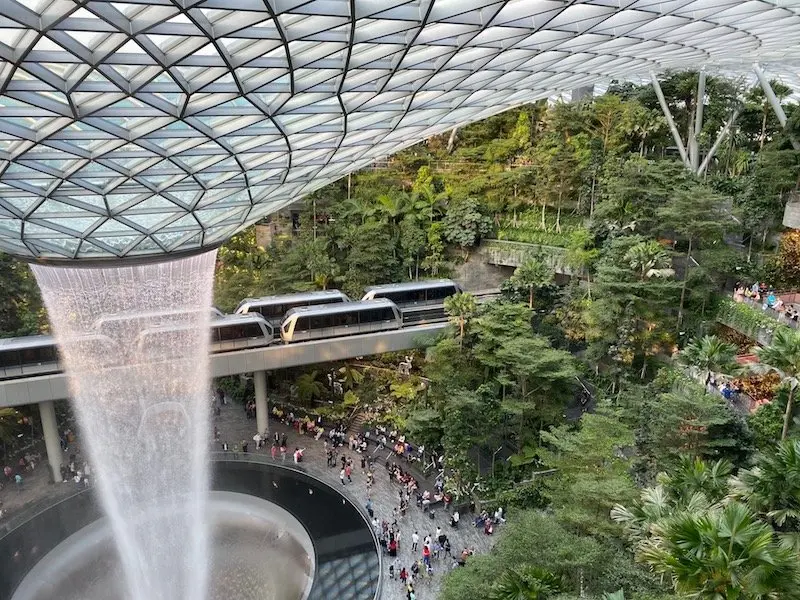 By Skytrain:
T1, T2 and T3 are connected by a complimentary Skytrain service in both the transit and public areas
Operating hours are 5am to 2.30am.
Trains come every 4 minutes
Travel time between stations is 4 minutes
Our hot tip is to take this trip just for the fun of it!
On foot:
Use the inter-terminal travellators located through the Departure Transit areas to move between T1, T2, and T3 within the transit area
To move quickly between T2 and T3 within public area, use the Mezzanine Level link bridge between the two terminals.
Jewel Changi Map of Jewel Changi Airport Attractions

FREQUENTLY ASKED QUESTIONS
Jewel Changi Baggage Storage
There's nowhere to store your luggage near the Jewel attractions at Changi airport, and you can't take bags or suitcases in with you.
Find Luggage Storage at Changi airport in Terminal 1.
The Left Luggage facility at Changi is in the transit area on Level 2, Departure Transit Hall Central (next to Cocoa & Co.). The cost for small items below 10kg is S$10 per item, or S$15.00 for items above 10kg, per 24 hours.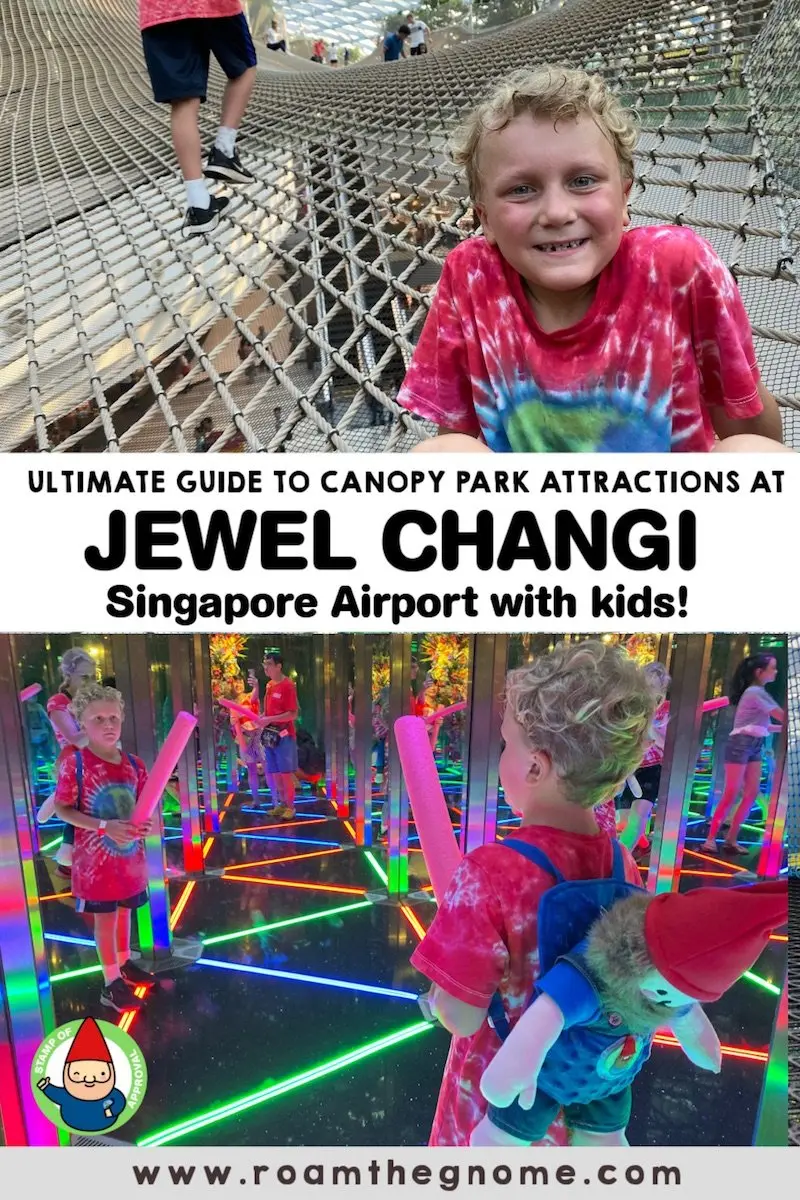 What is the Singapore Airport Shuttle?
Heading into Singapore after your Jewel adventures.
Book a ride on a Singapore Airport shuttle.
It's a handy way to get from Changi airport into Singapore city, at a good price.
Prices starting from $12.15 AUD or $8.30 USD.
Book Now: Changi Airport Shuttle – 1 way transfer (via Get Your Guide)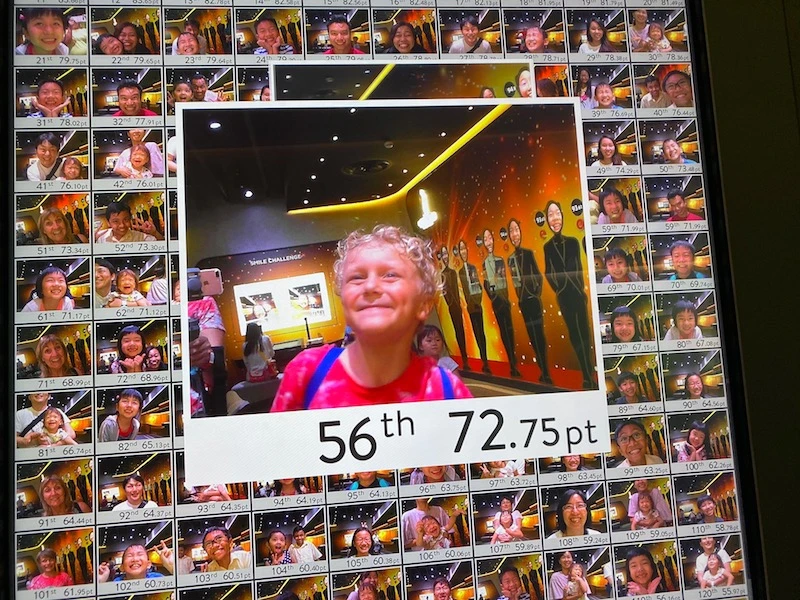 Buy the Jewel Singapore Attractions Ticket (Jewel Bundle Package)
It's not cheap to explore all the attractions at the Jewel terminal at Changi airport.
A all-pass bundle package ticket (available online only) to all Jewel attractions for one adult and two kids cost S$171.oo (equivalent to $127 USD or $185 AUD ).
But IT'S WORTH IT!
There's attractions here that you can't find anywhere else in the world. Plus photo opportunities to die for!

Looking for More Things to Do in Singapore with Kids?
Click the blue links below for more Singapore attractions