Heading to Byron Bay these holidays?
Here's our Top 3 Family Friendly Things to Do in Byron Bay with the Kids in Tow.


Our Roam the Gnome Headquarters  (our home!) is just 10 minutes up the road from Byron Bay, and Ned's school is on the way into town, so Byron Bay is our permanent holiday destination. It's already a VERY popular spot for tourists, travellers, backpackers, honeymooners, surfers, and for girls/boys weekends but perhaps less so for families thinking of an adventure…

(I've a hunch that most people on a family holiday to this area book their accommodation on the Gold Coast with all it's theme parks, beaches and water activities. But it's close enough for a Byron Bay day trip too- best of both worlds!)

But did you know there's a bucketload of things to do in Byron Bay with the kids? So we thought we'd give you a little local's insight and tell you our top three things to do in Byron Bay, especially when we have visiting friends in tow.

1. CIRCUS ARTS
Byron Bay Arts and Industrial Estate.

Have you ever wanted to run away with the circus?  Perhaps you would just like a go on a BIG TRAPEZE….   in front of your kids? (See, look how brave mama is!) or maybe you are just looking for a fabulous day out? There is so many things to do in Byron Bay for families on holiday that I'd better start jotting it down…

Book a class online today… or just turn up.

Join in a circus class – circus for fun (think hula hoops, aerials, acrobatics, and tumbling), parkour (where you use your body to jump obstacles) or create your own circus experience with a private class
Take a turn on the Flying Trapeze (head on down every NSW school holidays at 12.30pm and 4.30pm Monday to Friday, and at 12.30pm on a Saturday
Climb up the gigantic indoor rock wall (We love the NEW- auto belays)
Play in the Kids Play Space for two hours – jump on a jumping castle, walk the bridge, build with bricks, ride the cars, and wiggle your way into the NEW tube play equipment tunnels. (Socks required. for ages 1- 10.)
Join in a School Holiday workshop. Kids will juggle, hula the hoop, swing on the low trapeze, bounce on the mini-tramp, and more! Half day $40 (9.30am to 12 lunchtime, or 2 -4.30pm afternoon session) or Full Day (9.30 am to 4.30 pm – lunch included)
Mums and dads have plenty of options too… try a yoga class, workout in the gym, climb that wall, or read a book or catch up on Facebook with coffee from the onsite cafe.
Our Hot Tip for Things to Do in Byron Bay at Circus Arts

Try the "SUPER SLICE".  You'll see it under a glass dome on the counter. This stuff is outrageously good (SUPER in fact!) AND made by a local Ocean Shores gal.  Can't get fresher than that.
For a little sneak peek of some of the things you and your kids can do, watch our little video…
The Inside Scoop – Circus Arts
Opening Hours:
Entry Fees/Costs:
Various. From $8 (Kidspace entry)
Contact:
Phone: 02 6685 6566 OR 0412 402742
Location and Map:
Find Circus Arts at 17 Centennial Ct, in the Byron Bay Arts and Industrial Estate. Turn left at the BP as you head into town, and follow that for about 500 metres until you find the SECOND entrance, the other end, of Centennial Cct. Circus Arts is on your left, a BIG building about 200 metres in.  Parking inside the gates (if you are lucky) or find a park on the street.
2. "THE FARM"


If you haven't yet heard of The Farm, at Byron Bay, it's time to find out more!  The Farm is a cafe/restaurant/farm/shop collaboration that is located just metres from the Highway as you take the Byron Bay exit turn off.  The Farm Byron Bay is on your left… you can't miss it, BUT you may miss the entrance!  (Heads up…  take the FIRST LEFT turn you can into Woodford Lane, just past the roundabout with the big Stonehenge style stones in the centre. Drive a little way down this road, about 100 metres, and the entrance to the carpark is on your right.)

Grow, Feed and Educate

The Farm's motto is the Grow, Feed and Educate, and they walk their talk, with a 100% spray and chemical free guarantee, sustainable practices and traditional methods of growing food for the community.  (Check out their roving chicken pen…

I'd say Joel Salatin would have given it a big thumbs up on his recent visit!)

With this health-centred motto in mind, the Farm's residents, Three Blue Ducks Restaurant & Cafe, The Bread Social, Flowers at The Farm, and workshops/events such as Fork in The Field for kids, Milkwood Permaculture courses and Farm Yoga, are all about bringing this vision to reality.

But let's get back to the kids…

There's REAL LIVE farm animals- chickens by the hundred, and resident pigs you can say hi too.  And a very cool rustic playground perfect for the over 4's with its' own 'resting tractor', climbing frame, room to run around AND make noise (it's far enough away from the cafe/restaurant for everyone to be happy) and a VERY steep slide.  (NB: Keep a close eye on toddlers in this space. That slide is manic, and the playground is NOT closed in so wandering wobblers do have access to a busy car park!)

There's picnic tables, and shade, and a water bubbler close by too, so parents, it is possible to grab something portable from The Bread Social (think delicious fruit muffins, savoury treats, and coffee by the cup) so you can hang out nearby. But if your kids are old enough to handle sitting at a proper table for breakfast or lunch, take a look at the Three Blue Ducks menu. Yum!
For a sneak peek inside, watch this.
The Inside Scoop – The Farm
Opening Hours:
Up with the birds… till late.
Entry Costs:
Contact:
Phone: 02 6684 7888
Email: info@thefarmbyronbay.com.au
http://thefarmbyronbay.com.au Website
Location:
11 Ewingsdale Rd, Ewingsdale 2481

3.  THE NEW BYRON BAY LIBRARY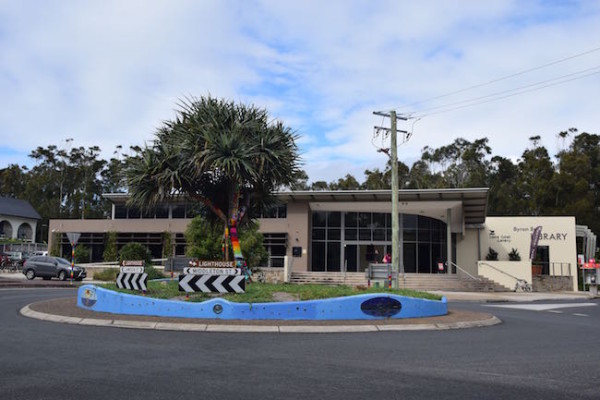 We all know about the beaches, and the lighthouse walk, and the fun shops to browse, and the restaurants in Byron Bay, but when you are looking for things to do in Byron Bay with the kids, sometimes all you want is somewhere cool, calm and collected to gather your thoughts away from the hippie crowds, the new age energy, the suntanned backpackers, the loved-up sidewalk wanderers and the noise of Byron Bay.  Or perhaps you are just looking for Wifi so you can share all your fun family instagram snaps!  It's your lucky day… visitors can access two hours of FREE wifi just by logging on to the library hotspot.  (If you are a member, it's free access all day!)

The Byron Bay library is one of the newer buildings in town, and is also a lovely cool spot out of the hot sun when the kids, and you, want a bit of down time with a quiet book.   (Don't you think that reading books is one of the best bits of a holiday?  We do!) There's also regular school holiday activities – check the program online.

There's also a regular story time (10.30am on Tuesdays), and Baby Bounce (10.00 am on Fridays), not to mention School Holiday craft…




Bonus!  The Byron Bay Library precinct has its' own art gallery. Art lovers, take a little squizz at the Lone Goat Art Gallery on your way out.

The Inside Scoop- Byron Bay Library
Opening Hours:
Monday to Wednesday; Friday – 9.30am to 5pm
Thursday  9.30am to 7pm
Saturday  9.00am to 12 noon.
Entry Fees:
Contact:
Phone: 02 6685 8540
Email: council@byron.nsw.gov.au
Location and Map:
Corner of Lawson and Middleton Streets, Byron Bay
NB:  Ignore the silly Google map icon below. It's in the wrong place!…
Instead look for LAWSON street (the main road running parallel to the beach) and follow it along until you reach the roundabout at Middleton street. The library is on your right at the roundabout. You can't miss it!
PS: I know I said THREE things but I can't help myself. Here's one sneaky extra…
4. ESSENTIALLY BYRON

For one of the best kid-friendly toy shops I've ever been into anywhere, stop by "Essentially Byron, fun stuff for kids".  It's on the left side of the road, just past the MAIN roundabout as you hit town. It's underneath the Balcony Restaurant.

They stock so many cute things from the best brands from around the world… better watch your wallets.  But oh gee, if you are looking for a cool reminder of your time in Byron town, on point with modern design, RUN… don't walk!




Brands they stock for children's wear include:  
Hatleys (Canada) for stylish pyjamas and raincoats
Claesans (Dutch)
PLUM
Orbit Kids (a Byron Bay local with cute 'hippie' style kids outfits)
See Kai Run Shoes
Sun Emporium Swimwear
Djeco (Art and craft packs, just perfect for mini-travellers and car journeys)
Seedling (craft sets. For hotel room quiet.)
Green Start puzzles and books
The Inside Scoop – Essentially Byron
Opening Hours:
Seven days a week. Call for details.
Contact:
Phone: 02 66808616
Email: essentiallybyron@bigpond.com
Location and Map
1/3 Lawson Street, Byron Bay
Looking for MORE SUPER DOOPER FUN things to do in Byron Bay?
Click the links in blue below.
Disclosure: If you book hotels or activities, or buy products through a link on Roam the Gnome, we may receive a small affiliate income.
Thank you for your support in helping us to grow this Family Travel Directory.