INSIDE: Roam the Gnome's Guide to the Best Things to Do in Rome Italy with Kids.
Hello, and welcome to our Rome Travel Blog.
Together with Roam the Gnome, we love to explore all the best family-friendly adventures for kids in Rome and share our finds with you.
If you are looking for things to do in Rome Italy with kids, you have come to the right place.
Rome, Italy's capital, is a gorgeous cosmopolitan city full of history, culture, and legend. When on a Rome vacation, you'll be immersed in 3,000 years of globally influential art, architecture, sculptures, stories, and culture.
Check out our list of Rome attractions below and click the links to add these ideas to your list of top things to do in Rome.
Disclosure: This article may contain affiliate links. If you book a product or service after clicking on one of these links, we may receive a small commission at NO extra cost to you.
The ULTIMATE Roam the Gnome Guide of Things to do in Rome Italy with Kids and Family
Correct at time of publication. Please check with venue for updates. We apologise in advance if there have been any changes we are unaware of. All prices in euro, unless otherwise stated.
Visit ancient ruins such as the Forum, the Colosseum, the Pantheon and the tens of Piazzas.
Bring the former Roman Empire to life through tours, stories and experiences.
If you are travelling in Rome with kindergarten or school aged children, visit Vatican City.
Visit the headquarters of the Roman Catholic Church, to see Michelangelo's Sistine Chapel frescoes and St. Peter's Basilica too.
Worried about the queues and the crowds at the Vatican? Take this skip-the-line family tour of the Vatican and Sistine chapel. This private tour has been designed with kids in mind, and includes games and fun facts.
Committed foodies will be in heaven in Rome, and so will the kids – with every kind of spaghetti, pasta, pizza and gelati you can imagine- right at your fingertips.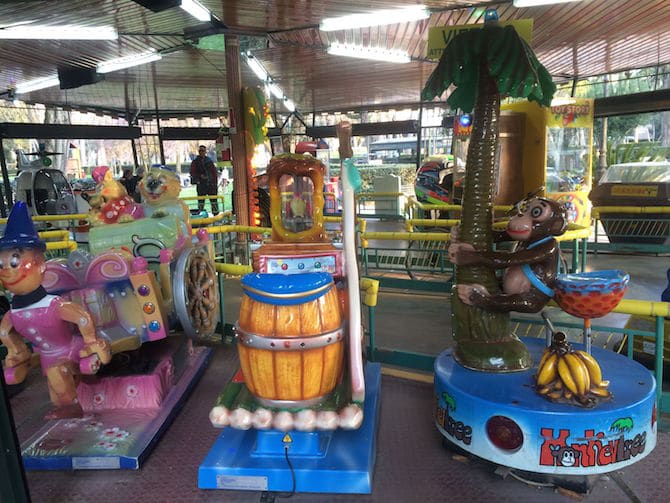 Suggestions for the Top Things to Do in Rome with Kids
We share Rome points of interest, the MUST DO places to see in Rome, all the SUPER FUN things to do in Rome with kids, and all about Rome travel so you can find these places quickly and easily.
We hope our tips help you to compile your Rome Sightseeing Bucket List with kids quickly and easily.
We are thinking about creating a 2 day Rome itinerary or what to do in Rome in 3 days section. Let us know in the comments or email us direct at hello@roamthegnome.com if this would be useful to you.
We'd also love to know about YOUR finds. What places did you love? What Rome surprises did you find?
If you are planning to visit ROME with kids, Roam the Gnome Family Travel Blog will help save you time, stress & money when planning to BOOK YOUR NEXT TRIP!

ROME ACCOMMODATION FOR FAMILIES
Best place to stay in Rome with kids
Trevi Independent Suites
We adored our stay at the Trevi Independent Suites in Rome. This AirBNB apartment was METRES away from the Trevi Fountain. We know, because we stumbled upon it on our first early morning exploration of the local area. We'd stay there again because the location cannot be beat.
Check latest prices. Read full review.
Rome Cavalieri Hotel
The Rome Cavalieri Hotel has a KIDS CLUB! (It's one of the only ones you'll find in the city.) Which means you can leave them – guilt free- at the hotel while you head out for a bit of grown-up exploring. Sounds good to me.
Check latest prices. Read full review.
More Rome Hotels for Families coming soon…
SHOPPING IN ROME
The Best Things to Buy in Rome
One of our most visited pages is Roam the Gnome's Guide to the TOP 5 Italy souvenirs and gift ideas you can buy in Rome.
If you are wondering what to buy in Rome, or ideas for unique Rome souvenirs, this is the guide you need.

Pinocchio Rome Toy Shop
A special mention must go to the Pinocchio shop in Rome, our go-to place for cute souvenirs and home decor for kids and kids-at-heart.

Rome Markets
Should you go to the Porta Portese markets in Trastevere?
Read our review to find out our thoughts on it.
Toy Shops in Rome
Looking for a toy store in Rome? Need to buy toys or souvenirs for kids?
Little Big Town Toy Store in Rome has all the local brands and Italian favourites too. Plus a wall of Italian chocolate gifts to choose from.

Leather Shopping in Rome
Visit this Rome Shopping Street to find leather handbags, leather shoes, and leather purses.
Stumbling upon this street was a gift to me, and our story has helped the THOUSANDS of visitors who come to Italy looking for leather in Rome since.
BEST PLACES TO EAT IN ROME
Eating in Rome with Kids?
Make a plan to find these Top 10 Italian dishes to try in Rome with kids!
You must also stop by this fabulous authentic pizza shop, Pizza Florida for what we think is the best pizza in Rome

Italian Hot Chocolate
Do one thing for certain. Order an ITALIAN HOT CHOCOLATE.
This thick hot chocolate needs a spoon. I need to go back to Rome to write an Italian Hot Chocolate comparison guide. Don't you agree?

See the Iconic Sights in Rome
Taking the kids to see the Roman Colosseum is a no-brainer. (Not sure what's with the tongues in this pic, but it's the only selfie we have of the three of us.)
Hot tip: Watch out for pickpockets near the outrageously expensive ice-cream vendors positioned outside the Colosseum. Skip the icy treat here, and head back into town to find one of the more affordable gelato bars.
But hands down, the winner of the "best things to do in Rome" competition would be signing up for Gladiator training.
This experience continues to top our list of amazing adventures we've had travelling.
We visited the Colosseum after a morning well spent on a tour, experiencing what it was like to be a real life Gladiator. Take a look.

THE BEST THINGS TO DO IN ROME WITH KIDS
Our other favourite thing to do in Rome on our last trip was to jump onto one of the electric pedal-powered cars in Villa Borghese Gardens to explore the place thoroughly.
Hot tip: Be sure to have cash on you if you want to hire a bike too. They don't take cards.
Here's three more things you should do in Rome with kids:
1. Make your very own Trevi Fountain wish before you leave this historical city. It's said to guarantee you'll one day return. The Trevi fountain is a must see in Rome.
2. The Rome Explora Museum for kids is a must-do. See the Museums in Rome for Kids section below for details.
3. We highly suggest you do go see ALL the Pinocchio dolls and toys at the cute Pinocchio toy shop we mentioned above – you can take a pic with a life-size Pinocchio too. Go, even if you don't normally visit toy shops on your travels.

Best Rome Tours with Kids
Looking for the best tours in Rome for kids and families? Take a look at these Rome tours for kids:
Join a REAL LIFE Gladiator Experience for Kids
THIS is the best Rome tour we've ever done. We personally vouch for it.
Take a look at our video for a sneak peek. (it's a very long indulgent video too – sorry! It was one of my first video attempts years ago. Skip to the good bits.)
It's not the cheapest guided tour in Rome, but it is THE BEST way to make Ancient Roman history come alive for kids. We HIGHLY recommend it.
Colosseum – Gladiator's Entrance Tickets & Arena Floor
Walk in the footsteps of the Gladiators on this tour when you enter THROUGH the same gates that the Gladiators would have taken to enter the arena, ready for battle! This is not your everyday experience of the Colosseum. Book it now.
Colosseum and Ancient Rome Family Tour for Kids
Here's a real child friendly tour of the Colosseum and the Roman forum, with skip the line entry to both.
This tour includes fun games and activities for the kids to learn more about life in Ancient Rome and the Roman Empire. There's even a prize for every kid at the end. I know that taking a tour with other families and their kids is a winner.
The kids entertain one another, I get a break to chat to the other travelling parents, and we share ideas of more fun places in Rome to visit. Win win win.
Rome: 2-Hour Vatican Museums Highlights for Families
Take the kids through one of Rome's best art collections on this specially designed 2-hour Vatican Museums family tour for children aged between 7 to 12-years-old.
The best bit? Everyone wears a headset so kids will always be able to hear what the guide is saying.
Tour includes Skip-the-line access to the Vatican Museums and St Peter's Basilica.
Fun Things to Do in Rome With Kids
Check out the street entertainment in the Piazza del Popolo on your way to the Rome Children's Museum. (It's just a few hundred metres away).
Piazza del Popolo is less touristy than many of the other sites in Rome, and definitely more of a local's hangout. The space is welcome too – kids can let off steam here without worrying about annoying anyone or running into traffic.
We love this Rome piazza.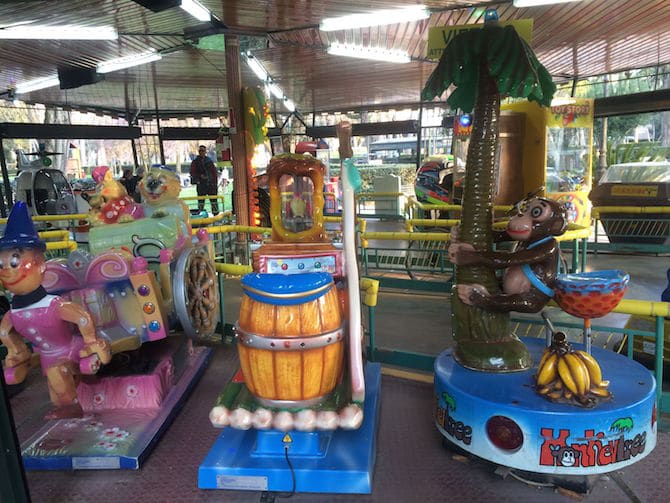 You can also spend a few hours undercover playing the games and taking turns on the coin operated rides in this retro style games arcade at Villa Borghese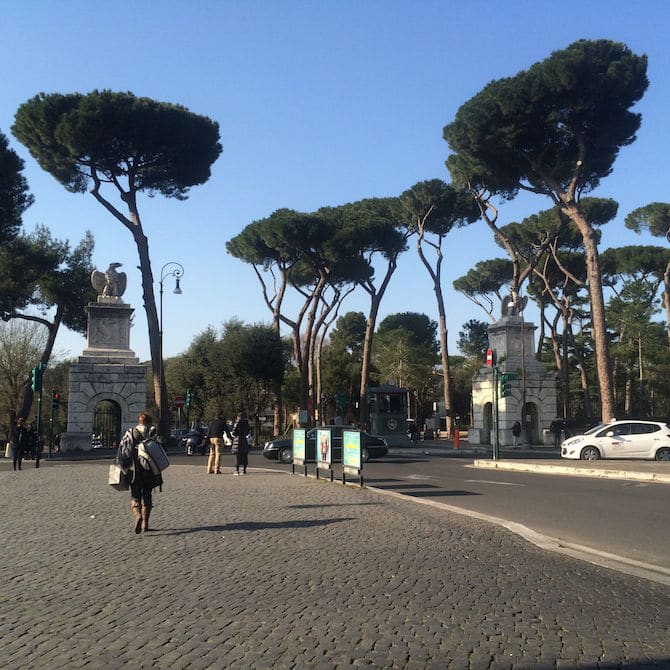 Best Gardens in Rome
The Villa Borghese Gardens are a hidden treasure but boy, it's not easy to find the entrance!
Follow our tips, and you'll wander past our favourite leather handbag shopping street in Rome mentioned above.
Here's a list of our top 10 things to do in Villa Borghese gardens with kids.
We highly recommend a visit here. We love this park.

Best Zoos in Rome and Wildlife Sanctuaries
Visit the Bioparco Zoo at Villa Borghese to see Indian elephants, giraffes, brown bears, pygmy hippos, and camels.
There's also a reptile house, chimpanzees, lions, tigers, leopards and lynxes.
Entry is €16.00 for adults, and €13.00 for kids over 1 metre tall and under 10 years of age.
There's FREE entry for kids under 1 metre tall. (Strange that height is a factor, but true!)
The Bioparco train costs an extra €1.50 per person.
Image credit: Douglas Lara
Playgrounds in Rome
Wondering where to find Rome playgrounds? So are we.
We found one kids playground in Rome at Villa Borghese, but otherwise, we saw very few 'playgrounds' around.
There is a kids playground, Parco Giochi per Bambini at the Giardino Botanico botanical gardens south of the Colosseum.
Let us know what you've found.
Image credit: Eden Park
Best Theme Parks in Rome
Luckily, Rome does have quite a number of 'theme parks'.
Hydromania water park is Rome's answer to Wet'n'Wild with wave machines, slides, and extreme water rides
With the exception of Hydromania, the rest of Rome's theme parks remind me of a travelling carnival fair, now permanently set up at a fixed address in the suburbs of Rome. They have the same kind of atmosphere.
Each one is a random eclectic gathering of vintage coin-operated rides, arcade games, jumping castles, inflatables, dodgem cars, and the odd roller coaster. Fun for kids, but without the polish or price tags of Disneyland or Universal studios.
Hence the charm!
We haven't been to any of these Rome attractions yet, but they are on our list of fun theme parks to visit in Rome next trip.
See below for details.
Oasi Park, another small Roman theme park that won't break the bank. A fun place for a few hours time out from the history and artefacts for the kids.
Eden Park – water boats, mini rollercoaster, pirate ship, shows and entertainment, ball pits, dodgem cars, arcade games, playground equipment, and slightly dodgy looking dressed up characters!
Il Fantastico Mondo del Fantastico – a neighbourhood version of Disneyland, in a castle!
Parco Morelli
Family Park, 18 minutes from the Pantheon via taxi, has swing chairs, inflatables, dodgem cars, small roller coasters, coin operated rides, and playground equipment. A great place to meet the locals.
EurPark Energy and Adventure'Eden Park
Rainbow Amusement Park
Parco Scuola del Traffico (Fun Traffic park)
Neverland – local children's amusement park with coin operated rides, jumping castles, dodgems and play equipment
Baby Luna Park is another indoor amusement park, similar to the one above
Gnomilandia is an indoor childrens play centre for toddlers and young kids on the outskirts of Rome
Art Galleries in Rome for Kids
The thing about Rome is that not all their art is indoors. You'll find LOTS of centuries old sculptures and iconic Roman statues outdoors too, especially in the piazzas around town.
See the fountains at Piazza Navona. Even on an overcast day, they were spectacular.
If you are wondering what other things to see in Rome with kids, we recommend the Spanish Steps. We literally stumbled upon them.
When visiting Rome, you can also try the Castel Sant Angelo, Piazza Venezia,

Museums in Rome for Kids
Wondering what to do in Rome on a rainy day? Visit the Rome EXPLORA children's museum.
Be sure to book your session ahead of time. It's very popular with families in Rome, two levels of hands-on activities plus a playground outside too.
This is something to do in Rome with toddlers, the best of the child friendly Rome attractions.
EVENTS – Things for Kids to do in Rome During your Visit
Keep an eye out for the latest issue of Romeing Magazine.
They share latest events and fun family things to do with kids in Rome too.

THE INSIDE SCOOP- ROME TRAVEL BLOG
Correct at time of publication. Please check with venue for updates. We apologise in advance if there have been any changes we are unaware of. All prices in US dollars, unless otherwise stated.
ROME WEATHER
What is the weather in Rome today?
Click here to find up-to-date Rome Weather reports.
GETTING AROUND ROME
The Rome Tourism Board has all the details of getting around Rome on foot, by bus, by metro, by taxi, by bike, and by train.
VISIT ROME ON A BUDGET
Looking for free things to do in Rome?
These attractions should be top of your list of free stuff to do in Rome.
Try these:
The Pantheon
Toss a coin into the Trevi Fountain
Piazza Navona
Piazza Campo dei Fiori (Field of flowers public square)
Spanish Steps
Saint Peter's Basilica
Papal audience (Wednesdays, reservation required)
Vatican Museum on the first Sunday of the month (crowded though!)
Appia Antica (or Appian Way) – this is home to the Gladiator School Tour in Rome
Square of the Mouth of Truth disk (Piazza Bocca della Verita)
Walk around Trastevere & Testaccio
Aula Ottaganale ancient roman sculptures
Buying the ROMA Pass is another tip for budget travel in Rome.

LOOKING FOR MORE FUN CITIES TO VISIT WITH KIDS?
We'd love to help. Click the links in blue below for our Ultimate Destination Guides.