We LOVE Muji and we ADORE the Muji Shibuya Playroom Space for Little Ones!

When you travel or have a big day out with kids, a playground find is like a lotto win. Totally unexpected AND somewhat life-changing! The Muji Shibuya Playroom shows us that the big bosses are listening. Mamas need a respite every now and then when they shop. Big cheers to Muji management for making this Muji Shibuya Playroom a reality.

In Japan, more than most cities, the sheer busyness and volume of people can tire even the most stoic child, and finding somewhere where they can run off a bit of steam is not just fun, it's a necessity.  But finding a playground in mid-city Tokyo in amongst the shops is near impossible. When Roam the Gnome and I stumbled upon this Muji Shibuya Playroom space for children 0 – 3 years old on Level 5, we were ecstatic!  A playroom in the Muji/Loft** building means we can do our craft/food/stationery shopping in record time with kids in tow, then pop up here for a browse and a bit of playtime in the most beautiful (if small) of natural timber settings.

**Cross through into our other favourite store LOFT via the B1F and 1st floors only. 

Take a peek at the Muji Shibuya Playroom for yourself.
Artistic Design

Dedicated Shoe Racks  (Oh Japan, we love you!)

Ramps, Rolling Toys, Ride-on's and Magnetic Boards

Rocking horses and Hammering Toys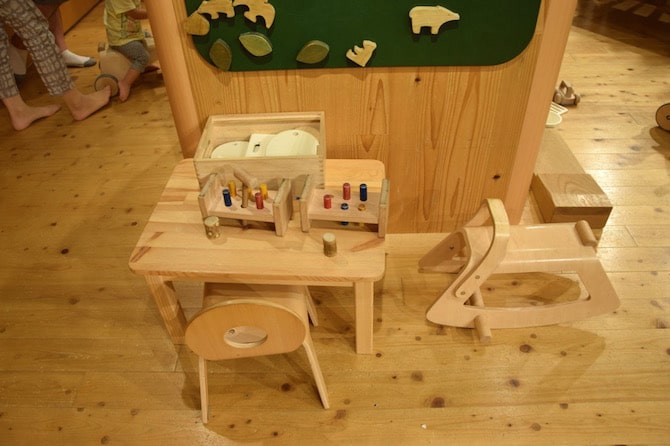 Miniature Ball Pit (with wooden balls!)

Book corner (Japanese only)

A few cushions for adult bottoms wouldn't go astray!


Dedicated Pram Parking

Child Snacks for Sale too!


Muji Shibuya – one of our favourite Japanese stores ever!

Take a peek at what you can buy (or covet) at Muji Shibuya!  In my dream life, I'd buy the contents from the entire store.

Here's a peek at our favourite things.

B1F –  Living room, Bedroom, Kitchen & Dining room and Household goods

That furniture setting! That shelving! That buffet!



Beautiful serving trays and white ceramic ware



Onsen-style bathing tools. The stool! The water bucket!



B1F also has its' own decadent Food Hall (Grocery), filled with organic and quality food products that foodies will adore!


1F – Bicycles, Travel goods

Eco Soulife bowls, plates and cups, from my homeland! Did you know these biodegradable dining ware are made from vegetable waste matter of corn, starch, bamboo and rice husks. When you've finished with them, they biodegrade back to the earth, unlike plastic. Clever!


2F – Muji Cafeteria and Delicatessen
3F – Womenswear, Health and beauty
4F – Menswear, Stationery
5F – Children's wear, Maternity, TOYS!, parent's room, and the Muji Shibuya Playroom!

Beautiful and simply packaged wooden toys and books.  Pull alongs, blocks, musical instruments, roller toys, puzzles, and more. School and stationery goods too.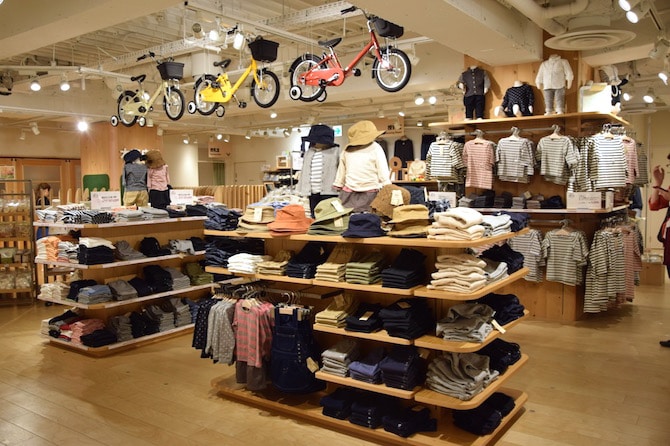 The Inside Scoop
Opening Hours & Entry Fees
Contact
Phone: 03-3770-1637
Muji Website (Use translator to switch text to English)
Travel options
The Shibuya branch of Muji is near to the main Shibuya Crossing. From the JR Shibuya station, walk out the Hachiko Exit (West Side) passing the Dog Statue. Cross at the main crossing. Walk up Inokashira Dori and follow the road, past another crossing, (don't turn sharp left at this intersection, continue on this road and it will start to veer left on a slight diagonal.) Walk past Cartier, and the Disney store and you'll left Muji on your left opposite Rakuten Cafe. NB: Loft is directly behind Muji. Easiest way is to go through the building.
Location and Map
Address: 21-1 Udagawa-cho, Shibuya-ku, Tokyo

Guest relations & Facilities
Muji has a nursing room with bottle warming facilities just behind the Muji Shibuya Playroom
Eat and Drink
Muji Cafe and Delicatessen is on Level 2. We didn't eat there but I've heard good reports.
Toadstool Rating (by the kids)
Instagram:
Family Travel Ideas with Roam the Gnome
We love to share the SUPER FUN kid-friendly stuff we find around the world, so you can go there too!