INSIDE: Visit Tokyo Character Street – an alleyway of shops full of Japanese cartoon character toys.
Japan loves a good animated character, and I've fallen in love with a few different Japanese characters in my time.
Hello Kitty, Little Twin Stars, and My Melody were part of my early childhood years, and perhaps yours too?
At 15, on my first visit to Tokyo, I met Pochacco the puppy, and Kerokeropi, the happy green frog and fell in love with Japanese cartoon characters all over again.
These days, there's more Japanese characters than ever before!
Rilakkuma is one.
Created by Aki Kondo, the name is a combo of the Japanese pronunciation for Relax (rila) and Bear (kuma).
Nameko and Rascal are two more.
These two are popular characters with Japanese children and they are now stars of their own cartoon show!
There's a 'cute' kawaii character in Japan for everyone, young and old, with the heart of a child.
You can stock up on a bunch of cute Japanese characters by shopping at Tokyo station Character Street.
Disclosure: This article contains affiliate links. If you make a purchase after clicking on one of these links, we may receive a small commission at NO extra cost to you.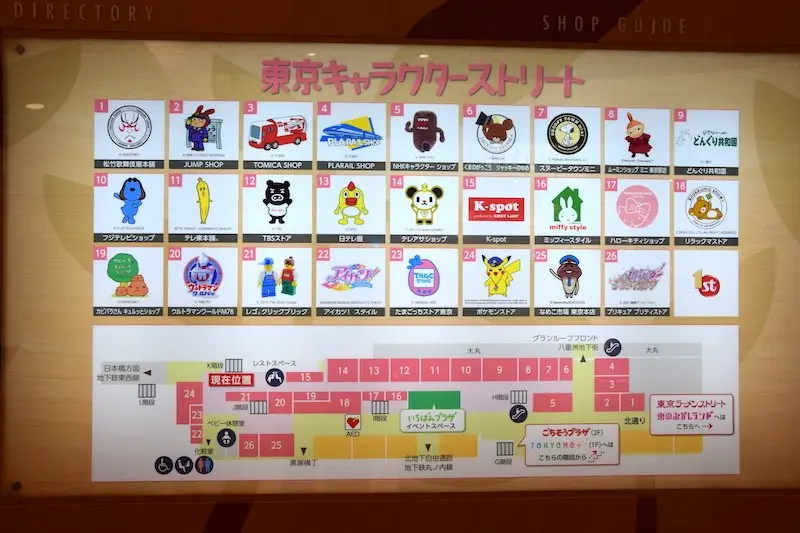 Best Tokyo Character Street Shopping Guide for Families, Kids and Teens
Happily, for Japanese characters lovers, there is a place on the B1F floor of First Avenue Tokyo Station called Tokyo Character Street Shopping arcade.
If your kids have a favourite Japanese character, (or more than one!), you're likely to find their Japanese Character Shop here.
Check out our travel guide to Tokyo Character street below where we try to answer your questions:
Where is Tokyo Character Street?
How to find Tokyo Character Street?
How to get to Tokyo Character Street?
And more!
---
RELATED: Big List of the Best Things to do in Tokyo With Kids
Character Street Tokyo Station Precinct
There are 26 stores of popular Japanese characters for kids in this precinct, and all we can guarantee is that you won't make it through without at least one purchase!
If you are shopping for family and friends, there's also plenty of Japanese character-inspired gifts and trinkets.
This shopping area in Tokyo station is not the cheapest, but if you want to sort out your souvenirs in one spot while the kids attention is happily occupied, this is the place.
Check the directory at the start of Character Street to see all the Japanese shops that call this place home.
The Ultimate List of Tokyo Character Street Stores.
Want to know more about the shops at Tokyo Character Street Tokyo Station, and what you can buy?
Hot tip: TOKYO CHARACTER STREET is the BEST place to shop for Japanese Plush Toys
Read on…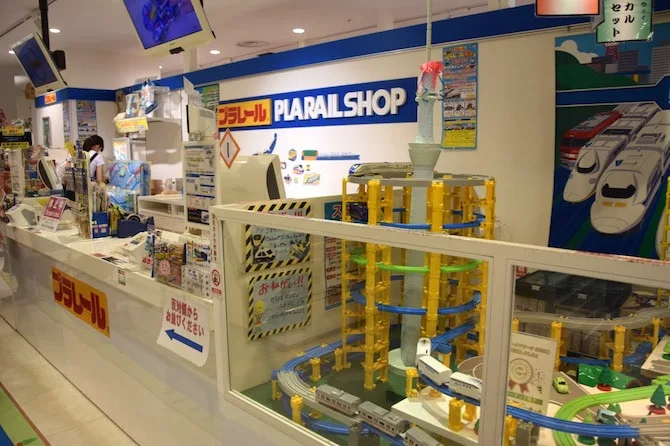 No.1: Plarail Store
For all things Shinkansen train related!
Good for a quintessentially Japanese souvenir.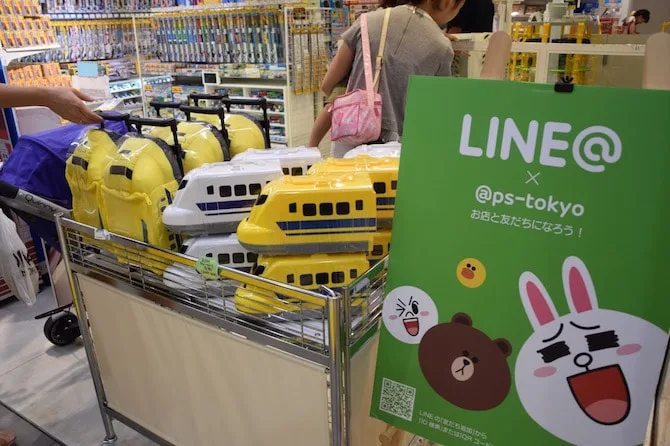 There's:
Shinkansen toys
Model trains
Shinkansen kids luggage
Shinkansen bento lunchboxes!
Shinkansen chopsticks
Shinkansen toothbrushes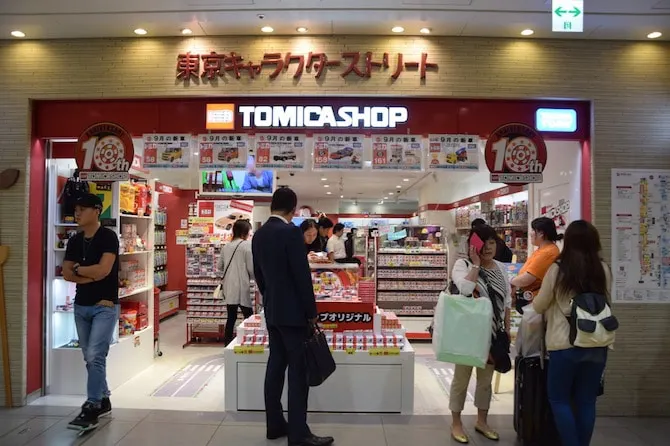 No.2: Tomica Shop
Tomica's mission is to give the children of Japan small diecast cars based on the vehicles produced by Japan's own automobile makers that fit in the palm of their hand.
Did you know that today, around four in every five Japanese children under the age of eight own at least one Tomica product!
These days, there are 140 models in the Tomica diecast lineup at any one time.
The lineup is continually being refreshed with the release of a new model on the third Saturday of each month.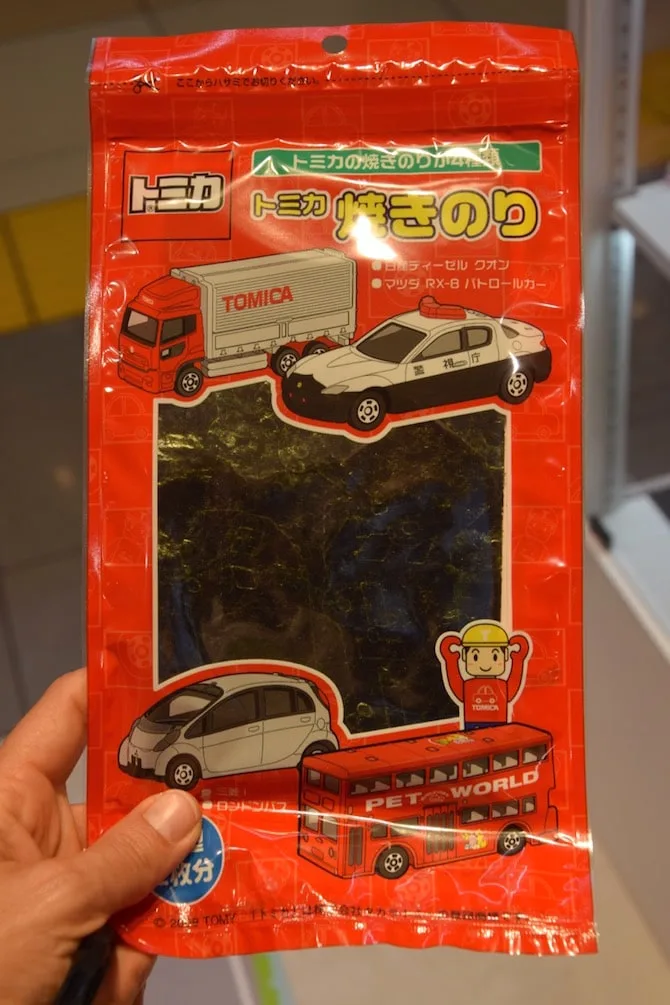 Beyond diecast cars, Tomica Shops have a wide variety of:
Tomica-branded household goods
Tomica candy
Tomica apparel, and
other Tomika merchandise.
Roam the Gnome and I especially loved the Japanese seaweed NORI PAPER treats in car and truck shapes!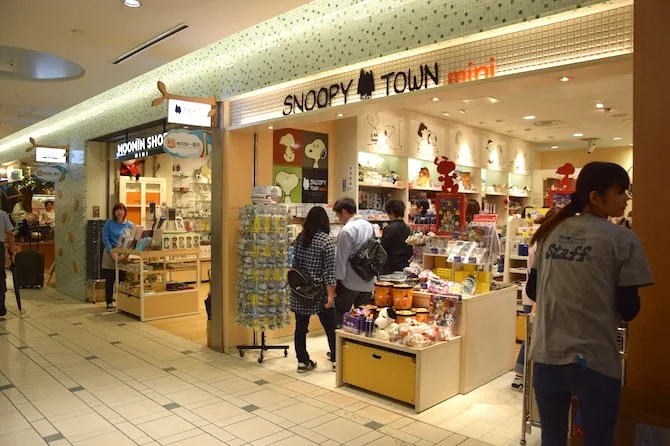 No.3: Snoopy Town
Snoopy is Charlie Brown's pet beagle in the comic strip Peanuts by Charles M. Schulz.
This Snoopy shop in Character street sells:
Snoopy keyrings
Snoopy stationery
Snoopy stuffed toys
Snoopy character toys
Snoopy ornaments
Snoopy face cloths and toiletries
Snoopy art work
It's a dream come true for Snoopy fans.
No.4: The Moomin Shop Tokyo
The Moomins are the central characters in a series of books and a comic strip by Swedish-speaking Finnish illustrator Tove Jansson, originally published in Swedish by Schildts in Finland.
They look like white hippos!
Japanese LOVE Moomin and there's a whole Moomin shop in Character street dedicated to them.

No.5: Pokemon Store Tokyo Station
Plan your day of Tokyo Station shopping to include a visit to the Pokemon store, miniature version.
The Tokyo character street Pokémon store sells:
Pokemon plush toys
Pokemon gachapon capsule toys
Pokemon stationery
Pokemon trading cards
Pokemon t shirts
Pikachu stuffed toys
Pikachu bags and totes
READ MORE: The Tokyo Pokemon Mega Center is in Sunshine City, Ikebukuro.
No.6: Nameko and Rascal shop
This is where you'll find that much loved 'mushroom' character who is based on a slimy nameko (or "pholiota nameko" to be exact) variety of mushroom that's often used in dishes like miso soup!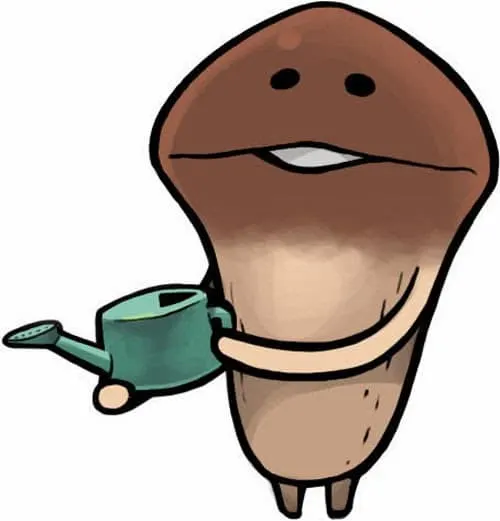 Japanese kids think the Nameko mushroom character is gorgeous. I'm not so sure myself, but this Japanese mushroom character IS growing on me everyday.
The Nameko character is the lead in a trilogy of games "Nameko Saibai Kit," where you have to 'cultivate' the growing of mushrooms.
Here's a fun fact for you: when it was released in 2011, the Nameko Saibai Kit game app became the leading smartphone game in Japan, with 32 million downloads! No wonder he has a whole range of goods based on his likeness.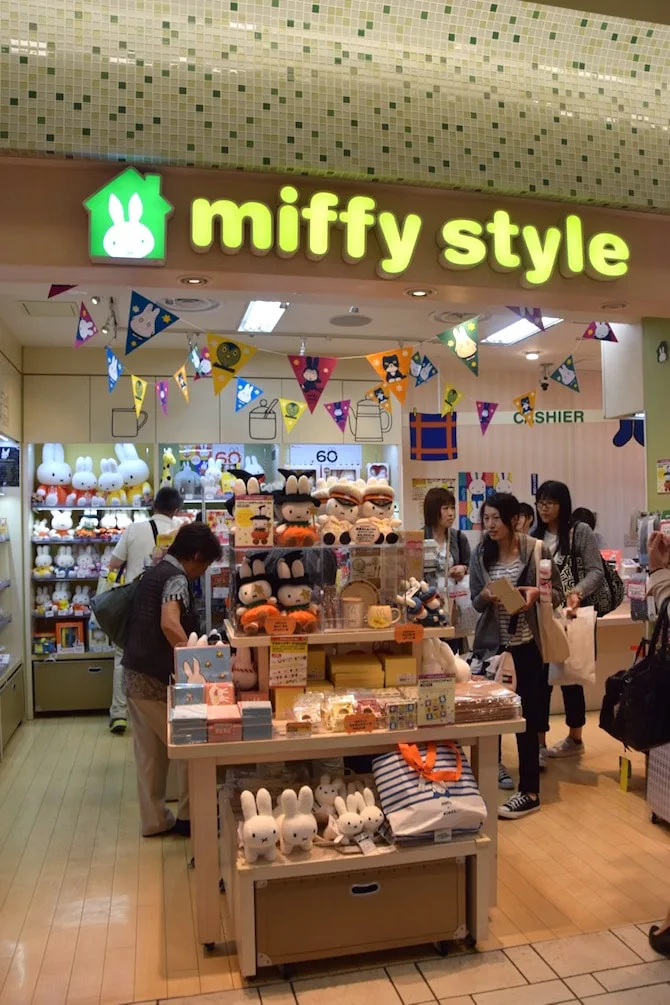 No.6: Miffy Style
Miffy is a small female rabbit in a series of picture books drawn and written by Dutch artist Dick Bruna.
The original Dutch name, "Nijntje", is a shortening of the diminutive konijntje, "little rabbit". The first Miffy book was produced in 1955.
This shop has hundreds of Miffy soft toys, Miffy plush toys, Miffy tote bags, Miffy stationery, and Miffy candy.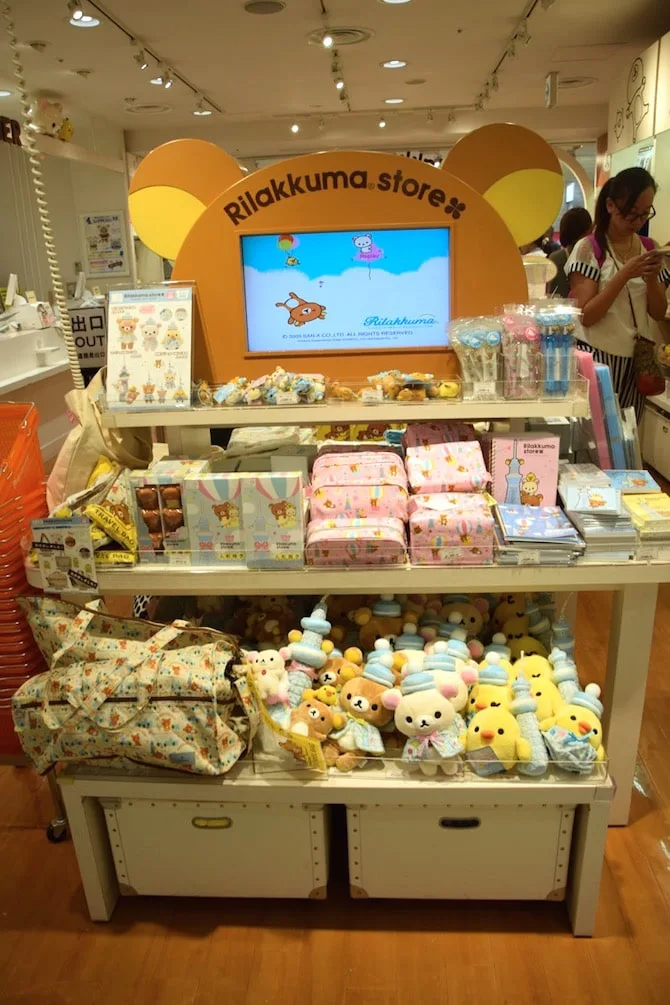 No.7: Rilakkuma Store Tokyo
Probably Japan's favourite character these days (other than Hello Kitty) with a life motto of 'Happy Life with Rilukkuma'.
If your kids are fans, they'll be able to go wild here.
Rilakkuma socks
Rilakkuma plush toys
Rilakkuma stationery including pencils and pens
Rilakkuma diaries
Rilakkuma bags
Rilakkuma toiletry sets
Rilakkuma note pads and letter sets
Rilakkuma Tokyo souvenirs
You name it. The Rilakkuma Shop Tokyo has it.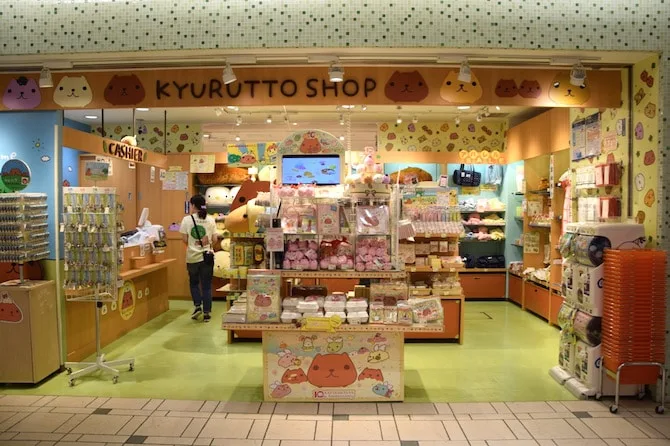 No.8: Kapibara San Kyurutto Shop
Kapibara-san is not as well-known as Rilakkuma, but it is very popular in Japan.
Kapibara-san was originally only found in Claw machines, but demand for this little fellow led to new products being created.
He's based upon a CapyBara, a South American animal which is the largest rodent in the world. Close relatives include guinea pigs and rock cavies.
This character is one that 'lets everyone feel relaxed' (or so the PR says).
Strange but true!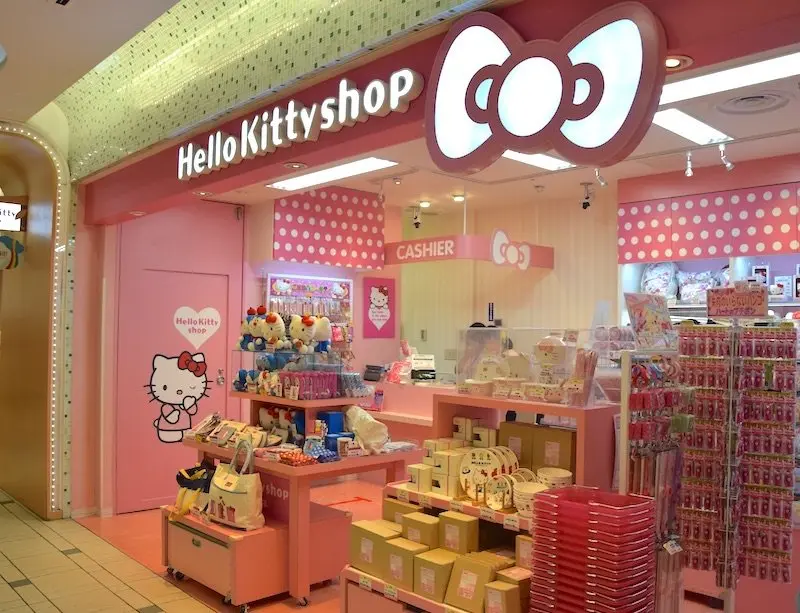 No.9: Hello Kitty Tokyo Store
But of course!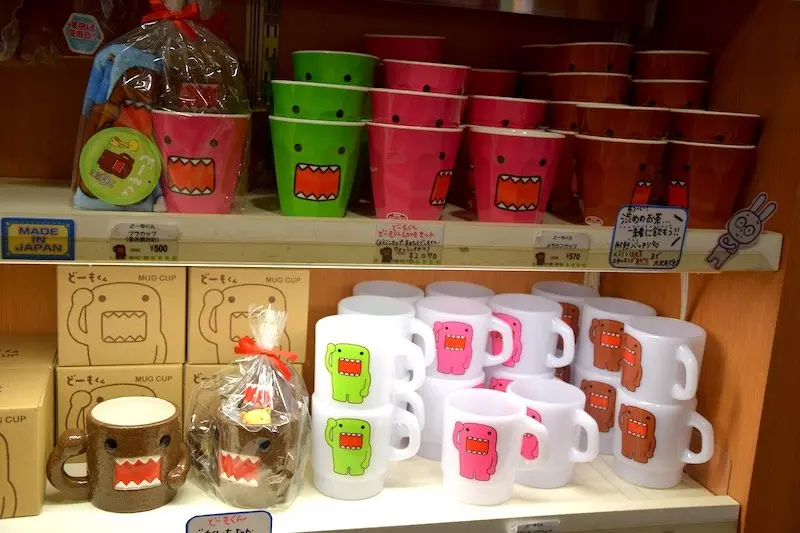 No.10: Domo-kun store
Domo-kun first appeared in short stop-motion sketches on December 22, 1998 to mark the 10th anniversary of NHK's satellite broadcasting.
According to Wikipedia, Domo anime character is a brown, furry monster with a large, sawtoothed mouth that is locked wide open.
Domo Japanese character has a favorite food – nikujaga, a Japanese meat and potato stew, and he strongly detests apples for an unknown genetic reason.
I wonder if the reason he is so popular with teens especially is that Domo is known to pass gas repeatedly (!) when nervous or upset.
He also sweats when nervous!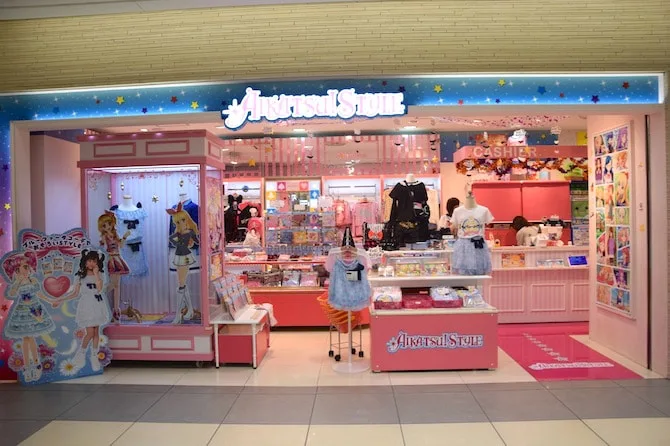 No.11: Aikatsu Style & Precure Pretty Store
Japanese Manga and Anime characters
Although unknown to me, these two shops were populated by teenage and young 20-something girls.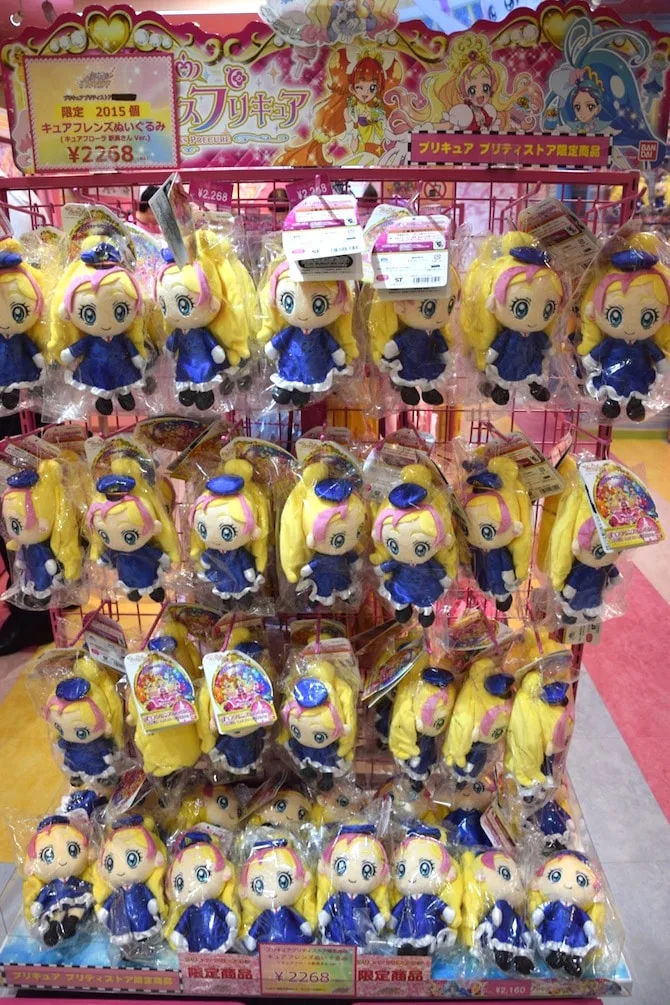 The products on offer reminded me of J-Pop, Japanese music pop-star type of things.
You can purchase dress ups, bags, plush dolls, towels, underwear, frilly skirts, fashion socks.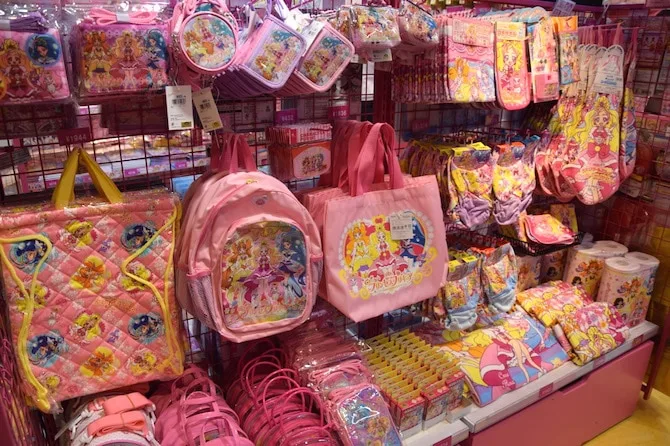 Teenage girls with a fashion sensibility will love it.
No.12: Studio Ghibli Store
If you love My Neighbor Totoro, Kiki's Delivery Service, Princess Mononoke, or Spirited Away, then the Studio Ghibli official store will be one stop you must make.
The STudio Ghibli store is the place to buy Totoro merchandise outside of Studio Ghibli itself, and as tickets to that place can be hard to get if you haven't purchased months in advance, this may be the next best thing to get your Studio Ghibli souvenirs.

No.13: Ichiban Plaza
An event space featuring what the Japanese call 'time-limited' exhibitions or special sales.
When we were there, this Yellow Duck character was in the space.
So many Japanese characters… so little time!
No.14: Gudetama Shop
Sadly, there's no Gudetama shop at Tokyo Character street. Try Odaiba – we saw lots of Gudetama products there.
---
Hotels Near Tokyo Station
Courtyard by Marriott
Super Hotel
Hotel Metropolitan
Marunouchi Hotel
Imperial Hotel Tokyo
The Tokyo Station Hotel
Super Hotel Lohas
Shangri-La Hotel Tokyo
---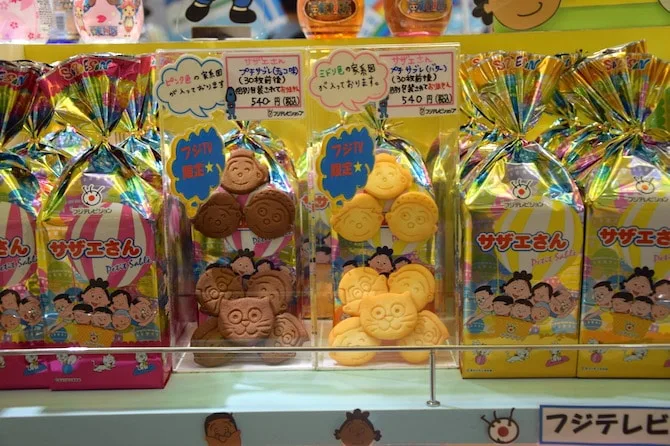 THE INSIDE SCOOP: Tokyo Station Character Street of Japanese Characters
Correct at time of publication on Roam the Gnome. Please check with venue for updates. We apologise in advance if there have been any changes we are unaware of. All prices in yen, unless otherwise stated
Address: 1-9-1 Marunouchi, Chiyoda-ku, 100-0005
Telephone: 03-3210-0077
Opening Hours
Tokyo Character street hours are:
10am to 8.30pm
Open 7 days a week.
Entry Fees: FREE! (until your kids hassle you to buy them something!)
Tokyo Character Street Shopping Guide: Click here for Tokyo Character Street Map in English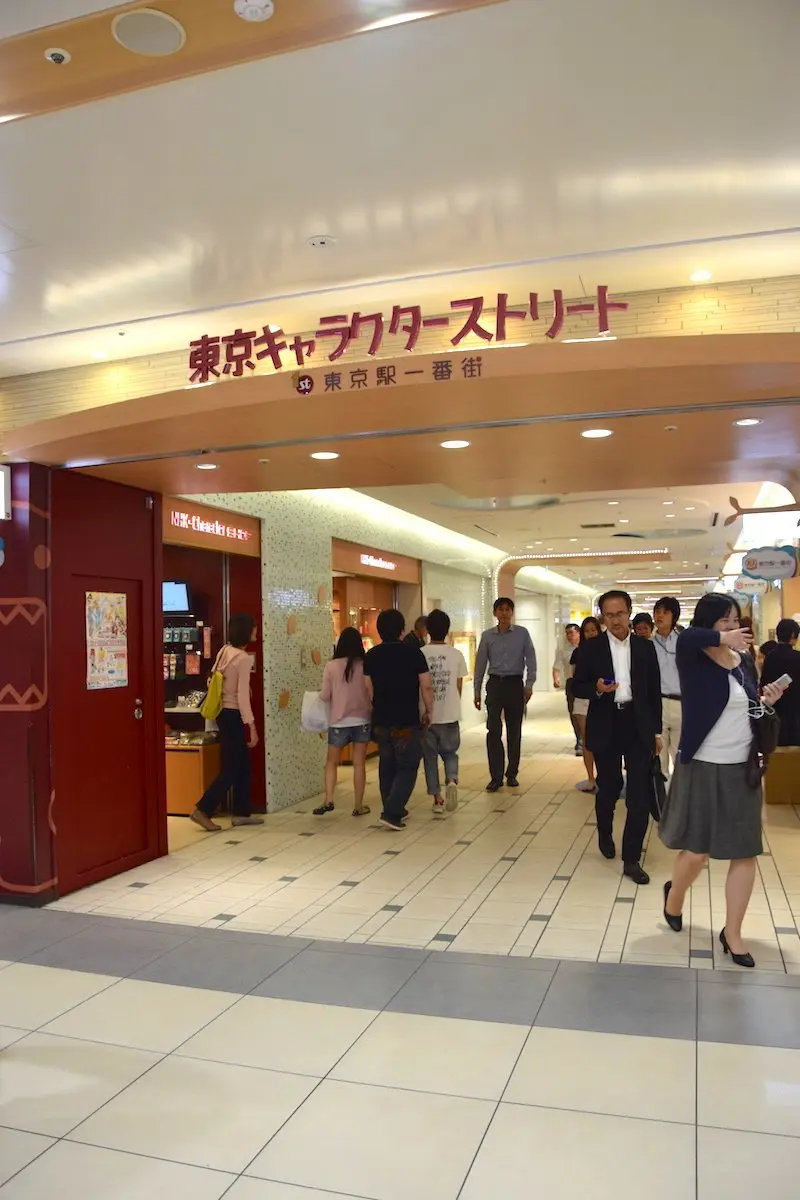 How to get to Tokyo Character Street in Tokyo Station
Where is Character street in Tokyo Station?
Find your way to the Tokyo Station B1F floor.
From the Yaesu Underground Central Exit, turn left and walk along until you see a sign saying Daimaru Entrance.
Turn left and on your right you will see the Plarial store alongside the Tomica store.
The actual entrance sign to Tokyo Character Street (pictured above) is directly in front of these shops if you face outward. Begin strolling!
From the Yaesu North Exit, walk one minute past Daimaru to find Tokyo Character street.
Map of Japan Character Street in First Avenue Tokyo Station
Toadstool Rating: Tokyo Station Character Street Tokyo
Character street in Tokyo station is a must visit, no matter your age.

Looking for places to shop in Tokyo with kids?
Click the links in blue below for more Tokyo tips.