1. Don't miss Goldfish Street!
While seeing thousands of goldfish hanging in plastic bags seems kind of cruel, the kids will think this is like one big pet store. They'll love it.
I think it helps us to know a bit of background to understand this street and the exuberant fascination with pretty fish….
Goldfish are highly revered creatures to the Chinese, who believe they bring abundance and prosperity, not to mention how beautiful they are to look at. Many Chinese also subscribe to the philosophy of Feng Shui, and according to that ideal, a goldfish tank is just about the best talisman to keep in the house as they contain all the elements of Feng Shui in balance- fire represented by the firey Goldfish themselves, rocks on the base of the tank for the earth element, and of course 'water' for being in the 'flow'. Home makers often use decorative plants (representative of wood) to brighten and complement the lucky charm exhibit, and metal is usually contained in the steel joins of the fishtank itself. If done well, its believed that these aquarium displays bring great energy to the owners.
Kids will love to check out all the tanks- there's so many colours, sizes, and varieties to be seen. Fish aren't the only animal here though- keep an eye peeled for teeny tiny frogs, beetles, turtles, hamsters and any other kind of pet you might imagine. Drop in and be prepared to spend an hour or two…
The Inside Scoop
Location:
The Goldfish Market, Mongkok is located in Tung Choi Street, a bit further up from the Ladies Market, and very close to the Bird Garden (see below) and Flower Market as well and can be easily combined in one outing.
Opening hours:
9am to 6pm approximately
2. Bird market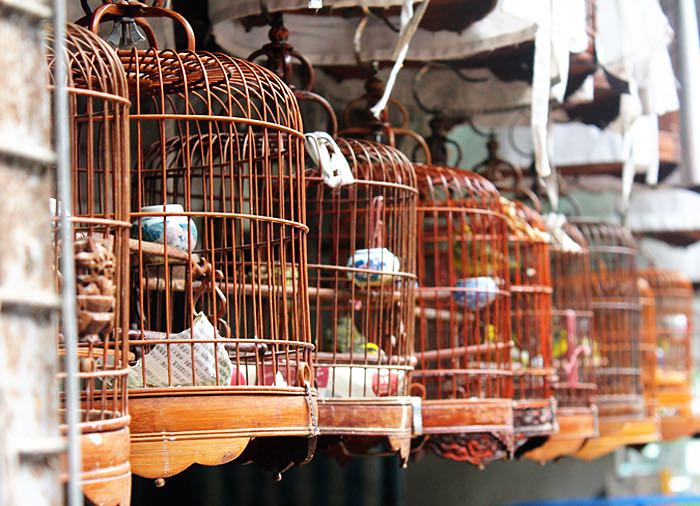 I must admit a little apprehension for this one. Bird flu remains a fear in my mind and willingly entering a confined space filled with birds does make me feel a bit queasy. But I'm happily informed by my friend Tania, a long-time expat resident, that there is nothing to fear. I'll take her word for it!
A popular haunt for songbird supporters, the Yuen Po Street Bird Garden is a visual feast. Designed in the style of a traditional Chinese garden, it is filled with tropical birds and has dozens of stalls selling them along with divine looking bamboo cages like the ones in the photo above, and all kinds of bird-keeping paraphernalia such as water dishes and feed trays
For the kids, it's awe-evoking to see hundreds of birds in one place. They are captivated by the elderly men who feed, walk, and preen their feathered friends in exchange for charming songs, and somewhat happily bewildered by the cacophony of sounds. The kids also love seeing the plastic bags of 'food' – live crickets and grasshoppers that the old men feed to the birds with chopsticks each morning.
The Inside Scoop
Location:
Yuen Po Street, Prince Edward, Kowloon
MTR Prince Edward Station Exit B1. Walk along Prince Edward Road west towards the Mongkok Stadium for about 15 minutes.
Opening hours:
7am to 8pm approximately
3. Fountain Terrace, The Hong Kong Zoological and Botanical gardens
Next stop must be the free animal zoo right in the middle of Hong Kong. At the zoo, the kids can see orangutans, gibbons, lemurs & lots of other animals as well as fountains & native plants.
Be sure to ride the longest escalator in the world (the central multi-level staircase) all the way to the end, and then wind your way down to the zoo following the well sign-posted path.
There are two areas of the Zoo and Gardens. The main section is home to orangutans and monkeys from Madagascar, and turtles too but it's a safe bet you can skip the herb garden. Cross the road to the other section with flowers, flamingos, mandarin ducks, wood ducks, and red crowned cranes. The red crowned crane will probably be familiar to you as it is often depicted in Chinese calligraphy and artwork. There's a pretty fountain too.
The Inside Scoop:
Steep slopes ahead. Wear good shoes.
Cost:
Free
Opening hours
6am to 7pm daily.
Fountain Terrace Garden open 6am to 10pm daily.
Greenhouse open 9am to 4-30pm daily.
Education and Exhibition Centre open from 9am to 4-30pm daily
Location
Albany Road, Central, Hong Kong Island
Getting there
MTR Admiralty Station exit C1. Take the covered footbridge across Queensway, enter Pacific Place Shopping Mall and take the escalators on the right to the very top then cross Supreme Court Road into Hong Kong Park.
The gardens are about 10 minutes walk uphill along Garden Road from Hong Kong Park (Cotton Tree Drive exit near Lower Peak Tram Terminus). The route from Hong Kong Park is well signed.
By bus – route 12 (from Central Ferry piers), 13 (from City Hall), 12A and 12M (from Admiralty MTR Station).
4. Get closer to the animals at Ocean Park, Hong Kong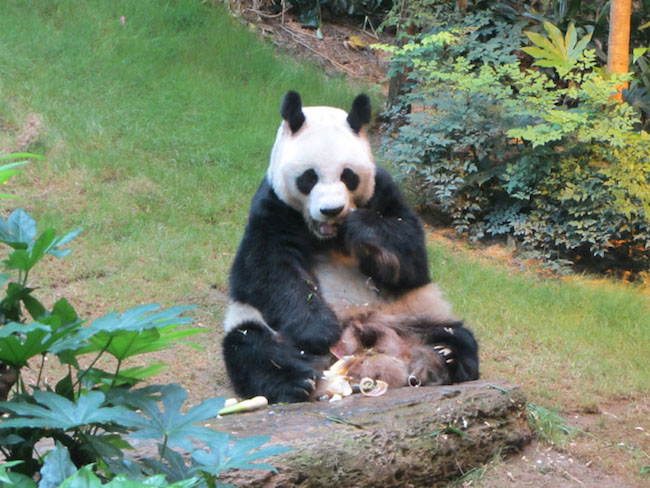 Feel like feeding the sealions? How about having a campout sleepover in the Grand Aquarium with your family and friends? Perhaps you'd like to see behind the scenes in the Shark Mystique and learn about these fearsome creatures and their natural behaviours. Invite the kids to become an honorary rainforest animals keeper or experience a once-in-a-lifetime jaunt as a panda keeper.
Whatever your kids favourite animal, its likely there is some way of getting them up close and personal beyond the normal restrictions of a theme park so why not invest in an experience of a lifetime for them?
The Inside Scoop
Website:
Location: TBC
5. Go two by two at Noahs' Ark Park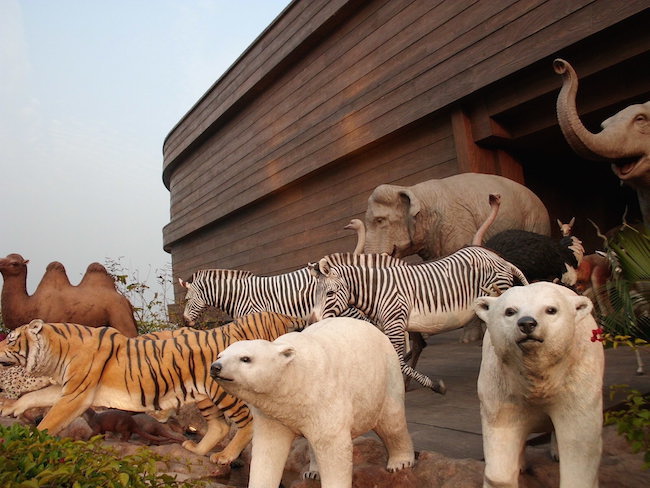 Now I know these animals aren't live animals, but I'm betting most kids won't mind that at all. But they will find delight in the 67 pairs of life sized animal sculptures that emerge from the Ark that sits among spectacular greenery, a flowing waterfall, and floral landscaping along the path.
Be sure to bring your camera so you can capture the kids with their favourite animals.
What will it be? Polar bears? Lions? Elegant Elephants? Or the two-hump camel duo?
There's plenty more to do here at Noah's Ark beyond the main animal feature so make a day of it!
The Inside Scoop:
Website:
http://www.noahsark.com.hk/eng/index.php
Opening Hours:
10:00am – 6:00pm
(Last entry 5:45pm)
Cost:
General admission $155
Child and Senior ticket $125
Ticket price includes admission to Ark Expo, Ark Garden, Treasure House, Ark Life Educatioin House, Special exhibitions, Nature Garden and Solar Tower.
Buy Tickets here
Getting there:
Noah's Ark is approximately 20 minutes from Mongkok. Here is a detailed guide to getting there