When you travel with kids, you find yourself with a new hobby!  Playground hunting. We're slightly obsessed around here. (If truth be told, finding a SUPER DOOPER FUN playground is as exciting for Roam the Gnome and I, as it is for the kids. Sometimes, maybe more so!)

Close to Sydney CBD, we found this gem tucked away around the corner and out of sight of most visitors. Pirrama Park Playground in Pyrmont is a stunner!  Parking is easy, and it's gated from the road. (Not from the water though. That's another story. But at least the kids can't get run over).

Pirrama Park Playground is eye catching. Sitting directly below the elegant homes and apartments of Pyrmont, the playground has multiple swings, arch tunnels to walk through, roped climbing equipment, slides and turrets, a modern-day roundabout spinner (wheelchair friendly), a water park, and a gigantic sandpit and water course with pump.  (TIP: bring your own sandtoys, plastic boats, and diggers.

There's extensive seating for weary mums and dads and grandparents, LOTS of undercover shade, picnic tables, bbq's, and room to move. Bring the bikes and scooters too. There's lovely walkways to cruise along with views of the CBD and harbour.  Roam the Gnome and I agree. If you are in Sydney and looking to escape the shops and busy tourist sights, make your way here. It's a busy but tranquil environment for those down-time moments you need when you travel with kids.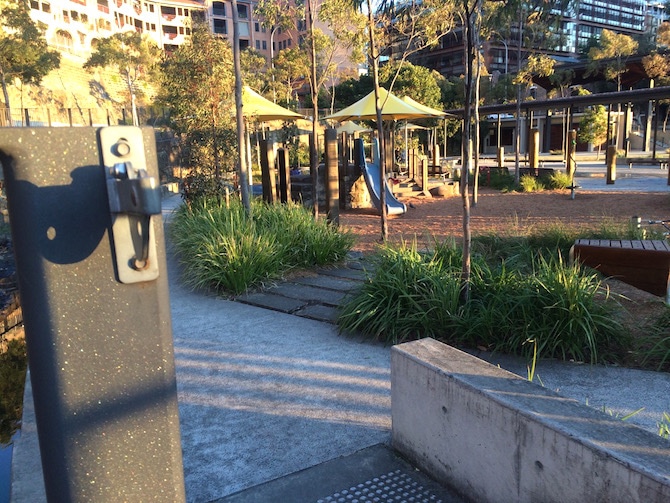 View from the gate!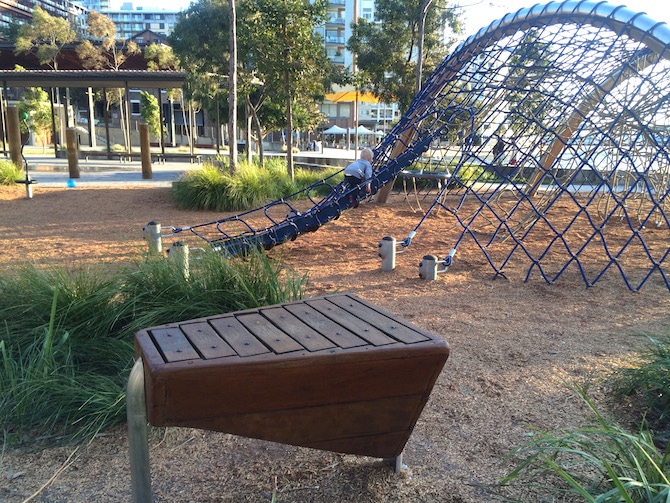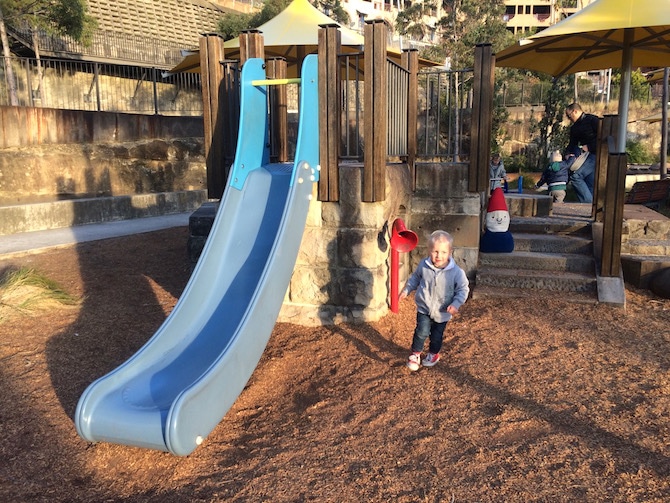 Whale Water Park at Pirrama Park Playground

Bring a change of clothes and a few towels. No matter the weather (on the day we visited, it was super cold!), there's little chance of keeping the kids out.  Travel tip:  There's a secret to switching on the water. Keep an eye out for the button saying "Press Here". If you can't see it, ask a local!  (It's hidden in plain sight.)




The Inside Scoop
Opening Hours & Entry Fees
Open 24 hours.
FREE entry!
Contact
Phone:  02 9265 9333
Email: council@cityofsydney.nsw.gov.au
Travel options
Pirrama Park is a short stroll or bike down from The Star Casino.
To reach the park by public transport, catch the 443 bus. Pirrama Park is located at the end of Harris Street.
Parking is available along the street right outside the playground.
Location and Map
Address: 20 Pirrama Rd, Pyrmont NSW 2009
World Schooling – teaching your kids as you travel!
Pirrama Park honours the first Australians who lived in the area. It means 'rocking stone' in the Gadigal language.
Pyrmont sandstone has been extracted from the Pyrmont Peninsula since the 1950's.  Known as 'yellow block' because of it's warm ochre colour, it's renowned for it's durability, flawlessness and fine texture.
It can be carved in any direction. This sandstone has been used to construct MOST of the significant buildings in Sydney in the 19th century, including the General Post Office and the Art Gallery of NSW.
The sandstone used in the Pirrama Park Playground has been returned to it's original home. This stone was originally used in construction of the Pyrmont Bridge (built in 1902) and restored to the area when the stone was removed to make way for the Western Distributor Freeway.  (Historial references from signage on site.)
Sustainable features of the park include solar panels, rain water capture and re-use, energy efficient lighting and timber decking made from recycled materials.


Eat and Drink
There is a cafe onsite
BYO picnic or bbq foods. It's a lovely spot for a  family gathering too.

Toadstool Rating (by the kids)
Instagram:
Family Travel Ideas with Roam the Gnome