INSIDE: The Epic Guide to the best Travel Toys for Toddlers, Babies & Preschoolers to make your trip as hassle free as possible.
Travelling with a toddler on a plane?
This is an epic list of the best travel toys for toddlers, babies & preschoolers that you need in your carry on.
Plus ideas for car activities for toddlers on a road trip.
Disclosure: This article may contain affiliate links. If you book a product or service after clicking on one of these links, we may receive a small commission at NO extra cost to you.
THE BEST TRAVEL TOYS FOR TODDLERS & BABIES
The best travel toys for toddlers are ones that don't pose any choking hazard at all.
No one wants to deal with a choking emergency 30,000 ft in the air, or in the middle of the outback.
They also need to be small and compact, and lightweight to fit the space requirements of the airline, or inside a cramped car full of road trip supplies.
READ MORE: The Best Toddler Plane Activities to help save your sanity
READ MORE: The Best Healthy Road Trip Snacks for Family Travel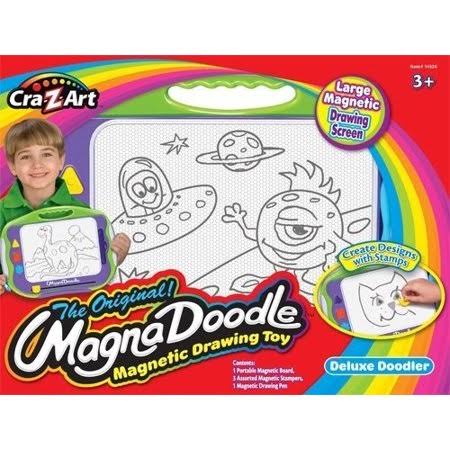 Best Toys for Flying & Toddler Road Trip Toys
No.1: Magnadoodle
Don't leave home without the original Magna Doodle.
This one travel toy for kids has saved many a tantrum. And not just tantrums by the kids either!
If you are looking for travel toys for 1 year old, this is it.
Give a child a Magnadoodle magnetic sketch pad and you've got a no-mess, no-fuss drawing pad for games of tic-tac-toe, the Mr Squiggle drawing game, (where one person draws a random squiggle and the other has to make something of it), and Dots and Boxes.
Or they can simply draw.
There's a DELUXE color version these days too!

No.2: Melissa and Doug Water Wow On-the-Go Activity Pads
These are our next go-to travel activities for kids. The Water Art pads by Melissa and Doug are a reusuable water coloring book for kids with a refillable water pen. Kids use the pen to 'color' the pad, and complete the drawing.
When they are done, it dries up and is ready for someone new to have a go.
They also make great car seat toys for toddlers if you have a portable kids travel tray you can attach to the front of their car seat.
The Melissa and Doug range of water art pads have six different designs to choose from.
BUY NOW ON AMAZON: 3 pack of Water Art Books (Farm, Safari, Under the Sea)
BUY NOW ON AMAZON: 3 pack of Water Art Books (Animals, Alphabet, Numbers)

No.3: Invisible Ink Coloring Books (Magic Ink)
Toddler boys and girls will love these Magic Ink books.
It's mess free coloring, which is perfect for the plane, train and automobile. The pack comes with a magic invisible ink pen to reveal the illustrations.
The magic ink books come in these styles:
Moana
Mickey and Minnie
Fancy Nancy (with Doc McStuffins & Sofia the First)
Muppets
There's even a BABY SHARK invisible ink book for the super young kids!
Bonus stickers included.
Buy Now on Amazon: Set of Three Magic Ink Books – Paw Patrol, Hatchimals, & Thomas the Tank Engine designs

No.4: Magic Rainbow Scratch Art Pads
Take along a box of Rainbow scratch art notes and let the kids go wild with their doodles.
I used to love making these in school, but the process was tedious.
Now, the prep is done and it's straight to the fun part: creating with color.
BUY NOW ON AMAZON: Melissa and Doug Scratch Art Box of Mini Rainbow Notes (Wooden pen included)

No. 5: Sticker Books
If you don't have much room, a sticker book is the way to go.
Here's three to try:
If your toddler loves Peppa Pig, try this one.
You can also find sticker books based on famous cities, like this New York one. A city sticker book is a cool way to introduce a new city to the kids, especially when you are on route.
Sticker Puzzles
There's also sticker puzzles for the slightly older kids.
And these Paint by Sticker books too.

No.6: Storytelling Magnetic Toys for Toddlers
A magnetic game is good for quiet fun too.
They usually come in a carry case with flat magnets, so don't take up much room either.
Try these styles: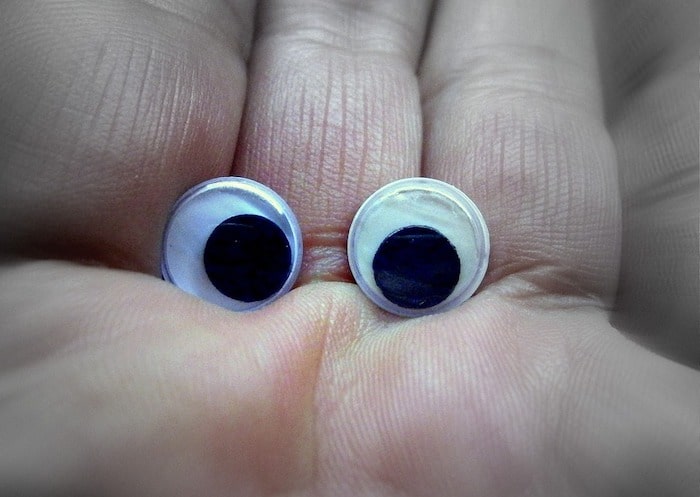 No.7: Activity Toys for Toddlers? Wiggle Eyes
The cheapest, easiest travel toy for kids is a pack of wiggle eyes.
Pull out the onboard travel magazine, and add googly eyes to EVERY face.
It's the best game ever, and may even give the next person on board a good giggle too!
BUY NOW ON AMAZON: Wiggly Eyes, pack of 100

No.8: Toy Airplanes for Toddlers
The Green Toys airplane is BPA and Phthalates free.
Green toys are made from 100% recycled plastic milk jugs so they are sustainable, and helping to reduce damage to the earth. (This one comes with a matching book.)
The Playmobil Jet is a fun activity for a road trip.
This four-in-one pack of toddler airplane toys can be handy on a flight to hold a toddlers attention if you give out one at a time.
No.9: Good Car Seat Toys for Toddlers? Die Cast vehicles
Need to take along some toy cars for boys or girls who are mad about them?
Take a few new Matchbox cars or Hotwheels vehicles in your handbag.
You can even buy Jurassic World matchbox cars these days if you are big fan.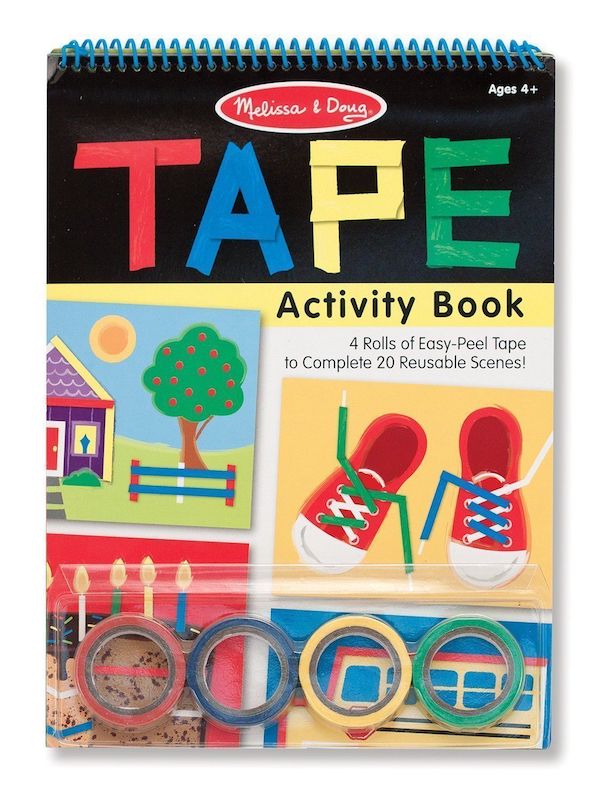 No. 10: Melissa and Doug Tape Activity Book
This is a toddler game with a difference. Kids can finish pictures and make drawings in the book using brightly colored tape.
The tape peels off easily so they can have multiple goes.
BUY NOW ON AMAZON: Melissa and Doug Tape Activity Book

No.11: Nail Decals for Kids
Here's a unique idea for "travel toys for kids" to keep the toddlers happy.
If you are happy for your toddlers to experiment with putting on nail stickers, this is a fun way to keep them occupied for a time.
Caveat: This one needs your help of course.

MORE Travel Activities for Toddlers
Looking for more road trip toys or travel toys for toddlers on airplanes?
How about:
THE BEST TRAVEL TOYS FOR BABIES
The challenge with finding travel toys for babies is that 1. they are usually noisy, and 2. they are usually bulky and cumbersome.
The best baby toys for travel are soft activity books like these ones.
They'll probably just want to eat your keys anyway!
You can also carry a pocket mirror as they LOVE to see their reflection.
THE BEST TRAVEL TOYS FOR KIDS OVER 4 ON A ROAD TRIP OR FLIGHT
No.1: Aqua Magic Mat
An Aqua Mat is an awesome mess-free activity for toddlers in a hotel room, or at the airport when you can find a quiet corner.
It comes with two water-fillable pens, plus two drawing molds.
Toddlers can start doodling as soon as the mat is on the table. Older kids will find it fun too.

No.2: DIY Color-your-own Lunch Bag & Water bottle
This is a very cool activity for preschoolers and older kids, a chance to color their very own lunch bag.
Fill it with their travel snacks before you leave, and you'll have happy kids on the airplane.
BUY NOW ON AMAZON: DIY Snack Pack Craft Kit

No. 3: Fill a Tackle Box for a Preschooler
Grab yourself a clear fishing tackle box with moveable dividers and a handle, and fill it with your kids favorite miniatures.
It's a great way to carry Sylvanian families toys, or your Beverly Hills Doll collection. Plus, it fits all the doll accessories and things for the house.
Keep all the Polly Pockets and Polly Pocket accessories together in one spot.
Or use it to store Beyblades, a small LEGO set or two, or Ryan's World toy collectibles.
Do you have any more tips for Toddler Road Trip toys?
We'd love to hear about them.

No.4: Wooly Willy
Our favorite, Wooly Willy magnetic personalities!
(Or for a bit of variety amongst siblings, grab the four pack, including the original, Buddy Beagle, Hair Do Harriet and Wanted poster.)

No.5: Special mention: Wonder Crew dolls for boys
Wonder Crew cuddly superhero dolls for boys are the answer to cuddly toys for kids who are homesick. (Just like an American Girl doll is to others.)
You can also buy Wonder Crew adventure packs in an assortment of explorer outfits too including astronaut and explorer, so he can come on your travels.
More Travel Activities for Preschoolers
Here's a whole bunch of other fun activities for kids on the go.
Take along a small LEGO kit to complete at your hotel
Melissa & Doug On the Go COLOR BY NUMBERS activity pad
Subscribe to Little Passports and take your monthly subscription box with you on a trip
Make a DIY Lego Kit inside a metal carry tin
Melissa & Doug SCRATCH ART hidden picture pads. Kids have to read the clues then scratch the surface with the wooden pen to find the answers.
Take along some laminated playdough mats, and use white board markers instead of playdough to add detail (I like the open-ended ones, eg trees where the kids have to draw apples, pears, fruit, birds etc. Or a car where they have to add wheels, door handles, windows etc. )
My Little Pony necklace kits or charm bracelet kits
DIY pajamas craft kits, where the kids get to color a new set of pj's on the way to their vacation
LEAP AND HOP books – interactive cultural travel books for kids, helping kids to learn about the country they are heading to visit, through drawing activities, writing games, and collecting travel mementos to add.
Lauri Pocket Chart cards with sight words, or story sequencing
UNO games
Go Fish card game

LOOKING FOR MORE FUN CITIES TO VISIT WITH KIDS?
We'd love to help. Click the links in blue below for our Ultimate Destination Guides.
Disclosure:
Correct at time of publication. Please check with venue for updates. We apologise in advance if there have been any changes we are unaware of. All prices in US dollars, unless otherwise stated.
This website contains references to products and services from our favourite brands. Some of these are affiliate links. If you make a purchase or booking after clicking on one of these links on Roam the Gnome™, we may receive a small affiliate commission at NO COST to you. For our Disclosure and Disclaimer statements, and an explanation of our Advertising policy please click here
Roam the Gnome™ is a participant in the Amazon Services LLC Associates Program, an affiliate advertising program designed to provide a means for sites to earn advertising fees by advertising and linking to amazon.com, amazon.co.uk, amazon.ca. Amazon and the Amazon logo are trademarks of Amazon.com, Inc. or its affiliates.
Thank you in advance for your support in helping us to grow Roam the Gnome Family Travel™ Website Directory. Bookmark this page to keep us safe and sound.