Michelin Starred Dumpling Feast for a Bargain Price at the BEST Dumpling Restaurant Hong Kong!

My friend Tania is a HK expat of 14 years, which makes her almost a local!  Tania is a foodie from way back, and knows where to find amazing meals all over Hong Kong town. She wanted to take us to one of her favourites, an absolute MUST when visiting Hong Kong – what she thinks is the best dumpling restaurant Hong Kong has to offer. It's not just any dumpling restaurant. It's a Michelin one-starred establishment, where the kids could watch the dumplings actually being made through the glass window at the entrance.

Entertainment while you wait. Isn't that like the best kind of restaurant in the world?

(Roam the Gnome was asleep by the time we made it here. Too much fun at Ngong Ping!)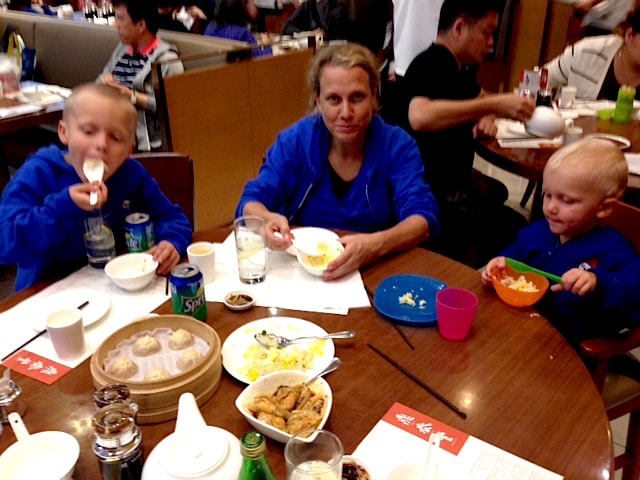 The essential insider info

I'm always a bit nervous taking a toddler to any kind of restaurant and we tend to stick to places where we can bail out if we need to. (Read: mid-tantrum). We don't often eat at places where there's cloth napkins at the moment, so I was a bit squirmish about going into somewhere a bit posh but the kids were fabulous. So were the staff. Totally accommodating of the mess we (the boys!) made, and with plastic bowls and cutlery for the little guy.  They were also ready to help out with food suggestions the kids might like.

The food was so fresh and came out minutes after we'd ordered too, so there's wasn't much lag time where the toddler might have a meltdown. The food is interesting and flavoursome too, without being over the top. My boys were happy to try new things, and LOVED the presentation of it in steam baskets too. Lemonade got us over the line.



Eat and Drink

When you arrive, you receive a number and wait for them to call you to be seated. (We were seated within 10 minutes for an early dinnertime about 6pm.)  There's no way to book ahead (unless you want to hire the VIP room) so try to arrive a little before, or a little after, main feeding times to avoid the rush of hungry HongKongers!

To order, you write down the stuff you want to eat on an order slip and the waiter or waitress then doublechecks these with you before relaying the order direct to the kitchen over her little pocket speakerphone and earpiece.

We tried a variety of steamed dumplings, dim-sums, springrolls, and fried rice.  There's also noodles, cold appetizers and Chinese-styled buns and desserts.

Beware: the food is piping hot when it arrives at your table. Warn the kids before they bite into a dumpling or there will be tears. Condiments are all at your table, so you can spice it up more for the adults if you want to.

I have no idea of what they were other than pork and chicken, as Tania was in charge, but everything we tasted was delicious. I don't think you could go wrong here!

All up, 6 dishes, tea, and soft drinks cost about $70 AUD. We were STUFFED too and had to waddle out. For Michelin-starred food that is out-of-this-world scrumptious, that is the definition of a bargain.

Hot tips:
Google "Din Tai Fung Groupon Voucher" or something similar to see if there's any bargain deals happening when you visit. Sometimes you can purchase a $100 dumpling deal for $60- that's almost half price!
Walk out the front entrance and on your right, you'll see there's an enchanting bookshop/toy shop called "Kiddy Wonderland Books and Craft Store".  They stock a substantial section of English titles, picture books, graphic novels, craft kits, novelties, and 'kawaii' goods too. Take the kids!
Did you know?
The founder of Din Tai Fung was a man called Bingyi Yang.  

Bingyi was first in the cooking oil trade and sold from his shop,  Din Tai Fung (named after a man who gave him his first job). But when oil sales plummeted due to the invention of tinned oil, 

Bingyi and his wife turned half of their shop into a steamed dumpling outlet, made and sold on site.
Those who tasted the quality and extraordinary taste of Din Tai Fung's steamed dumplings told their friends and family, and within a very short time, Din Tai Fung stopped selling oil and became the world-renowned restaurant brand it is today.
DinTaiFung Dumpling House now has branches in Japan, United States, South Korea, Singapore, China, Hong Kong, Indonesia, Malaysia, Australia, and Thailand.
Toadstool Rating (by the kids)

Ned rated the dumplings that squirted the juice as the 'funnest food' he'd ever tried!  Both him and Jack agree with Tania – the best dumpling restaurant hong kong has to offer!

Google map link
The Inside Scoop

Din Tai Fung Website Yee Woo Branch, Causeway Bay, Hong Kong Island. (There's another Din Tai Fung restaurant in Silvercord, Kowloon.)

City Essentials

Thinking about a trip to Hong Kong? Here's a link to find ALL the information you need to know, in one place.