INSIDE: Roam the Gnome's Guide to Tackling the Paris Metro with Stroller or Buggy
We visited Paris for the first time as a family in 2015, and we rode the tube in Paris countless times to take us from place to place.
There's nothing like the tube in Paris to be in amongst real Parisian life.
There's all kinds of people on their trains:
mums and dads
business people
young people
old people
homeless people
people with children
In fact, the Paris metro is home to people of every colour, status, shape, size, and profession.
Plus, those retro station signs make me smile.
They are a design-lover's dream.
Tackling the Paris Metro with stroller is the hardest bit, but doable with our tips.
Read on for details!
Disclosure: This article contains affiliate links. If you make a purchase after clicking on one of these links, we may receive a small commission at NO extra cost to you.
Travelling Paris with Kids & a Stroller
The worst thing about travelling the Paris metro with stroller is the stairs.
There's simply no avoiding them.
So this is one time you need to suck up your pride, and ASK for help if you need it.
There's one positive to travelling the metro in Paris with toddlers or young kids.
95% of the Parisians are kind and warm-hearted (despite first appearances at times), and there's at least one person per train ride who will offer to give you a hand to carry the stroller up the stairs.
Travelling Paris with kids shows you a whole other side to the much-touted statement that Parisians don't like tourists, or anyone from outside of France.
Traveling with kids in Paris shows you it's simply not true.
Hot tip: Download your FREE Paris Metro Map here.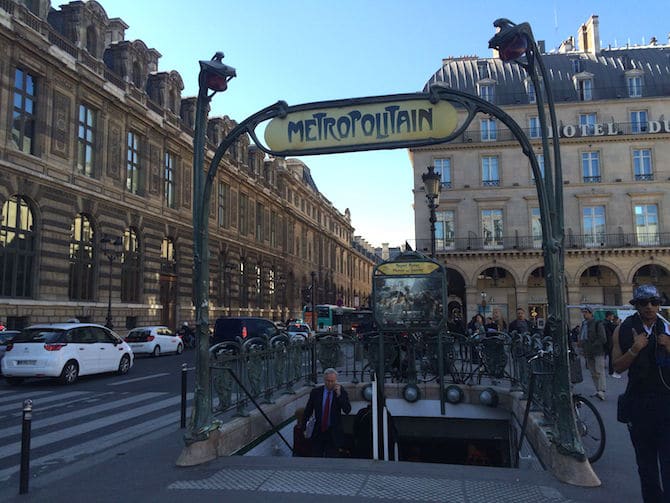 TOP 7 TIPS FOR FAMILIES USING THE PARIS METRO WITH STROLLER
1. Travelling as a Family in Paris for the first time?
Download this PDF overview of the Tube in Paris.
This Paris metro map gives you a simple and clear overview of:
how to plan your journey when you are taking the metro in Paris
where to enter and exit the Paris Metro system,
what signs to look out for
how to buy your Paris Metro tickets, and
how to determine which line you should be catching.
It's super helpful.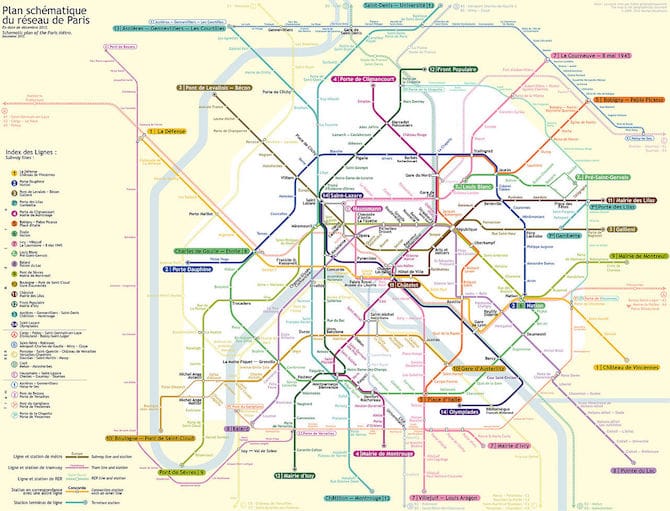 No.2: Check the Metro Station map
Check the station map of both your departure and destination stations to see if they are accessible by lift or escalator.
About 2/3 of stations have an escalator, but Paris Metro elevators are way less common.
Click here for a Paris Metro accessibility map of stations with a lift for wheelchair access.
The green dots signify that there's lift access to and from the platform.
Metro line 14 is the exception to the rule for navigating Paris metro and needing Paris metro wheelchair access, as it has ramps and elevators at every station.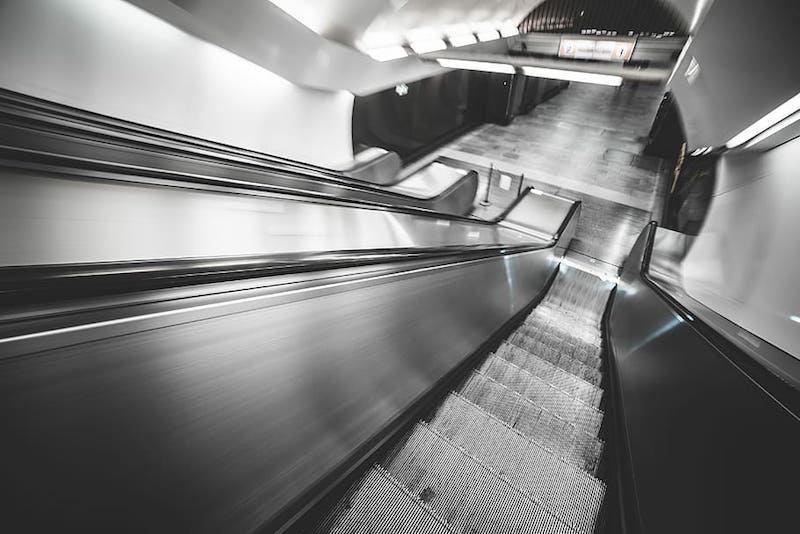 Riding the escalators with a stroller is a bit of an art.
Going up, push the front two wheels on to the moving staircase, and hold up the back end.
(Be sure to hold onto the rail for balance while you do this.)
Going down, do the opposite.
Eg, place the back wheels against the stair rise, and lift the front two wheels up horizontally.
Again, hold on tight.
You may be able to adjust your route slightly and get off a stop earlier or later to get off at a metro station in Paris with an elevator or lift, if you are happy to walk a short distance.
Walking around Paris for short distances is the best way to get to know the real Paris. Just take care to research areas where it's not advisable to walk.

No.3: Take a Lightweight Folding Stroller or an Umbrella Stroller
A lightweight, folding stroller such as a Maclaren Quest stroller or a Maclaren Globetrotter stroller is most definitely a better option than a full-sized pram.
If there's two of you travelling together, there won't be a problem carrying it up the stairs.
But if there's only one of you, a lightweight stroller is a necessity.
A good back up plan is a lightweight stroller that folds up quickly and easily.
Being able to take the child out of the stroller and fold it up like origami with one hand, as you hang on to the child with the other, is a big win.
Then you can walk up the stairs together.
Put the child back into the stroller at the top and you are set to go on your way again.

Image credit: Tangopaso [Public domain]
Hot tip: Seek the attendant's help to enter the Metro station ticket gates.
If there's no attendant present, the easiest way to bypass the turnstile is to collapse the stroller, lift it over, and follow through with your toddler in front of you, holding hands.
It's definitely a juggle getting through successfully with stroller, bags and ticket in tow, (but doable if you are quick.)
Hope for an attendant, as that makes life so much easier.
NB: Most normal umbrella strollers and lightweight buggies are narrow enough to fit through the ticket turnstiles on the RER trains.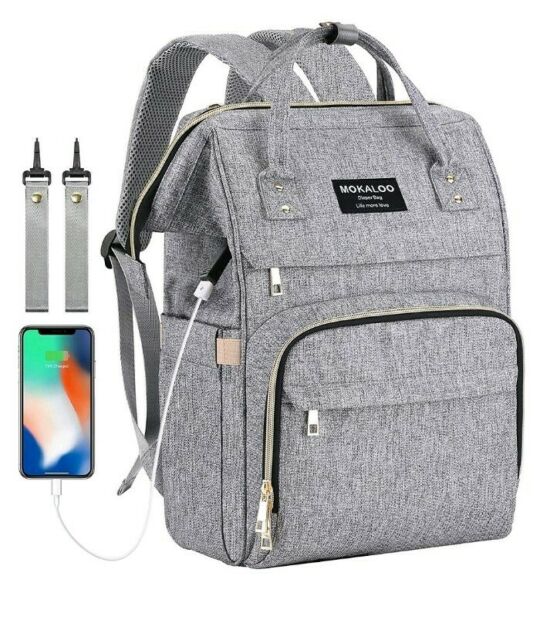 No.5: Carry a small backpack (eg Mokaloo Diaper Bag)
For this reason above, a small backpack you can wear on your shoulders is the bag of choice for parents travelling in Paris with toddlers and babies.
Packed with all the baby or toddler essentials, using a diaper bag backpack on your Paris city travels with toddlers is more preferable than a baby bag.
The inexpensive Mokaloo diaper bag backpack in grey waterproof fabric is as stylish as it is functional, with:
wide comfortable straps
compartments to store both wet and dry nappies
side pockets for baby wipes and tissues
two insulated pockets for baby bottles
lots of pockets for all the odds and ends
The best thing about the lightweight Mokaloo baby backpack is that it has a BUILT IN USB CHARGING PORT, and charging cable so you never need run out of battery or lose access to google maps while you are out and about!
Check latest prices at Amazon here.
Hot tip: Avoid any type of bag that hangs off the stroller handle.

No. 6: Plan your route ahead of time, so you don't have to rush.
Paris is huge, so it pays to know where you are going when you are in Paris for kids activities.
There's no fun in going the wrong way, or missing your spot at something because you've arrived late.
Plus, it's important to give yourself extra breathing room in case you do have to carry the stroller up a flight of stairs with the help of a stranger.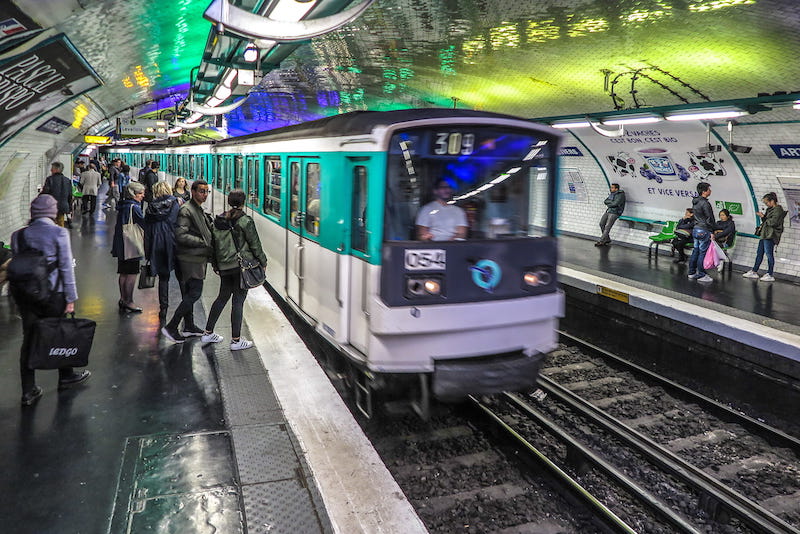 No.7: Don't be scared of the Metro with a stroller
Some people will tell you to catch the buses because it's easier to travel with a stroller in Paris on a bus.
I don't agree.
The metro is definitely the favoured choice of Parisians with young kids and strollers in tow.
Follow their lead.
Plus, if you go by bus in Paris, you miss seeing all the color and charm of Paris that the Metro brings to life!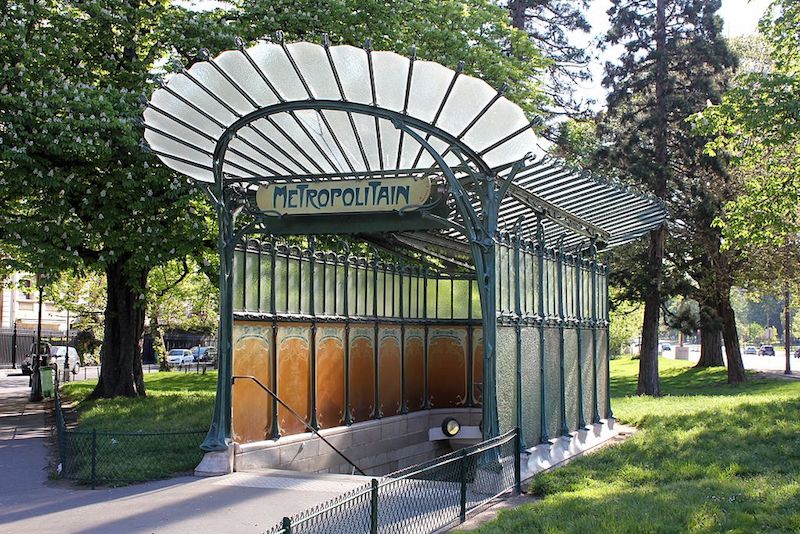 Image credit: Bellomonte Public Domain
THE INSIDE SCOOP: VISIT PARIS BY METRO
Paris Metro Tickets for Tourists – Paris Pass Lib'
Explore Paris at your own pace with the best selling 2 to 5-day Paris Passlib.
The Passlib lets you enjoy free travel on the public transport system with a Paris Visite Transport Pass.
Plus you can take a cruise down the Seine and enjoy free access to more than 60 museums.
Paris Pass includes:
Paris Visite transport pass (zones 1-3)
A guided tour of the Fragonard museum and a gift
Temporary exhibitions of the 11 museums of Paris (except the Catacombes and Crypte Archéologique)
Paris Museum Pass
1-hour boat cruise
1-day sightseeing tour
City map
The validity period of the travel card starts at midnight on the 1st day of validation and ends at midnight on the last day of the option booked (2-5 days)
The Paris Passlib is not necessary for children under 4 years old as they are allowed free access to transport, museums, and cruise.
Book your Paris Passlib for 2, 3, 4 or 5 days here.

The Paris City Pass (The alternative Attractions Pass for Paris)
The Paris City Pass for 2-6 days includes free admission to 60 museums and attractions.
Travel for free by metro, bus, and train also.
Inclusions:
Free admission to 60 museums and attractions in Paris
Ride for free on the metro, buses, and trains within zones 1-3
Discounts when shopping at Galeries Lafayette or entering Lido de Paris
Travel along the Seine on a boat tour to explore Paris from the water
Check prices on the Paris City Pass here

Buying Individual Paris Metro tickets for family
There's another type of ticket you can buy as a travelling family in Paris.

The T+ ticket, allows you to travel on:
Metro lines, RER (RAPT and SNCF) within Paris Zone 1
Ile-de-France bus lines (RATP and OPTILE), except Orlybus and Roissybus (see the specific conditions below for the Noctilien network and lines with special fares: 299, 350 and 351)
tramway lines (RATP and SNCF) and
the Montmartre funicular.
The basic Métro ticket for a one-way journey is a small piece of cardboard (formerly mauve, now white) with a magnetic strip to buzz you in that costs €1,90.
It's issued by RATP, the transportation authority for the Paris region.
You can anywhere within the city of Paris on the Métro and RER networks, and you can transfer between lines, or between the Métro and the RER, on a single ticket.
You can also use T+ tickets on buses and trams.
Note that it's not possible to go between the Métro and RER and buses or trams on the same ticket.
Save money on the Paris Metro
Save money by purchasing a book of 10 tickets – a "carnet" (karn-ay) – for €14,50 from vending machines near the turnstiles in Métro stations.
Métro ticket machines accept coins and credit cards, but not notes.
If you pay by credit card, leave the card in the machine until you are told to take it out or it won't process and you'll have to start again.
Paris Metro Children's tickets
Children under age 4 travel FREE!
Kids from ages 4-10 pay the full adult fare for single tickets, but a children's book of 10 tickets – a "carnet" (karn-ay) – is half price.
Hot tip: Do your research and see whether you'd use them all.
A T+ ticket is designed for occasional travellers and visitors not wishing to use the Paris Passlib travel card.

FREQUENTLY ASKED QUESTIONS – Paris Metro system
Is it safe to travel on the Paris Metro Underground with the kids?
The same as most big cities, it's a YES to take public transport underground in Paris.
As always in a big city, keep an eye on your bags and possessions, and do not flash money about at any time.
It's safer to stay off the tube in Paris after dark, but the benefit of travelling with children is that in general, people tend to leave you alone.

Having said that, I took the boys on the Paris Metro from the hotel to the Eiffel Tower and back one evening without any issue and I felt safe the whole time.
To travel safely in Paris, keep your wits about you, pay attention to those who might be potential pickpockets, respect others and avoid alcohol.

We LOVE catching the tube in Paris.
The Paris Metro is the best way to get around Paris on the cheap with kids.
The bonus of traveling in Paris with a stroller is that you will build muscles in your arms and legs like never before from carrying the buggy up and down stairs when you must.

What to do in Paris with Kids on the Metro?
1. Visit Cite Des Science Museum
Visit our favourite Science Museum in the World, the Cites Des Science, and book into a session (or both) at the Cites Des Enfants at the Paris Science Museum.
(Choose between the 2-7 year old exhibition, or the 5-12 year old exhibition).
2. Visit the Louvre with Kids
We also recommend taking the kids to the Louvre Museum (use our tips), and exploring the Eiffel Tower and the fun stuff you can do there with kids.
Hint: Glass Floor.
Don't look down if you are scared of heights!
3. Visit the best Paris playgrounds
Don't forget to visit the best Paris playgrounds too!
4. Go Up the Eiffel Tower in Paris with Kids
Before you do, be sure to read ALL these fun Eiffel Tower facts for kids first.
Then read our guide on the top 9 things to do at the Eiffel Tower with kids.
Looking for MORE SUPER DOOPER FUN places to visit in Paris for Kids?
Click the links in blue below for more Paris stories.
Disclosure:
Correct at time of publication. Please check with venue for updates. We apologise in advance if there have been any changes we are unaware of. All prices in euro, unless otherwise stated
This website contains references to products and services from our favourite brands. Some of these are affiliate links. If you make a purchase or booking after clicking on a link on Roam the Gnome™, we may receive a small affiliate commission at NO COST to you. For our Disclosure and Disclaimer statements, and an explanation of our Advertising policy please click here
Roam the Gnome™ is a participant in the Amazon Services LLC Associates Program, an affiliate advertising program designed to provide a means for sites to earn advertising fees by advertising and linking to amazon.com, and related Amazon shopping sites around the world. Amazon and the Amazon logo are trademarks of Amazon.com, Inc. or its affiliates. As an Amazon associate, I earn from qualifying purchases.
Thank you for visiting Roam the Gnome Family Travel™ Website Directory. We encourage you to bookmark this page so you can find us again.