Kids Adventure Park in Tokyo

Just 45 minutes by train from Ueno Tokyo, on the way to Kawasaki and the Haneda airport, is one of Japan's crazy playgrounds. Going by the name of Nishirokugo Park, or Tire Park Tokyo, as it is more commonly called, this kids adventure park is a Tyre Playground, a sustainable eco-friendly playground made of over 3000 recycled rubber car tyres of different sizes. If you are travelling with kids, it's a must do and well worth the effort.

Unique Playground Ideas at Tire Park Tokyo

Standing guard over this tyre playground are TWO towering Godzilla monsters made wholly of tyres! There's also an enormous Robot, and a Tyre Pagoda made from tyres too. But the best thing about this tire playground is what kids can do there. There's tunnels to slide through, giant metal box-like constructions to climb into and up, one colossal tyre swing (think BIG!), bridges to cross, balancing beams made of tyres, a giant concrete slide (watch out for your bums) and slides.

What to do in Tokyo? Make your own Ninja Warrior course at this Futuristic Tyre Playground

You could almost use this park to make your own Ninja Warrior obstacle course challenge, and if you have kids who are into Parkour, you'll likely not see them for the next hour or two.

[mc4wp_form id="1416″]
Unusual Playgrounds – Our top tips for Nishirokugo Tire Park

Take your hats, and remember your water bottles. There's NO shade here, so it's best to visit first thing in the morning, or late in the afternoon. A change of clothes is always a good idea too – it's a pretty dry and dusty space at times.

Best playground in Tokyo?

This playground with tires is definitely in our Top 10 of Playgrounds in Japan. It's also off the beaten tourist track, which means you'll be spending time in amongst the locals and that rates as one of our top reasons to go anywhere.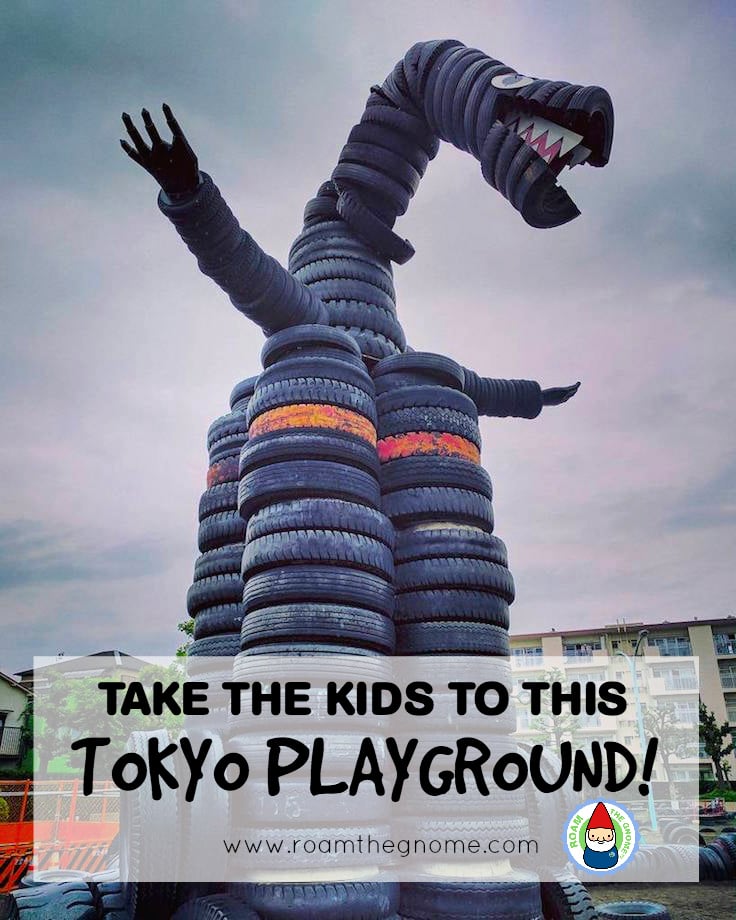 The Inside Scoop – Tire Playground Tokyo
Location: 1-6-1 Nishirokugo, Ota-ku, Tokyo
Opening Hours: Sunrise to Sunset
Entry Fees: FREE!
Directions: Make your way to Shinagawa station, then hop on the Keikyu line to Zoshiki Station. It's then about an eight minute walk to the Tyre Playground.

Toadstool Rating (by the kids)- Family Travel Website
Looking for MORE SUPER DOOPER FUN places to visit in TOKYO?
Click the links in blue below.
Disclosure: If you book hotels or activities, or buy products through a link on Roam the Gnome, we may receive a small affiliate income.
Thank you for your support in helping us to grow this Family Travel Directory.