INSIDE: A sneak peek at the best Hiroshima Day Trip you can do.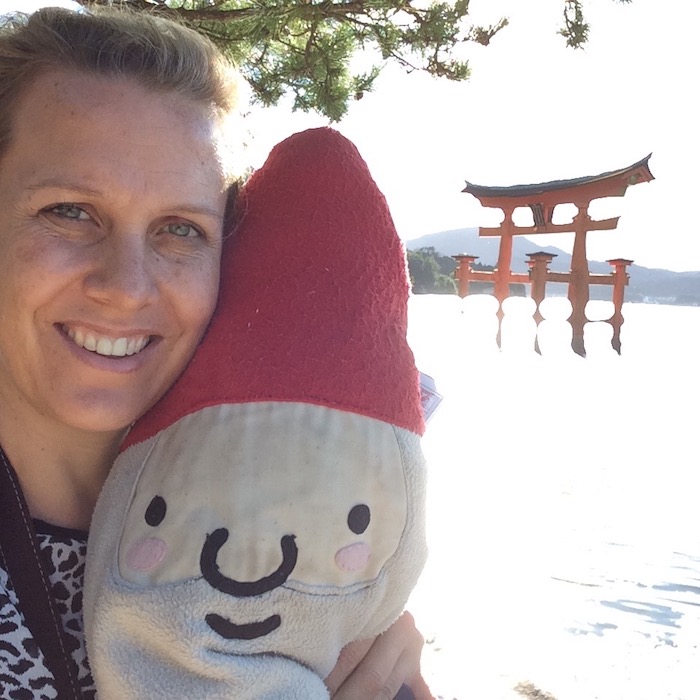 The Ultimate Hiroshima Day Trip is Miyajima Island!
If someone asked me to list my top ten favourite places to visit in the world, Miyajima Island would be close to the top.
I don't know what it is about this place, but it captured my heart the first time I visited at 15 years old on a school trip, and I loved it just as much when I returned 25 years later.
It really is the ultimate Hiroshima day trip, especially if you've taken a walk through Hiroshima Peace Park, visited the Hiroshima Peace Memorial Museum, heard the stories of survivors, or watched any of the harrowing footage. The best way to regain your equilibrium is to get out in nature, and Deer Island Miyajima (as it's often nicknamed) is the perfect spot to immerse yourself, despite the crowds here to see the Floating Torii (collequially called the "Red Gates" or the "Japan Gate in Water")

What is a Torii Gate?
The Torii Gate meaning is to mark the entrance to a sacred space. The great Torii is "the boundary between the spirit and the human worlds." (Source) The first Otorii of Itsukushima Shrine was constructed in 1168 and was built about 200 meters offshore.

The Top Five Things to Do in Miyajima
Do not miss these iconic experiences when visiting Miyajima Island for the first time.
No. 1 – The (Over) Friendly Miyajima Deer.
These guys love a pat. They equally love eating. Do not think for one moment you can eat anything, or keep any food whatsoever, around these guys, or you will be followed. It's kind of fun at first, but then you realise their power and persistence. My bladder almost burst laughing at the antics of my mum desperately trying to eat her ice-cream, fending off the deer who wanted a bite too!
Hot tip for those with kids:  Keep them close. The first deers you see as you exit the ferry are friendly, but many of them stand taller than your average 5-year-old kid, and their spacial awareness is equal to that of a toddler.  ie: They have none.  Eat lunch or a snack just before you arrive, and enjoy a sweet holiday treat in the main Miyajima shopping street where there are less deer around.

No. 2 – The Cute (But Gross, Really) Food
Who can resist a Deer Poop sundae?  Not me!
No.3 – The Itsukushima Shrine (Miyajima Shrine)
Itsukushima Shrine has been around for 1400 years. Built by the Shogun clan of Taira no Kiyomori to invoke prosperity for the dynasty, both the Shrine and the Torii gates are now recognised as a World Cultural Heritage property by UNESCO. That you can walk around it to this day is amazing.

No.4 – The Giant Rice Paddle Scoop
Check out the largest wooden rice scoop in the world at the Omotesando shopping street in Miyajima. Made over a period of three years, it's 7.7 metres long, 2.7 metres thick and weighs 2.5 tonnes and has been in place since 1996. (Please note: English spelling of 'metre', not 'meter')
Read the history of the Giant Rice Paddle on Miyajima Island at Atlas Obscura
(Don't know this website yet? You should. Pop it on your Favourites bar.)

No.5 – Try a Traditional Onsen Miyajima Island style.
Head to Miyajima Island at high tide and you'll be battling horrendous crowds, but plan your visit for low tide (or hang around long enough), and Miyajima Island becomes a somewhat sleepy little place. It's even better if  you can arrange an overnight stay at one of their quaint "ryokans" – traditional style Japanese accommodation with futon beds on the floor.
Some ryokans on Miyajima Island have onsen spas for guests. At Iwaso Ryokan, it's possible you'll even see a deer or two from your vantage point in their elegant timber-surrounds open air spa!   Kurayado Iroha Traditional Japanese hotel has an ion-infused bath on the 5th floor where you can soak in silky waters, AND an open-air roof top spa too!
Staying for longer means you can wander by and take a close up look at the five-storied pagoda, an important national and cultural asset of Japan.
You can also plan a visit to the Miyajima Ropeway to see the beauty of Miyajima and the holy mountain known as Mt. Misen, the highest peak on Miyajima at 535 meters above sea level, from the sky. Click the blue link for details on how to get to Miyajima Ropeway from Itsukushima Shrine
Other Miyajima Accommodation options
Miyajima Island Accommodation is limited obviously, as it's a small place, but you can check out the other Miyajima Island hotels here.

Gauge the Miyajima Tide
Miyajima High Tide
During high tide of more than 250cm, the giant red Torii gate looks like it is floating on the sea.  For a once in a lifetime experience, you can go Sea Kayaking with Paddle Park underneath the giant Torii gates at high tide!
Miyajima Low Tide
When low tide with a tide level of under 100cm, you can walk to the foot of the great Torii.
Check Miyajima tide times here.

Our Hot Tip for Visiting the Floating Torii Gate & Miyajima Island
Take note. There are two competing ferry companies operating from the Miyajima ferry port: JR and Matsudai.
Japan Rail Pass is valid on JR ferries only. Do not make the mistake and catch the wrong one, as then you'll have to pay again. When you exit the train/tram from Hiroshima City, head to the right and find the building and the counter in the pictures below. If you go to the Matsudai ferry terminal on the left hand side, you'll pay again.
Miyajima ferry rides take 10 minutes and both cost 180 yen one way.
7 Fun Facts you probably didn't know about the "Red Gates Japan"
With thanks to Visit Miyajima 
The base of the great Torii is not buried deep in the seabed, but stands by its own weight.
It stands on 6 pillars, and both the main pillars and the small pillars make it secure.
The box-shaped upper part of the great Torii is filled with about 7 tons of stones, each as big as a human fist.
Custom made wedges are driven into the intersections where the pillars and roof meet, absorbing slight movements and helping to balance the pillars and the roof.
The sea level section is strengthened by pine stakes, and an alternative foundation is made of stones.
The vermillion color of the shrine and of the O-torii is considered to keep evil spirits away. As for Itsukushima Shrine, the shrine buildings are coated with vermilion lacquer, which is also efficient as protection from corrosion.
The Shrine was designated as a Specially Preserved Building on April 5, 1899.
Miyajimi Torii Gates were designated as a National Important Cultural Property on December 26, 1963.
More Photos of Miyajima Island Fun!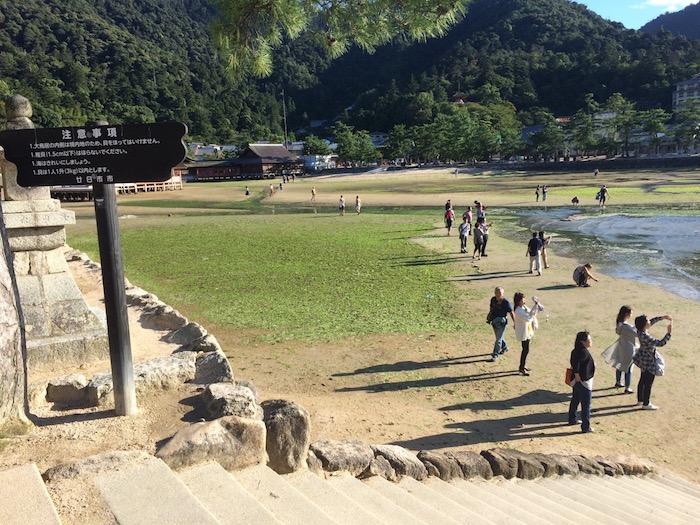 My mum purifying herself to enter the Shrine at the chozuya.
Pay 100 yen at the self-serve desk and choose your fortune. It's a bit of guess work as it's written in Japanese, but if you have a friend, or can ask a local, you can find out what it says.  Tie the Omikuji papers on the poles or branches of the shrine after reading, or take them with you. You can read more about them here.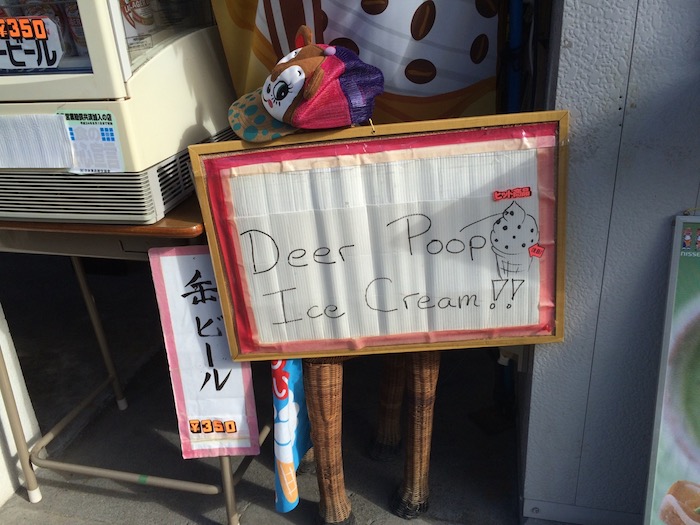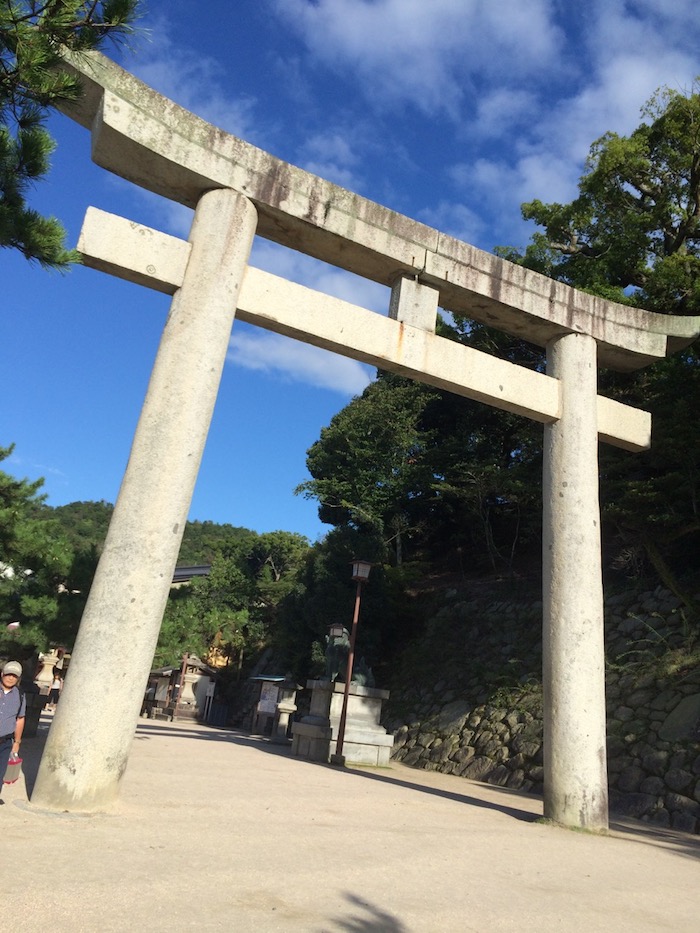 The Inside Scoop on Miyajima Island with Kids, Family and Friends
Miyajima Ferry Prices
It's a short stroll from Miyajimaguchi Station to the ferry pier. If you do have to buy ferry tickets, the cost is 180 yen for adults and 90 yen for children, one way. Find a machine like this at the ferry terminal building, add your coins and wait for the ticket to drop. Get up to date info on Miyajima Ferry prices here.

Miyajima Ferry Timetable
Ferries depart frequently, as you can see by the board above. There's no need to prebook. Get up to date info on the JR Miyajima ferry timetable here.

How to get to Miyajima from Hiroshima on your Miyajima Day Trip
By JR train(Sanyo Trunk Line). Catch the train from Hiroshima Station to Miyajima Station (Miyajimaguchi station is the name). Route takes 23 minutes by rapid train; 27 minutes by local train.  Walk 5 minutes to the Miyajima-guchi pier. Catch the ferry to Miyajima Island – approximately ten minutes.  This is covered by your Japan Rail Pass if you have one. If not, it's currently 410 yen one way.
You can also catch Tram Line number 2 from central Hiroshima to Miyajimaguchi station. This electric railway service runs every 9 minutes. 69 minutes from Hiroshima Station (280 yen) 52 minutes from the A-Bomb Dome (280 yen).  Click this link for day passes and discount fares combining tram/ferry.
Miyajima Events
Keep an eye on the Miyajima Facebook page for upcoming events.
Toadstool Rating for Hiroshima Day Trip to Miyajima
Looking for more Super Fun Things to Do in Hiroshima with Kids?

Coming soon…