INSIDE: The Ultimate List of Travel Hacks collected by Roam the Gnome! Updated 2019.
Here's our list of the greatest and most useful travel hacks on the planet.
Our team have been gathering travel hacks for years, and we all have our favourites.
The list continues to grow, as we find or try new travel hacks.
Do you have a favourite travel hack to add to our list? Let us know, and we'll publish it for you. Email hello@roamthegnome.com
Here's a list of our Top Travel Hacks for Family Travel
You'll find more at the bottom of the page.
Read and try for yourself at your leisure!
Disclosure: This article may contain affiliate links. If you book a product or service after clicking on one of these links, we may receive a small commission at NO extra cost to you.
THE ULTIMATE TRAVEL HACKS
No.1: Zip Lock Bags
These reusable plastic zip lock bags are life-savers, and just about the only plastic thing we'd recommend as we are on a mission to reduce our use of plastic.
Zip lock bags can be used to:
store your toothpaste and toothbrush to stop paste escaping all over your clothes
separate your money stores so you can keep your spending money away from your daily money, as well as keep a spare stash in a secret pocket in your coat for emergencies
carry snacks, and keep half-eaten snacks from the bin.
store my pen collection. I always need a pen to write my travel diary notes, but when I need one, I can never find it. Stashing extras in a zip lock bag in the front of my daypack has solved this problem.
keep tissues and band aids close to hand
compress your clothes for the suitcase - on the go and save space for more fun souvenirs
Government regulations restrict the amount of liquids, aerosols and gels you can take on board international flights, and containers can't be more than 100ml in size. You've got to put those containers into a sealed see-thru zip lock bag too.
A Zip Lock plastic bag can be used creatively in so many ways that I wrote a story about it.
BUY NOW ON AMAZON: Ziploc Bags (347 Pack - Variety)
This is me. BEFORE I streamlined our luggage to carry on only!
No.2: The Best Packing Cubes
Packing cubes (also called packing cells) changed our lives. They are the single most useful travel accessory we've ever come across. I will NEVER travel without them ever again.
The first lot of our packing cubes came from Kathmandu. We bought two packs on sale - 3 for the price of 1 - with one large, one medium, and one small. These sales happen frequently, so hold out if you can.
These packing cubes have a mesh-top, so they are breathable. This is vital. The zips are also super strong. Another essential feature of a good quality packing cube.
We use the large size for our clothes.
Nowadays, we buy the Eagle Creek Pack It cubes. The Eagle Creek pack-it cubes have a mesh top too, but it's the grab handle we love the best. They are water resistant and water repellent too, just in case your toiletries leak.
Both boys have a packing cube each for their clothes.
One packing cube fits ALL the clothes for a Winter trip, including:
thermal underwear
chunky socks, and
multiple pairs of trousers and warm jackets.
I pack both their underwear and singlets into a separate medium-sized packing cube.
This is shared between the boys.
How to use packing cubes
On most trips, my clothes fit into one large packing cube too, so long as they are rolled. When we travel in winter, and need a few extra bulky layers, I put these extras into a medium packing cube.
I use one small packing cube for my underwear, singlets and bras, and another to store the first aid supplies.
We use any leftover packing cubes for extras:
to contain our dirty laundry
to keep all our souvenir purchases together
to keep all our itineraries and brochures, ticket stubs etc in one place so they don't get lost
We then put the whole packing cube into the drawer in the hotel room, and repack straight into it after washing. Saves so much time.
Packing cubes rule our world. We adore them.
BUY NOW ON AMAZON: Eagle Creek Pack It Medium Size Cubes, set of three (in black, blue or red)
No.3: Saving Money for Travel
A lot of people tell me they can't travel because they can't afford it.
Bah humbug to that.
I have travelled, with and without kids, on a tight budget all my life, with the odd extravagance thrown in for good measure.
Saving for travel is about making different choices, and different priorities.
If you want to travel, you need to put it at the TOP of your list of goals, and make adjustments to your daily budget to make it happen.
Pick a destination
Do some research
Book flights on sale
Book your accommodation way in advance for the cheapest rate, and
Make sure your passport is current.
Start saving.
READ MORE: Travel Hacks to save money for travel - the very techniques we use to save up and go, over and over and over again.
No.4: Travelling Safely with Kids
Travel in the morning when the kids are happy and fresh.
It's also safer to arrive at your destination when it's still light outside. I'm not keen on arriving in a new place after dark ever.
Buy brightly colored jackets
Buy them a bright red or a light blue jacket if you travel in winter.
It's much easier to spot a lost child when they stand out from the crowd in bold bright clothing, as many people are dressed in black or dark colours.
Wear brightly coloured shoes.
If you are in a playground or somewhere with lots of kids, look down.
It's so easy to spot your kids bright red converse boot footwear amongst a crowd of brown boots.
This works both ways. Kids can spot your bright shoes too.

No.5: Purchasing Discount Attractions Tickets
Your new motto should be: NEVER PAY FULL PRICE.
There's absolutely no need.
Here's our tips on purchasing discount attraction tickets:
Buy through a reputable discount tours agency such as KLOOK or Get your Guide
Check group buying sites such as Groupon or Scoopon
Buy tickets online for at least 10% off to most attractions
Find the local family magazines and cut out the discount coupons
Pick up the tourist brochures and cut out the travel coupons for discounted entry
ASK. You never know if you never ask.
No.6: Keep your luggage safe from thieves
One of the most important things involved when planning family travel is staying safe. And that means keeping your things safe too.
There's nothing worse than having to drag toddlers along to the consulate to replace stolen passports when you are on the road.
Make it too visible for them to steal. Buy bright colourful luggage instead of standard black. (Check our tips on the best luggage to buy here)
If you do love to buy black luggage, tie a bright colourful scarf or thick ribbon to the handle to help you identify it in a hurry so you can beat the crowd to customs!
Add luggage tags with your details - name, phone number, web address, FB messenger or What'sApp contact - in black permanent marker. These luggage tags are cool.
Put your business card inside the front pocket too. This will help staff identify you and contact you quickly in the case of a mix up, or lost baggage.
Use a standalone TSA lock on your case if you don't have one built in.
Pack your own bags.
Pack your valuables into your carry-on luggage. We keep our ipads, computers, camera gear, passports, flight tickets, attraction tickets, and itineraries safely stored in my day pack. (I have this one. It has a padded pocket for my mac. We've been using it for years, and it looks as good as new.)
Take out comprehensive travel insurance that also covers lost luggage. Just in case. We wrote a comparison chart for travel insurance products. Check it out.

Buy a suitcase cover.
I adore these Headcase Suitcase covers.
They tickle my funny bone!

No. 7: More Travel Hacks
Save your Google maps offline so you can use them without wifi
Clip your water bottle to your day pack with a carabiner clip
Book the middle seat on your flight. You may just end up with the whole aisle to yourself!
Check out the Points Guy to save time and money working out the best credit cards for points hacking for flights. (NB: The best travel credit card will depend on where you live.)
Store your local currency in daily spend amounts. Use those clear plastic money bags for coins. Pick them up for free at your local bank.
If anyone has any tips for getting wifi passwords, we want to know about it.
Want more travel hacks for flying, Europe travel hacks, or to know the best backpack hacks? Check out our list below.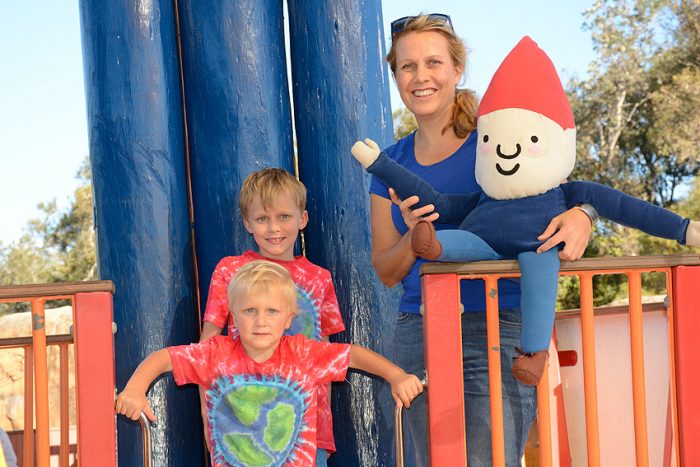 Disclosure:
Correct at time of publication. Please check with venue for updates. We apologise in advance if there have been any changes we are unaware of. All prices in US dollars, unless otherwise stated.
This website contains references to products and services from our favourite brands. Some of these are affiliate links. If you make a purchase or booking after clicking on one of these links on Roam the Gnome™, we may receive a small affiliate commission at NO COST to you. For our Disclosure and Disclaimer statements, and an explanation of our Advertising policy please click here
Roam the Gnome™ is a participant in the Amazon Services LLC Associates Program, an affiliate advertising program designed to provide a means for sites to earn advertising fees by advertising and linking to amazon.com, amazon.co.uk, amazon.ca. Amazon and the Amazon logo are trademarks of Amazon.com, Inc. or its affiliates.
Thank you in advance for your support in helping us to grow Roam the Gnome Family Travel™ Website Directory. Bookmark this page to keep us safe and sound.
Scroll below for more clever travel hacks!