The Hidden Gem of Rome – Villa Borghese Gardens

The Rome Villa Borghese Gardens is a hidden gem, north of the city and high up above the Piazza dei Popolo.

The Borghese Gardens cover an area of over 197 acres or 80 hectares, and is the third largest park in Rome. Roam the Gnome, the kids and I were gobsmacked to find this gigantic open-space park in the centre of the city. It's THE place for families travelling with kids to get away from the hustle and bustle of busy Roman streets, tourists, and pickpockets at train stations. The Borghese Gardens gave us the space to catch a breath.

The Villa Borghese Gardens contain historic buildings, and a replica of Shakespeare's Globe Theatre built in 2003. Sculptures and statues stand on every corner. There are also museums and art galleries including the well known Galleria Borghese.

There are also things in the Borghese Gardens that is of most interest to children and those on family vacations. You won't run out of options.

The kids will be thrilled with the old-fashioned open-air games arcade, and the whole family will be enraptured by the prospect of riding a motorised pedal car. And we can't forget the Bioparco Zoo – a 17-hectare (42-acre) zoological garden located in the northern part of the original Villa Borghese estate in Rome, Italy. Opened on 5 January 1911, the zoo was designed to hold exotic animals for display. But after falling into disrepair, the zoo was transformed into a Bioparco di Roma in 1998 and currently is home to around 1,114 animals of 222 species.

Here's a link to MORE stuff for kids in the Borghese Gardens. 10 SUPER DOOPER FUN things you can do at Villa Borghese Gardens with family, friends and kids.

The Borghese gardens are THE place in Rome to stop a moment and rest a while. We didn't expect to find this place, but we are oh so glad we did.

[mc4wp_form id="1416″]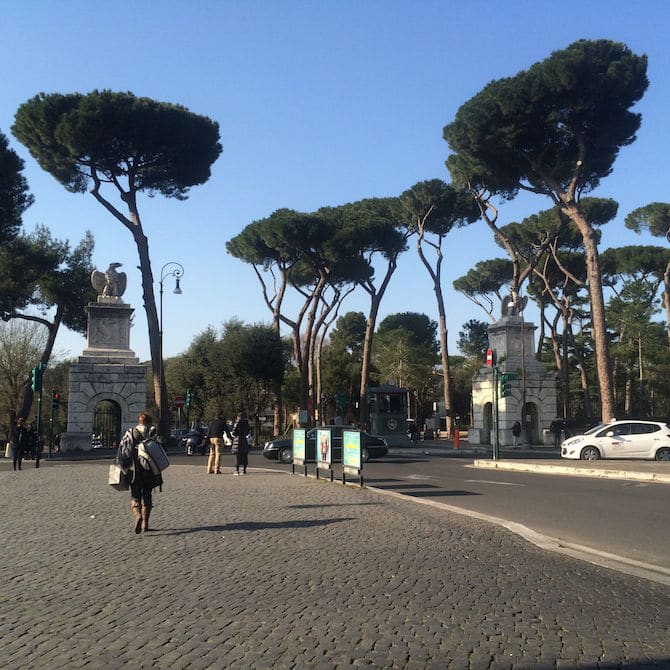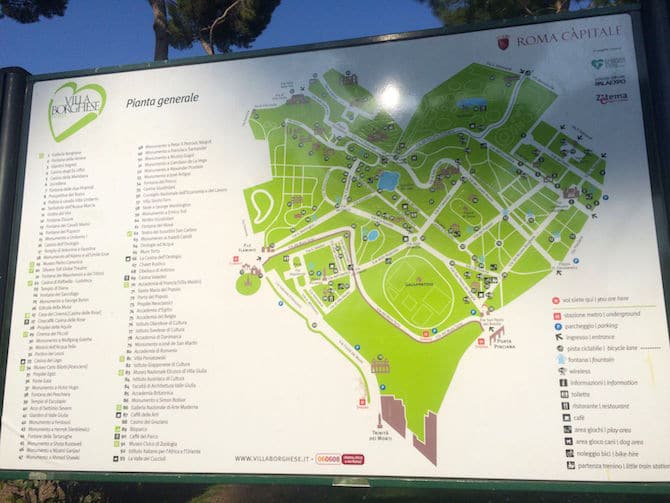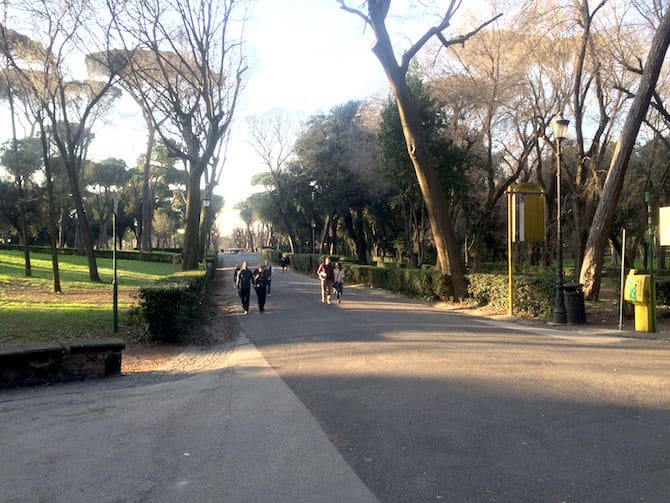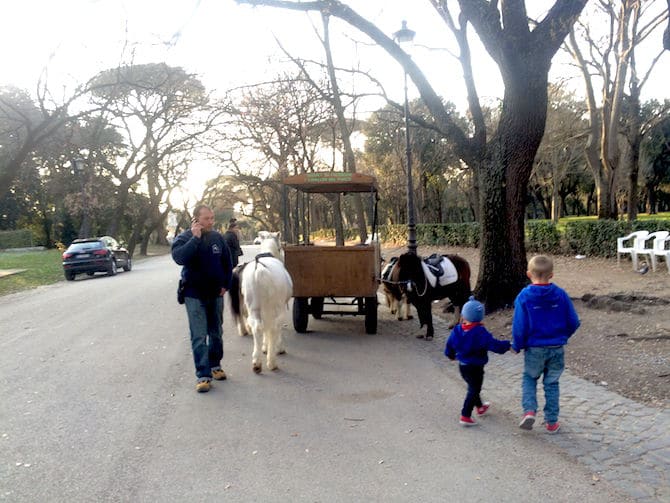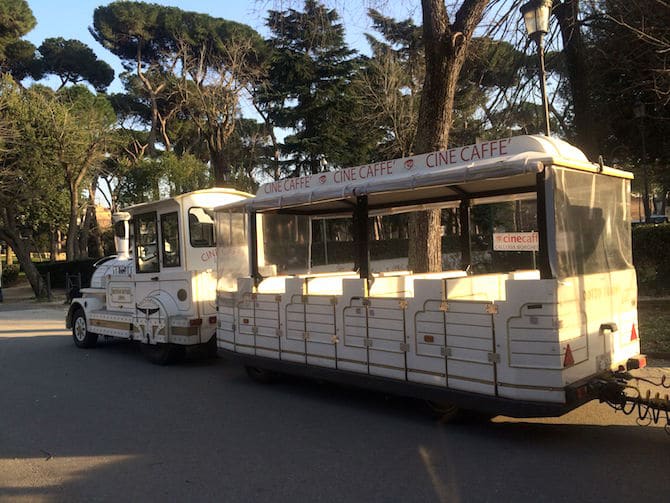 The Inside Scoop
Correct at time of publication. Please check with venue for updates.

Opening Hours at Rome Villa Borghese Gardens:
Entry Fees at the Borghese Gardens:
Free entry.
Payment required for bike hire, games arcade etc. Please bring coins and small notes
Contact:
Phone: Servizio Giardini 06 6710 9312 – 06 6710 9315
Location and Map:
Address: Piazzale Napoleone I

The Spanish Steps lead up to this park and there is another entrance at the Porte del Popolo next to Piazza del Popolo, not that we could find it! This is one time we'd suggest turning on your data roaming and follow your google map right to the entrance. The Villa Borghese Gardens are hidden in plain sight!

Entry points to the Rome Villa Borghese Park: Via Aldrovandi, Via Raimondi (2 inputs), Via Pinciana (2 inputs), Piazzale San Paulo, Piazzale Flaminio, Piazzale Cervantes.



Travel Options:
On foot
5 -10 minutes walk uphill from the Spanish Steps, and Piazza Del Popolo.
By Metro
Metro Line A (Flaminio and Spain) stops
By Train
FS station (Rome-Viterbo) to Piazzale Flaminio
By Bus
Bus stops in via Fiorello La Guardia and square S. Paulo: 490,495,89,160,61
Bus stops in via Pinciana height Galleria Borghese: 223, 910, 53, 63, 83, 92, 360.
By Taxi or Uber
Villa Borghese Gardens are easily accessible by taxi or Uber.
Toadstool Rating.
Looking for MORE SUPER DOOPER FUN places to visit in Rome?
Click the links in blue below.
Disclosure: If you book hotels or activities, or buy products through a link on Roam the Gnome, we may receive a small affiliate income.
Thank you for your support in helping us to grow this Family Travel Directory.