10 SUPER DOOPER FUN things to do with kids at the Villa Borghese Rome.

The Villa Borghese Rome was an unexpected hidden treasure on our last trip to Rome! Not that finding the entrance was very easy… although we could SEE the walls of the Rome Villa Borghese from the Explora Children's Museum, we wandered what seemed like half the city trying to make our way up to an entrance gate!

But what awaited us when we arrived at Park Villa Borghese, more than made up for the detour! The Villa Borghese is a hotspot of Rome museums and cultural institutions and is often referred to as "Museum Park". Adults can enjoy sculptures, art galleries, and the Globe Theatre but it's the kid's stuff we love. Take a look!

If you are looking for things to do in Rome with the kids, join in these Super Fun Activities at Villa Borghese Rome!
1. Visit the Villa Borghese playground near the Edicola Della Musa building. (Map ref. 26)
This playground on the corner of Viale J.W. Goethe and Viale del Museo Borghese is surrounded by trees and has two sets of swings, rocker swings for toddlers, and one central timber castle-like playground with two turret-style platforms. Unfortunately, I accidentally trashed all our pictures of it. Boo hoo!

2. Take in a film at the world's smallest cinema, the Cinema dei Piccoli, at Villa Borghese Rome.
Find this tiny freestanding building near Villa Borghese's southern entrance during the day, and be treated to a children's film. Arrive in the afternoon or evening, and the films showing are more likely to be for grown-ups.

3. Ride an Electric-powered pedal car Riscip through the Villa Borghese Rome gardens
This super fun activity is by far our favourite thing to do at Villa Borghese.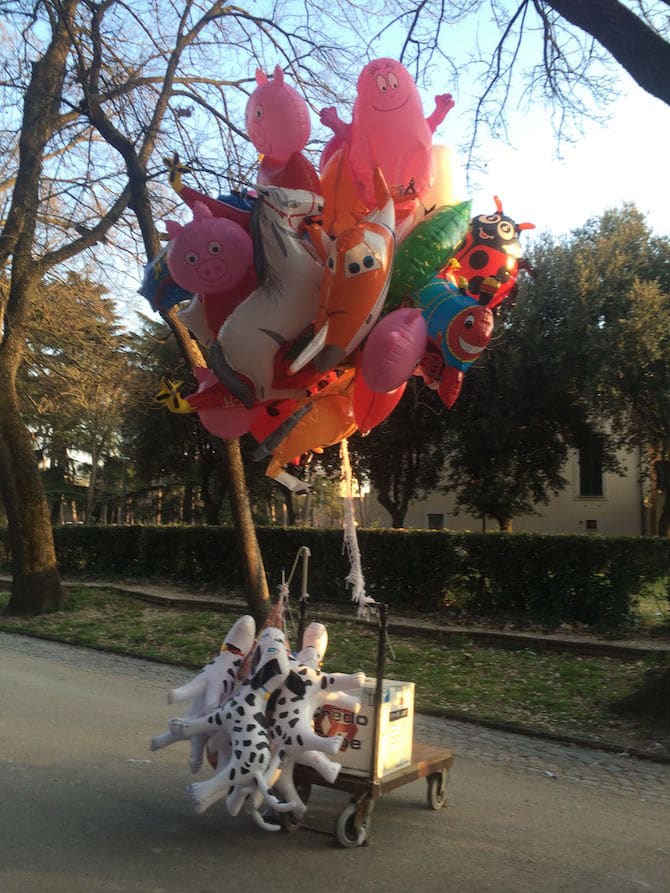 4. Buy a cute helium balloon
Why not? It's the Italian thing.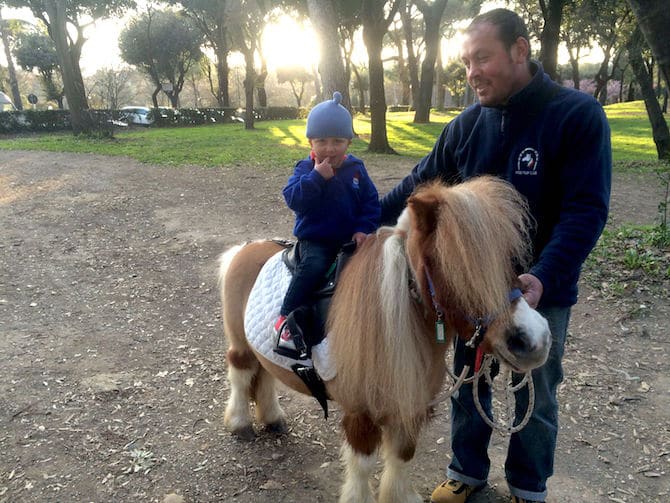 5. Take a pony ride
Another mode of transport for the kids inside Villa Borghese. It's a lovely spot to get up close with a Shetland. On Viale J.W. Goethe, Saturdays and Sundays from 10:30am to sunset.


6. Ride the Miniature Diesel train around the Rome Villa Borghese
If riding a pedal car is not your thing, jump onboard the Villa Borghese train for a spin around the grounds. Operating daily from 10.30am until sunset, board at one of three stops around the park.

7. Scoot on a Segway.
A number of hire carts in the grounds offer Segway scooter transport. For those with older children, Segway cruising might just be a notch cooler than family travel on a pedal car.


8. Play old-fashioned pinball games at Piccolo Slalom.
Located across from Cinema dei Piccoli, open every day from 10:30am to sunset.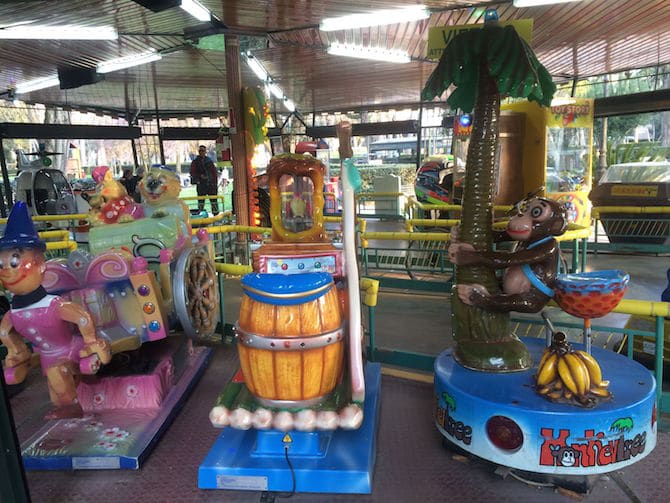 9. Give in and let the kids try out a few of the coin-operated amusement rides
Located at the same old fashioned game parlour as above.

10. Stop by the Rome attraction, Casina di Raffaello ~ Ludoteca "Playroom" Recreation Center.
There's a toy library, a reading room, play areas, creative rooms where you can draw and paint and dress ups. Outdoors, there's a wooden playground village with cubby houses, a gigantic seesaw, and a life size musical instrument (wood flute) to play.

Gosh, we didn't even mention 'Order a Gelati' yet.
Ok, yes, order that gelati. Do!

[mc4wp_form id="1416″]
The Inside Scoop
Correct at time of publication. Please check with venue for updates.

Opening Hours:
The Villa Borghese Rome is always open. Some gated areas close at sunset.

Entry Fees and How to Book:
Admission to the Villa Borghese Rome is free. Some attractions within the Villa grounds attract a fee, for example bike hire, zoo entry, gallery entry.

Contact:
Phone: Servizio Giardini 06 6710 9312 – 06 6710 9315
Location and Map:
Address: Piazzale Napoleone I

Entry points: Via Aldrovandi, Via Raimondi (2 inputs), Via Pinciana (2 inputs), Piazzale San Paulo, Piazzale Flaminio, Piazzale Cervantes



Travel Options:
On foot
5 -10 minutes walk uphill from the Spanish Steps, and Piazza Del Popolo.
By Metro
Metro Line A (Flaminio and Spain) stops
By Train
FS station (Rome-Viterbo) to Piazzale Flaminio
By Bus
Bus stops in via Fiorello La Guardia and square S. Paulo: 490,495,89,160,61
Bus stops in via Pinciana height Galleria Borghese: 223, 910, 53, 63, 83, 92, 360.
By Taxi or Uber
Villa Borghese is easily accessible by taxi or uber.
Toadstool Rating.
Looking for MORE SUPER DOOPER FUN places to visit in Rome?
Click the links in blue below.
Disclosure: If you book hotels or activities, or buy products through a link on Roam the Gnome, we may receive a small affiliate income.
Thank you for your support in helping us to grow this Family Travel Directory.