INSIDE: The Ultimate List of the Best Japanese Kitchenware Shops in Tokyo.
Take a look inside any traditional Japanese kitchen and you'll find a standard range of Japanese kitchen tools, Japanese kitchen appliances, Japanese bowls, Japanese dishes, Japanese cups and miscellaneous Japanese Kitchenware.
But there are particular tools in a Japanese kitchen that you won't find in any kitchen anywhere else in the world.
A Peek inside a Traditional Japanese Kitchen
A typical modern Japanese kitchen includes the following Japanese appliances, tools and Japanese Kitchenware:
gas or induction stove with a grill for cooking fish
kettle
toaster oven
microwave oven
portable vacuum flasks for hot (ocha) and cold tea (mugicha)
portable gas burners for 'nabe' (eg sukiyaki, shabu shabu, oden dishes)
nabe pans – for example, the agemono nabe deep frying pot, or the tetsunabe cast iron pot used for sukiyaki
sturdy cast iron skillet pan for frying katsu pork or chicken in panko bread crumbs, and making tonkatsu, teriyaki chicken etc
non-stick frypan for egg omelette (Tamagoyaki)
saucepans for cooking ramen, udon, soba
pots for simmering dashi stock or miso soup
a hangiri – a round, flat-bottomed wooden tub or barrel, and a shamoji wooden paddle – used to dress and to cool the rice
Japanese tableware – serving dishes, serving trays, serving platters
A set of quality Japanese knives for different purposes
Chopsticks and chopstick rests
LOTS of small Japanese dishes for dipping sauces, soy sauce, pickles, small servings of salmon or fish
rice bowls for 'gohan' or 'donburi' dishes
takoyaki pan
usu and kine, large mortar and pestle for pounding rice for mochi (sticky rice)
suribachi and surikogi, grinding mortar and pestle
Japanese steamers (mushiki and seiro)
Japanese kitchen appliances in the home must include an electric rice cooker. (Did you know over 95% of Japanese homes have a rice cooker? It's essential!)
The Best Japanese Kitchenware Shops in Tokyo
We've hunted high and low to come up with a list of the best Japanese kitchenware shops in Tokyo. Take a look below.
Kappabashi Kitchen Town (Kappabashi Kitchen Street)
The best place to buy Japanese kitchen wares, Japanese knives, and fake plastic Japanese food like you see in the front of Japanese restaurants is in the Kappabashi dori area or 'Kitchen street' between Ueno and Asakusa. You won't find better prices anywhere.
Here's some of our favourite shops in the area:
Visit Hashitou cutlery store on Kappabashi dori Kitchen street for traditional handmade chopsticks and miscellaneous Japanese kitchen goods. Hashitou will amaze you.
Okashinomori across the road is a kitchen supply store with everything you could ever need to make traditional and home style Japanese food. They stock baking supplies, colanders, rice cookers, cake making equipment, pots and pans, and the cute little frypans you use to make tamago egg omelettes.
Kakesu Zakkaten sells teapots, teacups, and ceramic ware that are 'made in Japan'. It's a treasure trove of gorgeous things for the home and kitchen. Roam the Gnome loves Kakesu Zakkaten because, um, rainbows! 3-24-2 Nishi Asakusa, Taito-ku, Tokyo
Kappabashi Maeda sells commercial tableware and a giant range of Japanese kitchen knives. They stock rice bowls, noodle bowls for soba and udon, serving plates, dishes for grilled foods such as yakitori, large platters, lacquerware for miso soup, obentoo sets, black and white tableware, chopsticks and chopstick rests, clay pots, pickle pots, teaware, and matcha bowls and whisks for green tea ceremony. I adore the blue and white pottery patterns they stock.
Itokei near Kappabashi Maeda, stocks cooking utensils, dishes, kitchen equipment, confectionery supplies, and everything else for dessert making and dining. Find Itokei, at 1-5-13 Nishi Asakusa, Taito-ku, Tokyo (Kappabashi dori street)
Takaso speciality store has tonnes of Japanese dishes and ceramic rice bowls, staring at you as you walk by. Takaso speciality store is the place for budget shopping in Japan for foodies.
Dr Goods kitchen supply shop is worth a look too. This shop sells kitchen tools for cooking and confectionery making. It's diagonally opposite Itokei as you head towards the crossing.
Sample Food Displays in Japan
Japanese food sample shops can be found in Asakusa's Kappabashi tool town too.
Take a look at our guide to the best plastic sample food shops in Kappabashi kitchen town (as it's more commonly known to tourists) to find out more.
Map of Kappabashi Kitchen Street
Here's a map of Kappabashi Dogu-gai (Kitchenware Street) above to help you find it.

Best Japanese Kitchen Tools to Buy in Japan
Here's a list of four must-buy Japanese kitchen tools to take home.
Japanese Kitchen Utensils – Hangiri Sushi Bowl, Shamoji sushi paddle, and Uchiwa rice fan
This is our favourite combination Japanese kitchen tool – a sushi bowl called a hangiri, a shamoji rice paddle to match, and an uchiwa fan.
Rice is cooled in this wide bowl using the uchiwa fan in a sweeping motion, and then a concoction of rice vinegar, sugar and salt is added to create that slightly sweet taste of real sushi rice, stirred through by the sushi paddle.
A real 'hangiri' (also called a "Sushi-oke" or "Handai") is made in Japan from cypress or cedar, and bound by genuine copper bands. Watch out for imitations.
Here's a guide on how to season your hangiri for long term use, plus a step by step procedure on using the hangiri properly to make authentic sushi rice.
Japanese Kitchen Scissors
Japanese kitchen scissors are functional kitchen scissors for cooking.
Look for scissors hand forged in Japan. The real thing has a beautifully designed handle, a style reminiscent of 100 years old, but they are easy to use, strong and functional for all needs.
Where to buy Japanese kitchen tools in Tokyo?
The Nihonbashi Kiya store (the Kiya Cutlery shop) in Nihombashi sells cutting tools such as Japanese scissors, as well as sushi maki bamboo rolling mats, hangiri and rice paddles, "Uchiwa" fans to help cool the rice, Japanese cypress cutting boards, Kokura fabric aprons and bags.
They also sell Japanese kitchen cutlery and utensils to last the distance.
They have a branch in both Nihombashi and Tamagawa.
READ MORE: The Complete Guide to Buying Japanese Food Products in a Japanese Grocery Store to make everyday Japanese food.

Best Japanese Kitchen Knives Set
Every Japanese kitchen has a Japanese kitchen knife set.
There are many different Japanese kitchen knife types. Let's take a look.
You can read an indepth guide to Japanese knives here but in short:
Gyuto – this is the main chef's knife tourists buy for a souvenir to take home for their kitchens
Santoku – the most popular household knife in a Japanese home for vegetables and fish
Nagiri (Nakiri) vegetable knife
Yanagiba – the most popular knife for cutting fish (also known as shobu-bocho, sashimi knife)
Usaba knife – used for vegetables
Mukimono knife – used for cutting vegetables into decorative shapes
Noodle cutter knives
Many Japanese people are proud owners of handmade Japanese kitchen knives.
You can be too, by shopping at one of these Japanese knife stores.
Kamata Kappabashi
Kamata Kappabashi sells handicrafted masterpieces by artisan techniques using traditional Japanese methods, as well as knives made with the most up to date knife cutting technology. Kamata Kakensha was founded in 1923 in Asakusa, Tokyo.
Take a look at some of their Japanese knives for sale.
Kakeken also holds a knife sharpening classroom on the first and third Tuesday of every month.
The Inside Scoop
Address:Japanese knife store KAMATA Hakensha at 2 Chome-12-6 Matsugaya, Taito City, Tokyo 111-0036, Japan
Access:8-minute walk from Asakusa Station and an 8 minute walk from Tawaramachi Station too. Click here for a map.
Opening hours: Open daily, 10: 00-18: 00.
URL:http://kap-kam.com
Tsukiji Masamoto
This Japanese knife shop manufactures Japanese knives and Western knives using the highest grade steel materials.
Well known by Japanese-style cooks, both in professional kitchens and in every Japanese home, knives made by Tsukiji Masamoto are highly rated for their sharpness. There is no distinction between professional and general household use.
Take a look at the types of Japanese knives they craft at Tsukiji Masamoto. (Look in the menu for 'about care' and 'about repair')
They even provide a step by step guide on using a Japanese knife, and how NOT to use it too, so you don't end up with a sharp knife injury.
The price for a knife is higher here, but that is because their products are made by hand from raw materials, then hardened, and finished by their craftsmen.
The Inside Scoop
Address:4-9-9 Tsukiji, Chuo-city, Yubinbango, Tokyo 104-0045 (near Tsujiki fish market)
Opening hours: 6:00am to 3:00pm Monday to Saturday. Closed Sundays, public holidays, and market holidays
URL: http://www.tukijimasamoto.co.jp

Nehoni Cutlery
Nehoni cutlery sell the highest grade high carbon steel knives.
They also custom make knives for your budget.
Nehoni cutlery displays a variety of kitchen knives from the highest peak kitchen knives, to the easy-to-use everyday kitchen knives in the Tsukiji store. They are happy for visitors to drop in when you visit Tsukiji.
The Inside Scoop
Address:4 Chome−10−5 Tsujiki, Chuo City, Tokyo, 〒104-0045. Kaneshin Building 1F Store.
Access:
3-minute walk from Tokyo Metro Hibiya Line "Tsukiji Station" Exit 1 and 2
3-minute walk from Toei Subway Oedo Line "Tsukiji Market Station" Exit A1
Opening hours: 9:00 am-3:00 pm. Closed Sundays and Public Holidays.
URL:Nehoni
Japanese Tableware
MUJI Japan
My favourite shop for unadorned Japanese tableware is MUJI.
I'm a fan of Japanese white tableware, combined with simple timber trays and accessories. That wholesome look and simple styling appeals to my inner minimalist.
Plus, you can replace all your tired kitchen plates, bowls, and cups with MUJI tableware for less than a day's pay. It's super affordable.
Kappabashi Street
Kappabashi Street is another good spot to visit if you want to buy Japanese tableware in bulk – the selection is unparalleled.
Tokyo Shopping Streets
Try any of these Tokyo shopping streets for affordable Japanese tableware (authentic Japanese plates, ceramic cups, bowls):
Ameya-Yokocho shopping street in Ueno
Nakamise shopping street in Asakusa
Yanaka Ginza shopping street
Unique Japanese Tableware
You can also visit these shops selling hand-picked Japanese tableware.
READ MORE: The Best Japanese Pottery Shops for Handmade Japanese Tableware

Japanese Kitchen Accessories
Japanese kitchen ware is not only useful. It can be super cute too!
We've gathered a list of the best places to buy 'zakka' kitchenware in Tokyo such as super cute aprons, tea towels, bento boxes, bento accessories, pickle dishes, small ceramic platters, white tableware and more.
Look out for the Kotobuki brand in particular. Their products are well priced, and well made. Their Japanese bento boxes come in super cute styles including Sumo wrestler, Ninja, Daruma doll, Samurai, Baseball player, Japanese Maiko (Geisha), Sushi chef, Lucky Cat, and Kokeshi Hime Princess.
READ MORE: The Best Japanese Home Decor Stores for Kitchen Accessories & Home Decor
Japanese Baking Supplies
Looking for a one-stop shop for all your Japanese baking supplies and Japanese cooking tools including:
cake pans and cake trays
cookie cutters
confectionary and baking tools
oil, seasoning and spices
boxes and wrapping
cake toppings and cake decorations
DIY candy making tool sets
cake stands
cake decorating colors and flavors
bread making supplies
pizza trays, oven sheets
oven gloves and mittens
recipe books
kitchen appliances and cookware including shaved ice makers, ice cream makers, sandwich makers, noodle machines
taiyaki molds
frying pans and pots
kitchen knives
plus all the consumables including Japanese flour, cooking chocolate, sugar and syrup, agar gelatin, yeast,
The best Japanese supply shops for baking supplies in Tokyo is Tomiz Cuoca baking supplies store.

Tomiz Baking supply store. (Also called Cucoa shop baking market)
The Cucoa and Tomiz baking supplies stores have stores in Yurakucho, Nihonbashi, Shinjuku, Ikebukuro, Shibuya, Ebisu, Tamagawa, Asakusa, at Tokyo Sky Tree, and more. There's 81 in total across Japan.
The Machida main store (Tomizawa Shoten Main Store) has a traditional warehouse feel and is a step back in time.
The Inside Scoop – Main Machida Store
Address:4-4-6 Hara Machida, Machida, Tokyo 194-0013
Access:A 3-minute walk from Machida Station.
Opening hours: 10am to 7pm daily.
URL:Find all the Tomiz shops in Tokyo and Japan here.

Majimaya (Mabuchiya Pastry Tool and Candy Tool Shop)
The Majimaya confectionery tools and gear shop (also called the Mabuchiya Pastry Tool Store) is a pastry tool shop in Tokyo Kappabashi, in Nishi Asakusa, one of the world's leading cooking tool streets.
Majimaya Mabachi-ya is famous for their custom-made, hand-carved wooden molds made from cherry timber for Japanese tea ceremony sweets, featuring flowers. These are made to order by a master Japanese craftsman.
They also sell:
silicon chocolate and dessert molds
confectionary molds for Japanese sweets made
pastry molds
omelette and pancake stamps /seals (super cute!)
square tart tins
Mount Fuji shaped pudding and cake tins
bread tins, round bread pans, and english muffin pans
Japanese bento boxes and bento accessories
Japanese knife sets and Japanese scissors
plus Japanese tea ceremony tableware and cups.
The Inside Scoop
Address:2-5-4 Nishi Asakusa, Taito-ku, Tokyo 111-0035, Japan
Access:Find the map here.
From Ginza Line Taharacho Station 5 minutes
From Tsukuba Express Asakusa Station 5 minutes
From Subway Ginza Line Asakusa Station 15 minutes
From Tobu Asakusa Line 15 minutes
Toei Asakusa Line Asakusa Station 15 minutes
From JR Ueno Station 20 minutes
From Kikuyabashi bus stop 5 minutes ・ Tokyo
Opening hours: Weekdays 9:30 to 17:30; Sunday 10:00 to 17:00
URL:http://majimaya.com/
Kawaii Kitchen – Cute Japanese Kitchenwares
Find "Kawaii" kitchen supplies at these Japanese variety shops in Tokyo.
Tokyu Hands Department Store
Tokyu Hands Department Store in Ikebukuro has a whole floor devoted to Japanese kitchenware goods including these adorable sandwich presses (pictured above). Make a beeline.
Loft
Another of our go-to stores in Tokyo, Loft in Japan is home to Japanese kitchen products including aprons, tea towels, utensils, chopsticks, chopstick rests, and kitchen tools with a design edge. Plus they have the best range of Japanese bento boxes in Tokyo plus cute bento accessories.
Natural Kitchen
Simple but cute kitchenware for 100 yen per piece. No one will ever know!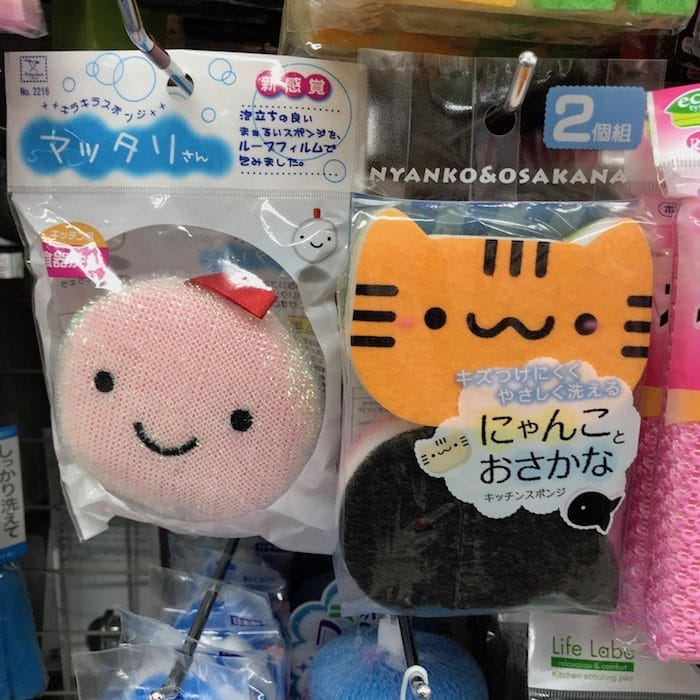 Daiso Kitchen Items
Another place to pick up Japanese kitchen goods on a budget is in the 100 yen stores in Japan such as DAISO.
DAISO kitchen items cost 100 yen a piece – it's a quick and easy way to build up your collection of Japanese kitchenware, traditional Japanese crockery, classic bakeware and Japanese tableware.
You can also find a whole aisle dedicated to quirky and cute Japanese kitchen items such as animal-shaped washing up sponges, fairy doll wash up brushes, patterned dishwashing cloths, sushi mats, sushi molds, bento boxes, bento accessories and more.
READ MORE: The Ultimate List of the Best 100 YEN STORES in Tokyo
Looking for more places to shop in Japan?
Subscribe
Bookmark Roam the Gnome
Disclosure:
This article may contain affiliate links. This means if you make a booking or purchase after clicking on one of these links on Roam the Gnome™, we may receive a small affiliate commission at NO extra cost to you.
Roam the Gnome™ is a participant in the Amazon Services LLC Associates Program, an affiliate advertising program designed to provide a means for sites to earn advertising fees by advertising and linking to amazon.com, amazon.co.uk, amazon.ca. Amazon and the Amazon logo are trademarks of Amazon.com, Inc. or its affiliates.
Thank you in advance for your support in helping us to grow Roam the Gnome Family Travel™ Website Directory
Main image credit: Tzuhsun Hsu