Is it possible to find a clean, sustainable, all-abilities playground in Brisbane? It sure is! Check out one of the best playgrounds in Brisbane for kids aged 1 to ten.
Roam the Gnome and his little mates adore this Brisbane playground, and can't wait to go back next holidays.
Brisbane Botanical Gardens Playground – Fun For Everyone
The Brisbane Botanic Gardens playground is smack bang in the centre of the Brisbane Botanical Gardens, just 500 metres from QUT and a 10 minute walk from the Queen Street Mall.
But you'd never know, and that's part of the reason it's one of the best playgrounds in Brisbane. Go early enough and you're likely to have it almost all to yourself!
It's a quiet enclave surrounded by City Cycle bike paths, greenery, and bucketloads of shady picnic spots.
Best of all, this playground now provides access for children in wheelchairs and their carers, and tonnes of hands-on activities including musical instruments.
FREE things to do in Brisbane with kids
Best of all, it's FREE. BYO picnic, and make a morning of it. provides quality play facilities where children of all abilities can play together in a well-maintained and safe environment.
Brisbane Botanical Gardens Playground in a Nutshell
The Brisbane Botanical Garden Playground has a great variety of things to inspire all kinds of imaginative and physical play. Here's a list of why we think it's one of the best playgrounds in Brisbane.
There's:
a multi-turreted fort filled with things to swirl, twirl, twist, twang and dang!
a spider web climbing net between turrets
standalone feature walls with hands-on sensory activities for kids to play
a twirly-whirly slide, AND drum roll please, a ROLLER SLIDE! (It might not be very long, but it's the first roller slide we've found in yonks!)
wide platforms for access
climbing ladders up the forts
'Tulip' spinning seats
a four-way seesaw
a wheelchair-friendly 'merry go round' spinner
a row of swings including one for children in wheelchairs, and one mum/bub swing combination
a digging pit with three excavator seats, and a sand play area
LOADS of seating around the edges of the play area (unfortunately, not shaded)
Shaded benches and giant platforms for picnics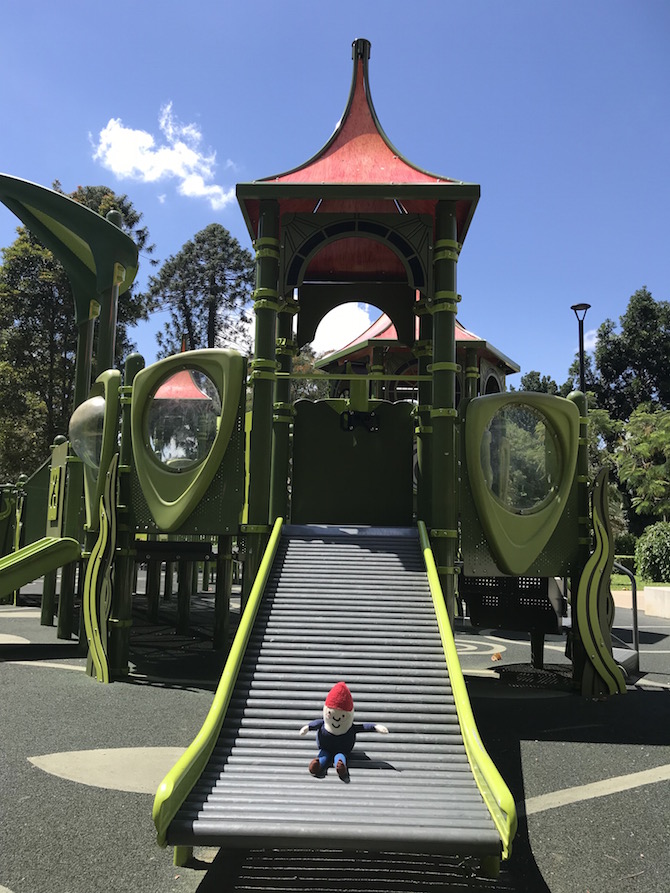 Spiderweb Swing at the Botanic Garden Playground
Botanic Garden Playground Digging Pit
One of the Best Picnic Spots Brisbane has in the CBD
Brisbane City Botanic Gardens pathway to QUT buildings
The Inside Scoop – Brisbane Botanic Gardens Playground
Address: Brisbane Botanic Gardens Playground is most directly accessed by Alice St or George Street Brisbane.
From QUT at George Street, walk down the hill (Palm Avenue) towards the river. The playground is directly behind the toilet block. The closest street juncture is Alice and Albert street. It's quite well hidden amongst the trees – if you can't see it, ask a friendly person for directions to one of the best playgrounds in Brisbane.
Phone: (07) 3403 8888
The Brisbane Botanic Gardens playground is unfenced and is adjacent to the Brisbane River. Keep a close eye on wanderers.
There is a toilet block about 25 metres away
There is free council WiFi
Parking available in the city in one of the parking stations, or try your luck with a paid street park along Alice Street, Brisbane
Our favourite (and cheap) parking destination is at Southbank under the Museum and Art Gallery. Parking is $16 flat rate per day. Entry via Cultural Centre Tunnel, Stanley Street. We then walk over the Victoria Bridge and through the CBD or go through Southbank Parklands and walk over the Goodwill Bridge.
If you prefer a boat trip with young children, catch the ferry across from Southbank to QUT Gardens Campus or Eagle Street wharves and walk from there.
The closest food court (other than walking into the CBD) is at the QUT campus. There's Subway, Guzman Y Gomez, Boost Juice, and a host of other takeaway food options.
Looking for MORE SUPER DOOPER FUN places to visit in Brisbane and surrounds
Click the blue links below